Looking at last year's top performances, one thing I noticed immediately is that the awards shows got the majority of it right this year. Sometimes there may be a questionable performance that is universally praised, but not in 2010. All the top awarded performances really were the best performances of the year. That makes this list a little boring with not many surprises, but that is okay. The important part is getting it right.




Others Receiving Votes

Robert Duvall – Get Low

Matt Damon – Hereafter

Jonah Hill – Cyrus

Amy Adams – The Fighter

Michael Shannon – The Runaways

10. Leonardo DiCaprio: Inception/Shutter Island
They were pretty much the same role so I thought I would combine them on my list as well. However, just because he played the same character twice, it does not cheapen the quality of either performance. They were both incredibly moving performances that carried their movies to heights few films can reach. Both characters were extremely flawed people that were forced to work through their own personal demons while also trying to solve the greater mystery before them. Both of these films could have simply been averages thrillers, but with one of the most gifted actors behind the lead characters both films became two of the year's best.
9. Michael Cera: Scott Pilgrim vs. the World
In one of my personal favorite films of the year, Scott Pilgrim vs. the World tells the story of a young man fighting off his newfound girlfriend's seven evil exes. With this crazy premise, and the crazy mind of Edgar Wright behind the camera, Michael Cera is thrown in as the title character. As always, Cera brings his innocent, awkward charm to the role, but also a little bit of action star. He is the perfect actor to play this character that is half confused kid, half video game character.
8. Geoffrey Rush: The King's Speech
Geoffrey Rush has become one of those actors you can always count on to be a bright spot in any film he appears, especially when he is playing the quirky supporting character. This performance is no different. This time around he plays the unorthodox speech therapist that helps British royalty with a speech impediment. He brings his quirky charisma that he always brings to his roles, however he also possesses something deeper as he becomes the King's employee, friend, and most trusted confidant.
7. Andrew Garfield: The Social Network
Rarely does someone come out of nowhere quite like Andrew Garfield did in 2010. Few people knew who he was a year ago. Now he has had two big movies, was robbed of an Oscar nomination, and will soon be playing Spider-Man. In this performance, he plays the betrayed friend of Mark Zuckerberg and displays an undeniable magnetism on screen. He has that draw that forces you to pay attention to him when he is on screen. I cannot wait to continue to see him grow into the superstar he is bound to become.
6. Hailee Steinfeld: True Grit
Star-studded cast. Two Oscars winners. Another nominee. Oscar winning directors. And a 14 year old girl steals the show and carries the movie to greatness. She is the focal point of the movie and even with this star-studded cast, everyone else plays off the standard and tone she sets for the movie. This is one of the greatest child performances I have ever seen. Can't wait to see her in something else.
5. Jesse Eisenberg: The Social Network
You take Jesse Eisenberg's fast-talking, awkward nature and channel it into an overly confident and cocky SOB, and you have the tour de force that is Eisenberg's Mark Zuckerberg in The Social Network. From the start of the movie, Eisenberg completely embodies this character in a way I don't think anyone else could. It is the best casting move of the year. A great actor with a perfect character in an incredible movie equals perfection.
4. Colin Firth: The King's Speech
Colin Firth has been a well-respected actor for quite awhile now, but I had no idea how good he actually was before this film. If I didn't know better, I would say his speech impediment is natural throughout the film. You know an actor is on top of his game when he is able to make the unnatural seem natural. On top of this obvious piece of his character, he shows great emotion in his subtlety which is really hard to do. He gives a very restrained performance in many ways which breaks in a most natural way in several outbursts of pure emotion throughout the film. He is completely deserving of his Oscar.
3. James Franco: 127 Hours
Few roles require a wider range of pure unbridled emotion than that of the lead character played by James Franco in 127 Hours. He starts the movie as a care-free risk-taker with a scary infectious energy that can best be described as cartoonish. Then he gets stuck. In the 127 hours he is stuck he goes from his joyful self to anger to rage to depression to denial to contentment to acceptance to creativity and back again several times. He owns this movie in a Cast Away type of role as he is the only one on screen for most of the film, and it is endlessly fascinating and engaging from start to finish.
2. Natalie Portman: Black Swan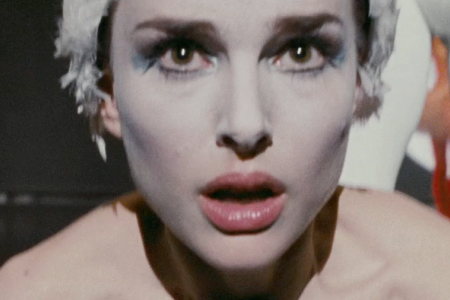 This performance was the "drop-my-jaw-blow-me-away" performance of the year. I honestly didn't know she had that in her. As the movie begins, Natalie Portman plays the sweet, innocent picture of perfection. Once she is cast in her dream role, she has to embody both the bright and dark sides of her personality. Her slow and steady transformation from the Swan Queen to the Black Swan is an acting master class. Portman absolutely deserved her Oscar.
1. Christian Bale: The Fighter
He's one of the best actors we have, and he finally got the perfect role for him to show us all everything he is capable of on a stage where he can get all the recognition he has deserved for years. In The Fighter, Christian Bale becomes Dickie Eklund, a washed-up doped-up ex-boxer trying to get his kid brother to the top. Bale has always been able to completely throw himself 100% into every role sent his way, and this is no different. The only difference between this role and his past roles that puts this one over the top is he has more to work with in Dickie than he has ever had. It is the best character he has created, and the best platform to let that character shine. All this together makes this the best performance of the year.