The NFL Draft is one of my favorite sporting events of the year. Making a mock draft is sometimes pointless because the draft is so unpredictable (except when it is in the form of that
stupid Kevin Costner movie
). There are trades and horrible picks that throw a wrench into even an NFL Draft Insider's mock drafts. One thing we do know…there will be a QB, DE, or OT drafted first overall. Last time that didn't happen? 18 years ago, Keyshawn Johnson. This year will continue that
trend
rule. Check out my soon-to-be irrelevant mock draft below and see what I project your favorite team to take in the first round, as well as a draft wish list for my world champion Seattle Seahawks (never gets old calling them that).
1. Houston Texans –
Jadeveon Clowney, DE, South Carolina – He has been the consensus #1 pick since he did
this
. The Texans desperately need a quarterback, but they can get a totally solid NFL starter in the second round of this draft.
2. St. Louis Rams Atlanta Falcons – Khalil Mack, OLB, Buffalo – The Falcons are no stranger to trading up in the draft. This will likely be pretty expensive, but the team needs a linebacker. Mack is a future star in the league.
3. Jacksonville Jaguars – Blake Bortles, QB, Central Florida – This would not be a really sexy pick at #3 for a team with a lot of holes, but UCF is only about 150 miles from Jacksonville, so I am sure there are a bunch of Bortles fans in the area. He could be the guy to take them to the top of that division, which is definitely winnable this year.
4. Cleveland Browns – Johnny Manziel, QB, Texas A&M – The Browns are constantly looking for something to make them relevant, so their fans will be clamoring for Manziel when they realize he is available here. This will be their third QB taken in the first round since 2007.
5. Oakland Raiders – Sammy Watkins, WR, Clemson – He is one of the scariest deep threats to come into the draft in several years. The Raiders love taking the combine freaks, but this guy also happens to be the best fit for their team. They can get their QB of the future later in the draft.
6. Atlanta Falcons St. Louis Rams – Greg Robinson, OT, Auburn – It would be scary for the Rams to pick up a few more picks for trading down and still getting the surefire left tackle they have been searching for the past decade.
7. Tampa Bay Buccaneers – Taylor Lewan, OT, Michigan – Lewan is one of the top linemen in the draft, and the Buccs, while filling some holes in free agency, still are thin on the O-Line.
8. Minnesota Vikings Miami Dolphins – Jake Matthews, OT, Texas A&M – The Vikings have had a bunch of first rounders in the past few years, so a trade down here will be welcomed, mainly because they won't want another Ponder-ish reach for a QB here. The Dolphins were close last year to making a playoff run, and while they addressed their O-line needs with Brandon Albert, they will jump at the chance to groom his heir at RT.
9. Buffalo Bills – Mike Evans, WR, Texas A&M – Evans is that huge wide-out that is impossible to guard. They are going to need him if they want to score against that beefed up Patriots secondary.
10. Detroit Lions – Ha Ha Clinton-Dix, S, Alabama – The Lions are always in need of secondary help. Clinton-Dix is maybe the most talented one in this draft. Having a playmaker at that position can be a game changer for the annually tortured Lions D.
11. Tennessee Titans – Justin Gilbert, CB, Oklahoma State – With Alterraun Verner heading off to the Buccs, the Titans need to fill that gap. Gilbert is clearly the best corner in the draft, and picking him here makes so much sense that they probably won't do it.
12. New York Giants – Aaron Donald, DT, Pittsburgh – The Giants have several holes, but none more obvious that the defensive line. With the running games in that division, they need to beef up the interior. Donald was the best defensive player in the country as a senior.
13. St. Louis Rams Green Bay Packers – Eric Ebron, TE, North Carolina – The Rams trade down again. With Jermichael Finley departing, the Packers are suddenly without their tight end of the future. Their receiving core has taken hits in the past couple years. Ebron will be a great addition to that offense.
14. Chicago Bears – CJ Mosley, ILB, Alabama – Mosley was one of the consensus top defensive players in the nation each of the past two years. The Bears need help on defense, and their long-term answer at their most storied position ought to be chief among them.
15. Pittsburgh Steelers – Darqueze Dennard, CB, Michigan State – The Steelers have some secondary holes, and if they want a shutdown corner, Dennard is as good as it gets in this draft. He won't be the playmaker that Gilbert will be, but he will be able to be on an island against most offenses.
16. Dallas Cowboys –
Ra'Shede Hageman, DT, Minnesota – Doesn't he already sound like a Cowboy D-Lineman? The guy is an absolute beast, and like the Giants, they need some run stuffers in that division.
17. Baltimore Ravens – Morgan Moses, OT, Virginia – With the departure of Blind Right Side Michael Oher, the Ravens need to shore up the right side of the line, as well as the center position. Take the right tackle early, take the center later.
18. New York Jets – Odell Beckham, WR, LSU – The Jets just signed Eric Decker, but if they want Geno Smith to really mature, they need to surround him with at least as much talent as he had at West Virginia. Beckham is dynamic, and would be a great player for them.
19. Miami Dolphins Minnesota Vikings – Derek Carr, QB, Fresno State – A lot of people are projecting Carr to go in the top 10, but once you get past Bortles and Manziel, the signal callers will start to drop. This is a much better spot for their QB of the future to get selected.
20. Arizona Cardinals – Calvin Pryor, S, Louisville – Put Pryor in a secondary with the likes of Tyrann Mathieu and Patrick Peterson, and the Cardinals might suddenly have the second best secondary in the division (and entire NFL).
21. Green Bay Packers St. Louis Rams – Kelvin Benjamin, WR, Florida State – The envied tall athletic receiver finds his spot on a team that has loaded up on that position in the past few drafts. With Benjamin, Bailey, Givens, Quick, and Austin at the slot, we are suddenly looking at a dynamic passing offense, barring Sam Bradford injuries, of course.
22. Philadelphia Eagles – Anthony Barr, OLB, UCLA – Chip Kelly seems to love taking players he couldn't get the best of in college, and this one would be no different. He is one of the most talented playmakers in the draft, and he is quite versatile. He is a perfect fit for that scheme.
23. Kansas City Chiefs – Xavier Su'a-Gilo, G, UCLA – He has been called the best guard prospect in several years, and the Chiefs are going to need to make up for losing some of their interior line to free agency. Seems like a rock solid fit.
24. Cincinnati Bengals – Zack Martin, OT, Notre Dame – Their offensive line is far from great, and the versatile Martin would be a perfect fit and mini-steal at this stage in the draft.
25. San Diego Chargers – Bradley Roby, CB, Ohio State – After an underwhelming season, Roby falls way further than he expected to a year ago. The Chargers need corner help, especially being the same division as the Broncos.
26. Cleveland Browns – Brandin Cooks, WR, Oregon State – The Browns are going to need some weapons for Manziel, and they might as well start with the stat machine and most dependable receiver in the draft. Cooks would be their top guy from day one.
27. New Orleans Saints Oakland Raiders – Teddy Bridgewater, QB, Louisville – The Saints trade out of the pick since all of the first-round quality offensive linemen are gone. The Raiders take the nine-spot leap to get their new quarterback in training behind veteran Matt Schaub.
28. Carolina Panthers – Marqise Lee, WR, USC – With Steve Smith leaving town, they are going to need a new security blanket for Newton. Lee will be a stud from the moment he steps on the practice field…if he is motivated.
29. New England Patriots – Louis Nix III, DT, Notre Dame – An upgrade up front on defense will be a solid move for the Patriots. Their secondary seems to be in good hands now through free agency, they love drafting pass rushers, and now they can get one more run stuffer to secure that side of the ball.
30. San Francisco 49ers – Dee Ford, DE, Auburn – Defensive line depth never hurt anyone, especially with your prized possession DE getting arrested for acting like a terrorist at the airport. Ford would be a beast in that scheme.
31. Denver Broncos – Kyle Van Noy, OLB, BYU – He was one of the most dynamic linebackers in the nation two years ago, so he certainly has the talent to get taken in the first round. They spent a bunch of money on all defensive positions other than LB, so this seems like a great choice for the Super Bowl runner-up.
32. Seattle Seahawks – Demarcus Lawrence, DE, Boise State – He is a furious pass rusher, and with Chris Clemons departing with the rest of Seattle's free agents to Jacksonville, this seems like the biggest position of need for the team. It would be a mild reach, but they are not opposed to shaking it up in the first round.
Seattle Seahawks: Draft Suggestions/Wish List
Round 1, Pick 32 – Allen Robinson, WR, Penn State – The Hawks need a big bodied wide receiver who can make plays downfield and catch the ball in traffic. Robinson was the only weapon on Penn State, and he still dominated most games. Resigning Sidney Rice does not bode well for drafting a WR in round 1, but I can dream.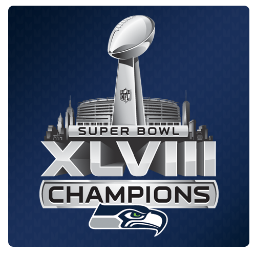 Round 2, Pick 64
– David Yankey, G, Stanford – Ever since we lost Steve Hutchinson, we have been searching for the long term answer at left guard. Yankey had a brilliant career in Palo Alto, and would be a slight reach, but we won't have a chance to get him when we pick again in 68 picks. Best case scenario: we trade down into the beginning of the third to pick up a late round pick vacated by the Terrell Pryor deal, and select Yankey there.
Round 4, Pick 132 – Matt Patchan, OT, Boston College – With Breno Giacomini heading off to the Jets, there is a void at right tackle. We have a couple guys who can step up into that spot, but competition there will be great. Getting the left tackle who opened up holes for 2000 yard rusher Andre Williams seems like a dynamite choice in the 4th round.
Round 5, Pick 146 – Colt Lyerla, TE, Oregon – He may be a pain off the field, but he is incredibly versatile and would be an asset on our offense. He is an amazing athlete at the tight end position, and taking him could finally mean the end of Anthony McCoy in Seattle.
Round 5, Pick 172 – Trai Turner, G, LSU – He is a developmental guard, perfect for Tom Cable. He played in a pro-style offense in college, and coming out as a redshirt sophomore means that he has the confidence in himself to step up. He will not be asked to play this year, but having that O-line depth is always good.
Round 6, Pick 208 – Ciante Evans, CB, Nebraska – Losing Walter Thurmond leaves an opportunity to groom the next great slot corner. Having seen every game that Evans played in college, I can honestly say that he is one of the great shutdown nickel backs I have seen at the college level. He would be a steal at pick 208.
POTENTIAL UNDRAFTED FREE AGENTS TO PURSUE
QB: Casey Pachall, TCU – He had his off the field issues, but he is a gamer. If he had remained clean throughout his college days, then he would be a draftable player. Bring him into camp and let him prove that he belongs in the league.
RB
: Adam Muema, RB, San Diego State – Remember
this
? It was the strangest story of the combine, and even though he has since said he is done playing football, I am sure we can invite the nutcase to camp. It would be a very Carroll-ish thing to do.
WR: Alex Neutz, Buffalo – He had a very productive career for Buffalo, and he has great NFL size. He was really reliable in big games, and he was the only real receiving threat on the squad.
TE: Jacob Pedersen, Wisconsin – He would be a nice fit for the Hawks. He is a lot like Zach Miller and Luke Willson, so adding a practice squad guy to wait in the wings would be beneficial.
DE: Jake Metz, Shippensburg – He has the right size, he was his small conference's defensive player of the year, and recorded 11 sacks as a senior. We have hit on a few small school guys, so he would be worth the invite.
OLB
: Kyler Elsworth, Michigan State – He had that
amazing play
at the end of the Rose Bowl, diving over the line on fourth down to win the game for the Spartans, he was on people's radars. He wasn't a combine invite, so he is going to have a chip on his shoulder, as he did throughout college. He is going to be motivated and has a good chance to make a roster somewhere.
S: Mycal Swaim, Eastern Michigan – 6'4'' 212 pounds. He would fit right in on this team. Recently, we have basically been redshirting rookies, so placing him on the practice squad and learning play the position from Kam Chancellor would be ideal.
Thoughts? Comments? What do you want your team to go after in the draft?