Week 9 was the final week before the College Football Playoff Rankings come out. All of the unbeatens were facing tough tests on the road. Except Alabama, who conveniently avoided upset Saturday with a bye. I feel like their schedule is the easiest to manage of any team. Byes before their biggest games, cupcakes before rivalry games, no true road games in the non-conference. Oh well. Only four unbeatens remain in the Power 5, and despite everyone freaking out about what we are going to do with five or six unbeaten teams, the same thing happens that happens every year: unexpected losses! What a concept! Check out the week 9 recap below…
Others receiving votes: Florida State, Minnesota, Ohio, Oklahoma State, Troy
Dropped from the rankings: Toledo (17), Navy (19), Florida State (21)
25 (NR). Penn State (6-2) – I resisted putting them in my rankings last week after beating Ohio State out of principle. Any team who loses by 39 doesn't deserve to be ranked, but there simply aren't enough worthy teams. Plus, their offense has gotten going recently.
24 (NR). USC (5-3) – Sam Darnold makes them a completely different team offensively. They will be a tough out for any team.
23 (24). North Carolina (6-2) – IDLE
22 (25). Oklahoma (6-2) – The Sooners destroyed the Jayhawks on Saturday. They are really rolling offensively, but unfortunately their loss to Houston is looking less like a quality loss these days.
21 (23). LSU (5-2) – IDLE
20 (22). Colorado (6-2) – IDLE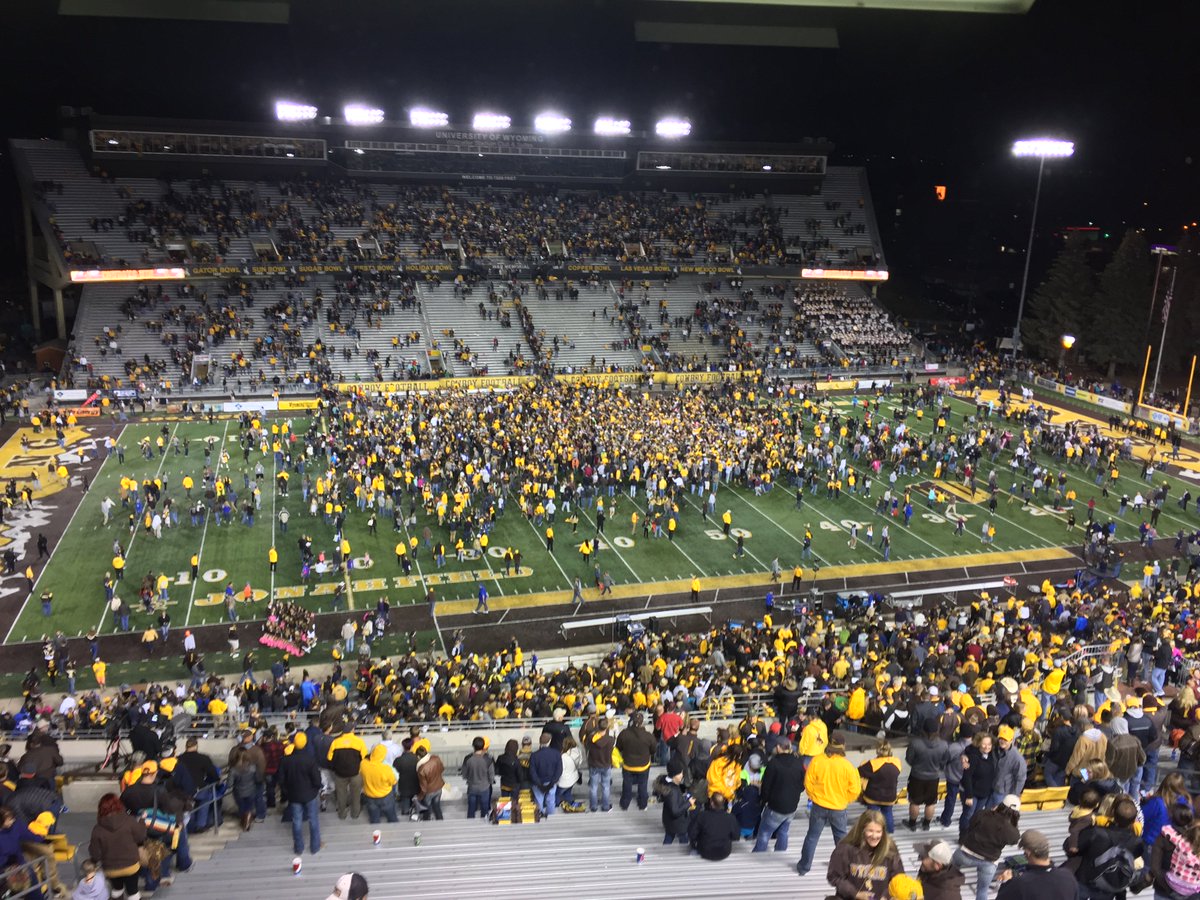 19 (NR).
Wyoming (6-2) –
Their monster upset of Boise State really says something about where Craig Bohl has this program. Their only losses were to Nebraska and a much improved Eastern Michigan.
18 (18). Florida (6-1) – It's difficult to really take too much stock in this team. They have not looked impressive in any individual game, except in the first 3 quarters of their loss to Tennessee. And they postponed their only game that could have been considered a true test.
17 (16). Washington State (6-2) – The Cougars look the part, but they just cannot put teams away. That is going to be detrimental when they face the class of the Pac-12 (Washington).
16 (12). Boise State (7-1) – Boise losing in Wyoming isn't necessarily a terrible loss, but it is a confusing one. Most of their struggles in 2016 have been at home, not against division rivals on the road. They have typically flexed their muscles in those instances.
15 (10). Utah (6-2) – They hung tight with Washington at home, which shows that they were actually underrated by the polls coming into the week.
14 (6). Baylor (6-1) – The Bears, on the other hand, had a disgusting loss to an awful Texas team.
13 (20). San Diego State (7-1) – The Aztecs have absolutely steamrolled every team they have played, other than during that strange loss to South Alabama. They are our clear Group of Five favorite right now.
12 (15). Auburn (6-2) – Auburn has really gotten going recently. They run game is looking as impressive as it ever has under Malzahn, even though they don't have a running threat under center.
11 (7). West Virginia (6-1) – Losing at Oklahoma State provides no shame for the Mountaineers. The Cowboys might actually prove to be the most complete team in the conference when all is said and done.
10 (13). Western Michigan (8-0) – IDLE
9 (14). Texas A&M (7-1) – They had a cupcake game this week and benefit greatly by several teams above them getting take down. Their loss to Alabama was not exactly a great showcase for the team, but they are still as good as any other team in the SEC.
8 (8).
Nebraska (7-1) –
They lost in overtime to Wisconsin, where they actually controlled much of the game in every way except the scoreboard. I have a hard time downgrading them at all, but you can't really move up for a loss.
7 (9). Ohio State (7-1) – Ohio State avoided back-to-back disasters by sneaking by Northwestern at home, setting up a huge top 10 game next week with Nebraska.
6 (5). Louisville (7-1) – Eventually, Lamar Jackson is going to taste defeat in one of these games. A close game with Virginia is an absolute embarrassment.
5 (11). Wisconsin (6-2) – Wisconsin has now managed the toughest schedule maybe ever with just two losses, one of which was in overtime.
4 (4). Clemson (8-0) – Clemson survived yet another close game with an inferior team. There's a lot of 2014 Florida State in this team. They might get blasted in the first round of the playoffs by a real team.
3 (3). Michigan (8-0) – No rivalry upsets here. Michigan is as tough as any team, and when their offense is working, they are virtually unbeatable.
2 (2). Washington (8-0) – A ranked win on the road? Winning the game down the stretch? Style points? The Huskies are every bit as worthy of the top ranking as Alabama.
1 (1). Alabama (8-0) – IDLE
Top 5 Games for Next Weekend
5. Syracuse at Clemson (#4), 12:30PM TBD – It is a weak slate of games, so this is the type of game that must be highlighted. Cuse is coming off a bye, and following the FSU win for Clemson, this could be a game where they could come out a little sleepy.
PREDICTION: Clemson 21-20
4. Georgia Tech at North Carolina (#23), 9:30AM TBD – Georgia Tech is much better than they were a year ago, and North Carolina is not immune to putting up a stinker.
PREDICTION: Georgia Tech 34-27
3. Wisconsin (#5) at Northwestern, 9:00AM TBD – After all of those top 10 games that Wisconsin faced, they get a motivated and tough-minded Northwestern team on the road. Watch out, Badgers…
PREDICTION: Wisconsin 14-10
2. Alabama (#1) at LSU (#21), 5:00PM CBS – The game that has become one of the biggest rivalries in the game puts one team up as playing spoiler. LSU is absolutely capable of winning this game the way Leonard Fournette is playing.
PREDICTION: Alabama 23-21
1. Nebraska (#8) at Ohio State (#7), 5:00PM ABC – Nebraska is coming off a heartbreaker, and Ohio State is coming off a near upset. This game will say a lot of about these two teams.
PREDICTION: Ohio State 20-14
5. Deshaun Watson, QB, Clemson – His team keeps winning, and he was a finalist last year. That should be enough for an invite by the near-sighted Heisman trust.
4.
Donnel Pumphrey, RB, San Diego State –
He is the best running back in the nation. He has gone over 200 yards a handful of times this year already.
3. Jabrill Peppers, DB, Michigan – He is padding his stats with goal line touches. Harbaugh is doing everything he can to bill him as Charles Woodson Part 2.
2. Jake Browning, QB, Washington – He is having the most efficient season in college football history. He just doesn't have the "moments" of…
1. Lamar Jackson, QB, Louisville – It is almost like he lets terrible teams hang around so he can have that drive where he showcases his legs and huge arm. It's almost unfair.
College Football Playoff Projections
Chik-fil-A Peach Bowl: Louisville over San Diego State
Rose Bowl: Ohio State over Washington State
Fiesta Bowl: West Virginia over Penn State
Sugar Bowl: Wisconsin over Texas A&M
College Football Playoff Semifinal #1 (Orange Bowl): Alabama over Clemson
CFB Playoff Semifinal #2 (Cotton Bowl): Michigan over Washington
National Championship Game

: Michigan over Alabama
What does your top 10 look like after all the chaos? Can anyone beat Lamar Jackson in the Heisman race? Comment below.