The Los Angeles Dodgers have consistently been one of the most talented teams in the league, but have yet to get over the hump and turn it into postseason success. Will 2016 change that trend?
Last Season
My 2015 Prediction: 1st in NL West, lose World Series
2015 Result: 92-70, 1st in NL West, lost in NLDS
The Dodgers had a wonderful 2015 regular season, boasting the best two pitchers in all of baseball. Clayton Kershaw is the pitcher from another world, but it was Zach Greinke that wound up on top. However, once again they were not able to turn regular season success into postseason victories as they lost to the eventual NL champs in the NLDS.
2016 Additions / Subtractions
After Greinke had such a historic season in 2015, he skipped town and signed with Arizona. This was really the only subtraction, but it's a big subtraction. Added to the roster for 2016 is Scott Kazmir and Japanese import Kenta Maeda to replace the production lost by Greinke. Other than that, the Dodgers have practically the same roster, however there was one more major change. Manager Don Mattingly is now in Miami, and rookie manager Dave Roberts has taken over the helm for LA.
Most Important Hitter
Yasiel Puig
Yasiel Puig is one of the greatest enigmas in all of baseball. For a week, he will look like an MVP candidate. The next week, he will look like he couldn't make the AAA squad. People love to talk about his flash and flair, but he needs to be more productive on the field. If he can consistently produce, all of a sudden their lineup is one of the best in baseball.
Most Important Pitcher
Kenta Maeda
It's rare that a team's most important player entering the season is a rookie, but Japanese imports are not ordinary rookies. Kenta Maeda was one of the most sought-after free agent pitchers this offseason. The Dodgers brought him in to potentially be the other ace at the top of the rotation with Clayton Kershaw. Replacing Zach Greinke is next to impossible, but if Maeda pitches the way some people think he can, he will come close.
Player to Watch
Julio Urias
Everyone knows about Corey Seager: Opening Day starting shortstop, favorite for NL Rookie of the Year, and outside candidate for NL MVP. However, whenever the Dodgers' farm system would be mentioned in trade talks, there were two untouchable prospects named. The first was Seager, and the second was Julio Urias. This 19 year old lefty is on a fast track to the big leagues, and if the Dodgers' injury issues continue in their starting rotation, look for Urias to make his big league debut sooner rather than later. It's obvious that the Dodgers are banking on the future of their franchise to be built around Seager and Urias.
2016 Prediction
2nd in NL West, WILD CARD, lose in NLDS
The Dodgers are set to have another strong regular season in 2016. Their rotation is not as strong as last year, but it is still pretty good. Their lineup is always good as well. However, the problem has always been what they do in the postseason. With the steps forward the Giants have taken, I see the Dodgers having to work their way through the Wild Card game. They will win that game, but not get any further. They need to figure out what it will take to make that next step soon as their current core of players are not getting any younger.
Fearless Prediction
Yasiel Puig will be traded by the Trade Deadline.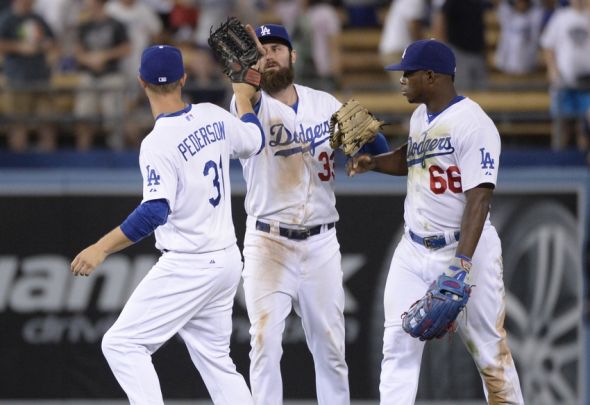 One of the things I think it will take for the Dodgers to take a step forward in their progress and production will be to move on from Yasiel Puig. He has been more distracting than dominant as the Dodgers never quite know what they are going to get out of him. Sometimes, it is not just about having good players but having the right good players. The outfield is a position of great depth for the Dodgers, with Joc Pederson, Andre Ethier, Carl Crawford, and Scott Van Slyke all proven big leaguers also on the roster. They could easily afford to lose Puig, and they would still be able to get a big return for him from somebody. This is a move that needs to happen though if the Dodgers want to win any time soon.