I am always discouraged by seeing the polls and Heisman talk by national analysts. It is clear that none of the watch Pac-12 football (other than checking the Oregon box score) and they believe that anyone not in the SEC is just not playing real football. I am surprised all of the ESPN analysts didn't come out with public statements backing Nick Saban on his comments about how the no huddle offenses are ruining college football. Anyway, we had a tremendous week 6 across the country. There was some major shakeup in the polls and the true contenders are starting to rise to the top. Check it out:
Top 25
Others receiving votes: Baylor, Cincinnati, Michigan State, Nebraska, TCU
25. Mississippi State (5-0) – Their first real test will be a big home game against Tennessee next week.
24. Ohio (6-0) – That win against the Nittany Lions is looking more solid.
23. Arizona State (4-1) – This team is different from most Sun Devil squads. They actually have an offense. Remember last year when they blew that game at Oregon? Payback this year in Tempe?
22. Northwestern (5-1) – They are a nightmare to prepare for with Kain Colter (the Royce White of CFB). They could easily take the Legends division outright with a win next week against Nebraska.
21. Clemson (5-1) – They cannot stop anyone, but their offense will keep them in most games. No harm in getting taken down by Florida State.
20. Texas (4-1) – I like how everyone was picking them to take down West Virginia because of their defense. Their offense is quite good, but they are still a Big 12 team on defense.
19. Louisville (5-0) – They haven't really played anybody, but they have potential to spring a big Orange Bowl upset if they make it there.
18. Oklahoma (3-1) – The Sooners are never going to take the next step until Landry Jones finally graduates. Their playmakers alone give them a spot on this list.
17. Boise State (4-1) – Their offense is not great, but Petersen will get them clicking. Their defense is one of the best they have ever had.
16. Stanford (4-1) – There is no shame in losing a night game in Seattle. Those fans are crazy.
15. Georgia (5-1) – They have no defense whatsoever, but their offense is good enough to get by in most games with their stud freshman running backs.
14. Rutgers (5-0) – One of the perennial underrated teams. Their defense is really stout.
13. Texas A&M (4-1) – Their early loss to Florida is looking better. They have just been killing it on offense behind freshman QB Johnny Manziel.
12. USC (4-1) – Stanford is the only team in that conference that can out-physical the Trojans. I still like their chances against the Ducks. No way Oregon beats them twice.
11. LSU (5-1) – Every time Les Miles has a team that is doubted, he somehow brings them back and his team starts rolling. Expect no difference this year. Remember that game against Washington? This is the only team that could stop Bama.
10. Ohio State (6-0) – Their team is so strange. They look bad against Miami Ohio and California, but then they go and just beat up two ranked conference opponents. Too bad they are bowl ineligible, because they are going unbeaten.
9. Florida State (5-1) – They dominated every game until choking all over their 16 point second half lead at NC State. They will recover and dominate the rest of the conference.
8. Oregon State (4-0) – They have surprised everyone this season, and with that style of play, they could give Oregon a run in the Civil War.
7. South Carolina (6-0) – They looked really good this week, but it is amazing how the pollsters just forget about how bad they looked last week against a horrible Kentucky squad.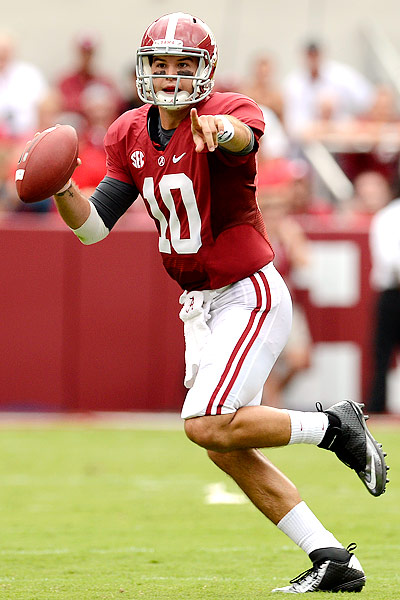 6. West Virginia (5-0) – I would love to see a Dana Holgersen offense face off against that Alabama defense with a month to prepare. National title matchup? We can only hope.
5. Florida (5-0) – Their defense is locking down, and their offense will come around at some point. Shutting down that LSU rushing offense says something.
4. Kansas State (5-0) – All they do is win games. It is not as pretty as some other teams, but if these guys were any Big 12 school other than K-State, they would be a lock for a national title bid if they went undefeated.
3. Oregon (6-0) – Perhaps the best second half team I have ever seen. Their bend-don't-break defense could be exposed at some point, but their team speed is just ridiculous.
2. Notre Dame (5-0) – They have the toughest schedule in the nation. Just watch them play. Their guys look like an NFL team. Brian Kelly is the best coach in America.
1. Alabama (5-0) – No real doubt about this one. They look untouchable at this point.
Heisman Trophy Watch
5. Braxton Miller, QB, Ohio State – The Buckeyes would be nothing on offense without that Miller-Urban Meyer combo. He is having an incredible season. If he stays healthy then his stats will be amazing.
4. Tavon Austin, WR, West Virginia – Geno Smith's playmaking slot receiver is putting up insane numbers. Every time he touches the ball, you have to hold your breath. He is the real version of what everyone thinks De'Anthony Thomas is.
3. Manti Te'o, LB, Notre Dame – This guy is the heart and soul of the unbeaten Irish. If they go undefeated, then he will be in this race for the duration.
2. Colin Klein, QB, Kansas State – He is a one-man team, honestly. His throwing motion is ugly, he gallops when he runs. But he is a beast. If not for an ugly second quarter against the Sooners last year and a late loss against Ok State, Kansas State would have been playing for a national title. Expect similar things this year.
1. Geno Smith, QB, West Virginia – He is having one of the best starts to a season ever. With the defenses he has to face the rest of the year, we could be looking at the most prolific and efficient passing season of all time in college football.
BCS Projections
Rose Bowl – Oregon (Pac 12) over Nebraska (Big 10)
Orange Bowl – Florida State (ACC) over Cincinnati (Big East)
Sugar Bowl – Notre Dame (At-large) over Florida (At-large)
Fiesta Bowl – USC (At-large) over Kansas State (At-large)
BCS Title Game – Alabama (SEC) over West Virginia (Big 12)
What do you think? Give me your rankings in the comments!