We had a very interesting week in college football. A few teams are unbeaten no more. The real best teams in the nation rose up, while the overrated pretenders (Oklahoma) showed their true colors. Here is what the national landscape looks like right now:
Top 25
Others receiving votes: Arizona, Louisiana-Monroe, Nevada, South Carolina, TCU, UCLA
Dropped from the rankings: Ohio (18), South Carolina (24)
25. (22) West Virginia (5-2) – That bye week is just what the doctor ordered for the Mountaineers to get their act together for a late-season run.
24. (25) Toledo (8-1) – That season-opening OT loss at Arizona is looking better for the Rockets.
23. (12) Rutgers (7-1) – A classic trap game came up to bite them. I hate how teams schedule cakewalk teams in the middle of conference games.
22. (14) Oklahoma (6-2) – Getting beat by Notre Dame was expected, but getting completely shut down and scored on the way they did…Sooner fans should start to worry.
21. (6) USC (6-2) – That loss at Arizona was discouraging. Just shows that all the flash and stats on offense cannot always lead to wins.
20. (NR) Northern Illinois (8-1) – No team would want to play Jordan Lynch and this high-powered spread attack in a bowl game.
19. (16) Texas Tech (6-2) – They got demoralized by Colin Klein and company early. It happens.
18. (NR) Nebraska (6-2) – The home win against Michigan all but clinched a Big Ten Championship appearance for the Huskers, setting up an inevitable rematch with Wisconsin.
17. (21) Louisiana Tech (7-1) – Like NIU, this team's offense can score on anyone. They are consistently an exciting watch.
16. (23) Stanford (6-2) – They survived a scare against the upset-minded Cougs to keep their impressive season alive. They are still in control of their destiny in the North.
15. (17) Texas A&M (6-2) – Like many before them, they destroyed Auburn. This team's offense is scary at times.
14. (11) Mississippi State (7-1) – Everyone gets blown out by the Tide. Nothing to worry about.
13. (7) Oregon State (6-1) – Losing in Seattle is nothing to be ashamed of. Ask Stanford.
12. (19) Clemson (7-1) – Clemson continues to impress offensively, which will be enough to win out in the putrid ACC.
11. (9) LSU (7-1) – The merit of their loss to Florida took a bit of a hit yesterday, but it won't matter. Expect the Tide to roll all over the Tigers at Death Valley.
10. (13) Boise State (7-1) – This team's defense is just incredible. If Southwick played half as good in their opening loss to Michigan State, then this team would be busting the BCS again.
9. (15) Louisville (8-0) Their win against Cincy was a great showcase for them. That conference is wide open. It will still come down to the Cardinals and Rutgers, however.
8. (4) Florida (7-1) – Their true offensive colors were shown in their big "neutral" site loss to Georgia. Their defense is still tough, though.
7. (20) Georgia (7-1) – They are still a fraud, but beating the Gators was a big deal for them. If their defense can play like that more often, then they will take that division for sure.
6. (8) Ohio State (9-0) – They just keep winning, and none of us really know why. They are going to be undefeated when they play Michigan to close the season. The Wolverines would love nothing more than to spoil the only thing that the Buckeyes are playing for.
5. (10) Florida State (8-1) – If not for a dreadful 2nd half collapse at NC State, this team would be looking just as dominant as K-State. That win against the Blue Devils was big.
4. (5) Notre Dame (8-0) – They showed Oklahoma and the rest of the nation that this team is absolutely for real on defense and that their young QB is growing up. They can almost coast until they play USC at the Coliseum.
3. (3) Oregon (8-0) – They continue to destroy their opposition, but who knows what they will do if they have to play more than 2 quarters. Maybe USC will finally give them that test.
2. (2) Kansas State (8-0) – This team plays good first halves then just completely dismantles the opponents in the second half. Their BCS resume might be most impressive thus far.
1. (1) Alabama (8-0) – I don't think I have ever seen a team dominate both sides of the line of scrimmage like this team. One of the most impressive teams I have ever watched. If they lose this season, I will be shocked.
Heisman Trophy Watch
5. Kenjon Barner, RB, Oregon – His yards per carry and other stats are absurd. If that is what the voters are looking for, then he stands a good chance at winning over at least the West Coast region of voters.
4. Braxton Miller, QB, Ohio State – Miller is dominating the Big Ten, but not having the luxury of playing during conference championship week might hurt his chances.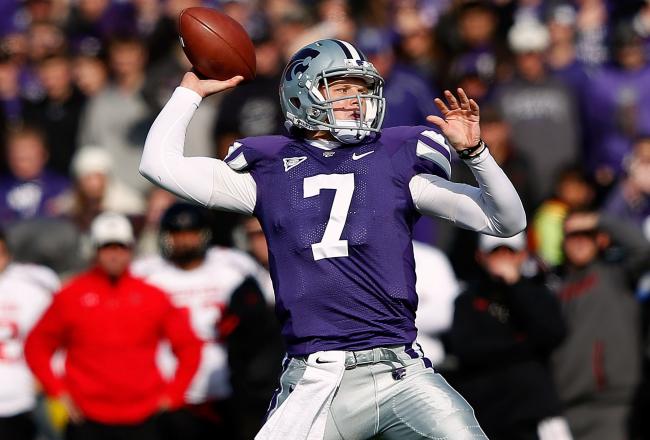 3. AJ McCarron, QB, Alabama – He just continues to methodically demolish teams by not making mistakes. He will get his votes, but I doubt he could ever win the thing.
2. Manti Te'o, LB, Notre Dame – Another huge game under the national spotlight only furthered his candidacy. Can he be the first defensive Heisman winner in 15 years?
1. Colin Klein, QB, Kansas State – If the Wildcats win out, this will be one of the biggest landslides ever.
BCS Projections
Rose Bowl – Oregon (Pac-12) over Nebraska (Big Ten)
Orange Bowl – Florida State (ACC) over Rutgers (Big East)
Sugar Bowl – Notre Dame (At-large) over Georgia (At-large)
Fiesta Bowl – West Virginia (At-large) over Clemson (At-large)
BCS Title Game – Alabama (SEC) over Kansas State (Big 12)
What do you think? Give me your rankings in the comments!