We finally have a bit of chaos! Number one Alabama, who was being referred to as the best team in years, went down at home to a freshman quarterback and a pretty mediocre defense. Oregon's rushing offense was slowed for a half. Kansas State struggled to score with a gimpy Colin Kelin. Notre Dame is still winning ugly. I can't wait to see how all this plays out over the next three weeks! Football in November…the games we remember (thanks for that College Football Final). Check out the latest updates:
Top 25
Others receiving votes: Kent State, Michigan, Oklahoma State, Texas Tech, Utah State, Wisconsin
Dropped from the rankings: Mississippi State (22), Toledo (24)
25. (NR) Boise State (8-2) – This team is only getting better. Don't count on them losing again this year.
24. (20) Texas (8-2) – The Longhorn offense is getting it together. I still have my doubts, but I just have a bad feeling about them playing K-State. It could ruin one of the coolest runs in recent memory.
23. (23) Rutgers (8-1) – This is probably the most productive defense in all of college football. I can't wait for them to play Louisville.
22. (25) Washington (6-4) – They continue to break hearts at home. Finally getting their stud sophomore Austin Seferian-Jenkins involved has given the offense the boost it needed.
21. (21) USC (7-3) – They have a couple of the best skill position players in the nation. Too bad they can't play defense. Oh wait…yeah Marqise Lee might do that too.
20. (19) Oklahoma (7-2) – Their two losses are not the issue. It is how inconsistent the offense is and how bad the defense is at times. An at-large bid for the Sooners is almost assured, but they won't deserve it.
19. (NR) South Carolina (8-2) – This team showed me something playing without their star and emotional leader. They may be able to snag an at-large bid if they can beat Clemson.
18. (18) Nebraska (8-2) – A couple double digit second half comebacks may seem lucky, but when a team does it 4 times in 6 games in conference, it speaks to something much bigger. This is the best second half team in the nation not located in Eugene. Maybe this is the only team that could hold up against that Quack Attack down the stretch.
17. (17) UCLA (8-2) – They just keep plugging away. If they beat the USC, then I nominate Jim Mora for 2nd place for Coach of the Year (behind Snyder, of course). The sudden UCLA turnaround has been amazing.
16. (14) Louisiana Tech (9-1) – Struggling with Texas State? Really? How did this team almost beat Texas A&M? Oh yeah. SEC defenses are overrated.
15. (15) Northern Illinois (9-1) – They are now officially the best non-AQ team. I would like to see what they would do to Iowa in a rematch of that fluke opening season loss.
14. (8) Louisville (9-1) – Getting beat at Syracuse is not too embarrassing, but the way the Cardinals got manhandled was shocking. Bridgewater and company will get it together for the stretch run.
13. (11) Florida (9-1) – They just keep getting worse. You should have lost to Louisiana-Lafayette, Gator fans. Maybe that will teach all you SEC teams to schedule a "cakewalk" in the middle of conference games. That's four in the last two weeks that the SEC has avoided embarrassment.
12. (16) LSU (8-2) – I don't really understand this team, but they can really run the ball. The two losses aren't going to do them any favors, but they could make an argument of being the most deserving two-loss team of an at-large bid.
11. (9) Oregon State (7-2) – They are maybe the most balanced and physical team in the Pac. They can beat Oregon. It probably won't happen, but they can do it if they play their game.
10. (10) Clemson (9-1) – They continue to plug away putting up staggering numbers offensively. An at-large bid is almost assured, but they still have that in-state rivalry game to close the year…
9. (7) Georgia (9-1) – Yeah, I realize they dropped after shutting out a rival team on the road, but they just aren't balanced enough and have not played a good defensive game against an offense that is worth anything.
8. (13) Texas A&M (8-2) – That win against the Tide was beautiful and satisfying. Manziel is putting up quite the freshman season on the road. No one will want to play this team the rest of the year.
7. (12) Stanford (8-2) – They just continue to win. That game against Oregon State might have been the best game of the weekend. They have a chance to basically clinch the division next week against the top-ranked Ducks.
6. (6) Florida State (9-1) – They escaped with a win on a short week. If they weren't in the ACC, we might be talking about the top-ranked one-loss team.
5. (1) Alabama (9-1) – They are no longer untouchable. I thought their offense was better than that. Sorry about all the hype, and that was coming from someone who hates the SEC as much as the next guy.
4. (5) Ohio State (10-0) – The bye week will prove to be beneficial for this team, who is certainly looking forward to that inevitable season-ending matchup with their archrival. That game smells like an upset this year. Maybe Wisconsin can catch them off guard next week as well.
3. (4) Notre Dame (10-0) – They continue their winning ways, but it is never pretty. Their freshman QB is maturing each week. They are going to be tough to prepare for in whatever BCS game they get into.
2. (3) Oregon (10-0) – The second half was insane, but the first half was telling. A team with a rush defense can stop this attack. Cal sucks, but they hung in there. Check back with me next week after the Ducks play the best rush defense in America and see if that 40+ point streak is still alive. A small part of me wants them to just win it all this year so Chip Kelly can bolt to the NFL so Oregon can return to where it belongs: the cellar of the Pac and beneath the foot of UW.
1. (2) Kansas State (10-0) – They are clearly deserving of this spot seeing what they have done on the field so far. Every week it is, "We will know more about K-State after this week." And each week is a dominant win. When is everyone going to just throw out what it looks like and call this team the best?
Heisman Trophy Watch
10. Tajh Boyd, QB, Clemson – He is having a monster year, even against the vaunted Florida State defense. He has almost no shot at getting enough votes, but he has to be getting close to getting this kind of recognition. Next year, he will be a preseason favorite for sure.
9. Matt Barkley, QB, USC – He may not have the wins, but he has the signature moments and career records that define the award sometimes.
8. Marcus Mariota, QB, Oregon – If not for another freshman QB, he might be the story of college football. His maturity and statistics continue to impress anyone who gets to watch him play.
7. AJ McCarron, QB, Alabama – His first loss came along with his first two picks of the season. After the Heisman moment last week, he came up short. Only if he has a huge last few weeks and his team gets in line for the BCS title game will he regain his status.
6. Kenjon Barner, RB, Oregon – When he got injured, it showed his value to this offense. If he plays the last few games with comparable numbers, then he is a lock for an invite to the ceremony.
5. Johnny Manziel, QB, Texas A&M – He has his signature win, but he is still a freshman. If Adrian Peterson couldn't win the Heisman he deserved during his first year, then Manziel certainly cannot. Am I the only one who thinks he has a resemblance to Taylor Martinez as a freshman?
4. Marqise Lee, WR, USC – This guy is insane. He may be the best receiver that has ever played at SC, and he is just a sophomore. Look for a third-straight back-to-back Biletnikoff winner next year, after that never happening before in its history.
3. Braxton Miller, QB, Ohio State – Take Miller out of that offense, and I am not sure that the Buckeyes don't have 2 or 3 losses at this point. His numbers will get him a bunch of votes, since that is basically what this trophy is all about nowadays.
2. Manti Te'o, LB, Notre Dame – He continues to make plays on defense. He will be invited to New York.
1. Colin Klein, QB, Kansas State – His injuries may hurt his numbers, but it is clear what he means to this team (everything).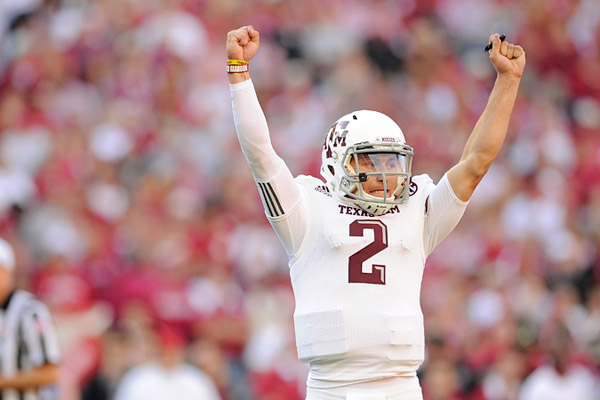 BCS Projections
Rose Bowl – Nebraska (Big Ten) over Notre Dame (At-large)
Orange Bowl – Florida State (ACC) over Rutgers (Big East)
Sugar Bowl – Alabama (SEC) over Clemson (At-large)
Fiesta Bowl – Florida (At-large) over Oklahoma (At-large)
BCS Title Game – Oregon (Pac-12) over Kansas State (Big 12)
What do you think? Give me your rankings in the comments! Look us up on Facebook!