Oh, college football…what would I do without you? What a beautiful Saturday for all of us fans that do not have a team in the hunt. I could not be more thrilled with Oregon's defeat at the hand of Stanford. Kansas State was a great story, but number one going down is always welcome. Next week is going to be insane. Stanford is playing UCLA, where if Stanford wins, the teams will have a rematch the next week for the Pac-12 title. If UCLA wins and Oregon wins, Oregon will be play the Bruins the next week for a spot in the Rose Bowl or possible the BCS Championship in Oregon's case. Florida needs a win against Florida State to stay in the national championship hunt, which won't happen. South Carolina could be looking at an at-large bid if they beat Clemson, which won't happen. Georgia needs to withstand their rival Georgia Tech to make the SEC championship mean something nationally. Kansas State has a week to sit in its own sorrow before having to suit up against Texas with another shot at the Big 12 Title. Everyone else is just sitting there, watching, and rooting for teams above them to continue to go down. Notre Dame playing USC is a clash of styles and intriguing for sure. The Heisman Trophy race is wide open like never before. I love college football!!!
Top 25
Others receiving votes: Kent State, Louisiana Tech, Mississippi State, Oklahoma, San Jose State, USC, Wisconsin
Dropped from the rankings: Louisiana Tech (16), Oklahoma (20), USC (21)
25. (25) Boise State (9-2) – No one really wants to talk about the Broncos, but they continue to plug away and basically dominate a decent MWC.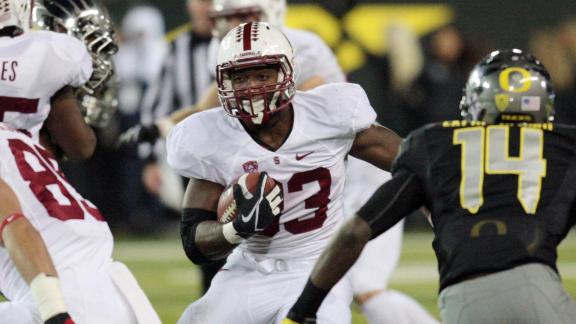 24. (24) Texas (8-2) – This team has really gotten better over the last few weeks. They can break the heart of every Wildcat fan in two weeks, but watch out for TCU on Thanksgiving Day. Those guys can spring an upset any week.
23. (NR) Oklahoma State (7-3) – After a dominant effort against a Texas Tech defense that people have praised all season, the Cowboys set their sights on officially ending the season of their arch rival Oklahoma.
22. (19) South Carolina (9-2) – This was the team that most struggled with its FCS opponent, tied at 7 going into the 4th quarter. Nicely done SEC. Way to represent the "best" conference in football.
21. (NR) Utah State (9-2) – That win against Louisiana Tech was great for their cause. Only losses were 6-3 to BYU and 16-14 to Wisconsin. This team might be for real, despite losing their two best players to the first few rounds of the draft in April.
20. (22) Washington (7-4) – They can complete the toughest schedule in the nation with 8 wins next week in the Apple Cup. That is an impressive feat, and they have done it with defense.
19. (NR) Michigan (8-3) – They have three losses, two to top 5 teams and one at Nebraska. Everyone wants to write them off, but they are still alive in the Big Ten. Watch out, Buckeyes. This team has found new life with Devin Gardner at quarterback.
18. (23) Rutgers (9-1) – They continue to prove that no one can score on this defense.
17. (13) Florida (10-1) – I keep moving them down (perhaps a bit too far), but how did this team beat those teams early on? They are a mess. They follow up a near embarrassing loss to Louisiana-Lafayette with an embarrassing effort against Jacksonville State. Wow.
16. (18) Nebraska (9-2) – The team has run its gauntlet, and now they get to basically relax until that rematch with the Badgers for a spot in the Rose Bowl.
15. (15) Northern Illinois (10-1) – The Huskies finally got a chance to show off their relentless offense on national TV Wednesday night. How is this team not getting more votes?
14. (14) Louisville (9-1) – The open date will help the Cardinals retool for their last couple weeks, including trying to find a way to score on Rutgers.
13. (17) UCLA (9-2) – Aside from a confusing loss to the Golden Bears, The Bruins have put together an immensely impressive debut season for Coach of the Year candidate Jim Mora.
12. (12) LSU (9-2) – They were able to squeak out a hard-fought game at home against the mediocre Rebels, followed by a funny rant by their offbeat head coach. They still have to be the favorite for that SEC at-large bid.
11. (9) Georgia (10-1) – Nice win against Georgia Southern…not. The SEC has flirted with disaster the last two weeks…and not one of the upsets happened. Karma will eventually come their way…
10. (11) Oregon State (9-2) – The Beavers continue to impress each and every week. Their only losses are Stanford and Washington. Basically, they are as complete as any team. Pac-12 North is probably the best division in football.
9. (8) Texas A&M (9-2) – One of the many SEC teams playing cakewalk teams, and their defense certainly had some holes, but Johnny Football did his thing. At-large is certainly possible after they rape Missouri next week.
8. (10) Clemson (10-1) – They continue to put up video game numbers on everyone, including during their lone loss to the Seminoles. All they have left is the shaky Gamecocks in a rivalry game. Sugar Bowl, get ready the fighting Dabos!
7. (2) Oregon (10-1) – I knew they were not unbeatable, but the only way they scored was off turnovers. Stanford was just a better team. I never would have thought I would see another game where Oregon plays that poorly offensively under Chip Kelly. Look out, Ducks. The Beavers are rolling too.
6. (1) Kansas State (10-1) – How did Baylor spring that monumental upset? Was that not the same defense that gave up 70 to West Virginia? Weird. Gut check time for the Wildcats over the bye week.
5. (6) Florida State (10-1) – The computers hate them, and for good reason. But this team is just whipping teams week in and week out. I actually wouldn't have a problem if they are playing for it all after they torch the overrated Gators next week.
4. (7) Stanford (9-2) – I indirectly called their upset last week. They are such a good team. They have one loss to number one in overtime and one loss at Washington, a place where everyone loses. They might be the most compete team out there.
3. (5) Alabama (10-1) – They had a nice practice game against FCS laughing stock Western Carolina this week. All they have is FBS laughing stock Auburn left on their schedule. Roll Tide…
2. (4) Ohio State (11-0) – It seems like every year it is Ohio State that benefits from everyone else taking each other out. Good thing we don't have to worry about seeing the Luckeyes in the title game this year at least.
1. (3) Notre Dame (11-0) – It pains me that they are now number one, but they deserve it. That schedule was a daunting task at first look, and even though it has proven easier than we thought, they are just one win away from a shot at the title. We all knew Brian Kelly would get them there eventually, but this soon? Best coach in America. By far.
Heisman Trophy Watch
7. AJ McCarron, QB, Alabama – Now that they are on track to play in the championship again, McCarron has got to be the wildcard in the voting. It would be a very boring Jason White-type of winner, but he has had a really nice season.
6. Tajh Boyd, QB, Clemson – When they lay 40 on South Carolina next week, people will start talking about Boyd as a possible finalist for this award.
5. Marqise Lee, WR, USC – They continue to lose, but he continues to shatter records. He is the best all around player in the country not named Tavon Austin.
4. Johnny Manziel, QB, Texas A&M – I cannot see a freshman ever winning this award, but this year is just weird. He is probably going to get his share of votes after his brilliant game under the national spotlight last week.
3. Colin Klein, QB, Kansas State – He was exposed on Saturday against a terrible defense. Everyone has an off game, but against that team? I cannot stick up for him after that.
2. Manti Te'o, LB, Notre Dame – A win against USC might just clinch this for him, the first true defensive player to really get this close to winning it. Everyone else have taken themselves out, so why not the best player on the best team?
1. Braxton Miller, QB, Ohio State – He is arguable the best player in the country, and being undefeated is only going to help his cause. Take him off that team, and they are almost nothing.
BCS Projections
Rose Bowl – Nebraska (Big Ten) over UCLA (Pac-12)
Orange Bowl – Florida State (ACC) over Rutgers (Big East)
Sugar Bowl – LSU (At-large) over Clemson (At-large)
Fiesta Bowl – Kansas State (Big 12) over Notre Dame (At-large)
BCS Title Game – Alabama (SEC) over Oregon (At-large)
What do you think? Give me your rankings in the comments!