So, we come to the final week of the regular season, and something that no one thought was possible has happened. That daunting schedule for Notre Dame (proved to not be as difficult) has been dominated by the Irish. They earned their spot in the national title, and sadly proved that they still do not need a conference, because they are still Notre Dame after all. I cannot stand that. A couple teams fell to their bitter rivals, but overall the favorites took care of business. It is not going to be interesting to see who is in the title game this year for the first time in a while because we have a play-in game in the form of the SEC Championship because apparently losing late takes you out of the running unless you play in the SEC. Screw you ESPN. And you gotta love the Big East. It is just one giant pile of mediocrity and competitiveness. Check out the final updates for my personal top 25, my Heisman predictions, and the projected BCS games:
Top 25
Others receiving votes: Louisiana Tech, Northwestern, Penn State, Texas
Dropped from the rankings: Washington (20), Texas (24)
25. (23) Oklahoma State (7-4) – That was a tough loss for the Cowboys against their archrival Oklahoma. They showed that their offense is almost as potent as it was last year.
24. (18) Rutgers (9-2) – They blew their chance at clinching with an embarrassing loss against Pitt. Well done.
23. (14) Louisville (9-2) – They blew their chance at getting a play-in game against Rutgers by losing to a 4 win UConn team. Well done.
22. (25) Boise State (9-2) – This team is in position to possibly snag that automatic at-large bid. They are sure getting a lot of respect for losing to Sparty and San Diego State…
21. (19) Michigan (8-4) – I get it. Just because you lose to 3 top 5 teams doesn't make you a great team. But that schedule in retrospect was insane. They are a tough team.
20. (NR) San Jose State (10-2) – Having Saturday night on ESPN all to themselves, they took care of LT and that vaunted offense. If not for a 20-17 loss to start the year to Stanford, this could be another one-loss team looking for an at-large bid by getting into the top 16.
19. (21) Utah State (10-2) – Going unbeaten in the WAC is not too tough of a task normally, but there are some quality teams this year. They are clearly an underappreciated team.
18. (13) UCLA (9-3) – Stanford rolled all over the Bruins in Pasadena. You have one more try, Bruin fans. Good luck…
17. (NR) Kent State (11-1) – They completed their near-perfect season with a nice big win over previously-ranked Ohio. They are a solid and quite underrated squad.
16. (15) Northern Illinois (11-1) – The matchup against Kent State could strangely be a play-in game for the BCS, seeing how the Big East is choking all over themselves.
15. (22) South Carolina (10-2) – Playing without Shaw and still moving the ball the way they did was quite impressive, the most impressive they have been since the strange beating they put on Georgia.
14. (10) Oregon State (9-3) – The Beavers showed some fight against the Ducks, but it was just bad timing seeing that team coming off a loss. Now they have an awkward rescheduled game next week against Nicholls State. Nice.
13. (8) Clemson (10-2) – That loss to their in-state rival exposed their offensive weaknesses a bit, but they still have a strong case for an at-large bid.
12. (16) Nebraska (10-2) – The win over Iowa may have been low scoring, but that is promising for that skeptical defense. They should take care of Wisconsin in a rematch of that big comeback by the Huskers, but you never know in the Big Ten.
11. (17) Florida (11-1) – They finally looked capable on offense, thanks to a couple big plays off turnovers. This team is guaranteed to see the Sugar Bowl.
10. (13) LSU (10-2) – A nice win over the upset-minded Razorbacks capped a slightly disappointing season for the Tigers. Hello Cotton Bowl.
9. (5) Florida State (10-2) – If not for an ugly first half and 5 turnovers, this team would have rolled over the pathetic Gator offense. They are still a better team.
8. (11) Georgia (11-1) – That thrashing of Georgia Tech was impressive no matter how bad the GT defense may be. Playing against that offense is always a bit quirky, but they did not even seemed phased by it. This could be our national champion if they can take down the Tide.
7. (9) Texas A&M (10-2) – They ran up the score against Missouri, not that that is any difficult task. If not for a bad second quarter against LSU, the Aggies would likely be playing the SEC title and BCS Championship berth next weekend.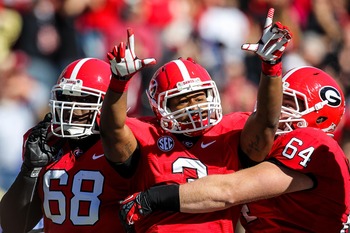 6. (6) Kansas State (10-1) – The week off caused everyone to forget about the Wildcats. Not having that championship game is going to cost them, no matter how dominant they were for the first 10 games of the season.
5. (7) Oregon (11-1) – They let the Beavers hang around in the Civil War before putting on that knockout punch that they have perfected in the second half. A BCS game is assured, just not the one they were hoping for.
4. (4) Stanford (10-2) – That beatdown of UCLA proved that the Cardinal are a top 4 team again this year. I thought that they would win, but they hammered the Bruins. I cannot see it being too different during the rematch.
3. (3) Alabama (11-1) – That was the worst Iron Bowl in…forever. Seriously. I don't want to ever hear about the SEC top-to-bottom. Wow, Auburn. Wow.
2. (2) Ohio State (12-0) – Notre Dame-Ohio State would have been a cool championship game. Next time, Buckeye boosters, just give them free tattoos…see if that does you any better.
1. (1) Notre Dame (12-0) – They took care of business against the Trojans, earning the right to be number one, no matter how ugly some of those wins were.
Heisman Trophy Watch
This race is really narrowing down. There are only a few that I can really see winning the thing, but I will go with my projected invitees:
5. Kenjon Barner, RB, Oregon – After his horrible game against Stanford, Barner rebounded with another monster game. He will get the fifth nod to New York.
4. Colin Klein, QB, Kansas State – Unless he absolutely blows up Texas, he will be getting the short end of the stick. This is going to be a tough Toby Gerhart-ish loss for Optimus Klein if he doesn't get the trophy.
3. Braxton Miller, QB, Ohio State – He struggled against the nation's top pass defense, but he led an undefeated team who would be nothing without him.
2. Manti T'eo, LB, Notre Dame – He had another pick in his season finale and as much TV time as Jerry Jones got on Thanksgiving. He could finally be a full-time defensive winner.
1. Johnny Manziel, QB, Texas A&M – He has as much endorsement from ESPN as RG3 did last year. He is going to win the thing probably, if for nothing else than statistics and one nice upset win.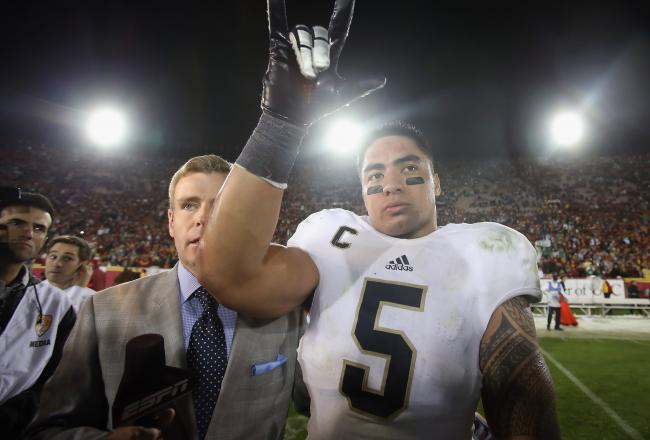 BCS Projections
Rose Bowl – Stanford (Pac-12) over Nebraska (Big Ten)
Orange Bowl – Florida State (ACC) over Rutgers (Big East)
Sugar Bowl – Oklahoma (At-large) over Florida (At-large)
Fiesta Bowl – Oregon (At-large) over Kansas State (Big 12)
BCS Title Game –Notre Dame (At-large) over Alabama (SEC)
What do you think? Give me your rankings in the comments!