With Season 39 of
Saturday Night Live
starting tonight, I thought I would look back on the last season and rank the hosts that graced the stage throughout. Some were great surprises while some greatly disappointing. No one was terrible, but some were obviously superior. All had their funny moments. So here is the countdown of the 21 hosts from last year.
NOTE: Due to SNL and the tight grip they keep their material under when it comes to online viewing, I was not able to attach videos of the different referenced sketches. However, you can find some of them either through the Saturday Night Live website, Hulu, or YouTube.
21. Christina Applegate (Episode 4)
This was the second time she had hosted but the first time since her
Married ... With Children
days. She really should have kept it at that one appearance. I mean, she was in the original "Matt Foley Motivational Speaker" sketch. Very early on in the episode you could tell Christina decided her way of succeeding was to do her best Kristen Wiig impression. Although it wasn't bad, there is only one Wiig.
Best Sketch
- "Choreographer" - A past-her-prime Liza Minnelli wanna-be teaches a group of simpletons how to dance with Fosse jazz hands.
20. Melissa McCarthy (Episode 17)
I don't know why, but I just don't find her as funny as everyone else does. Her monologue was great as she came out in ridiculously high heels she literally couldn't walk in and continued to do a dance number from her knees because of it. However, the sketches were not great for the most part.
Best Sketch
- "Pizza Business" - Barb Kellner goes to the bank to get a small business loan to start a pizza business where she eats people's leftover pizza instead of throwing it out.
19. Vince Vaughn (Episode 18)
I was really looking forward to this episode, but it was one of the most disappointing of the season. His monologue was strong as he interacted with the crowd to perfection. However, much like Melissa McCarthy, it was all downhill from there.
Best Sketch
- "Short Term Memory Loss Theater" - A doctor decides to start a theater group of his short-term memory loss patients, but all of them forget what they were supposed to do once they get on stage.
18. Ben Affleck (Episode 21)
The season finale had many highlights with several cast members leaving the show. However, few of the highlights came from the newest member of the "5-Timers Club." There's a reason none of the other members showed up for his induction: it wasn't worth it.
Best Sketch
- "
Bengo F--- Yourself
" - Iranian President Ahmadinejad makes his own movie in response to the "blasphemous" Best Picture winner
Argo
. Ahmadinejad plays Affleck (who has to say "Park the car in Harvard yard" before every line to find his Boston accent), and Affleck plays a sound tech. When asked why he would be in such a movie, Affleck says (barely able to hold back the laughter) "I've always wanted to be in a movie worse than
Gigli
."
17. Jamie Foxx (Episode 9)
Jamie Foxx was another host that could have been amazing. Foxx used to do sketch comedy! So much of this just fell flat once again. He did help jump start some great sketches that became recurring hits throughout the season though.
Best Sketch
- "Maine Justice" - A court room in Maine is run by a group of Hurricane Katrina refugees that never went back to New Orleans. And let the hilarity ensue.
16. Kevin Hart (Episode 15)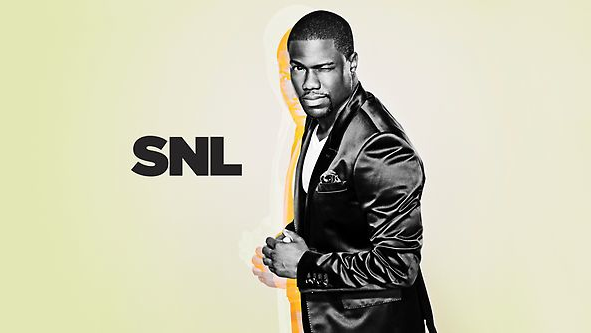 Kevin Hart strikes me as the type of talent whose skills fit perfectly for SNL (and he even mentioned his SNL audition, and rejection, in his monologue). Although there were some good moments, it overall was underwhelming. However, his DeNiro impression was pretty great.
Best Sketch
- "Z-Shirt" - The best of the commercial sketches of the year featuring a host was definitely this one about a new line of shirts called Z-shirts. It's not an ordinary shirt, it's a Z-shirt. "Is it an A-shirt?" "Is it a B-shirt?" (5 minutes later) "Is it a Y-shirt?" Said only as Kevin Hart can.
15. Daniel Craig (Episode 3)
007 does comedy, and it actually wasn't half bad. Who knew he could do comedy? Well, he can pretty much do anything. It was pretty much on par with Kevin Hart's episode, but the expectations were lower for Craig so the performance seemed better.
Best Sketch
- "Construction Workers" - A group of construction workers are talking at the water cooler, and one of them doesn't quite know how to use all the lingo quite right. Guess which one that was...
14. Jennifer Lawrence (Episode 11)
Right before Jennifer Lawrence became an Oscar winner, she became an SNL host. Her monologue was one of the best parts, as she talked trash about all her competition for the Oscar while complementing them at the same time. Of course, there had to be the shameless Hunger Games sketch which was not that impressive.
Best Sketch
- "Girlfriends Talk Show" - A sketch that became a recurring bit this last season starred Aidy Bryant and Cecily Strong as tween best friends hosting a show, but Cecily always brings a friend that acts a little older and ruins all the planned sketches. Lawrence goes goth and completely nails it. "My band is called Vag Hat. Does that scare anyone?" Aidy's plans are ruined as she wanted to talk about guinea pigs and ended up talking about New York bisexuals instead.
13. Joseph Gordon-Levitt (Episode 2)
JGL has hosted before and has shown he is a great host for the show. This was not one of his best efforts, but it was still a worthy outing. His ridiculous
Magic Mike
monologue was a bit much though.
Best Sketch
- "Tres Equis" - You can probably guess the premise of this one. "He is the son of the most interesting man in the world." "I don't always drink beer, but when I do I drink Tres Equis because it's one better than my dad's."
12. Adam Levine (Episode 12)
He actually appeared on the show twice in season 38, once as a musical guest with Maroon 5 and this one as a host. The monologue mocked "The Voice" as Cameron Diaz, Andy Samberg, and Jerry Seinfeld gave him advice on how to host. This episode also gave me one of my favorite sketches of the season even though Adam Levine had very little to do with it. Bill Hader's firefighter freak out when Levine shows up with his ex-girlfriend Rula. Priceless.
Best Sketch
- "YOLO" - With a guy like Levine hosting, Samberg and the Lonely Island crew came back to shoot the only digital short of the season, and it was definitely worthy. The basis of the song was taking the YOLO motto and flipping it. You only live once so you better not take any risks. Adam Levine's voice was perfect, and watching Kendrick Lamar rap about 401k's was icing on the cake.
11. Jeremy Renner (Episode 8)
Here is another actor who is one of the last ones you think of when it comes to comedy, however Jeremy Renner pulls it off. His best moment of the night was the monologue, where he sings songs about some of his recent movies (his Kings of Leon parody of "Someone Like You" being the best). The sketches were solid, but this was his best of the night.
Best Sketch
- "The Morgue" - Picking a best sketch was hard since the monologue was the highlight, however this one was pretty funny. Renner's brother died, and he needs to identify the body (Taran Killam) as next of kin. Somehow he doesn't get it, and goes from saying it is Yao Ming to thinking it's him dead. As the answers get more ridiculous, Bill Hader as the morgue tech does everything in his power to make Taran crack as the dead corpse, but is unsuccessful. He is a rock!
10. Justin Bieber (Episode 13)
Easily the biggest surprise of the SNL season was the episode featuring Justin Bieber as one of the three double duty host/musical guests of the season. When I heard he was hosting, I rolled my eyes much like I did when I heard Miley Cyrus would be hosting in a few weeks. However, he was great. He had no problem of making fun of himself or putting himself in almost any situation. This episode produced another one of my favorite sketches of the year when Bieber accidentally says "It's glice to meet you," and Taran Killam didn't let him forget it. "GLICE?!? WHAT?!?" Hilarious!
Best Sketch
- "Bieber Doubles" - The "Glice" sketch may have been the best sketch of the night, but Bieber's best sketch was actually one that turned into a Bieber bashing party. In the "Bieber Doubles" sketch, Bieber's new head of security invokes a new security strategy by using multiple stunt doubles (played by every member of the cast except Sudeikis who was the head of security). When he asks why, the only answer he gets is, "Hey, it worked for Saddam." When Beiber realizes there are even girls in the group, the explanation is, "Yeah, that's our A-team." When he is forced to sing to prove how his voice changed, the response from the guys is, "Wow, they must have dropped." The only one Bieber says looks like him turns out to be Kate McKinnon dressed up like Ellen. It's always refreshing to know someone like Justin Bieber doesn't really take himself as seriously as it seems.
9. Louis C.K. (Episode 6)
The episode immediately following Superstorm Sandy, a still almost abandoned New York City came back to life with Louis C.K.'s night on SNL. This episode was just fun. From the monologue, where Louie so unashamedly just did 5 minutes of his stand-up routine (even got a hand-held mic up there), to the closing sketch, you could tell the cast was having as much fun as Louie and the audience was. Louie is not much of an actor, but it's hard to teach that level of funny.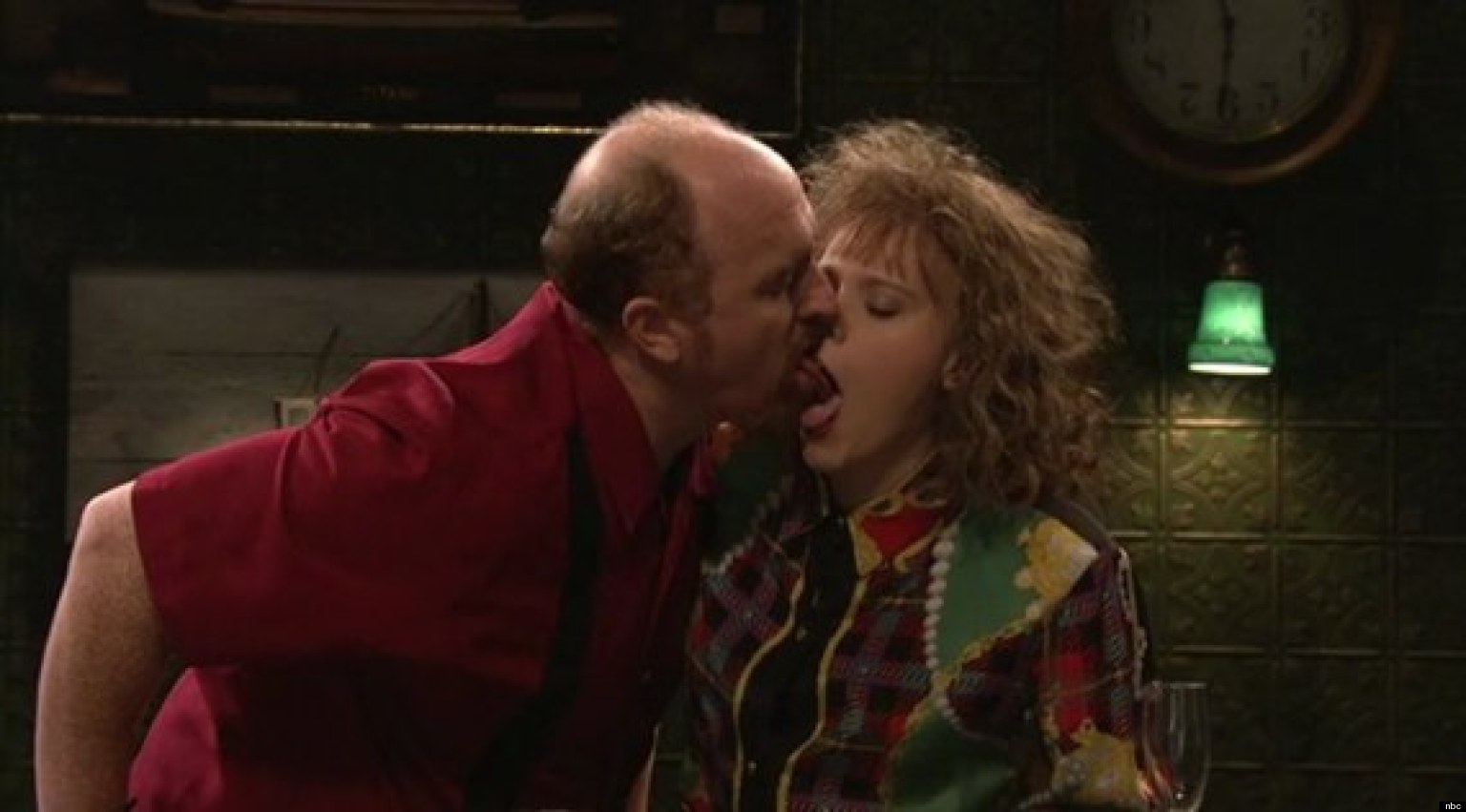 Best Sketch
- "Last Call" - Although many would say Louie's portrayal of Lincoln walking the streets of NYC telling black people "You're welcome" was the best sketch of the night, my favorite was the last sketch of the night. It's last call at the local pub, and Louie and a early-90's dolled-up Kate McKinnon are the last two at the bar. It becomes quite obvious that they both decide they are drunk enough and desperate enough to just hook up since they are the last ones left, but the drunken flirtations that led up to them leaving together were priceless.
8. Zach Galifianakis (Episode 19)
He is one of the most naturally funny people around. In a lot of ways, this episode was similar to the Melissa McCarthy episode (invent situations for the host to do their thing as much as possible). The difference was simply in the execution. The
Game of Game of Thrones
sketch was great with Zach dressed up as a dragon on a game show, and his closing of having a stand-in for his house party video so John Hamm could show up later was just ridiculously funny. A cameo by
The Hangover
crew doesn't hurt either.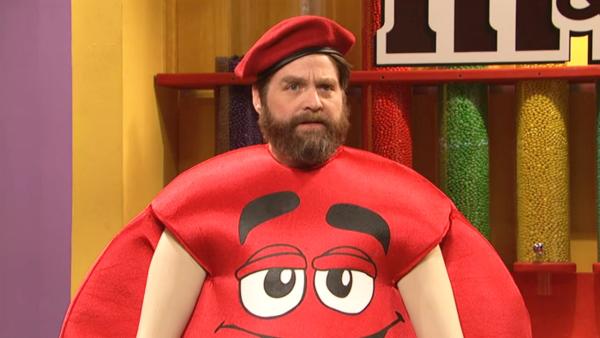 Best Sketch
- "Racist M&M" - The scene: an M&M Store with Galifianakis dressed up as the life-size M&M being forced to apologize to the rest of the staff in the store for all the racial slurs he dropped in the first four hours he was on the job. That's about all you need to know. Let the awkwardness and hilarity ensue.
7. Anne Hathaway (Episode 7)
Seriously, is there anything Anne Hathaway can't do? She started out as a Disney princess, has done rom-com's, found some serious roles, has now won an Oscar, and has become a very reliable SNL host. Her monologue was my all-time favorite of the season as the whole cast slowly found their way on the stage as they rewrote the epic
Les Miserables
song "One Day More" to be about the end of a crazy work week at SNL. It was ridiculous, but so good at the same time. Also, her impressions of Katie Holmes and Claire Danes via Carrie Matheson were scary good.
Best Sketch
- "The Legend of Mokiki" - Oh my word, I loved this! It started as Taran Killam just wondering around NYC being insane, but then Anne Hathaway hops in, and they they do the Sloppy Swish together. It had me laughing at its sure ridiculousness from start to finish.
6. Christoph Waltz (Episode 14)
Now we are getting to the fun ones. Of all the people that could host SNL, this would be one of the last ones you would think of. However, if you were anything like me, once you heard he was hosting you knew it was going to be awesome. Forget about the Dos Equis guy, Christoph Waltz is the most interesting man in the world. Every sketch he nailed. Two of my favorite sketches of the year came from this episode so I have to mention one here. "The JaMarcus Brothers" was so silly as Waltz played the adopted brother in a black family that was now recording soulful love songs with his two brothers. When you make a guy like Kenan crack up in the middle of the sketch. You know you're nailing it.
Best Sketch
- "Djesus Uncrossed" - As much as I loved "The JaMarcus Brothers," this may have been my favorite sketch of the season. How can you have Christoph Waltz on SNL without taking a pot shot at Quentin Tarantino? You can't. Enter the movie trailer for
Djesus Uncrossed
starring Waltz as Jesus in a Tarantino take on the Messiah. Every line in it was perfect! Also, seeing Jesus with a machine gun taking out the Pharisees is so ridiculous, I wouldn't be surprised to actually see Tarantino do it at some point.
5. Kristen Wiig (Episode 20)
Part of why Ben Affleck's season finale fell so flat was because one of the most popular cast members of the last 10 years hosted the week before the season after she left the show. Kristen Wiig brought all the energy we should've had in the finale, including random cameos from Jonah Hill and Maya Rudolph. It also allowed for a rebirth of all the classic Wiig sketches like Target lady, the Baby Hands, Gilly, Garth and Kat. Whenever you get a chance to bring back all these well-loved characters, you're going to have a great show.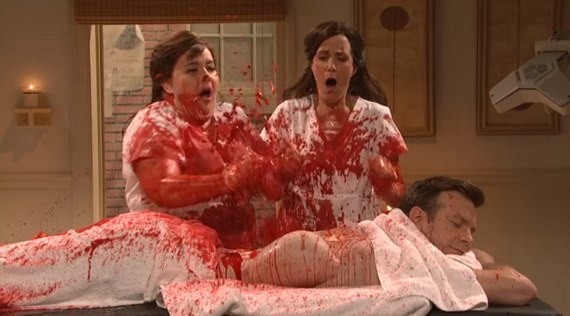 Best Sketch
- "Acupuncture" - Even with all the classic sketches, the best sketch of the night was an acupuncture session with Jason Sudeikis performed by Wiig and Aidy Bryant. Everything is going fine until blood starts shooting out of his back. By the end of the sketch, everything is covered in blood as his back is now gushing. They even start feeding it back to him. It was just hilarious.
4. Bruno Mars (Episode 5)
There were two newcomers to the hosting ranks at SNL I can't wait to see host again sometime soon. Bruno Mars is definitely one of them. Starting with his monologue where, of course, he sang a song about how he has no business hosting SNL, Bruno showed everyone why he is a perfect host. He is smart, funny, talented, and will do anything for the laugh. The next time he hosts (and he will host again), he will be even more comfortable and even better. Next time, I hope he just hosts though. Split it up like Adam Levine did. His voice was seriously tired by the end of that second song.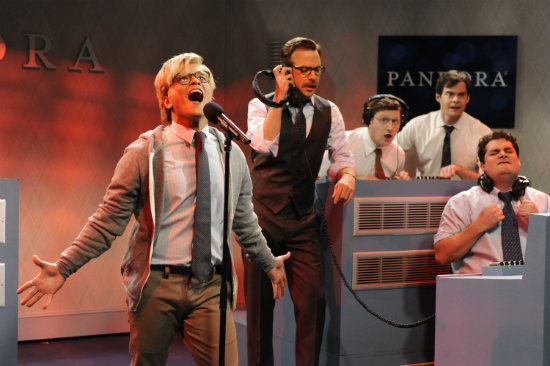 Best Sketch
- "Devin the Pandora Intern" - This was the perfect way to take advantage of your host. There's a power outage at Pandora, and random channels are shutting down their vocal tracks. Here comes Devin the Intern to the rescue. Bruno shows off his impressions of Green Day, Katy Perry, Aerosmith, Louie Armstrong, Justin Bieber, and yes, even Michael Jackson. It may not have been the funniest sketch, but it was one of the most entertaining sketches of the season.
3. Martin Short (Episode 10)
I was wondering to myself, "Why are they bringing back an old irrelevant comedian that has nothing to plug to be the host of the Christmas episode, one of the biggest shows of the year?" Then I watched the episode and found out. Martin Short is damn funny. With the Christmas episode also brought more cameos than I can count, but it was Short (with some help at times from musical guest Paul McCartney) that stole the show. Seriously, Martin Short yelling at McCartney in a Christmas audition telling him he's not allowed to sing? Amazing!
Best Sketch
- "The Royal Ah-Hem" - My favorite sketch of the season. Martin Short plays a representative of the royal family going to visit Kate Middleton's OB/GYN to give him the proper procedures for dealing with a royal "ah-hem." And the magic commenced. When Bill Hader, as the OB/GYN, asked if he could call it anything but the royal "ah-hem," the list of alternatives just sent it over the edge. The Chunnel? Her Downton Abbey? Dame Judy Dench?!? I was laughing for days.
2. Seth MacFarlane (Episode 1)
The season got off to a great start as one of the most talented behind the scenes people in the business all of a sudden became very much in front of everyone this last year. Between
Ted
, hosting the Oscars, and kicking off the SNL season, Seth MacFarlane has shown just how talented he is without the drawings. He didn't deviate too far in his monologue though, which featured Peter Griffin, Stewie, Brian, Quagmire, Kermit, Marty McFly (oh my word, Marty McFly!!!), and a mopey Democratic dog. It also came up again in his puppetry class which Bill Hader stole. The most fun of the night was the ode to "Gangnam Style," as it started with some impersonations and ended up with Psy on stage getting everyone dancing.
Best Sketch
- "Wooden Spoons" - I may be alone on this one, but my favorite sketch of the show was the throwaway sketch just before it all ended. It was a one minute sketch max about some Amish spoon makers discovering the internet to help them sell their products. Their commercial included their website without any knowledge of what letters are called. It started with, "Double valley, double valley, double valley, time freckle..." It seems harmless, but it gets ridiculous the further into it you go. It's the simple things really.
1. Justin Timberlake (Episode 16)
Was there any doubt? It takes a true talent to come in and instantly become a part of the cast. It also is telling when you can put together almost an entire episode of classic bits from a guy who was never a regular cast member. Then he took two sketches Jamie Foxx started (Maine Justice and the Porn Star Infomercial gals) and made them funnier. On top of all that, this was JT's 5th hosting gig, which put him in the "5-Timers Club." When it seemed like no one cared that Ben Affleck joined this prestigious group, everyone showed up to honor Timberlake's induction. When your monologue includes Steve Martin, Chevy Chase, Dan Aykroyd, Martin Short, Alec Baldwin, Tom Hanks, Paul Simon, and Candace Bergen, you know you are in for something special. Then you "Bring it on down to Vegan-ville" with a tribute to the Harlem Shake, and have the Three Amigos in full regalia introduce one of the musical numbers. It was a special night.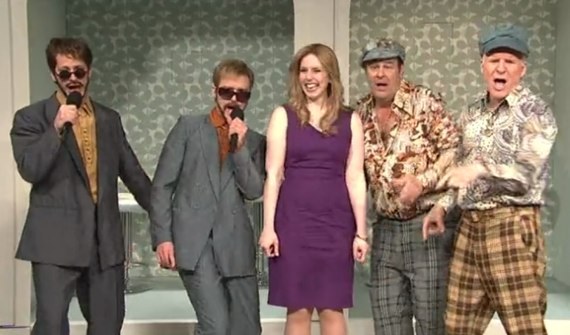 Best Sketch
- "It's a Date" - You can't have Justin Timberlake on SNL without Andy Samberg and a tribute to the "Dick in a Box" guys. They popped up here as dual bachelors on a dating show. Every response they had another one of their priceless jams. Then we pan over to their competition and you see, wait for it, Dan Aykroyd and Steve Martin as the Wild and Crazy Guys. Oh, the symmetry of it all. What an amazing show!
Well, we will see how Season 39 kicks off tonight. With Tina Fey hosting, I'm sure it will start pretty strong.