I am never really a fan of the rankings this early in the game, but since everyone else does it, why not? The big game of the week was Clemson-Georgia. The Tigers came out on top at home. Washington blew out Boise State. A bunch of top teams struggled on offense. Seven FBS teams lost to FCS teams, including reigning Big 12 champ Kansas State going down at home to 2-time defending FCS champ North Dakota State. The talent disparity is becoming less and less visible each season. Check out my new top 25 below, as well as my Heisman tracker, BCS predictions, and one new category:
Top 25 Poll
Others receiving votes: Baylor, Georgia Tech, Miami, Oklahoma, TCU
Dropped from the rankings: Oregon State (13), Boise State (16), Oklahoma (23)
25 (11). Nebraska (1-0) – The defense appeared to not be improved much at all, but that offense is about to explode. They can outscore most teams in the country, but teams riding that line never really win the important games.
24 (NR). Northern Illinois (1-0) – They got their revenge against the Hawkeyes in week one. The Huskies will probably charge toward another potential BCS berth.
23 (24). Northwestern (1-0) – They had a decent non-conference win against an improved Pac 12 team in California, but they are going to need Colter to get healthy to really justify the hype.
22 (14). Texas (1-0) – The Longhorns have no offense to speak of, but their defense should keep them in basically every game they play in conference.
21 (19). Texas A&M (1-0) – Against Rice, we saw two different teams. We saw the one where they showed their true colors that were shown last year against Louisiana Tech, and then we saw a motivated one. When Manziel gets hurt, this team is screwed.
20 (21). Florida (1-0) – Their offense is not going to be good, but no one is going to really score on them.
19 (18). Wisconsin (1-0) – They did just about everything that could have been asked of them with a new coach. They are going to struggle on defense, but that running attack should keep them in most games.
19 (NR). Mississippi (1-0) – They had the big opening night back and forth win over Vandy. This team is only going to get better too.
17 (16). Texas Tech (1-0) – This team is going to be tough to contend with for any defense. Keep an eye out for some big upsets and maybe a mini Big 12 title run for the Red Raiders.
16 (10). UCLA (1-0) – The defense is still a work in progress, but the offense was clicking like it was when it had Franklin at running back. Hundley is the real deal.
15 (5). Georgia (0-1) – They looked impressive against Clemson at times, but they are not quite as good as last year. Losing Mitchell for the season celebrating hurts big time for the previously most balanced team in the nation.
14 (8). Oklahoma State (1-0) – They struggled against the average Mississippi State team. They should quit with the QB experiment. JW Walsh is their guy.
13 (12). Michigan (1-0) – After a slaughtering of an in-state rival, everyone is about to jump on the bandwagon. That offense is not as good as it appears. That will be shown against the Irish.
12 (25). Cincinnati (1-0) – Tommy Tuberville had a great debut with a big time win over Purdue. Look for a battle of undefeated teams on December 5th against Louisville.
11 (9). South Carolina (1-0) – They had an impressive win against North Carolina to kick off the new season. We will see how good they really are playing Georgia next.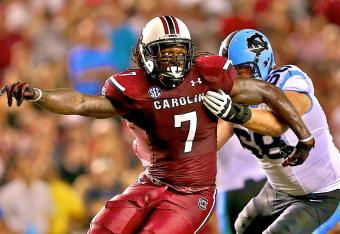 10 (NR). Washington (1-0) – I am not sure if anyone had a more impressive win last weekend than the Huskies. They obliterated Boise State, who prepares for week one better than any school. This could be a Rose Bowl team.
9 (15). LSU (1-0) – Les Miles gets another huge non-conference win. The offense looks good under new coordinator Cam Cameron. They could be a sleeper BCS contender.
8 (22). Florida State (1-0) – They started off a lot fast than I expected them to with the electrifying newcomer Jameis Winston at QB taking over for 4-time bowl winner EJ Manuel.
7 (20). Louisville (1-0) – They demolished the competition, which I was not too sure they would do right off the bat. They could breeze to an undefeated season and maybe sneak into the title game with some luck.
6 (7). Notre Dame (1-0) – They looked the part of a title contender again against Temple. We will see how that goes at Michigan this week.
5 (2). Ohio State (1-0) – They had a very uneventful and ugly win over Buffalo. This is not the team we thought it was going to be. I will now be surprised if they go unbeaten.
4 (6). Clemson (1-0) – They got the signature win right off the bat. Can they stay focused during their much weaker conference schedule?
3 (4). Oregon (1-0) – They won in a blowout against a scrub like they always do. They go on the road this week. We will see how well that offense travels without Chip Kelly to call the plays.
2 (3). Stanford (0-0) – They did not play, but they are going to be a force all year long. Their first game will be a tricky game vs a tough San Jose State team that gave them problems last year.
1 (1). Alabama (1-0) – No real surprise here. Even though they could not block anybody and the offense was very stale, they still won in a blowout because their special teams and defense are head and shoulders above every other team in the nation.
Top 5 Games for Next Weekend
5. Syracuse at Northwestern (#23), 3:00PM BTN – This is an intriguing non-conference game. Syracuse is coming off a loss to Penn State. This will be less of a clash of styles and probably a high scoring thriller.
4. Florida (#20) at Miami, 9:00AM ESPN – One of the classic in-state rivalries. The difference this year is that both teams are pretty good.
3. Texas (#22) at BYU, 4:00PM ESPN2 – The last time the teams met in 2011, it was a great game. This time they meet in Provo, which should ensure that this is a tough, probably low-scoring, but highly competitive game.
2. South Carolina (#11) at Georgia (#15), 3:30PM ESPN – We will see exactly what both teams are made of in this game. Georgia has a gut check and revenge game. South Carolina has an early test to see if they are the new favorite in the division. Should be quite a game.
1. Notre Dame (#6) at Michigan (#13), 5PM ESPN – This is going to go down as one of the most interesting matchups between the rivals. With the future of the rivalry in question, these games are going to mean even more to the teams.
Heisman Trophy Watch
5. Jameis Winston, QB, Florida State – He has everyone's attention right off the bat. If he continues with his production and keeps winning, then I would not at all be surprised if he gets an invite.
4. Sammy Watkins, WR, Clemson – He had his first monster outing in an important game since his freshman year. If he can put up numbers like that all year long, then he will be a slam dunk Biletnikoff winner and Heisman threat.
3. Braxton Miller, QB, Ohio State – He had an underwhelming game stats-wise, but his passing is improved. They need to go undefeated for him to win this.
2. Johnny Manziel, QB, Texas A&M – He is a punk and a diva, but he is scary good. He is going to be gunned for all year long, but if he can stay healthy and productive, then he will be in the conversation for the duration.
1. Marcus Mariota, QB, Oregon – He was able to do whatever he wanted against Nicholls State. He is going to be the frontrunner until he loses a game.
BCS Projections
Rose Bowl – Oregon over Michigan
Orange Bowl – Ohio State over Florida State
Sugar Bowl – Alabama over Clemson
Fiesta Bowl – Oklahoma State over LSU
BCS Championship Game – Stanford over Louisville
What did you think of this weekend? Thoughts? Give me your rankings in the comments!