Week 2 was fairly uneventful. There was not a great slate of games, and yet a few of the good ones ended up being one-sided anyway. We learned that Texas is a fraud again. Cincinnati had one of the most confusing blowout losses I can remember, plus they potentially lost QB Munchie Legaux with a leg injury. We learned that the Oregon ground attack can go on the road and put up the same monster numbers. The Heisman Trophy race is wide open. Next week is a big one. We will start to see what some of the preordained contenders are made of. Check out my rankings below:
Top 25 Poll
Others receiving votes: Cincinnati, Florida, Fresno State, Georgia Tech, Marshall, Oklahoma, TCU
Dropped from the rankings: Cincinnati (12), Florida (20), Texas (22)
25 (NR). Arizona State (1-0) – They obliterated the competition on Thursday night, showing their stout defense and potent offensive attack. They could be the South representative with some luck.
24 (24). Northern Illinois (1-0) – They had the week off, but they are still one of those offenses that no one wants to play. Look for an impressive streak to come for the Huskies starting with their next game at Idaho.
23 (21). Texas A&M (2-0) – They once again showed that defense is going to be an issue for the team, but scoring is not. Manziel was on fire against Sam Houston State. I can't wait to see him against Alabama this week.
22 (NR). Miami (2-0) – They got an important win against Florida, showing that Al Golden has actually somewhat gotten them back to competing. The ACC has shown some worth in these first two weeks, taking out the top of the SEC.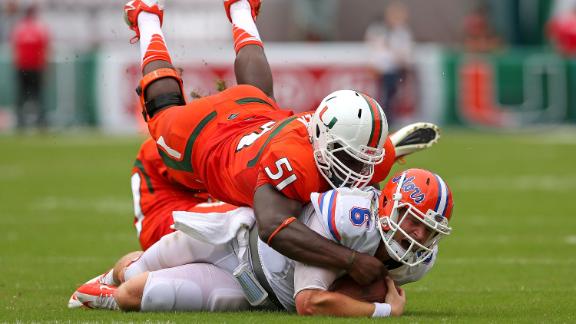 21 (19). Wisconsin (2-0) – They have not given up a point in their first two games against FCS competition, while running the ball down almost exclusively. Let's see if they can throw to win a game before we anoint them as a contender.
20 (25). Nebraska (2-0) – The defense rebounded in a big way after the debacle against Wyoming. It sets up a nice game next week against UCLA in Lincoln.
19 (6). Notre Dame (1-1) –The defense got shredded through the air the majority of the game against Michigan. The offense is there and not there. They have a brutal stretch coming up. We will see what the Irish are made of.
18 (19). Mississippi (2-0) – I still like this team as a sleeper in the SEC. They had a bit of a letdown win vs SE Missouri State, but they are still an offense who can score on anyone. They are about ready to explode.
17 (17). Texas Tech (2-0) – The Red Raiders had another huge offensive display on Saturday. They are going to be scary for any Big 12 team to face.
16 (16). UCLA (1-0) – They took the week off in preparation for their huge trip to Nebraska. That is going to be quite a game.
15 (23). Northwestern (2-0) – Northwestern is one of those teams who always plays AQ conference foes in the non-conference season and always beat them. They probably have the most impressive pair of wins in the nation.
14 (11). South Carolina (1-1) – The Gamecocks came up short for the first time against Aaron Murray and Georgia, giving up points all over the place. That has got to be discouraging heading into the meat of their schedule.
13 (15). Georgia (1-1) – Georgia got their must-win game out of the way. Their defense is going to struggle all season, but that offense is a juggernaut even with their best WR or not.
12 (14). Oklahoma State (2-0) – Why was Oklahoma State playing at UTSA? They had an uneventful win, but JW Walsh showed that he is their guy and a dark horse Heisman candidate.
11 (13). Michigan (2-0) – Michigan was able to pick apart the strong Notre Dame defense in front of a record attendance at the Big House. The defense was shaky, but it was a rivalry game no matter what Brian Kelly says.
10 (10). Washington (1-0) – Washington suddenly has an interesting game traveling to Illinois next week after the Illini destroyed Cincinnati in the same building.
9 (NR). Baylor (2-0) – 139 points in two games? This offense is absurd. Watch out Big 12. The offense led by Bryce Petty and Lache Seastrunk might just be the best offense Baylor has had under Art Briles. They took apart that same Buffalo defense that Ohio State struggled to score against last week.
8 (8). Florida State (1-0) – If anything, the Seminoles gained some points in their week off with the ACC getting another win against the SEC.
7 (9). LSU (2-0) – The Cam Cameron passing attack gives LSU a dimension that I have never seen them have before. This could be a scary team.
6 (7). Louisville (2-0) – Teddy Bridgewater is not going to have much competition this year, and they are only hurt by Cincinnati's blowout loss. He should still be in the Heisman conversation, but I now think that the Cardinals may need everyone to have two losses for them to get a chance at the BCS Championship Game.
5 (5). Ohio State (2-0) – After Braxton Miller went down, the offense suddenly took off. Yeah, I don't get it either.
4 (4).
Clemson (2-0)
– Clemson's offense is for real. They do not have a losable game until Florida State heads to Death Valley in late October.
3 (3). Oregon (2-0) – Marcus Mariota and De'Anthony Thomas are torching the competition. They play an improved Tennessee team next weekend. That could be a mini-test before hitting the tough Pac-12 conference schedule.
2 (2). Stanford (1-0) – The Cardinal played much better against San Jose State than they did last year. That linebacker group is the best there is in college football. I do not see them losing this year.
1 (1). Alabama (1-0) – Alabama seems to always have the clever scheduling that gives them a week off before their biggest games. How do they always know?
Top 5 Games for Next Weekend
5. Wisconsin(#21) at Arizona State (#25), 7:30PM ESPN – The two unbeaten teams who have yet to allow a score face off in a Pac-12/B1G clash. This should be a really competitive and nasty game.
4. Mississippi (#18) at Texas, 5:00PM Longhorn Network – We will see how good Ole Miss really is this year when they travel to Austin to play an angry Texas squad who got taken to the woodshed by an average running game at BYU. This should be a battle.
3. UCLA (#16) at Nebraska (#20), 9:00AM ABC – The game last year was high-scoring and filled with big plays. Expect the same this year. Who scheduled this at 9:00AM Pacific Time? UCLA kinda got screwed there…
2. Texas Tech (#17) at TCU, Thursday 4:30PM ESPN – This is going to be our first big Thursday night game. It should be an offensive show. TCU's defense is not as strong as years past, but their offense is really coming on.
1. Alabama (#1) at Texas A&M (#23), 12:30PM CBS – Everyone has waited nine months to see the reigning Heisman winner take on the 2-time defending national champs. We get to see it at Kyle Field, one of the best venues in the country. If you are not watching this game Saturday afternoon, you are doing it wrong.
Heisman Trophy Watch
5. Teddy Bridgewater, QB, Louisville – He is going to be able to put up whatever numbers Charlie Strong lets him, since they do not really have any marquee games on their schedule. A trip to an SEC school (Kentucky, but still) next week may give him a slight bump.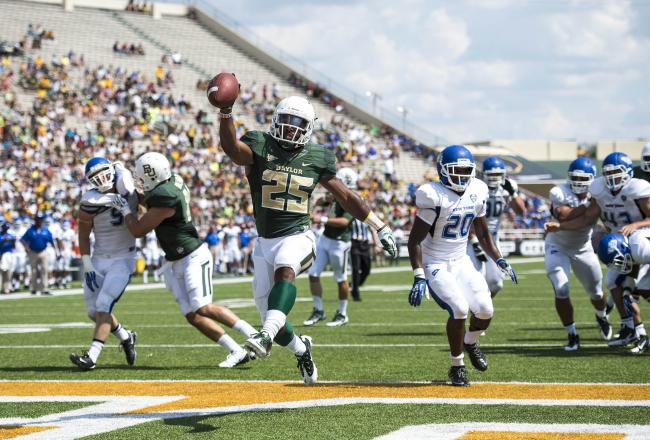 4.
Lache Seastrunk, RB,Baylor
– It appears that the offense is going to put up video game numbers, and he is going to be the beneficiary of that. It is scary to think if he was still enrolled at Oregon…
3.
Jameis Winston, QB, Florida State
– A week off, and people are still talking about him. He could be our next RGIII, but he is far better than the former Heisman winner was as a freshman.
2. Johnny Manziel, QB, Texas A&M – He has been and is going to continue to be in the spotlight all year long. A win against the Crimson Tide on Saturday would almost guarantee his invitation back to New York.
1. Marcus Mariota, QB, Oregon – If he played in the SEC, he would have won last year. He has only gotten better. Unless the Ducks lose a couple games, then he is going to remain the frontrunner.
BCS Projections
Rose Bowl – Oregon over Michigan
Orange Bowl – Clemson over Louisville
Sugar Bowl – Alabama over Ohio State
Fiesta Bowl – Oklahoma State over LSU
BCS Championship Game – Stanford over Florida State
What did you think of this weekend? Thoughts? Give me your rankings in the comments!