So, what did we learn in week 3? Johnny Football is ridiculous. The SEC defenses are now undoubtedly overrated. The Big Ten is horrible top to bottom. Oregon can lay a fifty-spot on anyone. It was an interesting week of college football, and while not a whole lot of upsets happened, there is still some necessary shakeup in the national landscape. Read up!
Others receiving votes: Florida, Fresno State, Georgia Tech, Nebraska, Northern Illinois, Utah State
Dropped from the rankings: Nebraska (20), Northern Illinois (24)
25 (19). Notre Dame (2-1) – They had a tough and ugly win at Purdue. They didn't look great, but they know how to win.
24 (21). Wisconsin (2-1) – They are the latest Big Ten victim losing at ASU. It was a great game, in which we saw both teams surrender their first points of the year.
23 (22). Miami (2-0) – Miami took the week off in preparation for their battle with Savannah State next week. Nice scheduling, Miami.
22 (NR). Oklahoma (3-0) – Blake Bell showed that he should have been the starter all along. With that offense and arguable a top 10 defense, this team should make some serious noise in the Big 12.
21 (15). Northwestern (3-0) – Northwestern had an unexciting win over Western Michigan, who just came off a loss to Nicholls State. They got away with a double digit win, but they need to blow teams like that out if they want to be a serious threat in the Legends Division.
20 (NR). Central Florida (3-0) – A win over Penn State showed that this team is for real. There are a handful of non-AQ teams that are going to threaten perfect seasons. This is the most complete of them all.
19 (17). Texas Tech (3-0) – They had the spotlight on Thursday night, which they squandered offensively. It was a win over a ranked team, but the offense showed that it is not invincible.
18 (18). Mississippi (3-0) – The Rebels breezed to another nice win, this time over the unraveling Texas Longhorns. This team is going to be scary in the SEC.
17 (22). Texas A&M (2-1) – It is not often that a team gains ground for losing and giving up 49 points, but that offense is absurd. They might not lose the rest of the year. The defense needs to find something, though.
16 (11). Michigan (3-0) – The Wolverines flirted with one of the more confusing losses ever (Akron has won 3 games in the last 3 years combined, and hasn't beaten a Big Ten team since 1894), but they escaped with a win that no one should feel good about.
15 (25). Arizona State (2-0) – I am starting to buy into this team. Their running game against Wisconsin's front 7 is what most impressed me about the Sun Devils.
14 (14). South Carolina (2-1) – The Gamecocks had a nice win over Vanderbilt. That was a classic trap game, but they got past the upset-minded Commodores.
13 (12). Oklahoma State (3-0) – They continue to score points and look impressive doing it. They have done nothing to give up the Big 12 frontrunner status.
12 (13). Georgia (1-1) – The gauntlet of their season has already passed. With the exception of a game against LSU, they should be able to win out.
11 (7). LSU (3-0) – They show glimpses offensively of being incredibly tough. I can't wait until they get to the meat of their schedule.
10 (6). Louisville (3-0) – They looked sloppy against the putrid Kentucky squad, but they got it done. They will not lose in conference, unless they really are overlooking someone. They cannot afford to do that if they want the national respect required to see a BCS Title berth.
9 (9). Baylor (2-0) – The Bears are now rested and ready to wreak havoc on the Big 12. They are probably going to start at least 7-0 until they play Oklahoma.
8 (16). UCLA (2-0) – Winning at 9AM is something. They had an 18 point comeback at one of the toughest places to play in America. They are going to be a tough out. There is no one who should challenge them in the South.
7 (5). Ohio State (3-0) – They are surrendering way too many points to teams that have no business scoring on them. They need some serious help if they are going to win a National Title. And is it just me, or are they better without Braxton Miller?
6 (10). Washington (2-0) – They got a big road win out of the way against one of the top offenses in the country. They are going to roll and continue to be under the radar until their back-to-back games against Stanford and Oregon.
5 (8). Florida State (2-0) – They were sluggish for a half, and then they demolished Nevada and their third string QB. This team can score on anyone when they want to.
4 (4). Clemson (2-0) – Look for the Tigers to come back from their idle week and torch some teams. They get Florida State at home in October. That could decide who is playing for the BCS Championship.
3 (2). Stanford (2-0) – The Cardinal defense is not as stout or sharp as they have been in years past. They are still built unlike any other team in the conference. They should be able to pound out wins against most teams. Kevin Hogan still has not lost as their starting QB.
2 (1). Alabama (2-0) – The defense looked silly against Johnny Football and Mike Evans. I feel foolish not putting them #1, but that game was telling. You can score on this team.
1 (3). Oregon (3-0) – They obliterated an SEC team at home. The fans chant "We want Bama…We want Bama…" How about focusing on Washington, UCLA, and Stanford before thinking about that. All three of those teams can take them down. However, if this offense is rolling, they will not be beaten.
Top 5 Games for Next Weekend
5. Utah at BYU, 7:15PM ESPN2 – The Holy War is always one of the most physical and entertaining games of the year. Both of these teams can really play. This seems destined to be one of the more memorable games of the young season.
4. Utah State at USC, 12:30PM ESPN2 – Utah State is one of the best offenses in the country. USC finally found some legs against BC. I think that this could be a really interesting matchup.
3. Boise State at Fresno State, Friday 6:00PM ESPN – This is likely going to be the matchup that decides the Mountain West. It would have been nice to see how Fresno would have done against a Pac-12 team yesterday, but the uncertainty just gives this matchup even more intrigue.
2. Michigan State at Notre Dame (#24), 12:30PM NBC – The Notre Dame games against Michigan State are always the most entertaining of all of their rivals. Sparty hasn't lost yet, and Notre Dame survived a scare. This should be a great game.
1. Arizona State (#15) at Stanford (#3), 4:00PM Fox – The first of a host of Pac-12 battles will really show what these teams are made of. Stanford cannot sleepwalk through this one. Arizona State is going to travel up there with a ton of momentum.
5. Lache Seastrunk, RB, Baylor – He holds onto his spot, even with a week off. He could have a Barry Sanders-type year if Art Briles sticks to the ground game all year like he should.
4. Brett Hundley, QB, UCLA – I don't really know why he is so overlooked, but he is a sharp-shooter and a terrific runner. He is like an accurate Vince Young.
3. Teddy Bridgewater, QB, Louisville – The team seems poised to get him invited to New York. He is going to continue putting up crazy passing stats throughout the year. He is the best pure passer in the country.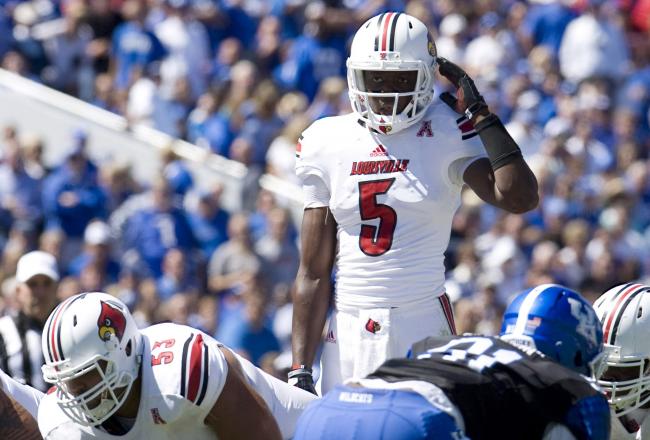 2. Johnny Manziel, QB, Texas A&M – Putting up some 450 yards through the air and 100 on the ground, essentially putting the entire team on his shoulders, proved that he is the best player in the country. He is a jerk and everything that is wrong with college football, but man is he fun to watch.
1. Marcus Mariota, QB, Oregon – He is putting up stats in any way he wants to. He is the scariest dual threat player I have seen. He is perhaps only rivaled by Kaepernick and Dennis Dixon before he got broken.
Rose Bowl – Stanford over Ohio State
Orange Bowl – Clemson over Louisville
Sugar Bowl – Alabama over Oklahoma
Fiesta Bowl – Texas A&M over Baylor
BCS Championship Game – Oregon over Florida State
What did you think of this weekend? Thoughts? Give me your rankings in the comments!