Down goes Oregon! On behalf of all fans of the University of Washington…thank you Stanford! It was an interesting week in college football. The two big games on Thursday night ended up being a total of about 115 minutes of uncompetitive football. Baylor rolled all over the overrated Sooners, and Stanford slugged the hell out of Oregon before nearly letting them take the game over late in the 4
th
quarter. You just never know with the Ducks. You cannot give them hope. They are too explosive. The game may have also cost Marcus Mariota the Heisman, given that the national stage spawned the worst game of his 2 year career. See how the rest of the Saturday slate shook out, and check out the updated Heisman and BCS projections at the bottom!
NOTE: Next week, there may not be an article. I will be out of town again. I will be attending the Legends Division showdown between Michigan State and my Nebraska Cornhuskers. There will still be a top 25 added to the site, but if there is an article, it will not be until Tuesday.
Others receiving votes: BYU, Houston, Nebraska, North Texas, Oklahoma, Washington
Dropped from the rankings: Oklahoma (19), Texas Tech (22), Houston (25)
25 (23). LSU (7-3) – They put up a valiant fight in Tuscaloosa. They had the game in their hands, but the inexperience and turnovers cost them. I knew that this was the type of offense that could challenge the Tide, but it just didn't happen. They should feel encouraged by their performance.
24 (10). Miami (7-2) – I knew all along that this team just was not all that good. Losing to Virginia Tech, who looked horrible the past few weeks, showed that their 7-0 start was a fluke. You can't just keep riding that Florida win to legitimacy. You know, that awful 4-5 team in the SEC? Yeah, good win…
23 (NR). Texas (7-2) – I don't know how this team just keeps winning. They got destroyed twice early in the year, but now they are unbeaten in conference, despite never really looking that strong against anyone but Oklahoma. Their veteran leadership is certainly showing up, potentially saving Mack Brown's job once again.
22 (NR). Ball State (9-1) – IDLE. Next week: at Northern Illinois
21 (NR). Minnesota (8-2) – Is it just me, or did the team get even tougher when Jerry Kill left the team? Clays is a calm assassin on the sideline. This is not the same team that lost twice early in the year. No one will want to see this team down the stretch.
20 (24). Arizona State (7-2) – They survived the trap that everyone saw coming. It took a fourth quarter rally, but they got it done. This could be a Rose Bowl team.
19 (21). Michigan State (8-1) – IDLE. Next week: at Nebraska.
18 (18). UCLA (7-2) – Arizona is one of the tougher places to win in the Pac-12, and they got it done in a shootout. They are still one of the most talented and dangerous teams in the conference.
17 (20).
Wisconsin (7-2) –
Beating BYU by 10 is an impressive feat. That Cougar team does not lay down for anyone. This running game is scary good, and if not for that strange officiating gaffe against ASU, they COULD be still looking at an outside shot at a BCS Championship berth.
16 (17). Northern Illinois (9-0) – IDLE. Next week: vs Ball State
15 (15). Louisville (8-1) – The Cardinals continue to roll along. Basically every game has the same format and box score. They play a little sluggish early, then force turnovers and pass for a few second half touchdowns, winning by about 21 points. They deserve the ACC next year. They are sleepwalking through the AAC.
14 (13). South Carolina (7-2) – IDLE. Next week: vs Florida.
13 (12). Texas A&M (8-2) – Manziel's last home game as a college player went about how you could expect it to. It was another high-scoring affair. Manziel threw 5 TDs and 3 INTs. That team's defense is so bad. I don't know how they keep getting wins.
12 (16). Oklahoma State (8-1) – It is becoming more clear that losing in West Virginia is not all that detrimental. That team adds something special when they are in front of that Morgantown crowd. The Cowboys still control their destiny in the conference. They are good enough to take down Baylor.
11 (14). UCF (7-1) – Upending Houston on Saturday night all but clinched the AAC for the second best team in Florida. They are a tough team and could very well win whatever BCS game they are put in.
10 (11). Fresno State (9-0) – After a slow start, the offense exploded. They deserve to play in a BCS game. They just need to stay above UCF.
9 (9). Missouri (9-1) – Ask any Big 12 fan (including Mizzou fans) whether the Tigers are a top program. They will all laugh and say NO. This is just proof that the SEC is not great this year. When Missouri can just dominate teams with a freshman at QB, then you know it is a down year.
8 (8). Auburn (9-1) – I don't quite understand this team, but they have looked impressive recently. Their sole loss was in LSU. They are not good enough to beat Alabama in the Iron Bowl, but they could push them a bit.
7 (7). Clemson (8-1) – IDLE. Next week: vs Georgia Tech.
6 (1). Oregon (8-1) – I have never been more confused by a game than a team just pounding and embarrassing the unstoppable Ducks offense. It is clear that Stanford just has their number. They are the only team in the nation that has it.
5 (5). Ohio State (9-0) – IDLE. Next week: at Illinois.
4 (6). Stanford (8-1) – Clearly the loss in Utah is looking like less of a disaster. When they play their game, which they didn't against the Utes, they cannot be stopped. They are bigger and stronger than, yet still as athletic as, any team in the nation. I want a BCS Championship between Bama and Stanford. It would be an NFL game.
3 (4).
Baylor (8-0) –
The offense is just ridiculous. They can put up 40 on any team. They need people to lose too, which is unfortunate. If they were called Oklahoma, they would be in position to play for a national title.
2 (3). Florida State (9-0) – Every player on the roster looks like it could play on Sundays. This team is stacked.
1 (2). Alabama (9-0) – There really isn't much to say. They are the best, most balanced, most physical, most experienced, and best coached team in the nation. It is going to take a perfect storm to beat them.
Top 5 Games for Next Weekend
5. Oklahoma State (#12) at Texas (#23), 12:30PM FOX – This is the battle between teams who want to stay alive in the Big 12. Texas has not lost. Oklahoma State has one loss. It should be a good old-fashioned Texas shootout. PREDICTION: Texas 37-31
4. Stanford (#4) at USC, 5:00PM ESPN – The Trojans have lost just one game since Lane Kiffin was let go. Stanford is coming off the biggest win of the season. Can the Trojans spring the huge upset? PREDICTION: Stanford 31-28
3. Michigan State (#19) at Nebraska, 12:30PM ABC/ESPN2 – For all intensive purposes, this is for the Legends Division and a chance to ruin Ohio State's BCS chances. Last year was a tough game and comeback win in East Lansing. This year, Sparty comes in hot. This should be quite a game, even if it will probably look pretty ugly. PREDICTION: Nebraska 24-20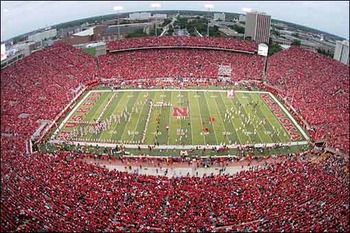 2. Ball State at Northern Illinois (#16), WEDNESDAY 5:00PM ESPN2 – This game will likely decide who will win the MAC, and it is a perfect chance to see one of the coolest players in the nation, Jordan Lynch. PREDICTION: Northern Illinois 49-42
1. Houston at Louisville (#15), 4:00PM ESPNU – This is the battle between the second and third best teams in the AAC. We will see which team is more inspired to stay mathematically alive in the conference. Look for some offense in this one. PREDICTION: Louisville 34-28
5. Marcus Mariota, QB, Oregon – He is going to need a bunch of losses ahead of him, but you can't just go from odds-on favorite to not in contention, right?
4. AJ McCarron, QB, Alabama – He is beginning to get more and more credit for the dominance by the Tide. He deserves it, too. He has been orchestrating some of the biggest beatdowns of the seasons and putting up NFL-type numbers.
3.
Bryce Petty, QB, Baylor –
If we go by stats, then he would be the winner. I am beginning to think that with RGIII, Nick Florence, and now Petty that anyone placed in that offense could put up 5000+ yards total offense.
2. Johnny Manziel, QB, Texas A&M – He continues to put up video game numbers and may be the most exciting player we have seen in the game since Reggie Bush. He will get his votes. How much have the voter's forgotten about the offseason issues?
1. Jameis Winston, QB, Florida State – With Mariota losing, Wisnton takes control. Unless there is some unforeseen disastrous loss, then he will win the Heisman.
Rose Bowl – Stanford over Ohio State
Orange Bowl – Oregon over Clemson
Sugar Bowl – Fresno State over Missouri
Fiesta Bowl – Baylor over UCF
BCS Championship Game – Florida State over Alabama
What did you think of this weekend? How far should Oregon drop? New Heisman predictions? Let me know below!