After another week hiatus (and attending a horribly frustrating self-inflicted Nebraska loss to Michigan State), I return with my Week 13 Recap. The top two offenses in the nation get smashed on the road. A couple teams put up 80 on weak opponents. Florida is going to finish the year with four wins after an amazing loss to Georgia Southern, who didn't even complete a pass. I love college football. Check out the fallout below and the carnage that happened to the BCS and Heisman projections…
Others receiving votes: East Carolina, Minnesota, Nebraska, Notre Dame, Texas
Dropped from the rankings: Minnesota (21)
25 (NR). Washington (7-4) – This is not just because the team put up 69 points at the one place in the Pac-12 that weird stuff happens, but their only losses are to top 20 teams, only one of which got out of hand. They are still among the most talented teams in the nation and could put on quite a show in the closing weeks of the year.
24 (25). Oklahoma (9-2) – The Sooners are still hanging onto a top 25 ranking. There is not really anything that the team is great at. They are just Oklahoma and get their wins. Their two losses were both blowouts, though.
23 (23). USC (8-3) – This USC team is confusing. If Pat Haden and company have not seen enough from Orgeron to know that he should coach the Trojans next year, then he should be fired.
22 (22). Duke (9-2) – It just feels weird to have Duke on this list two weeks in a row and not have it be a joke. Who is feeling better going into the Duke-UNC game next week? The 9-2 team or the team that scored 80 points in the game's first 45 minutes?
21 (14). Texas A&M (8-3) – It appears that Johnny Football's kryptonite is LSU's defense. They just cannot win the big games in conference. They can upset teams and blow out teams, but when they need a win, pressure gets to them.
20 (12). UCLA (8-3) – Jim Mora suffered his first loss at home as head coach of the Bruins. It was an ugly one too, with a third consecutive Pac-12 South title on the line.
19 (24). LSU (8-3) – The Tigers are still holding strong and are clearly the best 3-loss team out there. They have the wins to make them a top 10 team, but that loss to Mississippi still confuses me.
18 (17). South Carolina (9-2) – This team just somehow keeps slugging along. You look at the record and the conference, and you think they are a stout team. They are not. Their league is weak, and they are…sort of average. I do not understand the Cocks.
17 (18). Northern Illinois (11-0) – This is one of the toughest cases in the nation. Jordan Lynch looks like he could beat anyone, but we saw last year in the BCS that they actually cannot. They are unbeaten, though. Let's just hope that the BCS doesn't take both the Huskies and Fresno State and pit them against each other a la 2010 Fiesta Bowl.
16 (16). Louisville (10-1) – The Cardinals seems to have the exact same format to every game they play. They are probably a lot better than this ranking, but we just do not have the evidence to prove that. I wish they were in the ACC this year.
15 (15). UCF (9-1) – After a near disaster and minor miracle against Temple, UCF got back to what they are best at. I would be surprised if they lose again this year.
14 (19). Michigan State (10-1) – The Spartans have taken care of business in every game this year, except against Notre Dame. That and Oklahoma State's loss in Morgantown are two of the most confusing losses in recent memory.
13 (20). Arizona State (9-2) – The Sun Devils are hot, and I would not at all be shocked to see them take out Stanford in the Pac-12 Title Game.
12 (13). Fresno State (10-0) – You gotta love Fresno State and Derek Carr. They are just pure offense. I want to see them take on the big boys in a BCS game.
11 (5). Oregon (9-2) – I guess motivation is everything with Oregon. "We want Bama." "Rose Bowl, Fiesta Bowl…been there, done that." The Duck players are idiots. Have fun in the Sun Bowl.
10 (11). Stanford (9-2) – After that loss to USC, Stanford puts up 63 points in the Big Game against one of the worst defenses in college football history. Nice.
9 (10). Wisconsin (9-2) – This is appearing to be one of the toughest teams out there. The wins against run-based and physical BYU and Minnesota are as impressive as anything they have done this year.
8 (3). Baylor (9-1) – I do not think anyone saw that coming. Oklahoma State is talented and definitely good enough to win the conference, but completely shutting them down like that is shocking. There were injuries that played a part, no doubt. But that was a complete shellacking.
7 (9). Missouri (10-1) – This is exactly the type of team that Alabama does not want to see in the SEC Championship Game. I think they are better with Maty Mauk in there too. They might want to think about making him the permanent starter, but no way will they do that with their Senior Day coming up against the Aggies.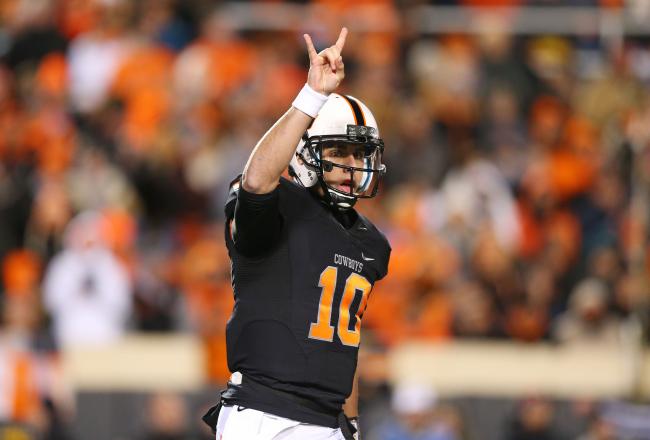 6 (8).
Auburn (10-1) –
It is amazing how much a miracle last second touchdown can change the outlook of a season. They are playing for perhaps a BCS Championship Game berth next week against the Crimson Tide.
5 (7). Clemson (10-1) – This team was riding a similar wave last year into the Palmetto Bowl, and they disappointed. I cannot see that happening again.
4 (6). Oklahoma State (10-1) – The Cowboys are one of the most balanced and scary offenses out there. Beating Baylor the way they did is one of the two or three most impressive wins of the year in all of college football. The Big 12 just cannot get an unbeaten team…Oklahoma State losing in Ames, K-State losing at Baylor, and now Baylor losing in Stillwater. I loved that conference…
3 (4). Ohio State (11-0) – Urban Meyer is in such a frustrating spot right now. Can one of the premiere college football programs out there have back-to-back undefeated seasons and not even get a chance at a national title? Yeah, the BCS will be missed…sure…
2 (2). Alabama (11-0) – The Iron Bowl is going to be quite a show. I can't wait to see that scene.
1 (1). Florida State (11-0) – As long as Winston stays eligible, this team will not lose again. They just need to stay focused against a horrible Florida team and presumably Duke, and they will get their shot at Bama.
Top 5 Games for Next Weekend
5. Minnesota at Michigan State (#14), 9:00AM BTN – This will be a physical and ugly game in probably terrible conditions. Can Sparty avoid looking ahead to Ohio State? PREDICTION: Michigan State 20-13
4. Notre Dame at Stanford (#10), 4:00PM FOX – Notre Dame has beaten Michigan State and Arizona State this year, so they are more than capable of pulling an upset. Stanford has to have a bit of revenge on its mind after the overtime controversial loss last season. This could be a classic. PREDICTION: Stanford 31-28
3.
UCLA (#20) at USC (#23), 5:00PM ABC –
The Battle for LA may not have any real implications as far as the conference goes, but this will not be the beatdown that it was a season ago. Both teams are playing at or near their best at this point in time, making for a highly entertaining matchup.
PREDICTION: USC 41-35
2. Clemson (#5) at South Carolina (#18), 4:00PM ESPN2 – South Carolina prevailed last season, but Clemson still only has that one loss. I bet they want this game even more than whatever BCS game they end up in. PREDICTION: Clemson21-10
1. Alabama (#2) at Auburn (#6), 12:30PM CBS – If you do not want to watch this, then you obviously are not a college football fan. This is going to be one of the most interesting games of the season. There is always something strange that happens in this game. Last year was an absolute raping, but that will not happen to this Auburn team. There is something a little quirky about them. I think they got a shot. PREDICTION: Alabama 24-16
5. AJ McCarron, QB, Alabama – He is one of the most successful QBs in recent memory. If there is an award for a career, then it is his. They might just do that with Winston's investigation going on.
4.
Andre Williams, RB, Boston College –
Williams is the first player in conference history to rush for 2000 yards in a season, and many people forget the tough games BC gave Florida State and Clemson. He is the real deal.
3. Jordan Lynch, QB, Northern Illinois – Lynch absolutely should be invited to the ceremony. He is the most exciting player in the nation, and he puts the team on his back just like Colin Klein, Tim Tebow, and other great dual threat QBs before him. His numbers are staggering, as well.
2. Tajh Boyd, QB, Clemson – Boyd seemed to be out of it earlier, but now with Mariota and Manziel faltering, he is right there as the best senior QB in the nation and in the driver's seat to secure at least an invite.
1. Jameis Winston, QB, Florida State – Cam Newton still won despite his controversy. Winston, barring a terrible upset in the next couple weeks, will be the winner.
Rose Bowl – Ohio State over Stanford
Orange Bowl – Baylor over Clemson
Sugar Bowl – UCF over Missouri
Fiesta Bowl – Oklahoma State over Fresno State
BCS Championship Game – Florida State over Alabama
What did you think of this weekend? Rankings? Heisman predictions? Let me know below!