Original Airdate - 4/5/14
There have been a lot of hosting debuts this year with mixed results. There have been some good ones (
Edward Norton
,
Lena Dunham
,
Lady Gaga
), some not so good ones (
Josh Hutcherson
and ... yeah mainly just Josh Hutcherson), and a bunch in between. Which category would Anna Kendrick fall into? She has proven to be a successful actress in many different genres, but could she handle the live comedy show?
SNL
has been on quite a run recently with some great hosts turning in some outstanding shows. The streak has to end sometime. These were my expectations going into the episode. Immediately I realized that not only was Anna Kendrick a good first-timer, but she may have had the best debut of the season.
Cold Opening
As someone who doesn't keep very close tabs on the daily news, this episode's cold open seemed a little obscure. It focuses on a Congressional hearing being held investigating a GM recall. Kate McKinnon plays their newly appointed CEO who needs to do further research to remember anything. The question dodging gets funnier the more you realize what is going on. Then, just when you think you've reached that magic end to the opening sketch, the show pulls a rarity: a fake-out. It's one of those moments where
SNL
realizes it not only needs to make fun of our society, but itself as well.
Monologue
What would Anna Kendrick, known more for a being the straight character if she's in a comedy at all, do for a monologue? Well, one of
SNL
's favorite things to do is get their first-time hosts to sing. Well this became the obvious course of action when you realize just how good she is. They take the song "Belle" from
Beauty and the Beast
and adapt it for Anna. It is at this point that your jaw drops as you realize, "Holy crap! They need to make a live-action movie version of this musical because Anna Kendrick IS BELLE!" It was a perfect monologue to show off her skill set. I'll admit when they started Jim Parsons's
SNL
debut with a song and dance, it seemed more like hazing than comedy. This really set the tone for the great show that was to come.
Weekend Update
As if to make up for the short Weekend Update with only one guest last episode, Colin and Cecily went all out this episode. Their jokes were sharp, they had some funny co-anchor banter for the first time, and they had three guests participate in the set. First came Kate McKinnon's Angela Merkel who has popped up several times. I'll be honest, I don't find this character to do one of her better ones, but it is still fun in its own way. Next came Bobby Moynihan channeling George R. R. Martin, the author and creator of
Game of Thrones
talking about the difficulties of writing books to keep up with the show. I couldn't really tell you much else about the bit because I was too distracted by the fact that Bobby's beard started to fall off the second he got on camera. Batting third on Weekend Update was Brooks Wheelan giving a public service announcement of sorts. He has done this one other time this season as he discussed the dangers of spur-of-the-moment tattoos. This one he talked about the dangers of drinking. Both times he's done this, it's been pretty funny. It is one of the few times Brooks has had a chance to be featured in any way throughout this season. Hopefully, we get to hear a little more of Brooks being Brooks in the future, or else I can see Brooks being booted instead. They can't keep all 8 featured players going into next season, can they?
Best Sketch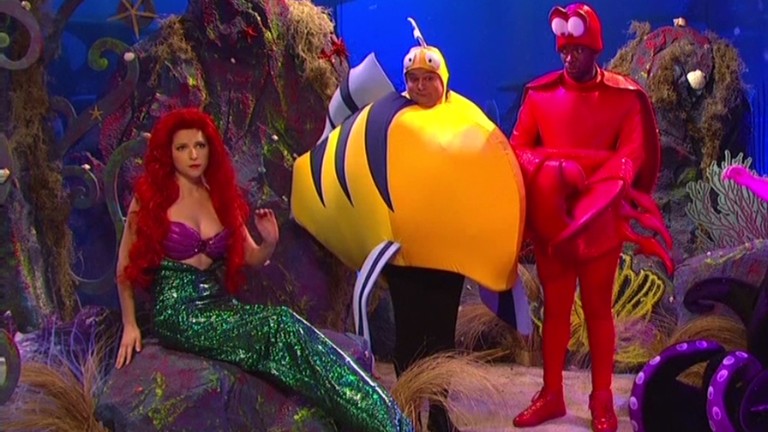 At this point of the show, I decided that Anna Kendrick just needs to star as every Disney princess. This time around, she shows why she is the perfect Ariel, and Aidy Bryant is the perfect Ursula. In this twist of
The Little Mermaid
, Ariel shows just how much she has been paying attention to what happens on the surface. When Ursula asks her to sing for her, she instead sings Kesha and Britney Spears among others claiming, "This is how everyone is singing nowadays." It was a beautiful sketch with Jay Pharaoh showing he really can do anything as he becomes Sabastian the Crab (who apparently can sing like Pitbull). The only bad part about this sketch is since it has so much music in it, licensing prevented
SNL
from putting the sketch online. (
Here's a link to the video.
) You will just have to take my word for it. It was awesome. To make up for it, here is a close second. Enjoy the latest installment of "Fox & Friends."
Worst Sketch
No sketch was bad in this episode, however there was one that shone a little less bright than the others. These two apartment neighbors obviously like each other, but neither can really find a way to tell the other. It's kind of sweet and cute and all. The payoff is pretty funny at the end, but the sketch just drags on a little too long getting to that payoff. Like I said, it's not bad, but it was the worst this episode had to offer.
Dark Horse Sketch
I'm highlighting two sketches as my dark horses this episode because both are repeat sketches that are the definition of dark horse, post-midnight, quirky bits. First, we have the French cafe. I have no idea what is going on. I don't really care what is going on. All I know is they pretend to speak French, they dance, and give way to some of the weirdest, most random cameos you can think of. The best turn of this sketch featured Jean Dujardin right around the time he won his Oscar. This sketch is worthy of the rest though.
Our second sketch is a personal favorite of mine. Maybe it's because I'm a teacher, but seeing a group of high school teachers try to be cool as they run the latest lame event at their school just gives me joy. Pharaoh's Principal Frye is always funny warning the students to stop whatever their latest prank was. Anna Kendrick fills the role of out-of-touch teacher with an announcement. The sketch is not a sketch though until Kenan Thompson gets on stage and tells everyone to "SHUT THE HELL UP!"
Grade
Like I said,
SNL
has been on a little roll recently with having a string of really good episodes. This was definitely the best of the run so far. Anna Kendrick is one of those that is mesmerizing when she is on screen, and she is really funny too. It seems the writers are finally starting to figure out what to do with the cast they have now. There's no more Seth Meyers, no more Bill Hader, no more Fred Armisen. Those are some big holes in what had been done on the show over the last 10 years. It was going to take awhile the writing to adjust to the new group of talent. It seems now they are finally finding what works with this group. Also, having an overall talent like Anna Kendrick as your host makes your job that much easier. Oh, it doesn't hurt to have Pharrell as your musical guest singing one of the biggest songs out there either.
***A***
View the full episode here: