Watching week one of the college football season is at times exhilarating and a bit predictable. Some FCS teams always give the Power 5 conference teams a game, but the bigger schools almost always pull out the wins. There are always a couple marquee matchups, and there is always a player or two that leap into the public conscious with one insane debut outing. Sadly, preseason rankings still matter in determining rankings after week one, but hey, if we noticed anything in the past five days, it is that no team is going undefeated. Nobody is that good. Check out my breakdown of the week and a look forward to the best matchups for week two!
Others receiving votes: Arizona, Arizona State, BYU, Clemson, Louisville, Marshall, North Carolina
Dropped from the rankings: Washington (13), South Carolina (15), Texas Tech (20), Clemson (21), Missouri (22), Marshall (24)
25 (NR). Oklahoma State (0-1) – They really surprised a lot of people with their effort against the defending champions. With the confidence they built in week one, they could be a challenger in a wide open Big 12.
24 (NR). Pittsburgh (1-0) – I don't think anyone really knows anything about the Panthers, but the 62-0 whipping they put on perennial FCS power Delaware was shocking.
23 (NR). Michigan (1-0) – They ended Appalachian State early and looked impressive doing it behind improved QB Devin Gardner.
22 (19). Kansas State (1-0) – The Wildcats are going to quietly produce for several weeks before anyone really notices that they exist and are playing amazing football, just like every year.
21 (NR). Mississippi (1-0) – The Rebels pulled away from a slightly overmatched Boise State team. They are still going to need to solve some consistency issues if they really want to be anything but a spoiler in that conference.
20 (25). Mississippi State (1-0) – They pitched a shutout in week one against an in-state rival. That is about as much as you can ask for, no matter the opponent. They are the sleeper in the SEC.
19 (NR). Nebraska (1-0) – They racked up 780+ yards in their opener. The offense was a machine and should send shockwaves throughout the conference. The defense is still looking for answers, though.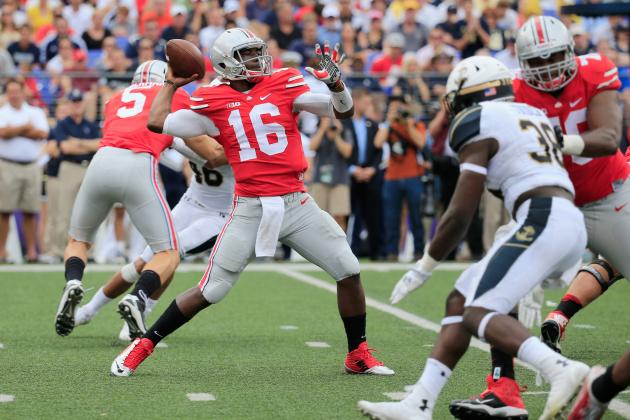 18 (9).
Ohio State (1-0) –
You do not get too much taller of a task than playing a triple option team in week one without your starting QB. They managed well enough and showed definite growth by the second half.
17 (23). Texas (1-0) – The Longhorns looked impressive against one of the elite non-AQ teams in North Texas. If they can continue to roll offensively, then they could be a real contender in the Big 12.
16 (6). Oklahoma (1-0) – They had a shaky opener, but it is just week one. This team will get it together soon, setting up a mightily intriguing matchup with Baylor in early November between two likely unbeatens.
15 (16). Wisconsin (0-1) – They had maybe the three most impressive quarters of football over the weekend. They looked like a title contender, but then they ran out of gas late. They might be the frontrunner in the Big Ten.
14 (2). Alabama (1-0) – It is hard to really criticize them for a 10 point neutral site win, but if the offense struggled that much against a Dana Holgorsen defense, then they have some issues.
13 (1). UCLA (1-0) – The Bruins did what they had to do to win, but they really struggled offensively. They need to put Myles Jack back on offense, at least occasionally. He adds that dimension that will cool the pass rush.
12 (NR). Penn State (1-0) – They had the gutsiest win of the weekend with their 6:00AM kick in Dublin against reigning Fiesta Bowl champion UCF. They had a two minute drill situation and actually hit a clutch kick. Watch out for this team, even if they are still bowl ineligible.
11 (11). LSU (1-0) – They had one of the toughest games in week one, and they got lucky to get out of there with a win. They started to look like a contender in the fourth quarter, but they are going to need to solve some issues if they are going to challenge in that division.
10 (18). USC (1-0) – The Trojans had a brilliant debut under new coach Steve Sarkisian amidst a host of off-field distractions. They might finally be back.
9 (5). Auburn (1-0) – I thought that they had a week one trap game, but they wore out Arkansas in the second half and proved that they are still a national title contender.
8 (8). Michigan State (1-0) – The Spartans smacked around the opposition, this time not struggling early in the year on offense. They are going to be a title contender if they can consistently score in conference.
7 (4). Oregon (1-0) – We really do not know exactly what to think of the team just yet, but when the starters were in there, they looked as good as they have any of the last five years.
6 (10). Stanford (1-0) – They physically destroyed UC Davis, which they should have. This program reloads as well as any.
5 (17).
Texas A&M (1-0) –
Their game against South Carolina opened eyes the same way Baylor-TCU did in RGIII's Heisman year. It was a breathtaking first effort from a relatively unknown player (Kenny Hill) and a game that launched a team into the top ranks immediately.
4 (2). Florida State (1-0) – I knew that facing Oklahoma State would be no cakewalk. Everyone had them in a laugher, but the Cowboys are great at preparing for these types of matchups. The Noles will be fine, but they certainly can't take anyone lightly, even in a horrible ACC.
3 (11). Notre Dame (1-0) – The Irish had a mightily impressive 2014 debut with QB Everett Golson back in the lineup. They stomped all over a very capable Rice team, producing one of their finest offensive outputs under Brian Kelly.
2 (14). Baylor (1-0) – The Bears got off to another scorching start, this time actually showing signs of a competent defense, shutting down in-state rival and usually offensive juggernaut SMU. Baylor could be looking at another magical season.
1 (7). Georgia (1-0) – There was not a team that had a more impressive win than the Bulldogs. Todd Gurley is healthy and going to dominate most defenses he plays against. Clemson was not a stellar defense or anything, but this team, as I suspected, is going to be a force.
Top 5 Games for Next Weekend
5. East Carolina at South Carolina, 4:00PM ESPNU – You know it is a weak weekend when one of the most intriguing games is simply seeing how a team is going to respond after getting blown out. East Carolina is a veteran and winning squad. Can South Carolina avoid a disastrous 0-2 start? PREDICTION: South Carolina 38-24
4. BYU at Texas (#17), 4:30PM FS1 – Last year, the Cougars racked up 550 rushing yards in a stomping of the Longhorns. Texas gets their chance at revenge against a very solid BYU team. PREDICTION: Texas 27-24
3. Michigan (#23) at Notre Dame (#3), 4:30PM NBC – This is always one of the marquee games of its given week. Both teams looked excellent offensively in week one. How will their final annual game go? PREDICTION: Notre Dame 31-23
2. USC (#10) at Stanford (#6), 12:30PM ABC – This has got to be one of the most intriguing games of the young season. The matchups between Stanford and Sark were always compelling, and USC and Stanford have really taken part in some instant classics and upsets in the past few years. PREDICTION: USC 31-17
1. Michigan State (#8) at Oregon (#7), 3:30PM FOX – This was one of the matchups that has been circled since January. It is the most important non-conference game of the season, and we get it in week two. I cannot wait. PREDICTION: Oregon 27-21
5. Christian Hackenberg, QB, Penn State – He may have had a couple turnovers, but if this team is going to continue winning, then it will be squarely on his right shoulder. He has the talent to really put up some serious numbers, particularly in a defensively deficient conference.
4.
Bryce Petty, QB, Baylor –
Petty was in the running a year ago as well. It seems as if he needs to have an undefeated season to really have a shot at winning, but his numbers might speak for themselves in his senior season.
3. Todd Gurley, RB, Georgia – Gurley is already being touted as the Heisman frontrunner, but this is fairly reminiscent of Marcus Lattimore a couple years ago. Everyone knows he is the best, but running backs don't win the award anymore unless there aren't great QBs. This year, there clearly are.
2. Kenny Hill, QB, Texas A&M – Kevin Sumlin's offense is insane. Any quarterback could come in and put up absurd numbers. If he can keep pulling upsets and passing for half-a-thousand yards through the SEC schedule, then look for another Heisman winner to come out of College Station.
1. Marcus Mariota, QB, Oregon – Another year, another case for Mariota's Heisman. He had his way with the opposition in week one. If he remains healthy, then he is going to be right there at the top of the race all year.
College Football Playoff Projections
Chik-fil-A Peach Bowl: Auburn over Marshall
Cotton Bowl: Oregon over Oklahoma
Fiesta Bowl: USC over Michigan State
Orange Bowl: Florida State over Alabama
College Football Playoff Semifinal #1 (Rose Bowl): Georgia over Baylor
CFB Playoff Semifinal #2 (Sugar Bowl): UCLA over Notre Dame
National Championship Game: UCLA over Georgia
I am not completely abandoning my preseason prediction just yet. Georgia proved me right, UCLA greatly underwhelmed on the road. I still think those are the two most complete teams in the nation in the two best conferences. Baylor and Notre Dame appear good enough to go unbeaten, which would be the only way either makes the playoff.
There you have it! What did you think of week one? Who are your early Heisman contenders? Which team was most impressive to you? Let me know below!