I typically like to do one of these every week, but due to a busy schedule, I was unavailable to do one the past couple weeks. I almost prefer to not update every week now. This way I can tear up what I had before and start over, rather than involuntarily going off my previous week's rankings. I will publish as much as I can, however. Check out what this week's action did for the landscape of this college football season below.
Others receiving votes: Duke, Marshall, Ohio State, TCU, Washington
Dropped from the rankings: Pittsburgh (20), Ohio State (24)
25 (NR). Wisconsin (2-1) – Melvin Gordon: 250+ yards and 5 TDs on 13 carries…what a freak! He is the next Jamaal Charles. The team goes as he goes.
24 (25). East Carolina (3-1) – After a third straight victory over North Carolina and dropping 700+ yards and 70 points, we have potentially the scariest non-AQ team in the nation.
23 (NR). BYU (4-0) – It is difficult to really judge this team who dominates first halves and then falters in the second halves, but they are a potent offense and near unbeatable at home.
22 (18). Kansas State (2-1) – They did everything possible to lose to Auburn on Thursday night. They were the better team on that day, and maybe overall, but they need to shut the door. K-State is on the cusp of greatness far too often to never really get over the top.
21 (23). Oklahoma State (2-1) – IDLE.
20 (22).
Arizona (4-0) –
They were aided by a miracle 36 point 4
th
quarter and hail mary to take down upset-minded and improved Cal. They are potentially the most explosive and prolific offense in the nation not called Baylor or Oregon.
19 (17). Stanford (2-1) – IDLE.
18 (16). USC (2-1) – IDLE.
17 (8). LSU (3-1) – They were physically dominated for about 55 minutes against Mississippi State before mounting a near comeback in the final moments. This team just isn't as great defensively as they need to be to take that division.
16 (14). Mississippi (3-0) – IDLE.
15 (15). Arizona State (3-0) – IDLE.
14 (10). Georgia (2-1) – They may have dismantled a team in record fashion, but they get a net loss on the weekend when South Carolina struggled to beat the worst Power 5 team in the nation.
13 (19). Nebraska (4-0) – The offense is humming and the defense showed some attitude in the renewed rivalry game against Miami. The Big Ten's chances might very well rest on the shoulders of Nebraska and Ameer Abdullah.
12 (7). Auburn (3-0) – They basically lost on the road, but they survive and advance, I guess. The conference games are what will define this team, just like last year after they nearly got beat by WSU and then nearly ran the table.
11 (13). Michigan State (3-1) – The Big Ten had a big weekend, and Michigan State is continuing to prove that they may be the best team in the conference. Losing in Eugene should not take them out of playoff contention.
10 (21).
Mississippi State (4-0) –
The Bulldogs finally get a big time win when it still matters! This team is always on the verge of competing, and after a huge road win in Death Valley, they are right in the thick of the race.
9 (9). UCLA (3-0) – IDLE.
8 (12). Penn State (4-0) – No one else really buys into this team as much as I do, but whenever I see them, I am fully impressed. Hackenberg could carry this team all the way to the B1G Title Game.
7 (11). Alabama (4-0) – The defense is not what we have come accustomed to, but Lane Kiffen has really ignited that offense. They could outscore almost the entire conference.
6 (5). Florida State (3-0) – The 'Noles got extremely lucky to survive without Jameis Winston at home, but they did it in overtime. The defense is still really good, and the running game was able to show its power. They aren't good enough to go unbeaten, though.
5 (6). Oklahoma (4-0) – Winning in Morgantown should not be underestimated. This team is as strong of a Sooner team as there has been since 2008.
4 (3). Baylor (3-0) – IDLE.
3 (2). Notre Dame (3-0) – IDLE.
2 (1). Oregon (4-0) – The offensive line was exposed in Pullman, one of the toughest places for teams to travel to. They will get it together and look back at this game as a learning experience.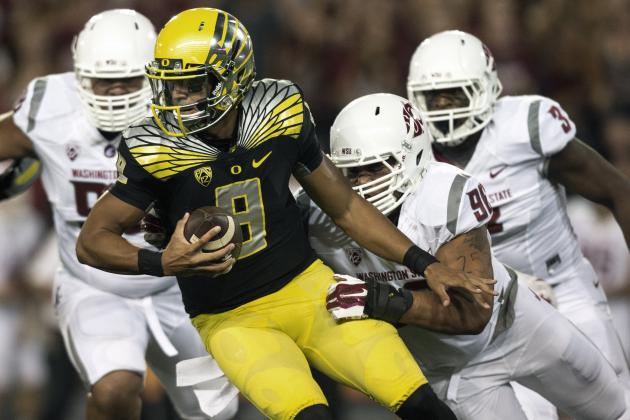 1 (4). Texas A&M (4-0) – Kenny Hill has taken this team to places that Johnny Football never did. The offense simply cannot be stopped, it appears. I like them to take the SEC.
Top 5 Games for Next Weekend
5. Tennessee at Georgia (#14), 9:00AM ESPN – Tennessee is a decent team, despite what we saw from them against Oklahoma a couple weeks ago. Georgia can be beaten again if they bottle up Gurley. This could be start of a bit of a lull in the Bulldog schedule after a tough stretch to start. PREDICTION: Georgia 28-24
4. Florida State (#6) at NC State, 12:30PM ABC/ESPN2 – This may not seem like a great game, but the last time that the Seminoles traveled to Raleigh they were upended and received their only loss of the year. Can it happen again to a newly cocky and seemingly vulnerable team against a team that hasn't lost yet? PREDICTION: Florida State 31-24
3. Stanford (#19) at Washington, 1:15PM – This will probably wind up on one of the Pac-12 Network channels. Every time these teams get together, something crazy happens. For the fans in the west, this has got to be one of the top games of the weekend. PREDICTION: Stanford 35-31
2. Arkansas vs Texas A&M (#1) (in Dallas), 12:30PM CBS – Arkansas has improved since their opening loss to Auburn, and they get the best team in the nation on a neutral field. This could be a trap game for the Aggies before they get into the meat of their conference schedule. PREDICTION: Texas A&M 48-38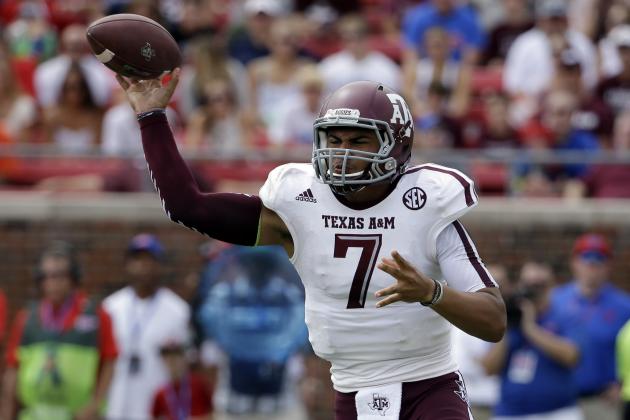 1. UCLA (#9) at Arizona State (#15), THU 7:00PM FS1 – Arizona State is the most underappreciated team in the country, and UCLA still is the most talented. This is one of those weird Thursday night matchups where we get an amazing game that isn't even on ESPN. Ridiculous. PREDICTION: Arizona State 24-23
5. Kenny Hill, QB, Texas A&M – I am beginning to think that anyone can put up numbers in that offense, but it has rarely looked as easy and exciting as it does with Hill calling the plays.
4. Bryce Petty, QB, Baylor – He might put up historic numbers this year, and if the team is able to run the table, then he might be an easy winner in the end.
3.
Todd Gurley, RB, Georgia –
He barely played against Troy, but he still has a couple insane games to carry his candidacy to the top.
2. Ameer Abdullah, RB, Nebraska – He is the entire team, and he has had a few Heisman-type moments already. If the Huskers continue to win, then he needs to be invited.
1. Marcus Mariota, QB, Oregon – He had a very methodical and productive game despite getting sacked 7 times at WSU. He will be the frontrunner until they lose.
College Football Playoff Projections
Chik-fil-A Peach Bowl: Arizona State over East Carolina
Cotton Bowl: Alabama over Nebraska
Fiesta Bowl: Oklahoma over BYU
Orange Bowl: Florida State over Michigan State
College Football Playoff Semifinal #1 (Rose Bowl): Baylor over Texas A&M
CFB Playoff Semifinal #2 (Sugar Bowl): Notre Dame over Oregon
National Championship Game

: Notre Dame over Baylor
What did you think of this weekend? Rankings? Heisman predictions? Let me know below!