It was another week of crazy college football games that almost shook up the rankings. We are getting teased each and every week, and we still have yet to have a monster top 5 upset, despite #1 TCU trailing most of the game in Lawrence against the Jayhawks. Rivalry games are coming up soon though! Check out the fallout: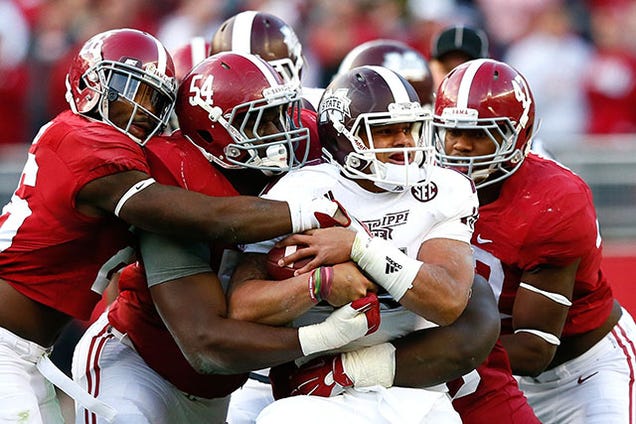 Others receiving votes: Minnesota, Northern Illinois, Notre Dame, Oklahoma
Dropped from the rankings: Notre Dame (14), Minnesota (21), Clemson (23)
25 (NR). Missouri (8-2) – With their first "ranked" win of the year playing the horrible Texas A&M squad, Missouri is now a couple cakewalks away from winning the East division of the SEC. Best conference in football…sure.
24 (9). Nebraska (8-2) – The story of the past few years showed its head again. Nebraska simply cannot stop a power running attack or win a big game on the road.
23 (NR). Utah (7-3) – After beating Stanford (now 5-5, somehow), Utah continues a very impressive run in the Pac this year. They are one of those teams that you simply do not want to see in a bowl game.
22 (NR).
USC (7-3) –
The USC offense is absolutely humming. Cody Kessler might be the guy to eventually take them to the top of the Pac-12 South.
21 (15). Duke (8-2) – They dropped a game to up-and-down Virginia Tech, but they still are a consistent team and probably the best team in the Coastal.
20 (19). Colorado State (9-1) – IDLE.
19 (20). Boise State (8-2) – With their only losses coming to Air Force and Ole Miss, and already having beat otherwise unbeaten Colorado State, this team is in the driver's seat to represent the other conferences in the CFP bowls.
18 (11). Auburn (7-3) – After getting hammered by Georgia, Auburn is suddenly reeling and cannot even find consistency in their run game. If they can somehow take the Iron Bowl, then this will not be a complete disaster season for Gus Malzahn's squad.
17 (18). Mississippi (8-2) – IDLE.
16 (17). Marshall (10-0) – They keep getting wins and looking pretty average doing it. It is hard to go undefeated, I get it. But how impressive is it really if your best win is a home win against 6-4 Rice?
15 (25). Wisconsin (8-2) – They are not a great team, but they sure looked like one yesterday. Melvin Gordon is a maniac with the ball and is reminiscent of Jamaal Charles when he was at Texas.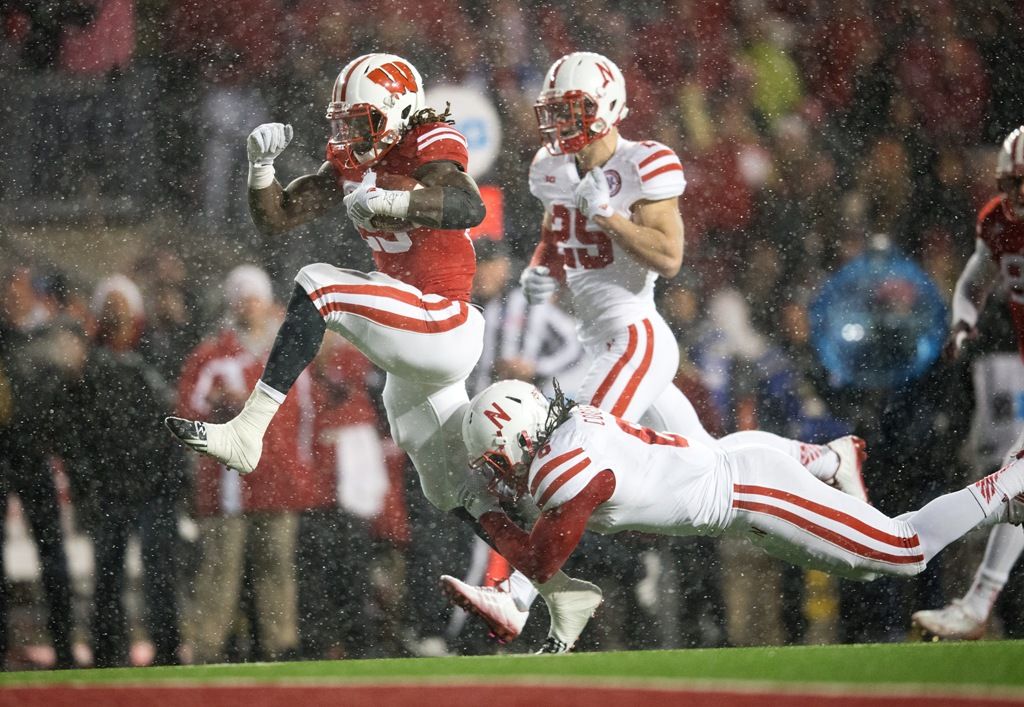 14 (24). Georgia Tech (8-2) – This might be the most overlooked team in the nation. They have a pretty decent resume, and they are tough to prepare for. They are among the most consistent teams every season.
13 (8). Arizona State (8-2) – I do not know what it is about traveling to Corvallis as a heavy favorite. Mike Riley gets his guys up for those games. I always thought ASU might have been a tad fraudulent.
12 (16). Arizona (8-2) – They have had one of the stranger seasons to follow. They got the benefit of a team not taking a knee at the end, resulting in a fumble and a missed game-winning field goal negated via timeout, followed by the true game-winner. You know, normal Wildcat stuff…
11 (13).
UCLA (8-2) –
IDLE.
10 (22). Georgia (8-2) – After slaughtering Auburn and losing Todd Gurley officially for the season/Georgia career, we still have no idea what to expect from this team. They showed flashes of being the best team in the conference, as I predicted preseason.
9 (10). Kansas State (7-2) – IDLE.
8 (12). Michigan State (8-2) – Sparty had an uneventful win, and they still do not have a real signature victory. The teams they lost to are among the top in the rankings, so that warrants spots above teams we know aren't that good, I suppose.
7 (2). Mississippi State (9-1) – Losing in Alabama is no shame, but they really were outclassed for the duration and looked pretty mediocre, despite what the final score indicates.
6 (1). TCU (9-1) – How exactly can you struggle that much with Kansas? The pressure of being slam dunk top 5 team got to the Frogs, and suddenly it seems inevitable that they will get passed up by Baylor in the standings.
5 (7). Baylor (8-1) – IDLE.
4 (5). Oregon (9-1) – IDLE.
3 (6).
Alabama (9-1) –
Taking out Mississippi State was a great win for the Tide, but they still cannot win on the road. And they won't have to. That's how the SEC rolls.
2 (4). Ohio State (9-1) – They survived some terrible conditions and a tough-minded Minnesota squad to continue a magical run leg by JT Barrett, who is the best Urban Meyer QB since Tim Tebow.
1 (3). Florida State (10-0) – They get it done again, somehow. Miami is a good win. I just wonder how many comebacks this team has in them. I would say that they won't be able to do it against elite teams, but look at the BCS Championship Game last year…
Top 5 Games for Next Weekend
It is going to be an ugly week for games, since it is the annual tune-up game week for the SEC. I hate that…
5. Mississippi (#17) at Arkansas, 12:30PM CBS –Arkansas got its first conference win in the last two years, and it has one of the top teams in the division traveling to their place. It could be an interesting/ugly game.
PREDICTION: Arkansas 13-9
4. Louisville at Notre Dame, 12:30PM NBC – Notre Dame is going to have quite a gut check, but they aren't exactly playing for a big bowl invite anymore. Louisville has been a pretty solid team all year. This is just going to be an old fashioned battle.
PREDICTION: Notre Dame 31-30
3. Kansas State (#9) at West Virginia, THU 4:00PM FS1 – West Virginia has been tough at home all year, giving Baylor its only loss among other fine efforts. Kansas State rolls in with one conference loss and a bye week. This should be quite a show.
PREDICTION: Kansas State 38-31
2. Arizona (#12) at Utah (#23), 12:30PM ESPN – Here is another key game in the Pac-12 South. Arizona is riding one of those strange waves of emotion, and Utah just saved their season with a tough fought victory over Stanford. Look for a physical game in this one.
PREDICTION: Utah 17-13
1. UCLA (#11) at USC (#22), 5:00PM ABC – The Battle for LA is back and has implications. Both teams are playing their best football, and both quarterbacks are rolling. I can't wait to see this scene.
PREDICTION: UCLA 24-21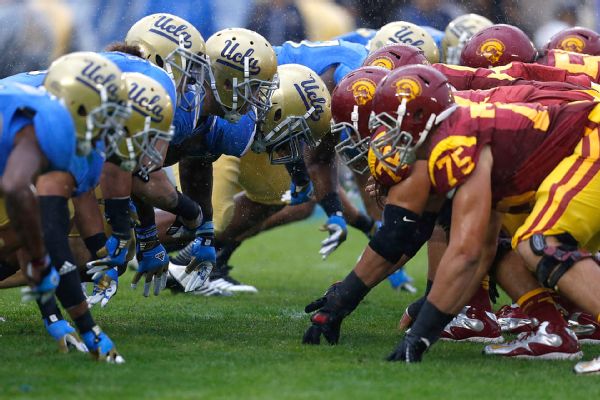 5. Rakeem Cato, QB, Marshall – When all is said and done, he may have led the only undefeated season of the 2014. He has been doing it for four years. In a year where all of the secondary candidates have flaws, he has none. He just hasn't played anyone.
4.
JT Barrett, QB, Ohio State –
He had another monster game and broke the school record for touchdowns. He has three more games to keep piling up those stats.
3. Jameis Winston, QB, Florida State – After shaving some points in the first half again, Winston turned it on and had another "amazing" comeback on the road. He needs to leave.
2. Melvin Gordon, RB, Wisconsin – Breaking a record set by LaDainian Tomlinson in college will vault you up the Heisman rankings no matter who you are. Gordon simply was already having an all-time worthy season and career, with his absurd YPC above 8.0 for his time at Wisconsin. 408 yards against a ranked Nebraska all but guaranteed his invite.
1. Marcus Mariota, QB, Oregon – Suddenly, with Dak Prescott losing and looking bad doing it, Mariota seems like a shoo-in, assuming they make the CFP.
College Football Playoff Projections
Chik-fil-A Peach Bowl: Boise State over UCLA
Cotton Bowl: Ohio State over Mississippi
Fiesta Bowl: TCU over Mississippi State
Orange Bowl: Georgia over Michigan State
College Football Playoff Semifinal #1 (Rose Bowl): Alabama over Baylor
CFB Playoff Semifinal #2 (Sugar Bowl): Oregon over Florida State
National Championship Game

: Alabama over Oregon
Anti-SEC Scenario:
1. Alabama loses the Iron Bowl to Auburn
2. Mississippi State loses the Egg Bowl to Mississippi
3. Georgia drops the game of Clean, Old-Fashioned Hate to Georgia Tech
4. Missouri loses to either Arkansas or Tennessee
5. Georgia beats Mississippi in the SEC Championship Game with 3 losses
OR
#1, #2, and Missouri wins the SEC Championship Game with a loss to Indiana on their ledger. Either way, the SEC would likely get shut out and we would all rejoice.
Thoughts on this weekend? What are your favorite college football rivalries? Is the Heisman race over? Comment.