This morning, yet another Hall of Fame class gets announced. Once again, this class is shrouded in controversy as the "Steroid Era" continues to keep some of the best players of the last 25 years out of Cooperstown. So once again, the ballot is stacked with more deserving players than can get in any particular year. The clock is ticking on some of them, especially since the latest rule change making players only eligible for 10 years instead of 15 years.
Here is how the Hall of Fame process works. Baseball writers are able to vote for up to 10 players any particular year, but could turn in an empty ballot also. For a player to make the Hall, they have to appear on 75% of the ballots. If a player appears on less than 5% of the ballots, they are not eligible to be on the ballot next year. Only three players last year were taken off the ballot that earned more than 1%. Hideo Nomo and Moises Alou barely earned over 1%, while the most surprising result of last year was Rafael Palmeiro, one of the only players with 500 home runs and 3000 hits in baseball history, just fell under the 5% threshold. He is the only one on the ballot that tested positive for steroids during his playing career so if someone was going to fall off the ballot, I guess it was him.
So who would I vote for if I had a was given a ballot (which I obviously should)? Well, first let's look at the players that will be seeing the ballot for the first, and most likely only, time. This is always a fun walk down memory lane of mediocrity, and seeing names we haven't seen in at least five years.
First (and Only) Ballot Guys
* = shot at a 2nd ballot
+ = deserves a 2nd ballot
Rich Aurilia
Aaron Boone
Tony Clark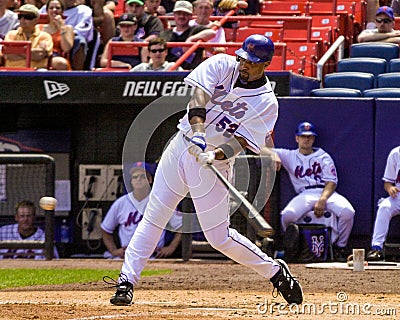 Carlos Delgado*+ Jermaine Dye
Darin Erstad
Cliff Floyd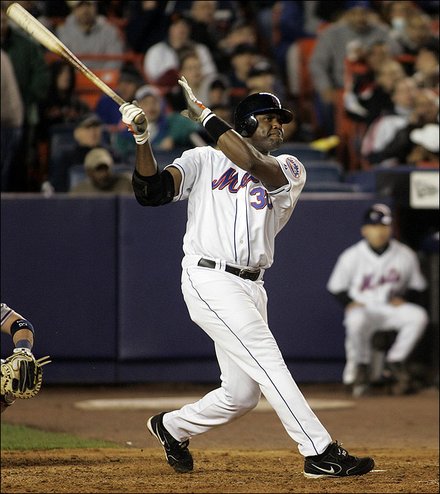 Nomar Garciaparra*+
Brian Giles
Tom Gordon
Eddie Guardado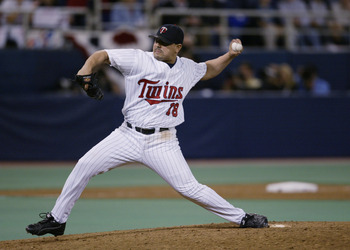 Troy Percival*+
Jason Schmidt
Sammy Sosa (3rd year on ballot)
Larry Walker (5th)
Mike Mussina (2nd)
Gary Sheffield (1st)
Fred McGriff (6th)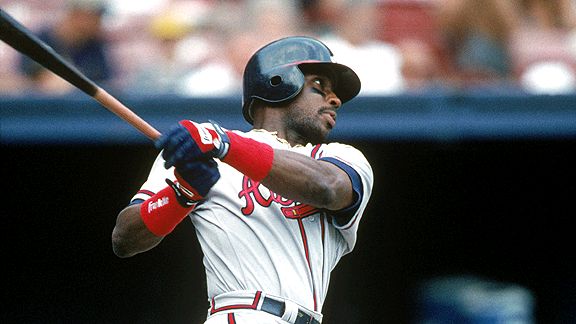 1. Randy Johnson (1st)
This is the biggest slam dunk on this year's ballot. Randy Johnson was the most dominant left-hander in the game for almost two decades. He very well may be one of the last pitchers to ever earn 300 wins. He was a brand all his own with his 6'10" frame firing his upper-90's fastball and devastating slider. There were times he was practically unhittable. And I'm not going to lie, but the thought of someone potentially being placed in the Hall of Fame wearing a Mariners hat makes me shed an inner tear of joy.
2. John Smoltz (1st)
The only disappointment John Smoltz will face this morning is when that he didn't get in last year with Greg Maddux, Tom Glavine, and Bobby Cox. That would have been truly poetic. There is no denying that Smoltz is a first ballot Hall of Famer though. He won over 200 games, being a truly dominant starter at several points in his career. He also was the most dominant closer in the game for a stretch as his arm healed from surgery. No one has been more durable, versatile, and dominant all in the same career.
3. Roger Clemens (3rd)
As I stated last year, I think all Steroid Era players should be judged on the merits of their careers, not what they may have done to get there. There were no rules against it, there is no way of knowing everyone who did it. Let it be. With that said, the Rocket defied all logic in being ridiculously dominant into his mid-40's. He seemed to just keep getting better. A Hall without Roger Clemens is not a Hall telling the story of the National Pastime.
4. Barry Bonds (3rd)
He has a similar argument to Roger Clemens, and in fact, probably a better. He has the single season home run record, the career home run record, and a crazy number of MVP awards. He was also one of the most feared hitters in the history of the game, before or after he allegedly took anything. Clemens and Bonds would both be Hall of Famers without the insane uptick in stats when the alleged steroid use started. He changed the way the game is played, and belongs in the Hall.
5. Edgar Martinez (6th)
I don't understand how he has not gotten in yet and doesn't have more support. Edgar is the best designated hitter of all time, but some writers still don't consider the DH a legitimate baseball position. Plus, Edgar played his entire career in the mass media black hole that is Seattle. The first DH to get in the Hall of Fame will be David Ortiz because he played in Boston. Edgar is the one that has his name on the "DH of the Year" trophy. Can you imagine Cy Young getting left out of the Hall of Fame? No. So put Edgar in!
6. Pedro Martinez (1st)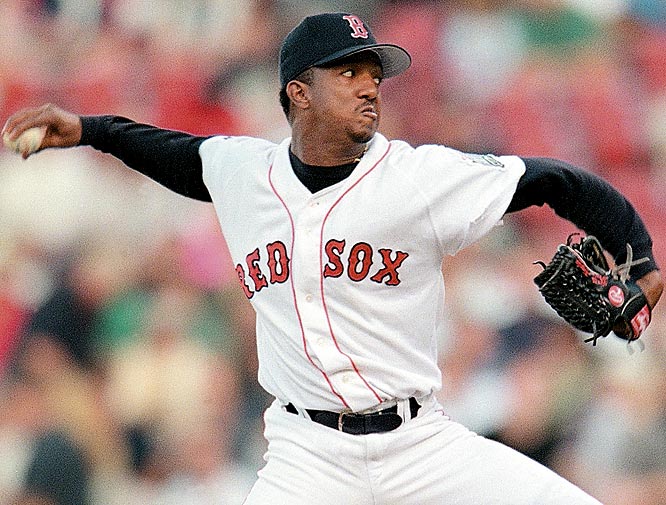 When I first started looking at Pedro's candidacy for the Hall, I thought he was getting talked up for being in the middle of the Yankees/Red Sox rivalry. Then I looked at his career a little closer. Over an 18 year career, Pedro had over 200 wins and an ERA under 3.00. He also spent a good part of the 90's being the best kept secret in the league playing for the Montreal Expos. Once he went to Boston, he just continued his dominance which culminated in his 1999 All Star Game appearance where he struck out 5 of 6 in his appearance in possibly the most dominant moment in All Star Game history. Pedro's colorful career has definitely earned his way into the baseball's highest honor.
7. Craig Biggio (3rd)
Biggio ended up 2 votes short last year, which almost guarantees his chances of getting in this year, but does he deserve it? There are a few career statistics that are almost guaranteed to get you in: 500 home runs (which isn't as guaranteed as it used to be), 300 wins, and 3000 hits. Biggio reached the 3000 hit mark over a career that saw him quietly become one of the best and most respected hitters in the league. He was the greatest team player in league, moving from catcher to second base to center field back to second base because that is what the team needed. He maintained his level of excellence through his long and distinguished career.
8. Mike Piazza (3rd)
He is the best hitting catcher of all time. He deserves to be in the Hall, and will get in eventually.
9. Curt Schilling (3rd)
I don't understand how Schilling doesn't get more support. Pitching stats aren't quite what they used to be. Getting to 300 wins makes you a no-brainer (see Maddux and Glavine last year, Johnson this year). His stat line is comparable to Pedro Martinez, and he became a legendary postseason performer. It would be quite poetic if Schilling went into the Hall the same year as Randy Johnson as they were the co-MVP's of the one and only Diamondback World Series championship. As it looks now, I don't know if he will ever get it.
10. Mark McGwire (9th)
First off, I realize McGwire will never get in. He only has one more chance after this year, and his numbers are trending in the wrong direction. With that said, he was one of the purest power hitters the game ever saw. Why should steroid use keep him out? If I had another spot on this list, Sosa would be on the ballot as well if for no other reason than the magical chase of history these two had in 1998. In their pursuit of breaking Roger Maris's 61 home run mark, McGwire and Sosa single-handedly revitalized the country's interest in the game. When McGwire broke the record playing the Cubs, and Big Mac and Sosa were able to celebrate that moment together, behind Cal Ripken's celebration for breaking Gehrig's streak, it was the single most memorable moment in baseball in the 1990's. He was a Hall of Famer with or without steroids. Stop the debate, and put him in.
This is who I would vote for. Now who is going to get in? Rarely to more than one or two get in. Last year, three got in. Some people are speculating up to 6 get in this year. I will predict 5 will get in.
Randy Johnson
Pedro Martinez
John Smoltz
Craig Biggio
Mike Piazza