2014 was a lot like previous years in that there were an abundance of great films, but truly transcendent ones, not so much (only three 4-star movies). 2012 was absolutely the closest relative to 2014 in that way. The best films of the year were really great, but I still found myself hoping that they would be surpassed by some surprise films that came out of nowhere, but we can't always be so lucky. In 2012, I had to wait until a mid March 2013 video release of a foreign film to find the best film of 2012 (
Holy Motors
). In 2011, it was all the way until June 2012 before I saw
Margaret
. It is frustrating that 95% of cities never get to see them on the big screen, but that is just the way of the industry.
Many of my most anticipated movies such as
Child 44
,
Midnight Special
,
99 Homes
,
the Cameron Crowe movie, and the Terrence Malick movies all got pushed back.
While We're Young
,
Trash
, and
Love & Mercy
seemingly never surfaced. This just reminds us that even the most talented and successful indie directors do not always get the benefit of the doubt and get distribution, which is really unfortunate. I am sure that their eventual summer video release will give them a nice run on Netflix or wherever, but they are never going to get the audience and attention that they most likely deserve. Oh well… I digress.
I really did enjoy 2014, though. A little teaser: for the 2nd time ever (and 1st time in 62 years), a director has back-to-back #1 films of the year for me [Preston Sturges; Sullivan's Travels (1941), The Palm Beach Story (1942)]. Without further ado, here are 2014's best achievements in film:


Films seen: 99
Thumbs up percentage: 55.56%
Actor of the year: Mark Ruffalo (Begin Again, Infinitely Polar Bear, Foxcatcher, The Normal Heart)
Actress of the year: Julianne Moore (Non-Stop, Maps to the Stars, Still Alice, The Hunger Games: Mockingjay – Part 1)
Best Actor: Miles Teller – Whiplash, Jake Gyllenhaal – Nightcrawler, Brendan Gleeson – Calvary, Macon Blair – Blue Ruin, Joaquin Phoenix – Inherent Vice
Best Actress: Emmanuelle Seigner – Venus in Fur, Kristen Wiig – The Skeleton Twins, Scarlett Johansson – Under the Skin, Lika Babluani – In Bloom, Felicity Jones – The Theory of Everything
Best Supporting Actor: J.K. Simmons – Whiplash, Edward Norton – Birdman, Robert Pattinson – The Rover, Ethan Hawke – Boyhood, Takamasa Ishihara – Unbroken
Best Supporting Actress: Uma Thurman – Nymphomaniac: Vol. 1, Patricia Arquette – Boyhood, Sienna Miller – American Sniper, Mireille Enos – Sabotage, Carrie Coon – Gone Girl
Best Original Screenplay: Birdman, Nightcrawler, Boyhood, In Bloom, Calvary
Best Adapted Screenplay: Whiplash, Gone Girl, Jersey Boys, Inherent Vice, We Are the Best!
Best ensemble casts:
Birdman, Fury, Inherent Vice, Gone Girl, Boyhood
Most underrated film: Jersey Boys
Most overrated film:
Interstellar
Biggest disappointment:
Sin City: A Dame to Kill For
Great indie films that no one saw
:
Blue Ruin, Cold in July, The Guest, In Bloom, Joe
Bottom five of the year (from bad to worst): That Awkward Moment, This Is Where I Leave You, Blended, Draft Day, Gambit
Most anticipated unseen films: Boulevard, Coming Home, The Disappearance of Eleanor Rigby, A Girl Walks Home Alone at Night, Goodbye to Language, Kumiko, the Treasure Hunter, Life Itself, A Most Violent Year, Mr. Turner, Selma, Two Days, One Night, White Bird in a Blizzard, Wild, Winter Sleep
Others receiving votes:
Calvary
, Dawn of the Planet of the Apes, Gone Girl, The Raid 2, We Are the Best!
10. Foxcatcher (directed by Bennett Miller)
Kicking off the list is a movie that was among my most anticipated since I first saw the trailer in summer 2013. With every month that went by, my anticipation grew. Somehow, it met my expectations and exceeded them in some ways. The movie is the true story of Jon du Pont (Steve Carell), a millionaire who sponsors the Foxcatcher wrestling team for the Olympics in 1988. The union that he has with Mark Shultz (Channing Tatum) and mentor/brother David (Mark Ruffalo) becomes increasingly complicated and leads to tragedy. Director Bennett Miller has now made three films that were so in touch with their tone and real life characters that they have gotten high praise from all circuits. Watching Foxcatcher is not pleasant, but it is something that the audience will have a hard time forgetting. The performances will get under your skin, and the mood will leave you greatly unsettled and stunned. It is a special film and will only get better with age.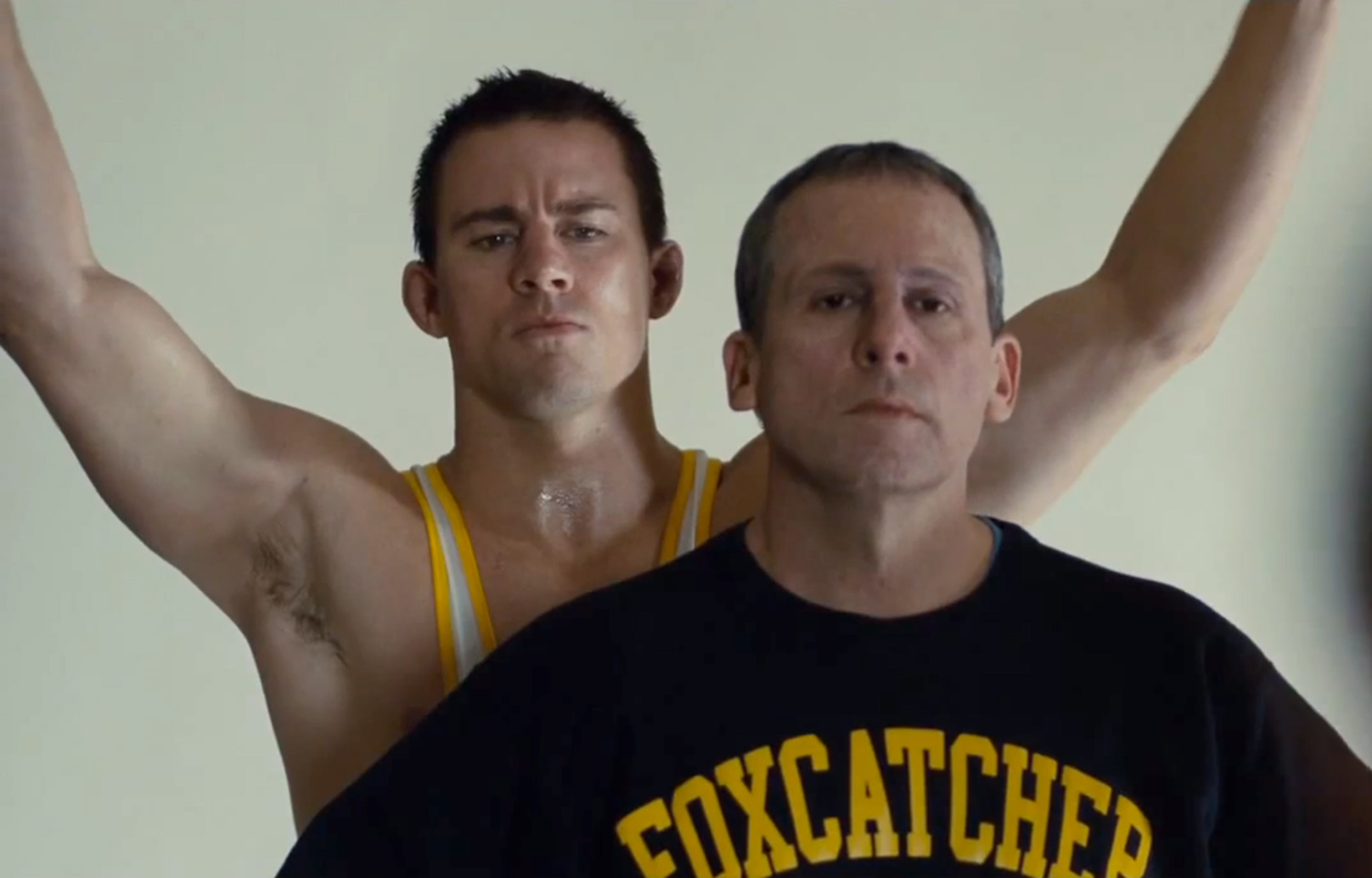 Personal Nominations/Wins
: Best Original Screenplay (#5; Birdman), Best Ensemble Cast (#4; Birdman)
9. Big Bad Wolves (directed by Aharon Keshales, Navot Papushado)
Thank you Mr. Tarantino for proclaiming that this was the best film he saw in 2013. Like many other movie buffs, when QT recommends something, I see it. I would likely have never come across this movie otherwise. It is a brutal and thrilling little film from Israel about a string of murders that cause a collision course with the father of the latest victim (Tzahi Grad), a vigilante cop (Lior Ashkenazi), and the main suspect in the case (Rotem Keinan). Much of the movie takes place in a basement with just these three characters trying to hash out exactly what is going on along with the audience. The movie is filled with twists and turns, none of which are too far-fetched or artificial. It is the best foreign crime drama of the year, a title that might not seem like much, but for someone who watches them constantly, that is a real achievement. Other than perhaps David Fincher, Hollywood does not have a director who consistently makes great crime dramas like this. They are all overseas.
Personal Nominations/Wins
: Best Foreign Language Film (#2; In Bloom)
8. Snowpiercer (directed by Joon-ho Bong)
When Korean director Joon-ho Bong gets a movie made, I pay attention. Each of his last four films have wound up in or approaching my top 10, including my #1 film of 2005 (Memories of Murder). He is a master of suspense and complex characters. With Snowpiercer, we got his first effort in the English language, and not an ounce of his appeal or intensity was lost. The Snowpiercer is a train that represents the last of civilization. A climate experiment left most of the earth frozen over, so the speeding train is all that remains. What makes this different than any other runaway train film is the politics. A class system is developed on the Snowpiercer, and it becomes more and more evident that this is just a small representation of the current earth, just with a more extreme and small-scale scope. A couple Bong regulars (Kang-ho Song, Ah-sung Ko) have parts, but it is the work that Bong is able to get out of Chris Evans, Tilda Swinton, among others that is really impressive. I hope that he can become the next Ang Lee and really take over the title of being the best Asian director in the world, but we will see. More people need to be exposed to this, The Host, Memories of Murder, Tokyo, and Mother for that to happen.
Personal Nominations/Wins
: Best Cinematography (#4; Under the Skin), Best Sound Effects Editing (#3; The Raid 2)
7. The Guest (directed by Adam Wingard)
At first glance, this movie might not seem like much. As the movie begins, it doesn't seem like much more. Maybe it really isn't supposed to be. However, as the movie went along, violent scene after violent scene, twist after twist, I became hooked. The movie is about a soldier named David (Dan Stevens), who shows up at a family's house claiming to be a friend from the military of their son who recently was killed in action. The more we see, the more clear that there is something sinister about David and his past. Bodies begin to pile up, as does the suspense. This is not a horror movie, although that description might imply that. The story is really in that Labor Day subgenre, but it has the panache of Nicolas Winging Refn and the visual style and queues of John Carpenter. It is absolutely a throwback, and I really had a hard time getting it out of my head. Pulling a movie like this off is really difficult since the audience really has to buy in and care enough to not write it off as unrealistic. It is fairly absurd, but then again, so was Breaking Bad. There are moments when the two are comparable. I could ramble on more, but just trust me. Find a way to see this. You will not regret it…I hope?
Personal Nominations/Wins
: Best Sound Mixing (#2; Whiplash), Best Editing (#5; Boyhood), Best Original Score (#1)
6. In Bloom (directed by Nana Ekvtimishvili, Simon Gro
ß
)
It always seems like there is one obscure foreign film that I see every year that ends up on my top 10, and for 2014, it was absolutely In Bloom, a coming-of-age film from Georgia. It is the story of Eka (Lika Babluani) and Natia (Mariam Bokeria), two young girls who are constantly trying to break away from society and their overbearing family lives. It has a lot of 4 Months, 3 Weeks and 2 Days in it, as well as the visual style of A Separation. Coming from a couple first time directors and starring two young actresses giving their film debuts, it is really an astonishing feat to make a film this passionate and polished. It portrays coming-of-age and sexual awakening with as much authenticity as possible. For films like this, one of the best compliments you can give is that it feels like a documentary, and that is absolutely true of In Bloom. There is not a false note in it, and it is one of the most rewarding experiences I had watching a film in 2014.
Personal Nominations/Wins
: Best Actress – Lika Babluani (#4; Emmanuelle Seigner), Best Original Screenplay (#4; Birdman), Best Foreign Language Film (#1)
5. Nightcrawler (directed by Dan Gilroy)
Nightcrawler
represents the biggest surprise hit of the year. Think about it: a movie called "Nightcrawler" being one of the undisputed best movies of the year. It's crazy, but it's true. Jake Gyllenhaal gives the performance of his life in the lead role as Louis Bloom, a criminal who stumbles upon his calling, which is being a freelance crime scene photographer. He combines his street smarts with his obsessive and psychotic attitude to become the class of the very defined subculture and constantly shocks the other characters and audience with his behavior. First-time director Dan Gilroy outdoes himself with Nightcrawler. It is the best representation of Los Angeles at night since Crash. The movie blends elements of Dexter, Chinatown, Taxi Driver, and Drive to pull out every thrill and thought-provoking aspect imaginable. Throughout the movie, the audience is just spellbound and hoping that it never takes a misstep. It doesn't. It is a special movie and one that will define 2014 in time.
Personal Nominations/Wins
: Best Picture (#5), Best Actor – Jake Gyllenhaal (#2; Miles Teller), Best Director (#5; Richard Linklater), Best Original Screenplay (#2; Birdman), Best Editing (#2; Boyhood)
4. Whiplash (directed by Damien Chazelle)
Damien Chazelle's Whiplash might very well be the best movie of the year. More than any other in 2014, this movie I could not forget. It was stuck in my head for days after first viewing, and with another, I might just have to put it at the top of this list. Miles Teller plays Andrew, an aspiring drummer with all the talent and motivation in the world. J.K. Simmons is Fletcher, the tough-as-nails instructor who pushes his students to the point of breakdown in order to achieve his musical vision. Both actors are at the top of their game and give the two best performances of 2014. Chazelle's direction is furious, and the editing is as relentless as any movie I have ever seen. The movie has the grit and visual fury of a Darren Aronofsky movie, particularly Black Swan. It gets under your skin and stays there. Teller makes us care about Andrew, even though he is not all that likable. Chazelle hits us over the head and leaves the audience with a feeling similar to the title, and it is hard to recover. It is the best Sundance winner since American Splendor in 2003.
Personal Nominations/Wins
: Best Picture (#4), Best Actor – Miles Teller (#1), Best Supporting Actor – J.K. Simmons (#1), Best Director (#4; Richard Linklater), Best Adapted Screenplay (#1), Best Sound Mixing (#1), Best Editing (#4; Boyhood)
3. Jersey Boys (directed by Clint Eastwood)
Go ahead, roll your eyes. I am not even a fan of musicals in general, but something about this movie about the rise of The Four Seasons in the 1960s really got to me. Eastwood directs it with such flair and beauty that you would think that it was a Scorsese picture. It is a mob drama on top of a music biopic. The performances are all top notch, particularly stage performer John Lloyd Young as lead singer Frankie Valli and veteran Christopher Walken in his scene-stealing supporting role. The movie is simply the most entertaining couple hours of the year, which is saying quite a lot. The music is outstanding, but that is not limited to the actual music scenes. It is a soundtrack to die for. It has the token Eastwood winks to Hollywood and other media, and it ends the story correctly and fully, like all of his films. Nobody loved this movie as much as I did, but I stand by it. It is in the argument with Yankee Doodle Dandy, Sid & Nancy, and Control for the title of the greatest music biopic of all time and is easily the best Eastwood movie of 2014, despite what audiences (and Oscar/any voters) may think.
Personal Nominations/Wins
: Best Picture (#3), Best Director (#3; Richard Linklater), Best Adapted Screenplay (#3; Whiplash), Best Cinematography (#5; Under the Skin), Best Art Direction (#4; The Grand Budapest Hotel)
2. Birdman (directed by Alejandro Gonzalez Inarritu)
I really loved this movie. It was my prediction to win Best Picture back in March, and it is right there in the forefront of the Oscar race still. Upon hearing the premise, it was my most anticipated movie of the year. It sounded so bizarre and cool, but filmed by the most depressing director on the planet. It basically lived up to that as well as the hype. It is about a washed-up actor who once played a superhero and never got out of its typecasting. Riggan Thomson/Michael Keaton is that actor. He is trying to put on a stage play, while trying to balance family issues and conflicts with his costar Mike (Edward Norton). The movie is really funny, but it is also extremely dark and true. Few movies get the backstage life quite like this movie does. The actors are all up to the challenge of a film that is essentially one continuous shot, especially Norton, Keaton, and Emma Stone, all receiving nominations. There is something very Black Swan-ish in this movie as well. It blends the real with the surreal, making the audience really question exactly what they are seeing. Give the writers and editors credit here. To make this movie this way is a remarkable achievement. It burns in the memory. There is nothing like it.
Personal Nominations/Wins
: Best Picture (#2), Best Supporting Actor – Edward Norton (#2; J.K. Simmons), Best Director (#2; Richard Linklater), Best Original Screenplay (#1), Best Cinematography (#3; Under the Skin), Best Makeup (#3; Under the Skin), Best Original Score (#4; The Guest), Best Ensemble Cast (#1)
1. Boyhood (directed by Richard Linklater)
Surprise, surprise. The best movie of the year is actually being hailed as such. Richard Linklater is officially a top five director working today. With his "Before" series, he won our hearts over and broke them, never straying from the flawless standard that he set. Here, he had a much larger leap of faith, not simply having nine years to go from film to film, but he had a short amount of time to shape his characters year by year, continuously filming for twelve. The end result is near impossible. It is the most rewarding movie-going experience I can remember. The movie centers on Mason (Ellar Coltrane), who ages on screen and before our eyes. Skipping ahead a year never seems out-of-place or forced. It is just the gradual progression of life, life looking back at a photo album and connecting the dots. The scenes we don't see are vaguely explained, but for some reason we just know. Ethan Hawke, Patricia Arquette, and Lorelei Linklater add to the astonishing and daring cast that really make us believe and feel what the characters do. It is hard to not see some of yourself in all of the characters. It is like watching a documentation of an actual family, but only seeing the highlights, the important parts of childhood and parenthood. I cannot fully express what this movie means to me in words, but I can say for certain that it is an experience that I have never had before, and while it is approaching three hours, it does not feel nearly that long, yet if feels like we have known the characters our whole lives. It is a near-flawless motion picture and clearly, almost without debate, the #1 movie of 2014.
Personal Nominations/Wins
: Best Picture (#1), Best Supporting Actor – Ethan Hawke (#4; J.K. Simmons), Best Supporting Actress – Patricia Arquette (#2; Uma Thurman), Best Director (#1), Best Original Screenplay (#3; Birdman), Best Editing (#1), Best Ensemble Cast (#5; Birdman)
Thoughts? Your top 10? What are you surprised didn't make my list? Let me know in the comments!