The Baltimore Orioles worked through injuries and disappointing seasons in 2014 to top one of the most competitive and discussed divisions in baseball. Do they have the talent to repeat in 2015?
Last Season
96-66, 1st in AL East, lost to Royals in ALCS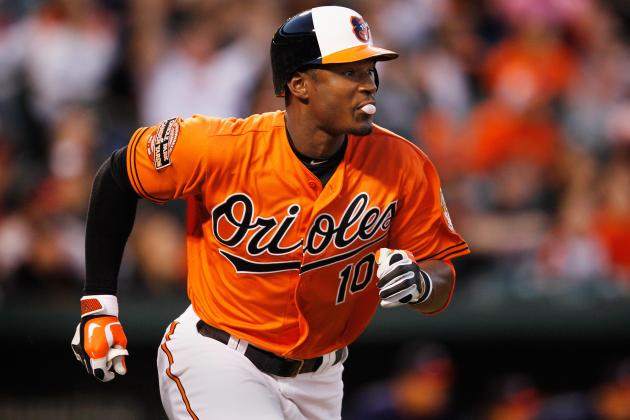 The 2014 season for the Baltimore Orioles had to be considered an incredible achievement. They finished the season with the second best record in the American League, swept their way through one of the best pitching staffs in baseball by beating the Tigers in the ALDS, and if it weren't for the buzz saw that was the 2014 Kansas City Royals, they win the pennant and maybe the whole thing. It's pretty impressive on its own, but even more when you consider what the O's had to endure. First, All Star catcher Matt Wieters missed most of the season with an injury. The same could be said for third base phenom Manny Machado, who at least played half the season. The breakout star of 2013, first baseman Chris Davis, showed his performance that year may have been a fluke as he finished with a batting average under .200 and a home run total that was cut in half. On the pitching side, Ubaldo Jimenez, the only starter with any history of success, struggled again, and closer Tommy Hunter needed to be replaced mid-season due to lack of production. When a list like this can be made for everything that went wrong, it's amazing they didn't finish in the cellar. However, thanks to the emergence of guys like Nelson Cruz, Steve Pearce, Chris Tillman, and new closer Zach Britton, the Orioles dominated.
2015 Additions / Subtractions
After such a strong 2014 season, many people said the Orioles were only a few pieces away from being the World Series favorites heading into 2015. However, instead of making those few moves, the O's were disturbingly quiet. They let Nelson Cruz, their most productive hitter in 2014, sign with the Mariners in free agency. Team leader, Nick Markakis, left to sign with the Braves, and they let one of the best setup men in baseball, Andrew Miller, sign with the division rival Yankees. As far as additions to replace the lost offense or help sure up an inconsistent rotation, they signed Travis Snider to play rightfield. So ... they basically did nothing.
Most Important Hitter
Manny Machado
One of the reasons (I'm assuming) the Orioles didn't feel a need to fill what appeared to be big voids in their lineup left by Cruz and Markakis is they are expecting to have healthy, productive seasons out of some of their stars that underwhelmed last year. The brightest of those stars that need to step up is Manny Machado. Heading into this season healthy, the O's are expecting him to be back at the level that made him an All Star and Gold Glove winner while leading the league in doubles at the age of 20 in 2013. He needs to show that he is back to that level of play, if not better, while also showing he is future leader and face of the franchise. That is quite the load for a young 22 year old.
Most Important Pitcher
Zach Britton
Last year, when Tommy Hunter started the year struggling, Zach Britton came out of nowhere to finally show some of the promise everyone was expecting to see out of him from the beginning as a highly-touted starting prospect. 2014 saw him earn his first save (ended up with 37 of them) and have his first ERA that didn't hover around 5.00 (1.65 ERA in 2014). The question going into 2015 is did this highly-talented kid finally figure it out and put it all together, or, like his burly teammate Chris Davis, did he just catch lightning in a bottle for one great year and will go back to being mediocre. The Orioles are counting on the former being the case.
Player to Watch
Dylan Bundy
It feel like the Orioles have been waiting for the arrival of Dylan Bundy forever. As the 4th overall pick in 2011, Bundy made his big league debut in 2012 at the age of 19. After missing a year with Tommy John, he was working his way back to top form in 2014. Now, it looks like the O's top prospect is on the verge of being the star they have always hoped he would be. Look for him to pop up sometime around mid-season in their rotation. A guy with the talent of Dylan Bundy could explain why the Orioles didn't feel the need to go spend on a big time free agent for their rotation.
Prediction
3rd in AL East
When it is all said and done, the Orioles just don't have the firepower to be competitive, let alone dominant, in 2015. With the loss of Cruz, Markakis, and Miller, too many things have to go right. Matt Wieters has to be the guy that looks like the best catcher in baseball right away. Chris Davis has to go back to being his 2013 self. Steve Pearce has to continue to play above his talent level. Zach Britton has to follow up his career year with another one. Guys like Chris Tillman and Wei-Yin Chen have to continue to lead the pitching staff and not have a down year. Lastly, Manny Machado needs to be an MVP candidate. The O's had the talent to lose players of that caliber, but now their margin of error is so much smaller. Everything needs to go right for them to be great, and in a 162 game grind, that rarely happens. Look for the Orioles to take a couple steps back this year, and then maybe they will try something (anything!) next offseason to actually improve their team.