The Houston Astros are a team that is definitely building for the future. Eventually, that future either has to come or all the planning and preparation was a complete failure. Is it time for the Astros to be a legitimate AL West contender?
Last Season
70-92, 4th in AL West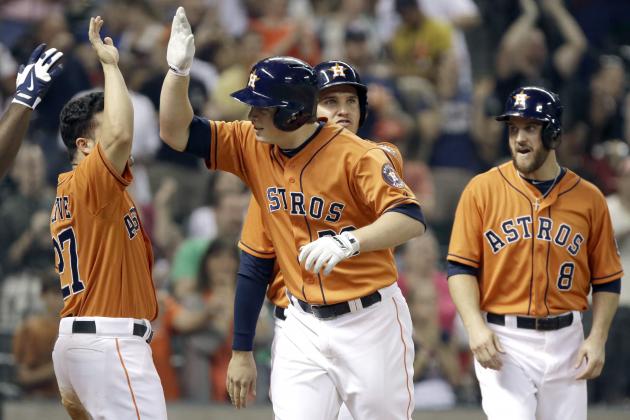 This may not look like it, but 2014 was a success for the Houston Astros. For the first time since 2010, the Astros did not finish in the cellar and did not lose 100 games. In only their second season in the American League, they showed that they are no longer a laughing stock. They are definitely trending in the right direction.
2015 Additions / Subtractions
As most of their roster consists of young prospects trying to break into the big leagues, there were not many subtractions this offseason. The most notable loss would have to be Dexter Fowler from centerfield. However, the Astros made a lot of smart moves to fill some holes while they wait for some prospects to be ready. They brought in veteran SS Jed Lowrie while top prospect Carlos Correa is still a season or two away. They also brought in Luis Valbuena and Colby Rasmus to bring a veteran presence to their young lineup. Relievers Luke Gregerson and Pat Neshek will add depth to a bullpen that cost them many games last year. However, possibly the biggest offseason addition that will help now and in the future is acquiring Evan Gattis. Moving him from catcher to the outfield might be a transition, but Gattis is a player that can anchor that lineup moving forward.
Most Important Hitter
George Springer
Although Jose Altuve received the notoriety last season as the AL Batting Champ, the biggest surprise for the Astros was how quickly George Springer developed. In just 78 games, Springer was able to hit 20 home runs with 51 RBI's. Will this season bring about a sophomore slump, or will he continue his development into the young superstar the Astros are counting on?
Most Important Pitcher
Dallas Keuchel The biggest weakness for the Astros right now is their pitching. Like I said, Gregerson and Neshek will help in the bullpen, but the starting rotation entering the season is borderline embarrassing. The one pitcher they have going right now that has shown he deserves to be at the front of a rotation is Dallas Keuchel. Last year, he had a breakout year winning 12 games with a sub-3.00 ERA while throwing 200 innings in the tough AL West. For the Astros to continue to make strides moving forward, Keuchel needs to continue to show he can penciled in as the ace of the staff.
Player to Watch
Mark Appel
When Mark Appel was taken first overall in the 2013 Draft, some people said he might see the Astros' roster before the end of 2013. We are now at the start of 2015, and Appel has yet to make his Major League debut. He is finally starting to show his potential in the minors, which almost ensures that he will be starting games for the Astros at some point this year, especially considering how weak their rotation is. If he is able to continue to develop into the pitcher everyone thinks he can be, then the Astros have a potentially elite top of the rotation with Appel and Keuchel.
Prediction
3rd in AL West
This is a care-free team with a lot of young players hungry to show what they got. This helped them take a step last year, and they are poised to take another small step this year. Helping in this small step is the steps back several teams took in the AL West. They are tired of losing, even if losing has helped them get in the position they are now with the high draft picks they have made. They are not contenders yet, but look out in a couple more years when the rest of their top prospects are ready to be stars.