The Milwaukee Brewers were somewhat of a surprise team last year. Will they be able to continue their success into 2015?
Last Season
82-80, 3rd in NL Central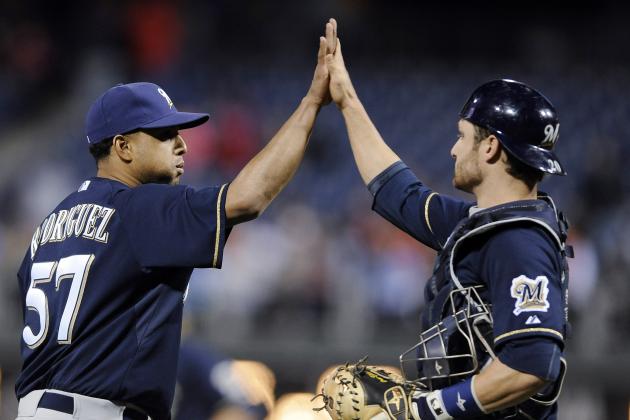 No one was really expecting much out of the Brewers last year. Then they went out and had a winning season, finishing behind only the playoff-bound Cardinals and Pirates. It was definitely an overachieving effort in 2014.
2015 Additions / Subtractions
The Brewers were almost disturbingly quiet this offseason. For a team that seemed to be close in 2014, seeking out a few pieces to put them over the edge would have made sense. The only acquisition made on any front was bringing in slugger Adam Lind to play first base. On the other hand, they traded ace Yovani Gallardo to the Texas Rangers for prospects. It almost feels like the Brewers are not quite sure what they want to be; a team of the future or a team of the present. So instead of deciding, they have stayed in limbo not really committing to either.
Most Important Hitter
Ryan Braun
This is an easy one. Ryan Braun has been a shell of his former self since his suspension for PEDs. What was once a perennial MVP candidate has become just another face on his own team. The emergence of hitters like Carlos Gomez, Khris Davis, Jonathan Lucroy, and Jean Segura, they have established a solid core to the lineup, but they need their leader. They need their backbone to really be a force to be reckoned with in the NL Central. That means Braun has to become the feared hitter he once was and earn back some credibility and respectability to his career.
Most Important Pitcher
Matt Garza In his first year in Milwaukee last year, Matt Garza showed why he has bounced around so much from team to team. He shows flashes of dominance, but is primarily inconsistent. The Brewers brought in Garza to be help lead their rotation, but he was out performed by several others on his staff. If the Brewers are going to have a successful season, Matt Garza needs to be the pitcher he is being paid to be.
Player to Watch
Scooter Gennett
The Brewers have one of the worst farm systems in baseball, with only one prospect cracking MLB.com's Top 100 and none of their top prospects projected to help out the big club for several years still. This leads to a roster that has no hope of a wild card coming out of nowhere to breathe new life into the club. With that said, I am focusing here on possibly one of the best young players in the game you haven't heard of. Scooter Gennett burst onto the scene when he took over as the Brewers' second baseman down the stretch in 2013. In his first full season last year, he continued to show that he is a top ten player at his position in the league. Last year, he was second in NL batting average in my
ASG-to-ASG rankings
, which calculates the end of one year and the start of the next as a complete season's worth of stats. He struggled a little down the stretch, but look for him to possibly be a surprise All Star selection this year.
Prediction
4th in NL Central
Overall, it appears the Brewers seem to be trending in the wrong direction. After the surprise start to 2014, something needed to be done to solidify and validate their spot near the top of the division. Instead, they stayed put and even went backward. When Adam Lind and a backup shortstop are your only acquisitions, you lose your ace and pitching staff leader, and you don't have any help coming up through the farm system, they might be in for a long season. I don't see Ryan Braun bouncing back they way they need him to, and I don't see Matt Garza having a dominant season. They have some great talent, but it is far from coming all together. They might prove me wrong like they proved everyone wrong last year, but I doubt it.