In 2014, the Seattle Mariners surprised everyone: first by landing one of the game's biggest superstars, and second by coming just one game short of their first playoff birth since 2001. Will 2015 continue their new-found success?
Last Season
87-75, 3rd in AL West
The hype around the M's 2014 season started with the surprise signing of former-Yankee Robinson Cano to help jumpstart what had been a historically bad offense. Many people criticized the move, saying one player cannot make that much of a difference. However, all the nay-sayers were proven wrong when the Mariners, led by new manager Lloyd McClendon, finished with their best record since 2007, and still had a shot at a Wild Card birth on the last day of the season. With Felix Hernandez continuing to anchor a stellar pitching staff and Cano leading an improving offense, now all the critics are saying that the 2014 success is just the beginning.
2015 Additions / Subtractions
Although the offense improved, the Mariners' lineup still was lacking depth and consistency. That was addressed in the offseason with the signing of DH Nelson Cruz, who is coming off a career year with Baltimore. The M's also worked to improve rightfield, first by trading current rightfielder Michael Saunders to Toronto for starting pitcher JA Happ (Happ took the place of departing Comback Player of the Year, Chris Young, in the rotation), and then acquiring Seth Smith and Justin Ruggiano to work in a righty/lefty platoon. The only impact player lost in those deals was hard-throwing reliever Brandon Maurer, who went to San Diego. Dealing Maurer will not impact the club though, as the Mariners sport one of the deepest and strongest bullpens in the league. By adding veteran Rickie Weeks as a bench utility man, the Mariners seem to have quite a complete roster.
Most Important Hitter
Dustin Ackley
It is hard to believe looking back on the 2009 Draft that there were two can't miss prospects at the top of the board. The first was Stephen Strasburg, who has shown why he was so highly touted coming out of San Diego State. The second was thought to be as much of a slam dunk as a hitter as Strasburg was as a pitcher. That prospect was Dustin Ackley. So far in Ackley's 3+ year career, through a myriad of struggles and position changes, he has yet to live up to any of the hype surrounding his draft selection. Perhaps more frustrating is college teammate and current Mariner teammate Kyle Seager has looked more like the talent expected out of Ackley, winning a Gold Glove and third base and making his first All Star team in 2014. Ackley showed flashes of greatness in 2014, finishing with career highs in home runs (14) ad RBI's (65), however if the Mariners want to take the next step offensively, Dustin Ackley needs to start hitting like his pedigree says he can. If not, the Mariners might have themselves one of the biggest draft busts in baseball history. (By the way, to add insult to injury, the 25th pick in that draft was Mike Trout.)
Most Important Pitcher
James Paxton
The Mariners, even through the really bad year, have always been rich when it comes to pitching. The last few years, Mariners fans have heard about a "Big 3" group of starting pitchers working their way to the big leagues. Danny Hultzen, the 2nd overall pick in 2011, was derailed by injuries. However, 2014 was the year the other two of the "Big 3" hit Seattle. Taijuan Walker was the one everyone wanted to see, but due to injuries his first full season was a bit of a let down. The most overlooked of the "Big 3" ended up being the most successful in 2014, James Paxton. Although dealing with his own injury issues, Paxton showed enough dominance to cement his place in the rotation and is now being counted on as the left-handed ace to be slotted in behind King Felix and Hisahi Iwakuma in 2015. With no one knowing how much success to expect out of the newly acquired JA Happ, it is on Paxton's shoulders to be the dominant lefty in the Mariners' rotation and keep the pitching staff the immense strength it has been.
Player to Watch
D.J. Peterson The Mariners are counting on Logan Morrison to be an impact bat at first base this season. Knowing that his career so far has been one of injuries and inconsistency, that is less than a sure thing. If he struggles or gets injured, former top prospect and current bust Jesus Montero might get a chance to show what he can can do, but also look for a potential early arrival of D.J. Peterson. Ranked as the Mariners' #2 prospect and MLB.com's #51 prospect overall, Peterson is expected to be an impact power bat that can anchor the heart of any lineup in the future. If things work out right, that future could start this season.
Prediction
2nd in AL West, WILD CARD, lose in ALCS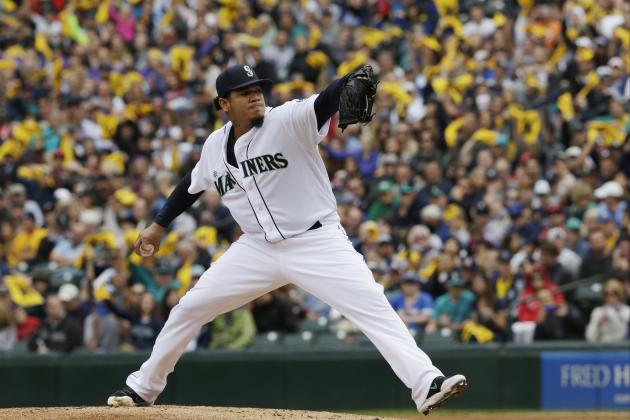 If you haven't figured out quite yet, I am a die-hard Mariners fan. With that said, I can't remember a time when expectations were as high as they are this year. Most experts are picking them to make the playoffs, win the division, or even make their first World Series appearance in franchise history. With the addition of Nelson Cruz giving Robinson Cano added protection in the lineup and taking pressure off younger hitters like Kyle Seager and Mike Zunino, and King Felix leading a pitching staff that looks as strong as ever (especially with a healthy Taijuan Walker finally looking ready to show why he has been one of the most talked about pitching prospects in all of baseball), all of these predictions seem completely realistic. As a fan, I feel like I did before the 2013 NFL season. I am also a Seattle Seahawks fan, and after their run in the playoffs in 2012, I truly thought the sky was the limit for them in 2013. However, I had been a Seattle sports fan for too long (Save Our Sonics!) to get my hopes up too high. I was afraid to predict them to finish as high as I knew they possibly could because, honestly, they always underwhelmed. That is the same feeling I have going into the 2015 MLB season. Do they have the roster to go all the way? They absolutely do, but history has shown that the Mariners have never been able to live up to lofty expectations. If they find themselves in the playoffs, they will go deep as they will be able to out pitch almost any team they face. I just hope they can get that far because this is their best shot in over a decade at making a deep playoff run.