The Washington Nationals finished 2014 with the best record in the National League, but failed to win even a playoff series. Could this be the year the Nationals go all the way?
Last Season
96-66, 1st in NL East, lost to Giants in NLDS
For the second time in three seasons, the Washington Nationals finished the regular season with the best record in the NL. Their lineup, top to bottom, seemed to be the best lineup in baseball. Their pitching staff was strong and deep. They looked poised to make a deep playoff run. Then their postseason seemed to be over before it even started. Simply making the playoffs is no longer good enough for them. For a season to be a success, they need to win the World Series. That is hard to do when they can't seem to win a playoff series.
2015 Additions / Subtractions
How do you improve what already looked like one of the best rosters in all of baseball? You start by signing top free agent Max Scherzer to a ridiculous contract, strengthening what was already possibly the best rotation in baseball. They then traded setup man Tyler Clippard to Oakland for Yunel Escobar, who is an upgrade at second base for them. They lost first baseman Adam LaRoche in free agency, but moving veteran Ryan Zimmerman over to first, it solved an ongoing problem from 2014 of having too many players and not enough positions. 2014 breakout player Anthony Rendon will take over full time at third for Zimmerman this year.
Most Important Hitter
Bryce Harper
I don't know if there has ever been a player with more hype and notoriety without production than Bryce Harper. Some people place him as one of the best players our game has, putting him on a level with guys like Mike Trout and Andrew McCutchen. If you look at his numbers though, Harper looks more like a bust than a breakout star. The former number one draft pick has yet to play a full season or hit over .275. As someone who was billed as a transcendent talent that is still being talked about as one of our game's superstars, that is just not good enough. The paradox with Harper is although he has time to get better (only entering his age 22 season), he also does not have time. The window for the Nationals is not very big as their current core starts to age. Some are even questioning if their pitching staff makes it through the season in tact with Jordan Zimmerman set to be a free agent at the end of the season (one the Nats probably won't have the money to sign). The team needs to win now, which means the team needs Bryce Harper to be great now. That means he needs to play 150+ games, hit .300, hit 25+ home runs, etc. He needs to perform like the player the hype says he already is. His inadequacies have been masked by the deep lineup, but he may be the key to kicking this team over the top.
Most Important Pitcher
Drew Storen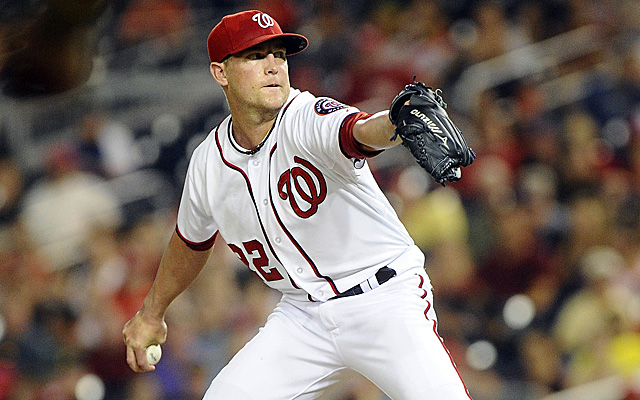 If 2014 taught us anything, it was that pitching wins championships. Not just pitching, but bullpens can win championships. For the last few years, the Nationals have been notorious for having a weak bullpen. That Achilles heel cost them in their 2012 playoff run for sure. Instead of improving their bullpen this offseason, the Nats did nothing. Instead, they actually weakened it by trading away Tyler Clippard. This puts an incredible amount of pressure on closer Drew Storen. After costing the Nats a playoff series in 2012, he was removed from his closer role until halfway through 2014. Last year saw a return to some dominance, but now he needs to be great all year (including a potential playoff run) if the Nationals want to reach the heights they strive for.
Player to Watch
Michael Taylor We may be hearing this name called on Opening Day if Denard Span cannot return in tim efrom his injury. Michael Taylor is one of the Nationals' top prospects and is expected to play a role on the club this season. With a talented and full outfield, there actually is a chance he will see significant time in 2015. With as talented as Span, Harper, and Jayson Werth are, they are also fragile and prone to injury. If/When any of them get injured, look for Michael Taylor to get his chance to show the league what he is all about.
Prediction
1st in NL East, lose in NLCS The Nationals will most likely have the best record in the NL again this year, more due to the fact that their division will once again be the weakest in the league. (Last year, the NL East was the only division in MLB to have only one team with a winning record.) Their starting rotation is ridiculous, having six pitchers with the potential of being aces on any other pitching staff. I see them getting one step further than they have in the past seasons, however they will regret not working harder to improve their bullpen. That will come back to bite them and keep them from going all the way.