College football is officially bananas. I am going to rip up my previous top 25 polls and start over each week. There is no reason to have preconceived notions about any team. I mean, Ole Miss got spanked by Florida, who could barely take care of East Carolina. Ohio State looks pretty awful every week, yet I still have them #1 for some reason. Michigan State can't put away freaking Purdue. LSU seemed totally content letting Eastern Michigan put up 20+ points. I'm done with the past. I'm starting fresh.
Others receiving votes: Duke, Houston, Kansas State, Toledo, West Virginia
Dropped from the rankings: Wisconsin (15), West Virginia (17), Kansas State (20), Texas Tech (23), Miami (25)
25 (NR). Memphis (5-0) – The Tigers have one of the top offenses in the nation. We will see how true that statement is when they host Ole Miss after their bye next week.
24 (NR). California (5-0) – They struggled with both Washington schools, but they have survived. They are an offense that no one really wants to deal with in the Pac-12.
23 (7).
Georgia (4-1) –
They got humbled by Alabama at home with all the hype and even gave points in Vegas. Mark Richt will never win the big one.
22 (22). Florida State (4-0) – They still have not lost a game in the ACC since NC State upended the unbeaten Seminoles in 2012. It is a weak conference, but still. They just keep winning.
21 (NR). Mississippi (4-1) – I accidentally left them off last week, so that is how you can get shellacked and move into my top 25. It seemed fluky watching them get dismantled by the Gators, but it was emphatic.
20 (19). Boise State (4-1) – This is a team that will probably not lose the rest of the season. Their loss at BYU seems more and more confusing.
19 (18). Oklahoma State (5-0) – They survived a scare from the well-coached Kansas State squad looking for the upset. No one really knows what to make of this team.
18 (NR). Iowa (5-0) – The Hawkeyes were able to get out of Madison with a win…you can't say that about many teams in the last decade. It was ugly, but that is how they win.
17 (6). UCLA (4-1) – The Bruins came in thinking of national titles after crushing Arizona on the road under the lights, but then the favor was returned by the seemingly dead in the water Sun Devils.
16 (11). USC (3-1) – IDLE.
15 (2). Notre Dame (4-1) – Their wins do not have the same luster they seemed to previously, but they had a nice comeback attempt against a really good Clemson team.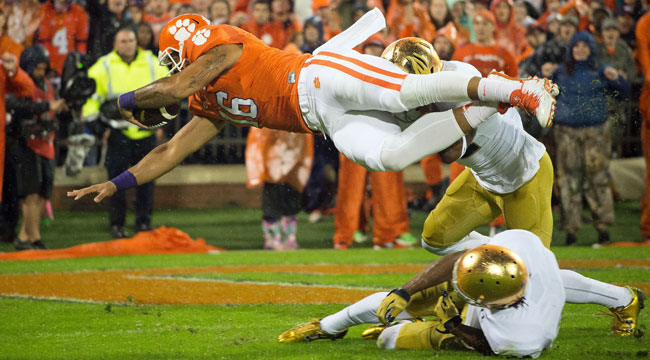 14 (9). Oklahoma (4-0) – At some point, the defense for the Sooners has got to start playing. West Virginia looked lost, which is rare for them. They were lucky to have such a big win because they really didn't play all that well overall.
13 (14). Alabama (4-1) – Yes, they stomped all over Georgia, but their loss to Ole Miss loses some of its prestige seeing the Rebels get kicked around by Florida.
12 (10). Stanford (4-1) – This team might be playing at the highest level of any team in the country at this moment. They are going to be right there in the thick of the playoff hunt when all of the teams get a loss (and they all will).
11 (12). Northwestern (5-0) – They are going to be the ones helping Stanford get there if they can keep shutting teams out and winning in that beautiful Big Ten West way.
10 (16). Baylor (4-0) – They simply cannot be held under 8 touchdowns. They are going to terrify every team they line up against.
9 (NR). Florida (5-0) – I am still stunned by the beating they put on the Rebels on Saturday. They aren't that good, are they? Maybe they are?
8 (1).
Ohio State (5-0) –
They have flashes of being the team that was the obvious national championship pick, but they just can't get off to a good start. They will lose one very soon.
7 (24). Michigan (4-1) – After a second straight shutout, it seems clear that Harbaugh has the team right back where it was before Hoke. They might win the conference.
6 (21). Clemson (4-0) – After a couple underwhelming efforts, Clemson proved that they can really play well against elite competition (unless that team is South Carolina).
5 (5). Michigan State (5-0) – You just can't let Purdue score 21 points in a row in the second half and expect to be able to beat legitimate Power 5 conference teams. They will lose one soon.
4 (8). LSU (4-0) – The Tigers looked pretty bad against Eastern Michigan. If they didn't have a horse at running back, they would look very ordinary. But they do have him, and he alone makes them maybe the team to beat in the country.
3 (13). Texas A&M (5-0) – You would be hard pressed to find a team that has looked more impressive on paper and on the field than the Aggies. They are incredibly exciting to watch too.
2 (3). Utah (4-0) – IDLE.
1 (4). TCU (5-0) – Oh, Texas hahaha… The Frogs got life from that miracle win last week, and they are going to charge toward a playoff berth the rest of the way.
Top 5 Games for Next Weekend
5. Navy at Notre Dame (#15) – This is always a good game, and Keenan Reynolds is going for the FBS rushing TD record and is still unbeaten. It should be quite a show.
PREDICTION: Notre Dame 24-20
4. Florida (#9) at Missouri – Missouri is not an easy place to play, and Florida is coming off their biggest win in years. This is a sneaky good game here.
PREDICTION: Florida 17-14
3.
TCU (#1) at Kansas State –
This is the type of overlooked game that could give the Frogs issues. K-State can lull you to sleep with their fundamentals, but they are always somehow in the game. Watch out for this one…
PREDICTION: TCU 27-25
2. California (#24) at Utah (#2) – Utah got a week off to prepare for the high paced Golden Bear attack, but that might slow their momentum as well. It is almost impossible to win in Salt Lake, though.
PREDICTION: Utah 35-24
1. Northwestern (#11) at Michigan (#7) – This is going to be an ugly game offensively, but it is going to be a beautiful football game featuring two teams who have multiple shutouts through five games.
PREDICTION: Michigan 13-9
5. Nick Chubb, RB, Georgia – The loss hurt his team's chances, but he extended his all time Georgia-best streak of 100 yard games. He is one of the elite players and will be invited if he keeps it up.
4. Ezekiel Elliott, RB, Ohio State – If they have finally figured out that all they need to do is hand the ball to the beast, then he will be in this discussion by season's end.
3. Baker Mayfield, QB, Oklahoma – He is more of a dark horse contender, but he really is rolling in that air raid offense in Norman.
2. Trevone Boykin, QB, TCU – He is already setting records at TCU, and his numbers this year are only going to get better the deeper he gets into Big 12 play.
1. Leonard Fournette, RB, LSU – Unless he gets injured or completely shut down by someone, he is going to run away with this thing.
College Football Playoff Projections
Chik-fil-A Peach Bowl: Ohio State over Boise State
Rose Bowl: Michigan State over USC
Fiesta Bowl: Texas A&M over Baylor
Sugar Bowl: Stanford over Florida
College Football Playoff Semifinal #1 (Orange Bowl): LSU over Clemson
CFB Playoff Semifinal #2 (Cotton Bowl): TCU over Utah
National Championship Game

: LSU over TCU
Thoughts? Comments? Your top 4? Let me know below.