It feels weird writing the 2017 Wild Card Weekend NFL Playoff Predictions article without mentioning the Cincinnati Bengals. Not only have they played in the Wild Card round every year since 2011 (and seven times in the past 11 years), they've lost every game they've played. That leads to the question why there aren't more rich gamblers out there who made millions betting against the Bengals in the playoffs; it also begs the question why anyone would have ever predicted them to win. They made writing this column considerably easier. In fact, Cincinnati's inevitable playoff exits were easier to predict than Rob Gronkowski's back injury, Cleveland Browns misery, or the length of time of Grayson Allen's "indefinite" suspension.
Alas, Andy Dalton and company will not be seen on TV this January. Ironically, 2017 may have been their best shot at getting past Wild Card weekend; the Texans, Dolphins, and Carr-less Raiders don't exactly strike fear into anyone's souls. In fact, I would guess that this year's Bengals – a team that won 6 games and whose only road victories came against the Browns and Jets – would be favored in any hypothetical matchup against Houston, Miami, or Oakland (also don't forget, against the Steelers last month they blew a two touchdown lead in classic Bengals fashion). The AFC is just that bad. Where are Dalton, Andrew Luck, and Philip Rivers when you need them?
On the flip side, three of the four NFC teams on Wild Card weekend have Super Bowl-winning quarterbacks; two of those quarterbacks, Aaron Rodgers and Eli Manning, won Super Bowls as part of wild card teams. Does this mean the eventual Super Bowl 51 champ is a team we will see this weekend? I don't doubt it, particularly since the top teams have potentially fatal flaws: New England (no Gronk), Kansas City (no offense), Atlanta (no defense) and America's Team (no playoff experience or eagerness of anyone to watch them on national TV for an 18th straight week).
Therefore, here are my predictions for this weekend's slot of games, with the maximum amount of snark and sarcasm inserted.
Oakland Raiders at Houston Texans (-4)
Saturday, January 7, 4:35pm EST, NBC.
Like Yankees-Red Sox, Ali-Frazier, and Ecks-Sever, this is one of the great rivalries of our time. For the Raiders: The first quarterback in the Super Bowl era to make his first start in a playoff game (Connor Cook); a coach with only one playoff win lifetime; the NFL's leading team in penalties committed; and a franchise that hasn't made a playoff appearance since the era of Napster and America Online. For the Texans: A team that was outscored by 49 points during the regular season (amazingly, that's only the 4th worst of any playoff team since 2002); two quarterbacks so incompetent that they managed to make an offense with DeAndre Hopkins, Will Fuller, and Lamar Miller look like a high school JV squad (the Texans never scored more than 27 points in a game this year); a defense missing its best player; and a team coming out of the worst division in football. The difference between the Texans, the 1st place team in the AFC South, and the Jaguars, the last place team in the AFC South, was a combined 4 points in two matchups this year.
Thank god this game is Saturday afternoon I guess. A tangent for a second: I don't know who decided that Saturday afternoon was the best time for the useless wild card game no one wants to see, but they need to reevaluate their thinking. The playoffs should open with a bang, not a sobering reminder that two of the league's best 12 teams are quarterbacked by Connor Cook and Brockom Savagosweiler. This isn't March Madness, we don't need the play-in game first. Leave this game for Sunday afternoon, when everyone is tired after 13 hours of football and on the verge of divorce. I mean, I'm excited for the playoffs. I can't wait for football. This is not football, this is a travesty. Who is even announcing this game? Pepper Brooks from ESPN 8 "the Ocho"? (That joke was funny the last time the Raiders were in the playoffs).
Someone will miraculously emerge from this game in order to punch their ticket to Foxboro to be decimated by Tom Brady, and I think that team is Houston. They simply have the advantage in too many areas. Quarterback? Texans (somehow improbably). Defense? Texans. Running Game? About even. Receivers? Utterly irrelevent in this matchup. Kickers? Very yes. The Texans won only two games against teams with winning records this year (the Chiefs, back when J.J. Watt was in the lineup, and the Lions), but they did go 7-1 at home this year and led the league in fewest yards allowed. Watt's absence looms large, but Jadeveon Clowney and John Simon have picked up the slack on the pass rush, and the defense ranks third-lowest in opponents' QBR. No, their schedule left much to be desired, but the Texans did play and beat Andrew Luck, Blake Bortles, Matthew Stafford, Andy Dalton, Alex Smith, and Marcus Mariota.
We don't really know if Connor Cook is cut out for a professional career and even though he's protected by one of the best offensive lines in football and has two of the premier receivers, I simply cannot imagine him finding much success against this defense in Houston. The Raiders did a lot of things well this season: they beat good teams, they ran the ball well, they had a great turnover margin, and Carr was a solid MVP candidate. Carr's injury will go down as one of the great "what-ifs" due to the mediocrity of this year's AFC playoff class. Oakland went 12-1 in games where they scored 17 or more points; that is the formula for a potential upset victory. They scored 27 points against the Texans in their November matchup, but Carr accounted for nearly 300 yards and 3 touchdowns. I'd be surprised if Connor Cook can match a third of that performance.
My advice for Bill O'Brian: Go with Tom Savage (or as my resident Texans fan friend Amit calls him, Conservative Radio Host Tom Savage). An intimidating last name has to be good for something.
Prediction: Houston 20, Oakland 6
Playoff Doppelganger:
Every Saturday afternoon playoff game involving the Texans or Bengals since 2011.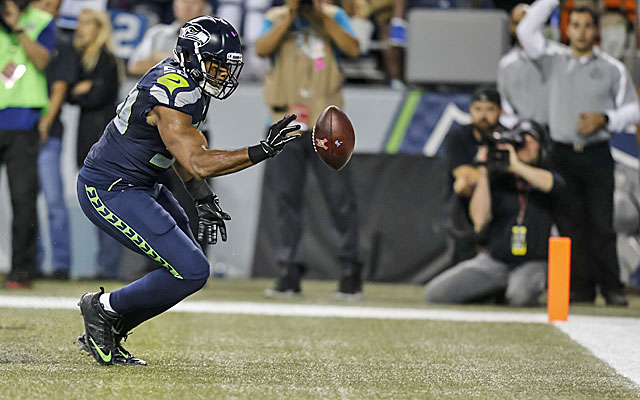 Detroit Lions at Seattle Seahawks (-8)
Saturday, January 7, 8:15pm EST, NBC.
Man, but was that Steven Hauschka extra point miss in Week 16 costly. Had Hauschka connected with the PAT and the Seahawks taken care of business at home against the Cardinals, Seattle would be using this weekend to rest up for a home game in the divisional round. Instead, the ball sailed wide left, Carson Palmer got the ball back, Chandler Catanzaro
did his job
, and the Seahawks are 10-5-1 and the 3 seed instead of 11-4-1 and the 2 seed.
Of course, many Seahawk fans would argue that the season was doomed weeks before the Hauschka miss – Week 13, to be exact, when Earl Thomas was lost for the year. Or maybe Week 11, when C.J. Prosise fractured his scapula days after Christine Michael was traded to the Packers. Or maybe any of the first 11 weeks of the season, when Russell Wilson didn't have a single game with over 20 yards rushing. Of course Seattle's defense was reliably strong, but with four games against the Rams and 49ers, along with matchups against the Eagles, Jets, and Panthers, it's hard to imagine any defense not playing adequately against that slate.
It's also difficult to imagine the Lions actually winning in Seattle, although it's come close to happening. Matthew Stafford is 5-45 against teams above .500 and only one of those wins was on the road. This season, the Lions went 0-5 against playoff teams. Detroit's most impressive win was either at Indianapolis or at New Orleans, and they come into this weekend having lost three straight games – any one of which would have dramatically helped them secure a home game. As a franchise, Detroit has won one playoff game since 1958.
Shall I continue? The Lions had the league's third-worst rushing attack; only the hapless Rams and Vikings finished worse. Detroit's defense, which allowed an NFC-high 33 passing touchdowns, hasn't forced a turnover since December 4 – that's 16 straight quarters, in case you're counting. Matthew Stafford did lead the league in fourth quarter comebacks and game-winning drives (8) – but again, when your opponents are Minnesota, Chicago, LA, Philadelphia, and Jacksonville, isn't that statistic more illustrative of the fact that the Lions actually could have actually blown any of those games?
The real question mark for this game shouldn't be the ultimate outcome, but if Stafford can cover the 8-point spread with a backdoor touchdown in the 4th quarter (if QBs would win an award for that, Stafford would be MVP every year). Neither of these teams are very good, and as in the early Saturday game, this one should be sloppy and monotonous. The Seahawks haven't beaten a playoff team at home since October and have, by my estimation, the worst offensive line of any team in the playoffs. They are the beneficiaries of a shitty division, a couple of typically Seahawks-like bullshit miraculous finishes, and they owe Aaron Rodgers a big "thanks a bunch!" for last Sunday night.
Prediction: Seattle 13, Detroit 9
Playoff Doppelganger:
2006 NFC Wild Card Round, Philadelphia 23, NY Giants 20. The Eagles weren't that great (no McNabb; T.O. had bolted to the Cowboys; their best receiver was Reggie Brown); the Giants weren't that great either (pre-Helmet Catch Eli, Tiki Barber's final season, an 8-8 team that snuck in after losing 6 of its final eight). The result was a somewhat surprisingly close game that was never in too much doubt and, like Jeff Garcia's career in Philadelphia, was quickly forgotten.
Miami Dolphins at Pittsburgh Steelers (-10)
Sunday, January 8, 1:05pm EST, CBS.
The two "good" playoff games this week are the Sunday games, although Vegas apparently does not realize this. Like the Lions, I'm not quite ready yet to call Miami a good team that could go into one of the NFL's toughest places to play and come out with a victory; but on the other hand, there's a lot of reasons to think that the Dolphins can at least hang within single digits.
For starters, look no further than October 16, when the Dolphins trounced the Steelers 30-15. There's a lot of caveats in that game (it was in Miami, Tannehill was QB, and Roethlisberger was injured late), but there's a few things we can take away from it, too. In case you haven't heard from ESPN's NFL crew a thousand times already, that was the first breakout game for Jay Ajayi, who torched the Steelers for 204 yards and two touchdowns. Not that Tannehill had to do much, but he still completed 75% of his passes for 252 yards, and Miami racked up nearly 500 yards of offense. The result was so stunning that it launched both teams in radically different directions; the Dolphins won nine of their next 11, clinching a playoff birth that seemed highly unlikely at the beginning of the season, while the Steelers began a four-game losing streak (they eventually rebounded by winning their next seven; don't worry, like Jason Voorhees and Donald Trump, evil never dies).
So why is Pittsburgh giving 10 points to Miami? Two main reasons: The Steelers' name recognition and pedigree, and the fact that Ryan Tannehill is not playing. Let's go into why those reasons are flawed. Yes, Pittsburgh is capable of winning the Super Bowl and yes, they were a top-10 offensive and defensive team in 2016. Yes, they have momentary flashes of being a juggernaut. They also played six games against the Ravens, Bengals, and Browns. And they also had inexplicable stinkers (like Philadelphia and Baltimore and . . . OK, maybe Miami). They come in on a seven-game winning streak, but look at who they played: The Browns twice, Scott Tolzien's Colts, the Bad Eli Giants, the Bills, the Bengals, and the Ravens (a game they barely escaped).
Then there's Tannehill, or more precisely, his absence. Tannehill played well before injuring his knee in Week 14. But in his place, Matt Moore has actually put up better stats and more points. I don't think there's any denying that Tannehill is the superior QB, but not by that much; and let's be honest, Miami's recipe this weekend is going to be a healthy dose of the running game. The Dolphins are 9-0 when running for more than 80 yards (the Steelers are 9-1 in games when they rush for 95 or more yards). Pittsburgh's rush defense is middle-of-the-pack; Miami's is abysmal, with only the Browns and 49ers ranking worse.
That last stat is the biggest reason I don't have enough courage to take Miami straight-up in this game (also, the Dolphins' cakewalk schedule). But if you are picking Miami, there's some historical precedent here; shockingly, Pittsburgh hasn't won a wild card game since 2005. They've been heavily favored in playoff losses to the Ravens, Jaguars, and most memorably, the Denver Tebows. Pittsburgh may very well be the best team in the AFC; they demolished the Chiefs, missed Le'Veon Bell for four games, Roethlisberger for two (including their loss to New England) and still ended up in the top half of the NFL in virtually every statistical category. But for a team so venerated, they are frustratingly inconsistent; only the 1999-2001 Rams come close to approaching the staggering highs and confounding lows of the Steelers the last few seasons. Miami has success against this team, and I expect this game to be closer than many might think.
Prediction:
Pittsburgh 27, Miami 24
Playoff Doppelganger:
2002 AFC Wild Card, Pittsburgh 36, Cleveland 33. Still remember this game like it was yesterday. No one gave the Browns a chance, particularly since the Browns were starting an unknown, little-used backup named Kelly Holcomb. The Browns led by 17 points in the second half and by 12 with under 5 minutes left… and then the inevitable happened. It was Cleveland's first playoff game in nearly decade, and they will probably never be in one again.
New York Giants at Green Bay Packers (-4½)
Sunday, January 8, 4:40pm EST, Fox.
If you are able to survive the horrific train crash that is the first three games of Wild Card weekend 2017, you will be rewarded with this true gem. Consider the following facts:
1.
Aaron Rodgers and Eli Manning have combined for three Super Bowl titles.
2.
The Giants defeated the Packers at Lambeau Field in each of its two Super Bowl runs.
3.
Rodgers and Manning won titles with their first playoff games played on the road during wild card weekend.
4.
Aaron Rodgers should be MVP of the league (again).
5.
The Giants beat the Cowboys twice and finished second in defense.
6.
Green Bay has scored 24 points or more in all but four of its games; New York has only allowed over 24 points on one occasion.
7.
Oh yeah, and the winner of this game will play Dak Prescott and a Cowboys franchise that hasn't advanced past the divisional round in two decades.
There's many reasons to like the Giants in this game. They've played a tougher
schedule; their secondary has been stingy against opposing QBs (allowing a combined QB rating of 75.8); and they have the best receiver in football. But let's just cut out all the window dressing and state the major reason why the Packers are the pick here: Aaron Rodgers, Aaron Rodgers, and Aaron Rodgers.
Wow, I sounded like an ESPN personality there, didn't I? But I'm not being facetious or oversimplistic; since November 13, Rodgers has thrown 18 touchdowns and no interceptions. He completed over 61 percent of his passes in every one of those games and has done this with no running game. I understand the arguments against voting him MVP – namely, that he only played well in November and December, and the MVP of the league needs to win more than 10 games. But those arguments are weak. Before November 13, Rodgers still had 22 touchdowns and a QB rating of 94; and 2012 MVP Adrian Peterson played for 10-win, 6 seeded Vikings team. No one could possibly do what Aaron Rodgers does on a weekly basis.
The Packers defense is also playing better. In Green Bay's current six-game winning streak, the defense has forced 15 turnovers (against the offense's one giveaway) and allowed 18 points per game. Ha Ha Clinton-Dix and Morgan Burnett are the best safeties in football, and Green Bay was one of seven teams to finish with 40+ sacks. They went 10-1 when allowing fewer than 30 points. But back to the offense again. Ty Montgomery has emerged as a duel threat out of the backfield and Jordy Nelson and Davante Adams combined for 2254 yards and 26 touchdowns receiving. The Packers have scored at least three touchdowns in every game since Week 6.
I'm also suspicious of the claim that because the Giants were so great on the road in 2007 and 2011, they'll find repeat success this January. Besides New York's opening week victory in Dallas, they've only won road games in Los Angeles, Cleveland, and last week in Washington. New York's offense has quietly cooled down quite a bit too; they haven't scored over 20 points in a game since November 27, and they are -2 on the season in turnover ratio (the result of too many Bad Eli games).
Could the Giants march into Lambeau like they did in '07 and '11 and come away with a win? Without a doubt. But in order to do that, Good Eli needs to show up (50% chance of happening), the Giants need to score 30 points (very low chance of happening, since it didn't happen once during the regular season), and the Packers need to revert to their September and October identity. New York will need to figure out a running game, and Ben McAdoo will have to do his best to summon the purple spirit of Tom Coughlin. A lot of things have to go right for the Giants to win (not saying that hasn't happened before) but only one of these teams has been the hottest team in football the last six weeks.
Prediction: Green Bay 30, New York 14
Playoff Doppelganger:
2006 AFC Wild Card, New England 37, NY Jets 16. Two rivals that knew each other well, but the home team was just better and hotter. Skeptics thought Brady lacked a sufficient number of weapons on offense (particularly with the dead ground game of Laurence Maroney and Old Corey Dillon), but the Patriots reminded everyone that they were the Patriots in a game that wasn't as close as observers thought it would be.
Comments? Thoughts? Unnecessary digressions? Post them below!