In 2004, the Boston Red Sox broke baseball's biggest curse, the grossly unpopular "President" was reelected, and the Patriots, Steelers, and Falcons were playing in their Conference Championship games.

Jump to 12 years later: The Chicago Cubs just broke baseball's biggest curse, the grossly unpopular President was "elected," and the Patriots, Steelers, and Falcons are playing in their Conference Championship games.
Obviously, a few things are different – instead of the Donovan McNabb-T.O. Eagles squaring off against the Falcons, it is Aaron Rodgers' Packers team playing in Atlanta; instead of the President lying to people on State of the Union addresses, the President lies to people through Twitter; and Brady and Roethlisberger are no longer the league's squeaky-clean young guns.

But for old time's sake, let's grab that iPod with the latest Moby album downloaded on to it, clean up your MySpace page, and get as excited for this weekend's slate of NFL action as you were for Pedro's campaign for class president.
Green Bay Packers at Atlanta Falcons (-4)
Sunday, January 22, 3:05pm EST, Fox.
As I noted last week, Aaron Rodgers is the Best Football Player On The Planet right now, and when a player reaches that level of hotness (think Terrell Davis in 1998, Ray Lewis in 2001, and Richard Sherman in 2014), he is virtually impossible to stop on the field.

And based on their regular season performance, this Atlanta Falcons defense seems anything but up for the challenge.

They gave up 406 points in 16 games; the Jaguars, Bears, Colts, and Redskins each surrendered fewer points.

They were also particularly weak against the pass, ranking in the league's bottom-five in pass yards and touchdowns.

With the exception of their Week 14 win against the Rams, the Falcons never forced more than 2 turnovers in any game all season.
All that being said, Atlanta looked surprisingly tough last week against the Seahawks.

Yes, Seattle was banged up, playing 3000 miles away from home, were only one untimely holding penalty away from taking a 10-point lead; but the Falcons got to Russell Wilson all day, forcing him to make errant throws while virtually eliminating the Seahawks' ground game.

Green Bay's rushing attack is even more abysmal than Seattle's at this point, and if Rodgers doesn't have time in the pocket, the Packers' receiving corps – perhaps playing without Jordy Nelson and Davante Adams – may have difficulties racking up big numbers.
Green Bay's defense looked solid through a quarter and a half of last week's win in Dallas, but was completely incapable of stopping the Cowboys in the second half. Look at the Cowboys' drives beginning right after the Packers took a 21-3 lead: Touchdown, field goal, interception, touchdown, touchdown, field goal.

Ladarius Gunter seemed hapless against Dez Bryant on every play, and the Packers' Nickel defense really couldn't stop Ezekiel Elliot (the only thing preventing a 200-yard rushing day by Zeke was Jason Garrett's play-calling).

With their best player in the secondary now hobbled (Morgan Burnett), it's tough to imagine this unit slowing down Matt Ryan and Julio Jones at home.
A lot of people seem to think this game will be a shootout, with the winner ultimately determined by which team holds on to the ball last.

This is probably a good bet, since neither team has scored under 30 points since December 4.

The Falcons have the better offensive threats at receiver and runningback; they have the healthier and more aggressive defense; they're certainly not intimidated by any defense at home, and especially not the Packers; they have the playoff revenge factor; and they have the feel-good story (who would have imagined the final game at the Georgia Dome would witness the Falcons clinching a Super Bowl berth?)
So yes, there's a lot of reasons to like the Packers – 540 reasons, in fact, since that was the total number of points they scored in the regular season, good for 8th best all-time.

Want to know why I'm picking the Packers?

You guessed it – this guy.

At the beginning of last week's divisional game, Troy Aikman observed that Aaron Rodgers "just had that look in his eyes."

Of course, that's a laughably vague statement, but if there was ever a player you could say that about – and back it up through fact rather than speculation – it is Rodgers.

Playing against him for 60 minutes is terrifying.

It leaves you horrified, dazed, and traumatized.

There's simply nothing you can do to stop it.

Take out his two best receivers?

He makes ridiculous last-second throws to Jared Cook. Take away his running game?

He has a converted wide receiver and big white fullback not named "KUUUUUHN" picking up 5 yards a carry – that is, when he isn't using his own legs to pick up first downs.

Try to strip-sack him?

Good luck with that.
I'll be the first to admit that for every reason to pick the Packers in this game, there are five or six reasons to take the Falcons.

But there isn't any more compelling reason to pick one team over the other except for that Aaron Rodgers happens to play for one of the teams.

Going into the season, few people thought Atlanta would be hosting the NFC Championship game; even fewer people thought the Packers would be here on November 20, after consecutive blowouts by the Titans and Redskins.

But when Aaron Rodgers gets that look in his eyes, everyone knows what's going to happen.
Prediction: Green Bay 37, Atlanta 31
Playoff Doppelgänger
: 2012 NFC Championship Game, San Francisco 28, Atlanta 24.

Perhaps the most crushing of Atlanta's many postseason disappointments.

The Falcons led 24-0 at halftime, with Matt Ryan on pace to throw for approximately 6800 yards and 42 touchdowns.

Then Colin Kaepernick led a scintillating second half comeback (no electrical malfunction required), Jim Harbaugh went into McEnroe mode, and the Falcons blew yet another chance at immortality.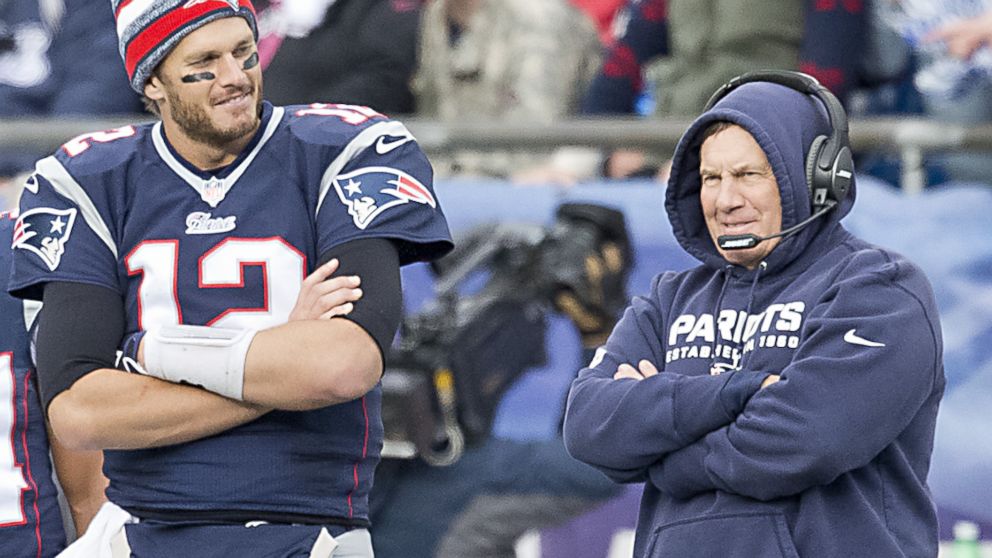 Pittsburgh Steelers at New England Patriots (-6)
Sunday, January 22, 6:40pm EST, CBS.
Every Patriots fan knows that Tom Brady historically feasts upon the Steelers; look no further than the 2001 and 2004 AFC Championship Games, in which Brady carved up the Steelers defense on two separate occasions.

If you're looking for a more recent example – say, from an era after the creation of YouTube – there are numerous examples too, although strangely enough, for two quarterbacks who have appeared in nine of the past 15 Super Bowls, this will only be their second playoff meeting.
Let's run down the case for the Steelers first.

Pittsburgh hasn't lost a game since November 13, and have basically gotten healthier every week.

The defense in particular has stepped up in those last nine games; they've forced 18 turnovers and have allowed only one 100-yard rushing performance (Isaiah Crowell, playing against Steelers' backups during Week 17).

Through two playoff games, Le'Veon Bell has rushed for 337 yards; that's the second-most rushing yards of any player during a single postseason since 2000.

The most rushing yards?

338, by Jamal Lewis in 2000.

In spite of that greater emphasis on the running game, Pittsburgh's pass offense hasn't really skipped a beat either.

During the winning streak, Roethlisberger is still averaging over 200 passing yards a game, and Antonio Brown is still being left wide open by clueless secondaries.
On top of having the league's two most explosive offensive threats, the Steelers have played a tougher schedule than the Patriots, and even when they lost to New England in Week 7 – a game with Landry Jones starting at QB – they had few issues moving the ball against the Patriots' defense.

But this is January at Foxboro and since the Steelers' quarterback is not named Joe Flacco or Mark Sanchez, history suggests that Sunday's game will be an uphill battle for the NFL's evil empire.
The truth is, in spite of Pittsburgh's and New England's winning steaks (nine and eight straight games, respectively), both of these teams come into the AFC Championship with issues.

The Patriots looked soft for much of last week's game against the Texans; maybe they were thinking ahead to this week's game, or maybe the bye week took away their athletic edge.

Brady completed less than 50 percent of his passes and threw two interceptions, and the running game was non-existent; in spite of this, the Patriots scored "only" 34 points and won by 18.

But this was against Brock Osweiler, let's not forget.
And like many of their previous playoff games (Super Bowl 43 and the 2010 AFC Championship game come to mind) the Steelers got a first half-lead, took their foot off the peddle, and barely hung on in the fourth quarter for a win they may not have deserved.

To be clear, they couldn't score an offensive touchdown in spite of nearly 400 yards of offense and first downs at will; in fact, I only remember one time they were even in the red zone.

This leads us to the Achilles Heels of Brown and Bell – they're not great at finding the end zone.

Unless it's a 50 yard crossing pattern, Brown is simply too undersized to be a viable target inside the 10, and Bell has never scored more than 8 rushing touchdowns in a single season.
We know Belichick's major defensive philosophy – give up yards in between the 20 yard lines, but barrel down in the red zone.

This is why year after year, the Patriots defense gives up a surprising amount of yards but very few points.

I also believe that New England's rush defense is substantially better than Kansas City's; Andy Reid was clueless for three quarters and only in the fourth did he use more than four defensive ends to block at the line of scrimmage.

Belichick will make adjustments quicker, and with one major exception, the Patriots have historically lights out against the run in January.
I have to pick New England here, but two things do give me pause.

The first goes back to something I mentioned earlier – the 2016 Patriots had a filthy easy schedule.

Six games against the Dolphins/Jets/Bills, then the Rams, 49ers, Cardinals, Browns, and the Texans twice.

The most impressive quarterbacks they beat all season were probably Carson Palmer in Week 1 and Joe Flacco in Week 14.

The Patriots had an insanely easy schedule in 2011 too, and even though they reached the Super Bowl, they can thank Billy Cundiff for that.
The other thing that gives me pause is Gronkowski's absence.

With the exception of last week, New England has been winning games due in most part to their running game.

Brady hasn't had to make downfield throws.

But if the Steelers get an early lead, how much faith do we really have in Brady's receivers other than Julian Edelman?

Bennett, Amendola, and Mitchell are all listed on the injury report, and James White's impression of Shane Vereen isn't quite perfect just yet.

Since Gronkowski's injury in Week 10, there hasn't been a moment when Patriots fans have thought, "Man, I really wish Gronk was in the lineup." If that moment doesn't come this week, expect it to come in Houston in two weeks.
In spite of those misgivings, Brady is the better quarterback, Belichick is the better coach, the Patriots have the better defense, and they are overall a better team.

If New England takes an early 10-0 or 14-0 lead and Pittsburgh is forced to throw, we know that Big Ben can quickly get generous in serving up desperate interceptions. With the unearthly talents of Le'Veon Bell and Antonio Brown, the Steelers will always be in the game, but knowing Belichick's dissatisfaction with last week's subpar performance, the Patriots should be able to take care of business, as always.
Prediction: New England 30, Pittsburgh 20
Playoff Doppelgänger:
2003 AFC Championship, New England 24, Indianapolis 14. The Colts were also coming off a win in Kansas City, and there were question marks about how New England would defend Indy's specular offensive threats.

The Patriots answered those questions in their opening drive, when they calmly marched 65 yards for a touchdown without much resistance.

This Sunday, watch the Patriots' opening drive – it will tell you everything you need to know about the eventual outcome of the game. And just for the record, Bill Belichick would make a better President than the one elected by 26 percent of the populace.
Last Week: 3-1
Overall Record: 7-1