I have been a big fan of
Glee
ever since it debuted. So understandably, I was shocked and saddened to hear of the sudden passing of Cory Monteith this last weekend. It is always sad to hear of someone so talented and gifted going far too soon, especially someone this young. It really feels quite surreal still. However, as a fan of
Glee
, I couldn't help but start to think what Monteith's death will mean for the hit musical show. Monteith's Finn Hudson has been one of the primary cogs that has made the
Glee
machine go and become so big over the last 4 years. Even after the first wave of series regulars graduated from high school, Finn remained an important part of the show subbing for Mr. Shuester as head of the glee club for an extended period, being a mentor to some of the new "gleeks" like Ryder and Jake, as well as staying active in the life of Rachel who is off in New York. There was even hints at the possible and probably inevitable flame between Finn and Rachel reigniting. Now what?
Cory Monteith's tragic death changes the entire course of the show. For those that don't watch
Glee
, let me put this in terms you can understand. This is like half way through
Friends
, David Schwimmer needing to be written out of the show. Or, perhaps a better comparison, this is like John Krasinski needing to be written out of
The Office
after four seasons of build-up in the relationship of Jim and Pam. Even though
The Office
is an ensemble cast, the Jim/Pam relationship is by far the dominant story line. It is the same with Finn and Rachel. All the build-up and chemistry that has been built up over the last four years is gone.
So where does
Glee
go from here? How do they honor their fallen star appropriately? Over the last few days, I have been obsessing over what the answer to this question could be. I can only see three options for Ryan Murphy and the other creators of the show: end the show, keep the character and replace the actor, or write the character off the show.
The first option I don't really see as a viable option. The show must go on. I doubt anyone would feel this is right way to go. Not only would they feel it wouldn't properly honor his memory, but
Glee
has become such a phenomenon (not as much as a couple years ago, but still...) you can't just stop it. So to me, cancelling the show is not an option.
The second option of replacing Monteith with another actor to portray Finn has its advantages. The story arc already set in place by the creators would not need to change, and the show could continue on as planned. However, I doubt any fan of the show, or any cast member for that matter, would embrace this decision. It really would not allow the show to honor Cory Monteith's memory. Instead, it would just forget he existed and move on. That's not right. This really isn't an option either.
That leaves the third option: writing Finn out of the show. It would allow his memory to be honored by saying no one else would portray his defining and iconic character, but it also allows the show to continue and move on. It's not a great option, but it's the best of the bad options. All aspects of what was planned for this season and the rest of the series has to change forever, but it's the right thing to do considering the circumstances. There are two ways to write Finn off the show: either just have his character move away and not ever come back, or kill him off. The first option would be awkward. The second option of basically acting out on the show what happened in real life would probably be best. It is also not unprecedented. Remember the show
8 Simple Rules
? In 2003, John Ritter had a heart attack and actually died on set of his popular sitcom. The show took a short hiatus to regroup and came back having Ritter's character die of a heart attack on the show. They brought in other actors, like David Spade, to try and be the father figure for the family, but the show never really recovered its momentum. I think
Glee
will be different if they take this course of action. Finn was a main character, but there are so many main characters that the show should be able to move on and continue to be successful. Also, it allows the show to address something it hasn't addressed yet.
One thing that has been a trademark of
Glee
that I think has been a big part of its success is its fearlessness to address some major issues facing high schoolers today. So far, they have talked about bullying, school shootings, catfishing, teen drinking, pretty much all aspects of LGBT, and so much more. One thing it has yet to address is death. It has come close with a classmate attempting suicide, a parent having a heart attack, and a character getting seriously injured in a car accident. However, all of them made full recoveries. Sue had her sister die, but she was sick and had only been on the show a couple episodes. It is as if the show has been afraid to kill a character. Now it has an opportunity to address it and let the characters grieve in a similar way to how all the cast, crew, and fans are currently grieving. I also think the best way to do it is to use it as an opportunity to address a big struggle Cory Monteith personally had and what may have brought about this tragedy as well: drugs.
Here is where I would take the story at the start of the new season. Everyone is continuing their stories from where they left off at the end of last season. Will and Emma just got married, the glee club is going to nationals, and Rachel might be getting the role of a lifetime on Broadway. Then their lives get interrupted with news of Finn's death. The way I would bring this sudden news about is Puck talked him in to going to a party where there were drugs out. Finn gets talked into trying some, OD's, and dies. Puck is devastated and blames himself for his best friend's death. He starts to spiral out of control, and then decides he wants to honor Finn's memory by making something of his life and doing what Finn wanted to do, teach. He takes over as Mr. Shuester's assistant with the glee club trying to fix what he feels he broke. He basically jumps into the role Finn had minus the love connection. This brings about the least amount of disruption to where the series was going, and it will feel more genuine using an already-established character like Puckerman (and Finn's best friend on top of that). It also keeps one of my favorite characters around after he was one of the original cast members scheduled to be removed from being a series regular. I think Rachel takes a break from romance for awhile. Either that, or she goes running into Brody's arms, but probably not.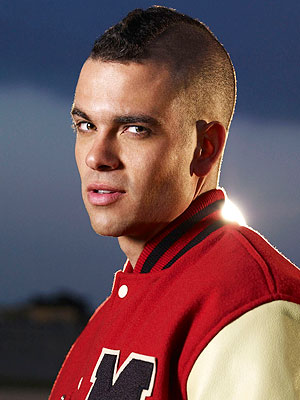 This ruins the storybook ending the series was obviously building towards, but the latest lesson for the show is sometimes life can't be a storybook. This weekend's tragic news proves that better than anything. I think this would allow the show to grieve and honor their friend (I can see Mr. Shuester now singing a tearful "Can't Fight This Feeling" at the funeral) while still moving on and establishing the new tone that would need to be set. Anyone have any other ideas? It is a tough topic to think about, but one that has to be considered as a fan of
Glee
.
RIP Cory Monteith
1982-2013