There were definitely some interesting developments in week 6. Ohio State flirted with a loss on the road under the lights. Washington lost to Stanford, but maybe proved to the rest of the country that they are a bonafide top 10 team. If not for an opening kickoff returned for a touchdown, I am not sure Stanford would have ever gotten into the end zone. Baylor and Oregon continue their record point scoring. Florida State showed just how schizophrenic college football can be by dropping a 63-0 whooping on recently-ranked Maryland. Georgia cannot catch a break on offense, now having lost their top three receivers and top two running backs. We are almost at the midway point of the season. We are starting to really get to know what these teams are made of. Check out my recap of the action:
Others receiving votes: East Carolina, Houston, Michigan State, Missouri, Notre Dame, Rutgers, UCF, Wisconsin
Dropped from the rankings: Mississippi (21), Arizona State (24), Maryland (25)
25 (NR). Virginia Tech (5-1) – They have quietly rolled off five wins since their opening season loss to Alabama. They could make a bit of noise in the ACC.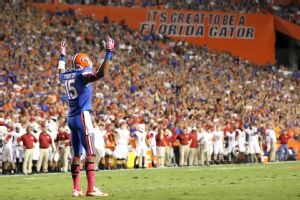 24 (NR).
Florida (4-1) –
In a game that people were calling for a potential upset, the Gators ended Arkansas early on. If they can score, they will get their share of wins again.
23 (23). Northern Illinois (5-0) – The Huskies pulled another dominating win in the MAC. Look out BCS…
22 (NR). Nebraska (4-1) – The Huskers have been totally solid, even without their starting quarterback. Oh, except for that one half against UCLA. They will get it together with another bye week coming up after an easy trip to Purdue.
21 (20). Oklahoma State (4-1) – They survived a pretty tough matchup with the quietly improving K-State squad. Last week was a fluke.
20 (18). Northwestern (4-1) – The Wildcats were in position to win several times. The program is legit now. They just need that signature win that frequently eludes them.
19 (22). Michigan (5-0) – The bye week treated the struggling Michigan team well, who blew out an inspired Minnesota team in the Big House.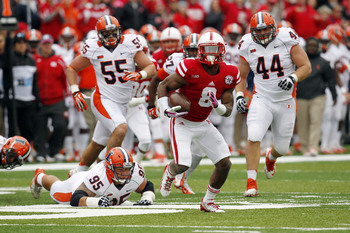 18 (15).
South Carolina (4-1) –
They somehow can keep winning, while looking less and less impressive doing it. The Cocks won a close one against terrible Kentucky.
17 (19). Fresno State (5-0) – The offense led by future NFL player Derek Carr is scary good. There might not be a team remaining on their schedule who can keep up.
16 (16). Texas Tech (5-0) – This team is so up and down. They could put up 50 on anyone, or they could put up 5 turnovers against anyone. I will just leave them here.
15 (17). Miami (5-0) – The Hurricanes might just be the team that comes out of the ACC if they continue to play offense this way. No one could have expected that coming into the year.
14 (12). Texas A&M (3-1) – IDLE. Next week: at Mississippi.
13 (14). Oklahoma (5-0) – The Sooners seem to take a misstep at this point in the year ever season. It hasn't happened yet. Red River Rivalry upset next week?
12 (11). Georgia (4-1) – They lose another handful of starters in another win without much defense. I don't know what to think of this team. Flirting with a loss to Tennessee? Really? Yeah, the SEC is totally better than the Pac-12. *sarcasm*
11 (13). LSU (5-1) – LSU has really developed into one of the more solid and balanced teams in the nation. I think they will eventually take down Alabama.
10 (10). Louisville (5-0) – Yeah, they can score against Temple. Cool.
9 (5). Washington (4-1) – If this were a power ranking, then they would not have dropped. They proved against Stanford that they were the better team overall yesterday.
8 (9). UCLA (4-0) – Playing in Utah is one of the biggest hurdles for any team in the Pac-12. It is just one of those places where teams go to die. The Bruins came out alive.
7 (7). Ohio State (6-0) – A few bounces go their way, and they remain unbeaten under Urban Meyer. They are not losing this season.
6 (8). Florida State (5-0) – Just when people wanted to buy into Maryland, the Seminoles go and do that. Wow. Jameis Winston for Heisman?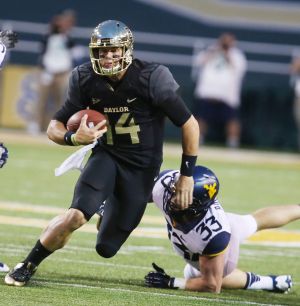 5 (4).
Clemson (5-0) –
They obliterated Syracuse on the road, which is always impressive. That is another one of those sites that favorites seem to struggle.
4 (3). Stanford (5-0) – They just do not lose with Kevin Hogan at QB. I cannot wait for that high-powered Oregon attack to take on the Cardinal.
3 (2). Alabama (5-0) – They had a scrimmage against Georgia State, and they looked good. Nothing really to take away from that.
2 (6). Baylor (4-0) – 73 more points. Wow... I would love to see what they can do when they aren't up 50 points in the second half.
1 (1). Oregon (5-0) – …just like this team. Will they be tested next week in Seattle? We will see if Washington can lick their wounds after a gut-wrenching loss in Palo Alto. It could be quite s show.
Top 5 Games for Next Weekend
5. Oklahoma (#13) vs Texas, 9:00AM ABC – The Red River Rivalry is going to be an entertaining game. There is a clear favorite this year, which make me think that there could be a big upset.
4. Missouri at Georgia (#12), 9:00AM ESPN – Does anyone know anything about unbeaten Missouri? Yeah, I didn't think so. We find out next weekend.
3. Rutgers at Louisville (#10), Thursday 4:30PM ESPN – Louisville has a home game, but these Thursday games are always a little funky. Rutgers has the talent to keep up. Can they?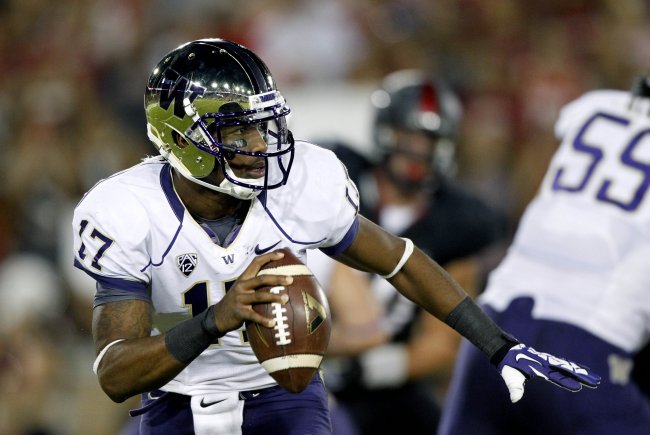 2.
Florida (#24) at LSU (#11), 12:30PM CBS –
These types of matchups seem to come weekly in the SEC. People will call for another defensive struggle, but these teams will put up some big numbers. Too bad it is at the same time as…
1. Oregon (#1) at Washington (#9), FS1 1:00PM – This is maybe the best and most physical rivalry in the conference. The teams simply despise one another. If there is any team that could go score for score with the Ducks in the Pac, it is Washington. It's going to be loud. This is a must-see.
5. Teddy Bridgewater, QB, Louisville – He may not be multi-dimensional like the other quarterback contenders, but if the voters want a throwback pocket passer to win the award again, then this guy is as good as it gets.
4. Johnny Manziel, QB, Texas A&M – He had the week off, but he still has a bunch of spotlight games this year to remind us how electric and exciting he and his offense are.
3.
Jameis Winston, QB, Florida State –
He has the ESPN hype behind him. His passing numbers are maybe the best ever for a freshman at this point in the season. They might not lose a game.
2. Lache Seastrunk, RB, Baylor – If he ever has to play an entire game and get 30 carries, then he is going to put up some ridiculous stats. He is a freak, and we are all still wondering what this would look like if he hadn't screwed up at Oregon…
1. Marcus Mariota, QB, Oregon – He continues to dazzle in every game. Next week he has Washington. Stanford is coming up soon. We will see what he is truly made of against two of the five best defenses in the nation.
Rose Bowl – Stanford over Ohio State
Orange Bowl – Alabama over Clemson
Sugar Bowl – LSU over Northern Illinois
Fiesta Bowl – Florida State over Louisville
BCS Championship Game – Baylor over Oregon
What did you think of this weekend? What games are you most wanting to see? Let me know!