So, this was the most eventful week of the season so far. I may have jumped the gun a bit on Baylor, but one of the great equalizers in college football is the revenge factor. Last year, Baylor ended K-State's BCS Title run, and the Wildcats nearly returned the favor on Saturday. Washington proved that they can go blow-for-blow with Oregon, but a couple of late scores and miscues turned the score into a lopsided venture. Marcus Mariota was really the only difference between the teams talent-wise. Oklahoma had a very Sooner-like embarrassing upset loss in the middle of the season. Stanford got stunned in Utah. A few others struggled to avoid bad losses on the road. Check out the aftermath below!
Others receiving votes: East Carolina, Michigan, Northwestern, Oregon State, UCF
Dropped from the rankings: Michigan (19), Northwestern (20), Florida (24)
25 (NR).
Michigan State (5-1) –
With how bad their offense has been, there is no way that I thought they could be 5-1. You have to commend D'Antonio, though. He is one of the best in the business.
24 (NR). Houston (5-0) – They have not lost yet, but their conference is just terrible. They may have a battle of unbeatens in Louisville November 16th.
23 (13). Oklahoma (5-1) – The Sooners had another classic confusing loss in a season that was so promising. I love it.
22 (23). Northern Illinois (6-0) – The Huskies continue to win in unimpressive fashion. Wins are wins, though…
21 (22). Nebraska (5-1) – Blowing out Purdue is nothing special, but they seemed to have really shored up that defense that got torched early in the year.
20 (21). Oklahoma State (4-1) – IDLE. Next week: vs TCU.
19 (12). Georgia (4-2) – Their injuries finally caught up to them. They still deserve a ton of credit for taking down most of the teams throughout the toughest part of their schedule.
18 (NR). Missouri (6-0) – They got it done against Georgia in their first test of the season. Their starting QB is also now out for the year. This will probably be their peak ranking this season.
17 (25). Virginia Tech (6-1) – Looking at their wins, none of them are overly impressive. Looking at who they lost to and how, it is clear that they deserve a bit more respect.
16 (18). South Carolina (5-1) – The Cocks obliterated Arkansas on the road. This team, more than any I can remember, wins in different ways each week. I don't understand them.
15 (9). Washington (4-2) – They suffered a painful loss against Oregon with everyone in the country watching. They are still a fine team, but they may still be a year or two away from really competing for a Rose Bowl in the nation's toughest conference.
14 (17). Fresno State (5-0) – IDLE. Next week: vs UNLV.
13 (16). Texas Tech (6-0) – They won with a different quarterback, which seemed to reignite the offensive attack. They are going to be a tough out.
12 (15). Miami (5-0) – IDLE. Next week: at North Carolina.
11 (4). Stanford (5-1) – I knew that Utah would give them all they could handle, but I didn't think they could actually pull it off. There is no shame in losing that game, but their title hopes are all but gone. This seems similar to their loss in Seattle last year.
10 (14). Texas A&M (4-1) – The Aggies took the best shot in a road test against desperate Ole Miss. Johnny Football came up big again, this time in the running game. That offense is so ridiculously dynamic…
9 (11). LSU (6-1) – LSU continues to impress after a sluggish win over Florida.
8 (10). Louisville (6-0) – I told you that those Thursday games are always a little weird. Rutgers nearly pulled off the stunner when Louisville finally had the national stage. They are going to get every AAC team's best shot week in and week out. I am not sure if they are good enough to withstand it.
7 (8). UCLA (5-0) – The Bruins looked strong against the putrid California defense. No one is talking about their championship hopes, but they are right there in the running with Oregon in the Pac-12.
6 (7). Ohio State (6-0) – IDLE. Next week: vs Iowa.
5 (6). Florida State (5-0) – IDLE. Next week: at Clemson.
4 (5). Clemson (6-0) – BC gave both Florida State and Clemson tough tests leading up to their long-awaited matchup next week. Clemson was able to get by…barely.
3 (2). Baylor (5-0) – The Bears had to gut out a victory against an inspired team on the road. The long touchdowns will not be available against everyone, but if this offense withstood this test, then they might not lose at all.
2 (3). Alabama (6-0) – Alabama had another cruising win in the weak part of the SEC. They finally opened it up on offense, though. They are looking unbelievably strong.
1 (1). Oregon (6-0) – The Ducks look absolutely unstoppable. I can only think of a few teams in the nation that could possibly upset them, unless they just have an off day and turn it over. That doesn't seem likely at this point, however.
Top 5 Games for Next Weekend
5. Auburn at Texas A&M (#10), 12:30PM CBS – We really don't know too much about Auburn just yet. Can they show up on the road against the toughest offense in the conference? My pick: Texas A&M
4. UCF at Louisville (#8), Friday 5:00PM ESPN – UCF has proven that they are a viable opponent, and Louisville has the national stage once again. Can they survive their toughest test of the season so far? My pick: Louisville
3. BYU at Houston (#24), 12:30PM ESPN/ESPN2/ESPNU – BYU has the talent and offense to upset anyone. Houston will receive their first true test of the year. I am intrigued by this one. My pick: BYU
2. UCLA (#7) at Stanford (#11), 12:30PM ESPN2 – This will be a battle. Stanford cannot afford a second loss in conference. UCLA has been rolling, especially on the road. This should be a tremendous game. My pick: UCLA
1. Florida State (#5) at Clemson (#4), 5:00PM ABC – Obviously, this is the biggest game of the week and one of the biggest of the season. They both withstood BC's inspired upset-minded efforts leading into next week. Who takes the next step toward the BCS Title Game? My pick: Florida State
5. Brett Hundley, QB, UCLA – Hundley may be the top quarterback taken in the draft whenever he comes out. When they finally get a big game next weekend, the nation will take notice of this phenomenal talent.
4. Tajh Boyd, QB, Clemson – He has another huge game next weekend to show the nation that he is the best QB in the country. Can he keep up the pace in that unique offense?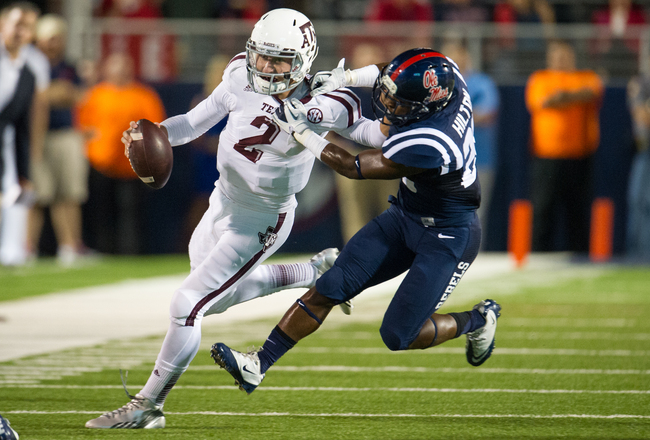 3.
Jameis Winston, QB, Florida State –
He had the week off, but playing against the senior Boyd on the road next week will really show if he has a real chance to win this.
2. Johnny Manziel, QB, Texas A&M – If he can take his team to a one-loss season the way they have been going, then he needs to be right there at the top of everyone's ballot once again.
1. Marcus Mariota, QB, Oregon – The early season favorite normally cannot keep up the pace all year, but he is the exception, I suspect. He is clearly the best player on whatever field he steps onto.
Rose Bowl – UCLA over Ohio State
Orange Bowl – Clemson over Louisville
Sugar Bowl – Alabama over Fresno State
Fiesta Bowl – Baylor over LSU
BCS Championship Game – Oregon over Florida State
What did you think of this weekend? Rankings? Heisman predictions? Let me know below!