 This Saturday gave us some incredible games. There were a string of upsets, taking teams from the ranks of the unbeaten. The best 1-loss teams all struggled or lost as well. We had Jordan Lynch set the QB rushing record with over 300 yards on the ground. We had a game last over 4 hours and one team snap the ball 114 times in a non-overtime affair. We saw Washington State's Conner Halliday throw the ball an FBS record 89 times in a 24 point loss at Oregon.
It is stuff like this
that makes me hate the Ducks so much. The first BCS Rankings of the season (it's final season!!!) come out today. Check out my projections and top 25 and such below:
NOTE: There will not be an official write-up next Sunday. I will be taking my talents to Las Vegas, but I will have
MY TOP 25
updated at some point before the games start the following week.
Others receiving votes: Ball State, BYU, Houston, Michigan, Oklahoma, South Carolina, Washington
Dropped from the rankings: Washington (15), South Carolina (16), Georgia (19), Oklahoma (23), Houston (24)
25 (NR). Oregon State (6-1) – Since that loss to Eastern Washington to start the year, this has been one of the best offenses in the country. I do not know too many out-of-state offenses that can keep up. 24 (NR). Arizona State (5-2) – They had an impressive stomping of a now dejected and unraveling Washington team. They continue to give glimpses of being a real threat, but then they go and screw it up the next week.
23 (25). Michigan State (6-1) – They had one of the ugliest and most uneventful wins that any team has had this year. How are they 6-1 with that putrid offense?
22 (21). Nebraska (5-1) – IDLE. Next week: at Minnesota
21 (22). Northern Illinois (7-0) – They keep winning and giving up huge numbers to terrible teams. They aren't crashing the BCS party with Fresno still undefeated, but they are fun to watch.
20 (NR). Wisconsin (5-2) – Without that strange ending against Arizona State, this team would probably be in good position for a BCS berth.
19 (8). Louisville (6-1) – I am so glad that we no longer have to worry about a potential AAC team sneaking into the title game…
18 (NR). UCF (5-1) – In what was one of the more entertaining games of the season, UCF pulled off a stunner. Everyone seems to forget that they were leading for the majority of their sole loss to South Carolina too.
17 (10). Texas A&M (4-2) – They just flat-out have ZERO defense. Johnny Football can do only so much…
16 (9).
LSU (6-2) –
Mississippi finally got the big win after a few weeks of disappointment. They always play LSU tough. The Tigers are still one of the better teams in the conference.
15 (NR). Auburn (6-1) – The Tigers pulled off an impressive win against the Aggies. Malzahn definitely has the offense going, but they are going to need some sort of defense to really compete with the rest of the West.
14 (17). Virginia Tech (6-1) – IDLE. Next week: vs Duke
13 (20). Oklahoma State (5-1) – This is one of those teams that I cannot really get a read on. They lose to West Virginia, and then they look strong again. They bench their starting QBs in the middle of games. I don't know.
12 (4). Clemson (6-1) – Clemson is going to have to lick their wounds after that thrashing they took at home by FSU. They have a tricky game at Maryland coming up.
11 (14). Fresno State (6-0) – This offense seems like it will not even be slowed down this season. They are a juggernaut in a slightly down MWC.
10 (7). UCLA (5-1) – The Bruins were beyond disappointing against Stanford. They are going to have to get right back on the horse with Oregon looming.
9 (18). Missouri (7-0) – I hate Missouri. They are going to coast through a banged-up SEC schedule, and they do not even have to play LSU or Alabama. Disgusting.
8 (12). Miami (6-0) – The Hurricanes avoided an ugly loss on Thursday night to keep our hopes of another undefeated matchup in a couple weeks in Tallahassee.
7 (13). Texas Tech (7-0) – I do not really get this team. They never look good. Somehow they just keep trucking along with a confidence that they should not have.
6 (11). Stanford (6-1) – The Cardinal just outplayed and overwhelmed UCLA. That loss at Utah is going to look more and more confusing as the season goes along.
5 (6). Ohio State (7-0) – The Buckeyes at times look like the preseason #2 that they are, and then they look as stale and bored as any team I have come across. But they keep winning…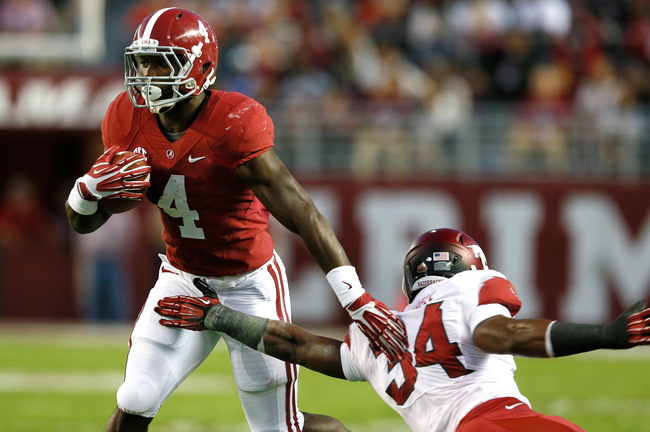 4 (5).
Florida State (6-0) –
With the most impressive win of the season, the road team just smashed the hopes of Clemson early. This team looks like a National Championship team. But guess who is next week…NC State. Last year's upset special. The maturity of their phenomenal freshman QB will be tested.
3 (3). Baylor (6-0) – Another week, another 70+ point outing. Ho-hum…
2 (2). Alabama (7-0) – The Tide defense has finally calmed down, and now they are just murdering the competition. How does that taste Bielema?!
1 (1). Oregon (7-0) – They had another huge offensive showing, while their starters only played a couple quarters. They are going to be fresh for UCLA next weekend.
Top 5 Games for Next Weekend
5. Boise State at BYU, Friday 5:00PM ESPN – This is going to be another offensive explosion game. Neither team can stop anyone. The offenses are potent. This should be quite a show in Provo. MY PICK: BYU 43, Boise State 35
4. Texas Tech (#7) at Oklahoma, 12:30PM FOX – This will be Texas Tech's biggest test of the year. We are probably going to keep saying that each week as they hit the meat of their Big 12 schedule. MY PICK: Texas Tech 28, Oklahoma 23
3. South Carolina at Missouri (#9), 4:00PM ESPN2 – South Carolina has been able to squeak out ugly wins each week up until yesterday. Playing in front of a hostile crowd in Missouri will be quite a scene. Not sure which direction this one goes… MY PICK: South Carolina 21, Missouri 20
2. UCLA (#10) at Oregon (#1), 4:00PM ESPN – If UCLA had beaten Stanford, then this would be one of the best games of the year. Instead, it is just an solid top 10 matchup on paper. MY PICK: Oregon 42, UCLA 28
1. Stanford (#6) at Oregon State (#25), 7:30PM ESPN – If you want to see an incredible offense (with shaky defense) against an incredible defense (with shaky offense), then look no further than this game. It was a hard-fought battle last year. This is one of the most intriguing games in recent weeks. MY PICK: Stanford 34, Oregon State 27
5. Sean Mannion, QB, Oregon State – He has had an absolutely ridiculous season. Everyone knows they are going to pass, and you just cannot stop it.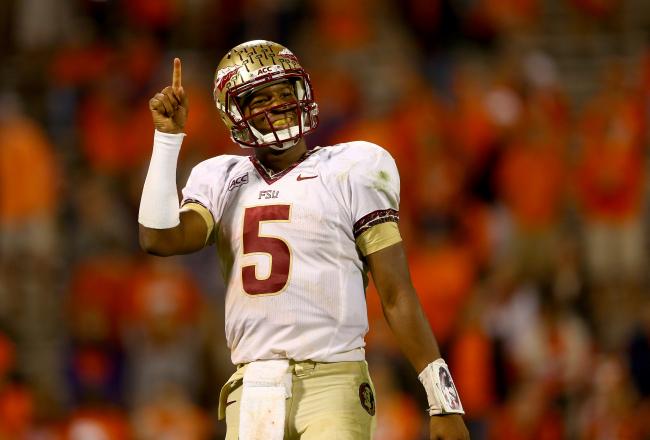 4.
Johnny Manziel, QB, Texas A&M –
He is the best player in the conference that everyone hails as the best. He is going to get the votes.
3. Jordan Lynch, QB, Northern Illinois – He is going to have the stats that will look overwhelming to any voter. How can you leave this guy off the ballot?
2. Jameis Winston, QB, Florida State – He is looking like RGIII in his Heisman year. This kid has it all. Next year, son.
1. Marcus Mariota, QB, Oregon – Unless his team somehow trips up this season, he is going to run away with this award.
Rose Bowl – Stanford over Ohio State
Orange Bowl – UCF over Clemson
Sugar Bowl – Alabama over Fresno State
Fiesta Bowl – Baylor over LSU
BCS Championship Game – Oregon over Florida State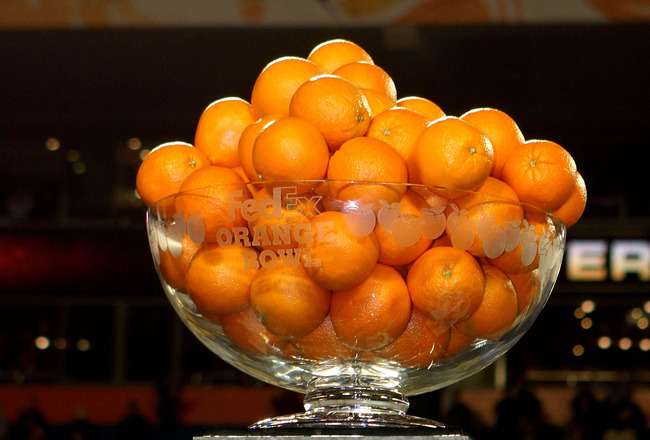 What did you think of this crazy weekend? Which upset was the best? Which player had the most absurd offensive day? How do you think the BCS Rankings will shake out? Let me know!