I love college football. That Iron Bowl was maybe the best regular season college football game I have ever seen. The twists, momentum shifts, huge plays, top-level talent playing at their best, the insane unexpected ending…it was simply college football bliss. Under normal circumstances, "The Game" between Michigan and Ohio State, coming down to a 2-point conversion attempt for the win would have taken the cake, but the SEC won yesterday. It provided a huge shakeup in the national landscape and provides a chance for the BCS to leave us one last parting gift by screwing it up once again. Let's just hope we don't give them that opportunity. Check out my recap below:
This will be my final weekly recap, since there are very few games next week. I will do a bowl preview when the games are announced, as well as a postseason recap following the BCS Championship, though.
Others receiving votes: Cincinnati, Minnesota, Texas A&M, USC, Utah State
Dropped from the rankings: Texas A&M (21), USC (23)
25 (25). Washington (8-4) – They survived the Apple Cup, one of the rare times that the favorite in the game actually imposes their will. They are still one of the scariest teams in the nation. They will be a mismatch for whoever they get in their bowl game.
24 (24). Oklahoma (9-2) – IDLE. Next week: at Oklahoma State.
23 (NR). Texas (8-3) – Their Thanksgiving Day game went about as well as expected. I miss the yearly matchup between the Longhorns and Aggies on that day, though.
22 (NR). Marshall (9-3) – The Thundering Herd have one of the best QBs in the nation, and they have quietly put together a very nice season. If they get a cool bowl matchup against an SEC team or something, then watch out. This team can really score.
21 (19).
LSU (9-3) –
LSU makes no sense. They look like a championship contender, and then they almost lose to a winless Arkansas team. Gotta love rivalries…
20 (22). Duke (10-2) – The Blue Devils have completed their best regular season probably ever, clinching their division and setting up an amazingly intriguing match with #1 Florida State next week for the ACC Title.
19 (12). Fresno State (11-1) – It is not every day that you put up 41 in the first half and still lose. That just proved that their defense is just as bad as Northern Illinois's. San Jose State had been struggling heading into that game too. Gotta love rivalries…
18 (9). Wisconsin (9-3) – The Badgers were on a roll, and then they somehow drop their season finale at home to Penn State...that same Penn State that could not score on half of the Big Ten teams. Did they expose something, or was it just a really off game? I can't tell either.
17 (16). Louisville (10-1) – IDLE. Next week: at Cincinnati.
16 (15). UCF (10-1) – UCF escaped with another narrow AAC win against a weak opponent. They clinched the conference, though. They are going to the BCS in their first year in an AQ conference.
15 (17). Northern Illinois (12-0) – Jordan Lynch and company are the most intriguing team in the nation. They can't play any defense, but it is slightly better than last year. Plus, Lynch is having maybe the most impressive statistical season for any dual threat QB in college football history.
14 (20). UCLA (9-3) – Aside from Florida State, I do not think a team passes the eye test any easier than UCLA. When they are playing at their best, they simply are the best team in the nation. They are just way too inconsistent.
13 (5). Clemson (10-2) – Clemson did their thing again. They had a chance for something great, and they laid an egg. Go figure.
12 (18). South Carolina (10-2) – I move them up and down drastically each and every week. I still don't know what to do with them. I mean, they lost to Tennessee…TENNESSEE!!! But they have some amazing wins. They are just confusing.
11 (11). Oregon (10-2) – The Ducks somehow got out of the Civil War alive, despite the best Beavers effort all year and injuries all over. When they are motivated, they can still be the best team out there.
10 (13). Arizona State (10-2) – The Sun Devils put a whipping on their in-state rival, which is always a game that tends to surprise everyone. This team is scary.
9 (10). Stanford (10-2) – The Cardinal took out Notre Dame, which looking at their resume, appears to be a really nice win. They already had their spot in the Pac-12 Championship Game wrapped up, though.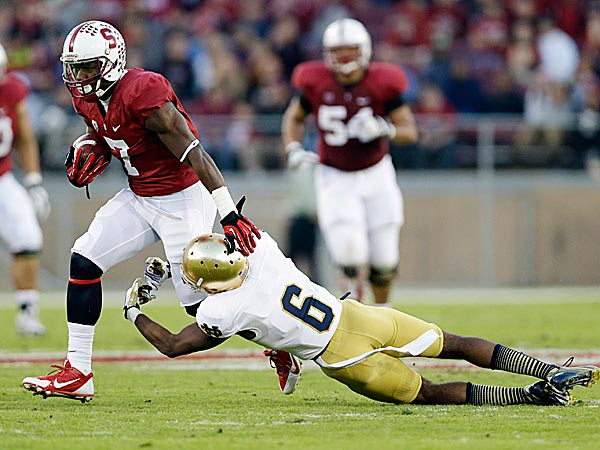 8 (8). Baylor (10-1) – Baylor appeared to be sleepwalking after their loss to Oklahoma State. That TCU team is not good, and they almost lost. The Bears still have a real chance at the BCS too.
7 (14). Michigan State (11-1) – Sparty completed an improbable and very impressive regular season, despite not having played Wisconsin or Ohio State. This team has shades of 2007 Kansas in those terms.
6 (7). Missouri (11-1) – The Tigers are having one of their best seasons in a long time, and they are potentially one win away from playing for a national championship. That is just one year after joining "the best conference in the country".
5 (4). Oklahoma State (10-1) – IDLE. Next week: vs Oklahoma.
4 (2). Alabama (11-1) – That has got to be the strangest ending I have ever seen. Put that game on a neutral site, and it probably would not have been uncompetitive. That is why they play the games, though. They are going to a BCS game for sure.
3 (6). Auburn (11-1) – I feel obligated to put them this high, even though they are not a top 5 team. They struggled to beat 6-6 Washington State at home, they got beat by 14 by LSU, and they had to battle to take out a weak Mississippi State squad. They are playing their best right now, and thanks to some miracle plays the last two games and an absolutely ruckus crowd, they are potentially in position to play for a national title. That is what makes college football great. ZERO conference wins to a national title run. I love it.
2 (3). Ohio State (12-0) – Everyone is going to look at their escape against Michigan as an ugly win, but that rivalry game is just ridiculous. I was impressed by the Buckeyes in that game. They proved finally that they can score when they need to score, and they made the stop when they absolutely needed it. They are championship-caliber.
1 (1). Florida State (12-0) – The Noles had a sort of boring 30 point win against their pathetic in-state rival. They could sleepwalk over 95% of the teams in the nation. It would take one of the all-time upsets to keep them out of the championship game, or an arrest sometime in the next week.
Conference Championship Games Next Weekend
9.
MOUNTAIN WEST
:
Utah State at Fresno State (#19), 7:00PM CBS –
This is an intriguing game, but it would be even more so if Utah State was at full strength. They have had a nice season anyway, despite losing their All-Conference QB mid-season and their coach in the offseason. Their defense can slow up Derek Carr just a bit, but not enough.
PREDICTION: Fresno State 31-21
8. CONFERENCE USA: Rice vs Marshall (#22) Site TBA via BCS rankings, 8:00AM ESPN2 – This should be a very competitive game. Rice is one of the more battle-tested non-AQ teams out there. They may very well be playing at home in this game too. Look for a bunch of points here. PREDICTION: Rice 42-37
7. MAC: Bowling Green vs Northern Illinois (#15) in Detroit, FRIDAY 5:00PM ESPN2 – The Huskies should be confident going into this game, but this may be their toughest match of the season. They have yet to play each other. PREDICTION: Northern Illinois 38-24
6. ACC: Duke (#20) vs Florida State (#1) in Charlotte, 5:00PM ABC – I would love to pick an upset here, but there is just no chance that Duke can win. They might jump out to an early lead with their guys playing way over their heads, but eventually the talent and strength is going to dominate. PREDICTION: Florida State 56-13
5. BIG 12 (b): Oklahoma (#24) at Oklahoma State (#5), 9:00AM ABC – If Oklahoma State wins, then they take the conference. Last time this scenario went all the way to this game, The Cowboys destroyed the Sooners. Oklahoma is either going to put their in-state rival in the Fiesta Bowl or potentially help their archrival get to the Fiesta Bowl. PREDICTION: Oklahoma 28-27
4. BIG 12 (a): Texas at Baylor (#8), 12:30PM FOX – These aren't exactly championship games, but they are a nice little mini tournament. Baylor had been looking forward to this game for a potential chance at a national title. Now, it is slightly less important. The teams will know by kickoff whether or not this game is a play-in game for the Fiesta Bowl. PREDICTION: Baylor 31-24
3. PAC-12: Stanford (#9) at Arizona State (#10), 4:45PM ESPN – The first time these teams met, Stanford pretty much dominated. With the way these teams are currently playing, I would love Arizona State's chances no matter where it is played. They are at home, so it could end up being pretty easy. PREDICTION: Arizona State 35-21
2. BIG Ten: Michigan State (#7) vs Ohio State (#2) in Indianapolis, 5:00PM FOX – Michigan State is coming off their ugliest offensive effort since the first half of the season, and Ohio State is coming off a wild roller coaster against their rival. They are playing probably for a shot at the National Championship, and Sparty is playing for a rare Rose Bowl appearance. This is a must-see game. PREDICTION: Michigan State 24-21
1. SEC: Missouri (#6) vs Auburn (#3) in Atlanta, 1:00PM CBS – This game is going to be a battle. Can Auburn get another miracle? Can Missouri continue their improbable run toward an SEC Title? Both teams are greatly improved on defense and have offenses that are humming at the moment. This is basically a coin flip. PREDICTION: Missouri 27-23
5. Braxton Miller, QB, Ohio State – Miller is having a very impressive season, even if he has given up the spotlight to Carlos Hyde recently. He is the heart and soul of that team. He deserves an invite.
4. Andre Williams, RB, Boston College – He got injured in his season finale after finally getting the Heisman hype he deserves. His stats should be enough to secure his status as a finalist.
3. Marcus Mariota, QB, Oregon – After that comeback win in the Civil War and his perseverance after tough losses, the most dynamic player in the nation has played himself back into the Heisman conversation.
2.
Jordan Lynch, QB, Northern Illinois –
He could have the best season of all time with a big game in the MAC Championship. He is looking potentially at a 2000-2000 season with 20+ rushing and passing TDs. Sure, he wouldn't be doing that in any other conference, but what do you want him to do? He deserves this award.
1. Jameis Winston, QB, Florida State – If he wins, cool. He is probably the best player out there. The voters need to decide whether they want to give it to him with the possibility of him getting charged with rape soon after. This is an intriguing race, to say the least.
Rose Bowl – Arizona State over Michigan State
Orange Bowl – Ohio State over Clemson
Sugar Bowl – Alabama over UCF
Fiesta Bowl – Northern Illinois over Baylor
BCS Championship Game – Florida State over Missouri
There you have it! Thoughts on my rankings? Thoughts on the incredible weekend of rivalry games? BCS predictions? Let me know!