For yet another year, it takes me halfway through the following year to publish my top 10 list of the year before. I blame my busy schedule. I could put out my list a little earlier, but I don't feel right about settling on a top 10 list without at least seeing all the Best Picture nominees. Sometimes I get grief for fixating a little too much on the Best Picture nominees, especially last year when eight of the nine nominees found their way into my top ten. (That is not the case this year.) There are still many top films from 2013 I haven't seen (viewed only 70% of Todd's Top 10, 40% of Zach's Top 10), but if I wait to see them all you will never see my list.
Last year was a fairly strong year in film with many great films coming from many different genres. In my top 10 alone (which only contains five Best Picture nominees this year, thank you very much), there are heart-warming inspirational stories, fun family films, dark psychological thrillers, intense sci-fi visual effects masterpieces, and futuristic ground-breaking original stories. However, what ruled this year for me was the "based on a true story" genre. Hollywood seemed to really take the perspective of Jack's future father-in-law to heart in that there are so many great non-fiction stories out there, why waste your time with fiction. Half of the films on my top ten list (and one honorable mention) are based on true stories. Whether it be a story focused on a high-profile public icon or an average guy faced with an impossible situation, Hollywood truly found some powerful stories and the real life people that made them possible.
Films seen: 46
"Thumbs Up" Percentage: 67%
Best Actor: Oscar Isaac -
Inside Llewyn Davis
Best Actress: Emma Thompson -
Saving Mr. Banks
Supporting Actor: Barkhad Abdi -
Captain Phillips
Supporting Actress: June Squibb -
Nebraska
Breakout Performances: Michael B. Jordan -
Fruitvale Station
, Lupita Nyong'o -
12 Years a Slave
Most Overrated:
American Hustle
Most Underrated:
Side Effects
Biggest Surprise:
The World's End
Biggest Disappointment:
The Secret Life of Walter Mitty
Bottom Five:
Hansel & Gretel: Witch Hunters
,
About 111 Girls
,
The Wolverine
,
Oz the Great and Powerful
,
Now You See Me
Top 10 List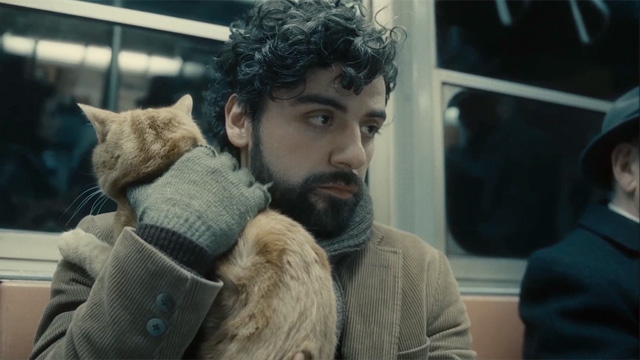 Honorable Mention:
Rush
,
Inside Llewyn Davis
,
Nebraska
10. Before Midnight (dir. by Richard Linklater)
I am a recent fan of this series, but I can't help but be fascinated by the story of Jesse and Celine, portrayed by Ethan Hawke and Julie Delpy. We get a window into their relationship together every 9 years with this being the third installment. I will say it was the weakest of the three "Before" films so far as it, for the first time, I felt produced some less than genuine, authentic moments. However, this is being very picky as we should be allowed to be when it comes to such a beautiful and original franchise as this. Once again the film is driven by wonderfully rich dialogue that truly allows us to see into these characters souls and, in this one especially, see how they have changed since they first met 18 years ago. I hope we get the fourth installment in 2022.
9. Her (dir. by Spike Jonze)
Every now and then a film comes along that is so original and groundbreaking in its premise that it's just fun to experience it. Ever rarer are the times when these groundbreaking stories are so well executed that they become one of the best films of that year. It's the difference between
Synecdoche, New York
and
Eternal Sunshine of the Spotless Mind
.
Her
belongs in that second category. Looking ahead to, I'm sure, the not-too-distant future, it tells the story of a man falling in love with his computer that is designed to think and have a full range of emotions. Joaquin Phoenix gives a brilliant performance as he appears to be talking to himself the majority of the time, but Scarlett Johansson makes the film work as she brings Samantha to life in a way that you forget you are watching a man interact with a computer. It simply turns into one of the most unique love stories you will ever see.
8. Philomena (dir. by Stephen Frears)
In the first of the true stories to come across my list, we have the tale of a sweet, endearing old Irish lady and a smug, sarcastic, self-righteous British reporter (basically, the perfect stereotype of a British reporter). Martin Sixsmith (News at 10) has decided to write a human interest story about Philomena Lee who is looking for her son that was taken from her as a toddler. Going into this movie, I thought I had a grasp on what it was going to be. It really was so much more than I thought. It really surprised me in its depth and emotion. Judi Dench once again shows why she is one of the most decorated actresses of the last 20 years, but the real revelation was Steve Coogan. Up until now, when I thought of Steve Coogan, I thought of things like
Tropic Thunder
and singing "Rock Me, Sexy Jesus" in
Hamlet 2
. In this film, he reinvents himself and shows what he is truly capable of, both in his acting and screenwriting. It is one of those films you never get tired of seeing.
7. Fruitvale Station (dir. by Ryan Coogler)
With the second true story of the top ten comes one of the independent darlings of the year. This film tells of the last 24 hours in the life of Oscar Grant, a young Oakland man wrongfully gunned down by law enforcement officers. Of all the characters created in 2013, Oscar might be the most well-rounded and complete of them all. Michael B. Jordan brilliantly brings to life the spirit of Oscar, a young troubled ma trying to do what is right but often falling short. It is a tragic story that breaks your heart knowing the eventual outcome and seeing the life that wasn't able to play its course. Soon after it starts, you forget you are watching a drama with actors and start to think of it as a documentary with archival footage, which is the best a film like this can hope for.
6. Saving Mr. Banks (dir. by John Lee Hancock)
In what became possibly the best feel-good movie of the year, we have the third true story of the top ten. This tells the story of Walt Disney's attempts to woo author P.L. Travers to let him make her beloved
Mary Poppins
into a movie. As we watch the struggle and debate progress, we also see why Travers holds this story so tightly as we learn about her childhood and the story of her father. Emma Thompson is spot-on perfect as the tight-lipped, highly skeptical Travers, and Tom Hanks brings Walt Disney back to life in a way few others could. This is one of those films that makes you laugh, makes you cry, and finds you finishing the movie with a smile on your face and the warm and fuzzies in your heart. It's another film that I can't get enough of.
5. Frozen (dir. by Chris Buck & Jennifer Lee)
This is not a true story (however it would be cool if Olaf were real). Following the film about Walt Disney, we have a Disney animated film. More times than not recently, an animated film has been making it into my top ten. Usually it is the Pixar installment of the year, but
Monsters University
didn't quite reach the heights of the original. Instead we have a return to old-school Disney with this movie musical that is the best Disney has put out since the days of
Beauty and the Beast
and
The Lion King
.
Frozen
is different though. It has the feel of a classic Disney film with the princesses and the beautiful original music, but as the movie goes on you realize it is less about the princesses finding their Prince Charming and more about them finding each other. It has all the magic that you expect out of one of Disney's best efforts and songs that you can't help but hum for days (or months) after. It is a film that is impossible to not like and easy to love.
4. Side Effects (dir. by Stephen Soderbergh)
With one of the biggest surprises of the year comes this very underrated film. I'm always a sucker for a good psychological thriller; one that loops a story around to the point that you are constantly questioning what is real and what isn't until the final twist at the end that makes sense (or doesn't) of the last two hours. The best in this category 2013 had to offer was
Side Effects
, the story of a young woman who is dealing with some life-altering side effects to her psychiatric medication. As if
The Girl With the Dragon Tattoo
didn't prove enough just how talented and diverse of an actor Rooney Mara is, she proves it once again with this brilliant performance. It's one of those films that forces you to say at the end, "Stop! Rewind that!" because you want to experience the whole film again knowing how it all ends up just so you can make sense of it all. Also, when a film is made with a good Jude Law performance, well that is an accomplishment in itself.
3. Captain Phillips (dir. by Paul Greengrass)
An average ordinary day, all of a sudden, becomes a life-threatening ordeal. This is the story of
Captain Phillips
, as Tom Hanks portrays the titular character who has his freighter ship boarded by Somali pirates. This true story leaves you on the edge of your seat from start to finish as Paul Greengrass once again shows that he is the master of this type of film. Much like he did in
United 93
, Greengrass finds unrecognizable young actors to portray his villains. This time around, the leader of the group is played by Barkhad Abdi, who gives a truly landmark performance in his first acting role. Much like how I described
Fruitvale Station
, this film forces you to forget you are watching a dramatization. It becomes real. Tom Hanks gives one of his best performances as he subtly explores the full range of emotions this experience takes his character through. Between Hanks, Abdi, and the dramatic story portrayed, it is a film you won't soon forget.
2. Gravity (dir. by Alfonso Cuaron)
Not knowing what I was getting myself into, I went to the theatre one day to experience a double feature of
Captain Phillips
and
Gravity
. I was so emotionally exhausted the rest of the day that I couldn't useless for anything else. I love movies about space (
Apollo 13
is my favorite movie of all time) which made this film even more anticipated than it already should have been. In what became the most intense 91 minutes of the year, I sat on the edge of my seat with my jaw dropped as I watched George Clooney and Sandra Bullock find to stay alive after an unforeseen catastrophe strikes their spaceship. The story is great, the performances are top notch, but the real story here is the amazing achievement of Cuaron's directing. The visuals are beautiful and haunting at the same time. It is a movie worth watching just to look at, but the story and struggle of the main characters make it truly special. Oh yeah, and it's in space! I thought for sure this would be my top movie of the year.
1. 12 Years a Slave (dir. by Steve McQueen)
For the third year in a row, my top film of the year was the winner of the Best Picture Oscar. It's good to know the Academy has been getting it right. This is the true story of Solomon Northup, a 19th century Black man that is kidnapped from his home in the north and enslaved for 12 years. It's a star-studded affair along the lines of
Saving Private Ryan
where every supporting character is played by a recognizable face. Like I said, it was going to take something special for
Gravity
to not be my top movie of 2013, and this was that good. The moving and inspiring story portrayed is one of the most powerful stories put to film in recent years. Every performance is spot on, from Chiwetel Ejiofor's Solomon to slavemasters Benedict Cumberbatch and Michael Fassbender to fellow slave Lupita Nyong'o, and help bring to life the incredible vision of director Steve McQueen. This is a movie that will be remembered for years to come as a film that brought an era to life much like
Schindler's List
brought the Holocaust to life. This movie will go down as a landmark achievement as one of the greatest and most important movies of our generation.
So there's my top 10 list. Hopefully, my top 10 list of 2014 can come out before we are too far into 2015...