It is now about five months removed from the tragic death of one of the greatest actors of all time. James Lipton predicted that he would become the best of his generation, a prediction that was ultimately proven correct without a shadow of a doubt. Whenever he appeared in a movie, particularly since his first collaboration with Paul Thomas Anderson in
Hard Eight
, it was a must-see film. For the casual movie fan, he probably was not a notable actor until his villainous turn in
Mission: Impossible III
, even though he won an Oscar the year before for his all-time worthy take on Truman Capote. Recently, nearly every movie he touched turned to gold. He had become somewhat of a leading man but still had those supporting characters that reinforced his status as being the best character actor in history. He has three films that have yet to be released, including Anton Corbijn's thriller
A Most Wanted Man
and the final two chapters of
The Hunger Games
. I can't wait to see his final few gifts to cinema. We can never take an actor's career for granted. So, without further ado, here are the ten greatest performances that Mr. Hoffman has ever given…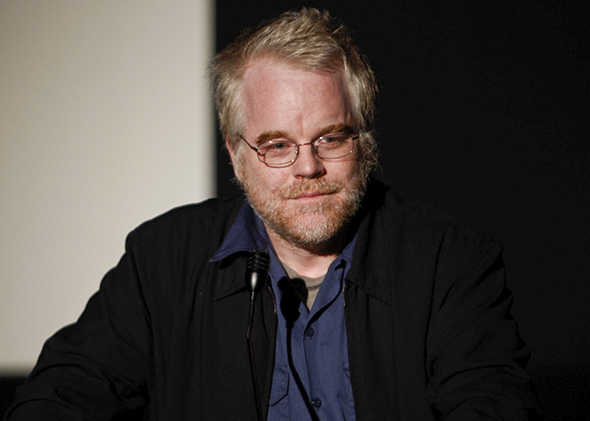 Blind spots (notable unseen films): God's Pocket, Next Stop Wonderland, Pirate Radio
Others receiving votes: Empire Falls, Love Liza, Magnolia, Punch-Drunk Love, The Savages
10. Boogie Nights (Scotty J.)
A fitting way to start this list would be the movie that marked the beginning of Philip Seymour Hoffman's genius. Scotty is such an awkward and complicated character, and there are very few actors who could have pulled off that performance. In that astonishing Hollywood ensemble cast, Hoffman is one of the standouts, despite not being given too much to work with. When he breaks down in his car after his advances were rejected by Dirk, we see glimpses of the commitment that PSH had to his craft, which would only be perfected in the following years.
9. Flawless (Rusty)
In what should have been Hoffman's first Oscar nomination, he plays a drag queen (but Rusty doesn't like that term) tasked with helping Robert De Niro's conservative cop regain his speaking abilities after a stroke. It may have seemed that with Boogie Nights, The Talented Mr. Ripley, and then Flawless that Hoffman was a very feminine actor, but especially after watching his performances in the mid 2000s, Hoffman's Rusty was as great of a departure as the actor ever took. He is so eerily convincing that it is breathtaking to watch, even in such an average movie and where his costar seems rather disinterested. He carries the film marvelously.
8. 25th Hour (Jacob Elinsky)
Just looking at Philip Seymour Hoffman in the movie, you see everything you need to know about his character. As had become his custom at that point, he played another unstable and nervous character who was victimized by everyone around him. Watching the scene in the club with student Anna Paquin, you see everything in his face and in how he carries himself. It could have been a throwaway part in a lot of movies, but PSH brought something special to Jacob and forced Spike Lee to expand on his character. It is a fascinating and vulnerable performance.
7. Owning Mahowny (Dan Mahowny)
I had been waiting to make this list until I saw this movie, which is regarded as one of Hoffman's finest roles and his first real starring role. Hoffman plays a rather tragic character in this, the real-life gambling addicted banker Dan Mahowny who defrauds the bank to fund his addiction. Once again, you can just look at how he shaped his character physically, and you can get the idea of who this guy is. Watching Hoffman work in this movie is fascinating. He is like a machine. You never quite know what he is thinking, which makes his character all the more memorable and haunting. If not for his performance, then the movie would be irrelevant now.
6. Happiness (Allen)
In Happiness, Philip Seymour Hoffman plays another loser, but this one is different. You can sense the pain and shame not only in his voice but in his expressions and body language. It is an excruciating movie to watch (in a good way), and no one is more responsible for that than Hoffman's pathetic and creepy Allen. He embodies what it is to be an outcast with nowhere to go. He is the perfect Todd Solondz actor. He erupts in pain and consumes anger. It is a remarkable performance.
5. The Master (Lancaster Dodd)
This is one of the most volatile roles that Hoffman ever played. For one of the first times, his character is supposed to own the room, rather than just fascinate the audience from the background. As Lancaster Dodd, PSH does just that. He has a way with words that make every moment of his character's speeches seem vital. The interrogation scene with Joaquin Phoenix is one of the best acted scenes in the past few decades, and while Phoenix is the one balling on the one side of the table, it is the static and manipulative Hoffman who gives the scene its punch. It is a near perfect performance.
4. Almost Famous (Lester Bangs)
In terms of an actor being in his element, Lester Bangs could be PSH's masterwork. It is one of the greatest character creations in modern movies. We see so little of him, but he lives as this character. It is the reason why he was one of the best method actors in the business. He has very few scenes, but he dove so deeply into the role that it was almost like we weren't watching a performance. His comedic timing is flawless and his embodiment of being "uncool" is among the most astonishing parts of this role. You believe everything he says. In a movie with several extreme characters and juicy performances, it is Hoffman that rises to the top. The movie could have still been told without Lester, but it would not have come close to working as well. One of my all time favorite movie lines: "The only true currency in this bankrupt world is what you share with someone else when you're uncool." Thank you for that, Mr. Hoffman.
3. Before the Devil Knows You're Dead (Andy)
This is the most frightening role that Hoffman ever played. He is a normal guy in need of some serious money. He could be anyone. He comes up with the botched plan to rob his parent's jewelry shop, which leads him to take out a drug dealer and eventually ruins the lives of everyone around him. He just snaps and is suddenly this monstrous personification of evil. The emotional core of the film is certainly Ethan Hawke, but it is Hoffman that makes the film different. The contrast in their brotherhood is riveting and the reactions that Hawke has in the film are the reactions we have. It is breathtaking work by PSH.
2. Doubt (Father Brendan Flynn)
In a lot of ways, this could have been Hoffman's most difficult role to play. I am sure that the script played incredibly well on stage, but Hoffman, Amy Adams, and Meryl Streep are able to breathe so much life into the film that it is hard to really comprehend the close quarters that the entire film is set. There are long takes in a single room, and watching Hoffman erupt in anger, confusion, and shame all at the same time is like witnessing an acting master class. He makes a conversation in one room as thrilling and jaw-dropping as any thriller gimmick in recent memory. In a movie with a virtual audience sit-in character like Amy Adams, it is still the complex Father Flynn who we relate to. All of the emotions and thoughts and fears that Hoffman displays are what we feel watching the movie. It is a furious and tragic performance.
1. Capote (Truman Capote)
It was going to be hard to put anything else at the top of this list. I go back and forth with this and Heath Ledger in Brokeback Mountain as the best performances of this millennium, and I have done so far before either of their untimely demises. This is really the role that put Hoffman on the public map. After several amazing supporting roles and indie leads, he finally got a legit lead role, and he fell so far into the character that it is almost not acting. Every inch of PSH's body was Truman Capote. There is never a false note nor any shred of Hoffman in the role. It is also not an impersonation or a gimmick. It is as deep and beautiful of a performance as I have ever seen, and it is acting on a level that is rarely witnessed. This will likely be the greatest performance of Hoffman's career and the one that will be shown for decades or even centuries when talking about the greatest character actors of all time.
Thoughts? Comments? Your favorite PSH roles?