The last time football was on,
this
happened (and so did
this
,
this
and a lot of
this
). And in the months in between, the NFC West has opened up considerably (injuries to Sam Bradford, suspensions to most of the 49ers defensive roster, and Carson Palmer still quarterbacking the Cardinals) and the rest of the NFC doesn't seem up for mustering much of a fight. And even though I've hated the Seahawks for the majority of my life, I was able to channel my inner
nonthreatening loveable mental patient
and find some silver linings from the result: 1. I am no longer unfairly picking on a franchise with zero titles (excluding a
botched
Super Bowl appearance) in a wounded sports city; 2. Most of America
already dislikes
this team (sans the nonthreatening and
loveable
Russell Wilson); and 3. Didn't this game put a nail in the coffin to all arguments about
Brady
vs.
Manning
?
(Wait a second . . . did Pete Carroll just unintentionally help preserve the Patriots' legacy? Jury remains out on that one.)
The Seahawks' victory in Super Bowl 48 casts a lot of interesting questions heading into the 2014 NFL Season (besides whether legalized marijuana actually helps teams reach the Super Bowl – Josh Gordon wasn't the only one wondering). Can the Sea Chickens really become the first post-pre-Spygate-Patriots team to become a dynasty? (Not as though anyone's ever asked that question prematurely about a
Super Bowl champ
.) Can the NFC West – a division with four legit Super Bowl contenders, as far as most are concerned – get one-tenth as much TV coverage as the NFC East – a division that hasn't posted a 12-win team since 2008? And most importantly, which games will need to be interrupted for breaking news on what
Johnny Manziel
is eating for lunch today?
Actually, can we just make all TV sets simultaneously combust with the news that Johnny Manziel and Tim Tebow are competing against Tony Romo for starting QB of the Dallas Cowboys . . . as well as the next boyfriend of V. Stiviano?
Now that we got the exciting part of the article out of the way, let's focus on what apparently 99% of the population cares significantly less about: Real football. Last year, I predicted the Broncos to win the AFC (good) and the Falcons to win the NFC (very bad). This year, in the immortal words of
John Madden
, I predict the Super Bowl to feature the AFC Champion facing off against the NFC Champion.
New England Patriots 12-4
I've always shied away from predicting the Pats to win the Super Bowl for the fear of jinxing them, but with the potential of this year's squad, I may have to break my own precedent. Consider this for a second: In 2013, the only Patriots who didn't lose time to major injuries were Brady, Belichick and Aaron Hernandez (rotting away in prison cell). Just look at this. Now remembering that the Pats' offense went most of the year without Gronk, Vereen, Amendola, the rookie receivers and Stevan Ridley (rotting away on the bench because of fumbles), consider that they still somehow managed to finish 3rd in points scored. And remembering that the defense missed Wilfork, Jerod Mayo and Tommy Kelly, they still managed to come up a game short of the Super Bowl.
Remembering how I have to manage expectations for my team, 12 wins feels like a solid number for a Patriots franchise that has won exactly 12 games each of the last two seasons. And following them the way I do, I can predict where their four losses will come: At Minnesota (upset alert!), at Kansas City, at Indy and at San Diego. I can also tell you who will miss significant games due to injury, but I'm holding myself to a 10,000-word limit. But I am excited for Revis – unquestionably the Pats' biggest offseason acquisition since nabbing Randy Moss in the summer of 2007 – and thankfully this division still stinks. Apparently,
no one
in the New York or national media has watched Michael Vick since 2005 and the Bills are, well, the Bills. I do like the Dolphins a little though. While no one was looking last season, Ryan Tannehill threw for just under 4,000 yards and 24 touchdowns, and Mike Wallace and Brian Hartline are kind of like the off-label, cheaper brand of Demaryius Thomas and Wes Welker (minus the steroids). They get December home games against the Ravens, Vikings and Jets, and haven't made the playoffs since 2008. So sue me if I'm wrong. But the AFC feels soft and one of these goofy teams needs to get the 6 seed.
Crazy Prediction: Knowshon Moreno will be the primary RB for the Dolphins from October on, Chris Ivory will make Chris Johnson irrelevant in New York and Stevan Ridley will have the same total number of fumbles than Rob Gronkowski has healthy starts.
Do I miss the Stealers making the playoffs? Not really. But it does feel weird not seeing them beat up on the Browns and Bengals in December en route to a first round bye? A little. Perhaps that is why the football gods have been especially benevolent to them in 2014 – take a look at their
schedule
(no Denver, no New England, no San Diego, no NFC West, New Orleans, Indy and New Orleans at home). Also take a look at Pittsburgh's flight schedule. As noted in my wins/losses
column
last month, Roethlisberger is in a contract year and suddenly their putrid running game looks rejuvenated with Le'Veon Bell, 2013 New England Patriots Playoff MVP LaGarrette Blount, and 2013 ESPN College Football Challenge MVP
Dri Archer
. The Steelers have also had some excellent drafts recently, adding Ryan Shazier and should-have-been-a-Patriot Stephon Tuitt. And of course, I'm always hoping for some reverse jinx factor here. On the opposite side of Roethlisberger are Andy Dalton and Joe Flacco, each enjoying monster contracts which may or
may not
be totally justified. The Ravens particularly seem to be headed for a collapse, with the Ray Rice scandal hanging over their head, Steve Smith entering his 14th season, and a fading defense with huge expectations for C.J. Mosley. The Bengals may take a step backwards with the
loss
of Mike Zimmer as defensive coordinator and a depleted offensive line.
Well, there's your AFC North. Oh wait, I forgot about the most exciting sports city in 2014: Cleveland! Unfortunately, without Josh Gordon, the Browns are little more than a rookie QB, a career backup runningback who arguably missed
more time
than the guy he was backing up, and a rookie coach who learned under Rex Ryan and Doug Marrone. The Browns have undeniable talent and an easy schedule and I hope the best for them – but the championship they win in the next 12 months probably won't be coming on the gridiron.
Crazy Prediction: Isn't predicting the Ravens to finish last enough of a crazy prediction? OK, OK, how about – the Bengals won't win a game in December, the Steelers will start 7-0 and Johnny Manziel will be suspended from Instagram by Halloween.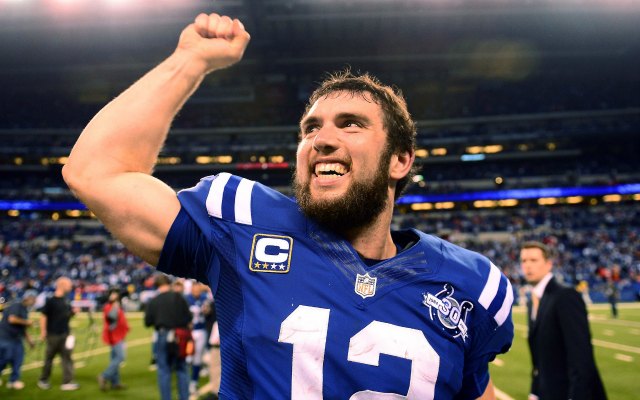 Jacksonville Jaguars 6-10
I felt a little more comfortable picking the Colts a few months ago, before their
poor draft
and the realization that, okay, they really are going with Trent Richardson as their starting runningback. Like the Patriots, I'm not going to mess with recent history regarding their win total here – Andrew Luck alone is worth double digit wins each year. I see Houston being the surprise here, winning the 2013 Chiefs award for "Quick turnaround with a new coach." Bill Simmons recently asked this question in a podcast: With Watt and Clowney at full strength, what team would actively look forward to playing the Texans? The answer: No one. As has also been
covered
by the excellent NFL staff at Grantland, the 2013 Texans were a bit of a fluke – lots of second half leads blown, lots of pick-6s and lots of bad
special teams
. They don't need spectacular QB play (remember that this is the franchise that won a playoff game with T.J. Yates at the helm), just more good health and better fortune. They also don't play a team with a winning record until October 9. As for the irrelevant bottom-feeders, Blake Bortles is certainly a more capable quarterback than Blaine Gabbert (so are most women, children and disabled) and the Jags showed small signs of progress in the second half of last season. As for the Titans this season, well . . . they can commemorate the 15 year anniversary of
this
.
Crazy Prediction: Bishop Sankey will be a bust for the Titans, Bill O'Brien will win Coach of the Year, and T.Y. Hilton will lead the AFC in receptions.
The AFC West isn't as strong as its NFC counterpart, but it was the only division in football which boasted three playoff teams last season. Denver gave up 399 points last year (22nd in the league) and tried to fix its defensive lapses with the acquisitions of DeMarcus Ware, Aqib Talib and T.J. Ward. I do not believe they will solve the problem; as the 1999-2003 St. Louis Rams taught us, when you have a prodigious offense which scores every minute, it takes a toll on the defense. I also don't feel as though Montee Ball will be an adequate replacement for Knowshon Moreno because his pass-blocking skills are underdeveloped. Still, Peyton Manning is good for double-digit wins but I think the Colts and Patriots are catching up quickly. A rematch with the Seahawks and the NFC West doesn't help. The Chiefs played horribly down the stretch last season (2-6, including the playoffs) and while they're loaded with talent, many of their 11 wins last year were deceptive. The Chargers are also difficult to predict (except when it comes to Philip Rivers and his boots in the month of
December
), but like the Broncos, their big offseason acquisitions (Brandon Flowers, who was last seen
here
) doesn't exactly strike fear into its opponents. And then there's the Derek Carr-and-Maurice-Jones-Drew-led Raiders. There's talent sprinkled within the division (outside of Oakland that is) but with it comes frustrating inconsistency throughout.
Crazy Prediction: Wes Welker will make jokes about Andy Reid's wife's feet, Knile Davis will be the best backup RB in football, and if the Chargers can somehow miraculously make the playoffs, they will win the AFC. And Peyton Manning will start doing promos for Little Caesar.
NFC East (AKA America's Division)
Washington Football Team 10-6
Do I dare confess that the only reason I'm picking the Pigskins is because they host Dallas in Week 17 . . . and we all know what happens to the teams fortunate enough to play the Cowboys in Week 17 (see the 2011 Giants, 2012 Washington and 2013 Eagles). I also feel like Washington is due for a strong rebound in 2014, with the excellent additions of DeSean Jackson, Ryan Clark and Lache Seastrunk and the recoveries of RGIII and Keenan Robinson. The jury is out on Jay Gruden, but fans are rejoicing that the Mike Shanahan era is over. Picking Dallas for 8 wins may seem like a stretch with the injuries to Sean Lee and Romo, but they always seem to make it to .500 somehow. No way in hell that Nick Foles repeats his unbelievable 2013 numbers (27 passing TDs, 2 interceptions), although the same could be said of Eli Manning (27 interceptions) but at least historians will always wonder how the 2013 Giants managed to win seven games (hint: it may have had something to do with the division they play in). Someone needs to break the news to Ben McAdoo that simply adopting a new-look offense doesn't automatically fix your long-standing problems, such as having zero running game, a questionable offensive line and little depth. Anyway, this is the least talented division in football and it mysteriously still gets the most national attention so let's just stop talking about them before I start sounding like these guys.
Crazy Prediction: Nick Foles will equal his total number of interceptions from 2013 in the first week, the Cowboys will score and give up exactly 475 points and Eli Manning will get injured, leading Tom Coughlin to call upon the arm (and belly) of Jared Lorenzen.
Picking Green Bay to win this division feels like a cop-out, but let's remember last December when the rest of the NFC North showed that they couldn't pick up the reins from Titletown even when Jim Varney-I mean-Aaron Rodgers was injured (Exhibit A and Exhibit B). The Pack finally have a legitimate threat on the ground for the first time since Ahman Green and although their defense still isn't great (although Julius Peppers is an obvious improvement), it's not like you really need the '85 Bears to give Teddy Bridgewater, Matthew Stafford and Jay Cutler/Jay Cutler's backup problems. They also face only two playoff teams after October – and both matchups are at Lambeau Field. The Bears have been an understandably trendy pick, but just because half your offensive roster gets picked in the first three rounds of most fantasy football drafts doesn't necessarily translate to success on the field (ask the 2013 Atlanta Falcons). Perhaps their offense will be just good enough to earn a six seed in an otherwise mostly untalented conference. No one in their right mind should have any sort of confidence picking Jim Caldwell and the Lions and the Vikings would be wise to throw in the towel on this season and give Teddy Bridgewater valuable playing time.
Crazy Prediction: Jay Cutler will play an entire season for the Bears, Golden Tate will catch more touchdowns than Calvin Johnson, and Aaron Rodgers-Olivia Munn won't last into 2015.
Tampa Bay Buccaneers 10-6
Some, such as Chad Millman on his podcast, have proclaimed the Saints to be the team to beat in the NFC. This in spite of the fact that: (A) Even five years after winning a Super Bowl and entering into the NFL's "perennial playoff" category, they still haven't proven to anyone they can win meaningful road games, (B) They didn't upgrade their running game at all during the offseason and instead lost Darren Sproles, and (C) Until October 26, they only play two home games. It's nothing new to say that the Panthers will regress, although few have made the salient point that no team has ever (that's right, EVER) won the NFC South in consecutive seasons; and the Falcons have a terrible running game, a terrible defensive line and a terrible secondary (although they did provide the best non-Manziel-related story of the offseason). That leaves . . . the Buccaneers who, if you haven't noticed, tend to do well in seasons where no one really expects much of them (see 2005, 2007 and 2010). The Bucs finished 2013 pretty strongly after a disastrous start and now find themselves with a proven head coach, two legitimate quarterbacks, and talent on both sides of the field. They also face off against only three playoff teams from 2013 (none of them are Seattle). They play the Saints at home in Week 17, where thee division title could come down to the wire. Oh yeah, and they have sweet new-era unis – how have those been working out for the Seahawks again?
Crazy Prediction: Mike Smith will be the first coach fired in 2014, the Panthers won't actually be that bad, and Lovie Smith will win Coach of the Year.
The easiest division to pick. In fact, the Seahawks are so clearly the favorites in the NFC that you'd have to go back to the '99 Rams to find another example of the NFC (or AFC) being so thoroughly dominated by one team. Neurotic Seahawk fans like Todd will undoubtedly point to their tougher road schedule (complete with trips to San Diego, Carolina, Kansas City, and Philly). But other than this, what substantive evidence can you possibly find to suggest this team will win fewer than 11 games? Even with losses in all four of those games, 11 wins seems about right (remember they still get home games against Denver, Oakland, the Giants, and the Cowboys). When you have the league's best secondary, best defensive line, best QB under 25 not named Luck, and best homefield advantage, winning starts to feel routine. The only reason I even predict three losses is that I can't imagine their starters playing Week 17 at home against the Rams (I would predict their other two losses to come in Kansas City and Washington).
As for the rest of the division – San Francisco feels like at this point they're one Colin Kaepernick injury away from a top ten pick (along with quickly developing 1990s Buffalo Bills symptoms). I guess Shaun Hill isn't too much worse than Sam Bradford, but where he lacks is in Bradford's upside potential for growth (I also don't trust Zac Stacy's 3.9 Y/C in 2013). Also lacking in upward potential is Carson Palmer, who has six games against the Seahawks, 49ers, and Rams' defenses.
Crazy Prediction: If Kaepernick gets injured and Blaine Gabbert comes in to back him up . . . and it's during the Week 15 matchup in Seattle . . . with the playoffs on the line . . . well can't you do the math?
Indianapolis over Houston
Pittsburgh over Indianapolis
New England over Pittsburgh
Washington NFL Team over New Orleans
Seattle over Washington NFL Team (since that's who the Seahawks always play in January)
SUPER BOWL XLIX PREDICTION:
New England 31, Seattle 30 (I had to)
What are your thoughts or disagreements? Will you join us at Terry's house in February for the Almost Sideways Super Bowl matchup of the century? Let us know below!