Without any real debate, this weekend was the craziest weekend of college football at least since the final week of 2007. We had a QB break a 24 year old FBS record for passing yards by hucking for 734 in a losing effort. We had another Hail Mary in the Pac-12. We had 5 of the top 8 in the polls go down. And just to prove that we don't know anything about this season: look at Florida State. Without Jameis Winston, the 'Noles squeak out a win at home against Clemson. Winston comes back, and they have to mount a comeback to win in a shootout against NC State. This week, FSU spanks putrid Wake Forest, while Clemson dismantles NC State 41-0. Yes, Zach. This season is on drugs. WE KNOW NOTHING!
For my poll this week, I am going to just put all of the legit unbeatens (not Georgia Tech or Marshall) at the top. Honestly, the only team, aside from Marshall, that has any shot at ending the regular season without a loss is the winner of the October 18th Florida State-Notre Dame game, just because their schedules are not all that difficult. All of those random unbeatens will all filter back into to the rest of the pack in the next week or two. We know nothing. Look at the wreckage below:
Others receiving votes: Clemson, Louisville, USC, Washington, Wisconsin
Dropped from the rankings: LSU (16), BYU (22), Wisconsin (23), USC (24)
25 (NR). Utah (4-1) – We don't really know what we will get with this team week in and week out, but they look pretty tough and the loss to the WSU is a confusing fluke. The Pac-12 South is a mess. 24 (NR).
Arizona State (4-1) –
That had to be the easiest Hail Mary of all time. He just walked in front of the pile of Trojans looking to catch a punt or something, and he just snagged the ball and walked in. Someone teach someone how to defend that play! This is getting absurd!
23 (20). East Carolina (4-1) – I lost a bit of respect for them after they gave up a few touchdowns to the worst team in the nation this week, and their loss to South Carolina is looking worse. Maybe they aren't quite as powerful as we thought.
22 (13). Stanford (3-2) – Losing in South Bend should not really count against them. Once again, it came down to the wire. Those teams would split evenly 10 games…or 100 games…or 1000 games…
21 (17). Oklahoma State (4-1) – They move down because…I couldn't really tell you. They are still solid and in control of their destiny in the Big 12. We saw what they were able to do last year. They are constantly under the radar, season after season.
20 (15). Georgia (4-1) – They are looking either more confusing or worse seeing how bad South Carolina is. The Cocks lost to Kentucky…Kentucky?! Yes, Kentucky.
19 (12). Nebraska (5-1) – "A little fight in ya…I like that." They played half of a quarter of good football, and that was almost good enough to beat the best team in the pathetic Big Ten. Yeah…
18 (NR). Marshall (5-0) – Yeah, they haven't and will not play anyone this year. But they are fun to watch.
17 (NR). Georgia Tech (5-0) – This seems like a good spot for an undefeated team that we don't know anything about yet. They beat Miami, which is a solid win, I guess…
16 (6). UCLA (4-1) – They lost at home to Utah, who just lost at home to WSU, who this week lost by scoring 59 points and passing for almost 750 yards. I love college football.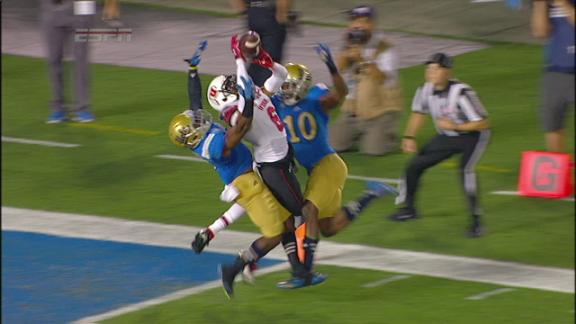 15 (19). Ohio State (4-1) – The Buckeyes are slowly looking more like the team we had imagined them being with Braxton Miller. They are still without a loss in the conference, so suddenly their matchup with Sparty seems vital.
14 (21). Kansas State (4-1) – Their resume keeps looking better and better with every ass kicking that Auburn puts on their SEC opponents. They should have beaten them too.
13 (10). Michigan State (4-1) – They had a nearly disastrous collapse against Nebraska, but they showed throughout that they are still the best team in the Big Ten by a country mile.
12 (1). Oregon (4-1) – Watching their last two games, it is clear that this team just isn't up to the standard that we have held the Ducks to. They simply have no offensive line, and Mariota lacks a killer instinct. They will still be right there in the Pac-12 North, but it will not be as easy as usual.
11 (7).
Alabama (4-1) –
This has got to be the worst defense that Saban has had since his first year in Tuscaloosa. The offense is legit, but they were shut down by the underappreciated Ole Miss D. They need to rebound quickly.
10 (5). Oklahoma (4-1) – It is hard to believe that they could not stop anyone in that loss to TCU, but that just shows how good the Frogs are. They have nothing to worry about, though. Their season will likely be defined by the Baylor game. That still seems weird to say…
9 (4). Texas A&M (5-1) – The Aggies still have a lot going for them. Even watching them get physically beaten up by the Bulldogs, it still seemed a little like a fluke. Don't count them out in that division.
8 (14). Mississippi (5-0) – Yes, they beat Alabama, but it was at home. Until they prove that they can win a big road game, they are going to be the weakest of the unbeatens.
7 (25). TCU (4-0) – Taking down Oklahoma was a long time coming for this program. Every year they challenge, but now they have an insane air raid offense that will not quit. This team will be a tough out for anyone in that high flying offensive conference.
6 (18). Arizona (5-0) – The Wildcats had the most impressive win of the weekend winning in Eugene. This team is frightening. They will not end without a loss, seeing how average they are in first halves. Someone will put them away early and not let up like Cal did in that 36 point 4th quarter comeback.
5 (9). Florida State (5-0) – They are doing what they do, which is beating up on weak ACC teams. They had their slight hiccup with the suspension, but they will be rolling heading into that matchup with the Irish in a couple weeks.
4 (8). Mississippi State (5-0) – This team looks absolutely legit. It is not just a team that is sneaking up on anyone either. They are bigger and more athletic than anyone in the SEC. They could come out of that insane western division.
3 (3). Baylor (5-0) – They had some struggles for the first time this season, but they got it together eventually. This team is the class of the Big 12, but no one comes out of that conference unscathed.
2 (11). Auburn (5-0) – Their raping of LSU was as impressive as anything that happened over the weekend. That offense is blistering. They are a lot better than they were last season.
1 (2). Notre Dame (5-0) – They are not a perfect team, but they just survived and showed some guts against the toughest defense they will play all year. They should be able to outscore their remaining schedule.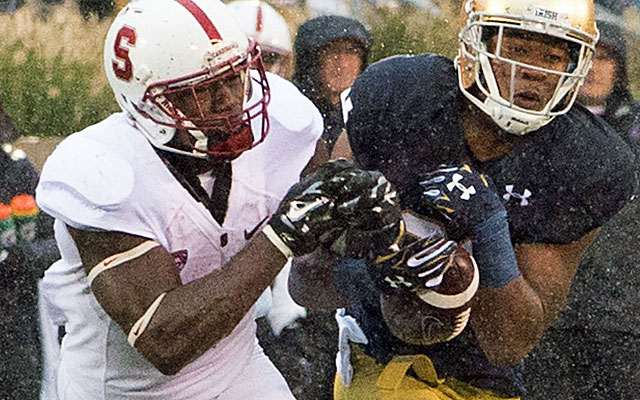 Top 5 Games for Next Weekend
5. USC at Arizona (#6), 7:30PM ESPN2 – This is more out of curiosity than anything. The Pac-12 South is a wild ride, and we will know what Arizona is really made of after getting a top 5 win and now being ranked in the top 10. Can they get back up for a streaky USC team that might be the best D they will play all year? PREDICTION: Arizona 24-23
4. Mississippi (#8) at Texas A&M (#9), TBA – Mississippi is riding their biggest win maybe ever, and A&M had their first slipup of the year. It is in Kyle Field, so I cannot see the Aggies dropping two in a row. PREDICTION: Texas A&M 34-17
3. Oregon (#12) at UCLA (#16), 12:30PM FOX – This was circled on my schedule before the season started, but both teams losing at home the week before makes it lose a bit of its luster. Typical of both programs, though. This will still be quite a sight to see. PREDICTION: UCLA 27-21
2. TCU (#7) at Baylor (#3), 12:30PM ABC/ESPN2 – This is going to be a shootout of the highest caliber. Both of these teams can score at will in several different ways. In Waco, it will be hard to beat the Bears, but the Frogs are out for blood. PREDICTION: Baylor 42-38
1. Auburn (#2) at Mississippi State (#4), TBA – This week was the highest profile game for Mississippi State in decades. Now, this game is. PREDICTION: Auburn 27-23
5. Everett Golson, QB, Notre Dame – He is better than we thought he could be, and that final game-winning drive against the Cardinal was all Golson. He is the real deal on the best team in the nation…at least for right now.
4. Nick Marshall, QB, Auburn – He has improved so much since last year, and honestly since the beginning of this year. He is a legit talent and might very well coast to the ceremony with how that offense is humming.
3.
Anu Solomon, QB, Arizona –
His second halves are off the charts. This guy willed the Cats to a win in Eugene, where very few teams win anymore. I fear that when they lose, he will drop off every ballot, but he is firmly on my radar.
2. Todd Gurley, RB, Georgia – His team might not be that great, but is carrying the team on his back. He is the most gifted back in the nation, and he deserves all the accolades he is getting and will get.
1. Dak Prescott, QB, Mississippi State – He is the talk of the SEC right now with his Cam Newton-esque skill set and flair for the dramatic in big games. If they keep winning, then he will be in the race.
College Football Playoff Projections
Chik-fil-A Peach Bowl: East Carolina over Texas A&M
Cotton Bowl: Michigan State over Stanford
Fiesta Bowl: Oklahoma over Mississippi State
Orange Bowl: Alabama over Oregon
College Football Playoff Semifinal #1 (Rose Bowl): Notre Dame over Baylor
CFB Playoff Semifinal #2 (Sugar Bowl): Auburn over Florida State
National Championship Game

: Auburn over Notre Dame
What did you think of this weekend? Rankings? Heisman predictions? Let me know below!