We had another great week of college football in week 10. The top teams in the nation got pushed, and there were some stunning upsets that all but ended the seasons of a couple teams. Check out the fallout below.
Others receiving votes: Clemson, Georgia Southern, Minnesota, West Virginia, Wisconsin
Dropped from the rankings: West Virginia (20), East Carolina (24)
25 (23). LSU (7-2) – IDLE
24 (21). Boise State (6-2) – IDLE
23 (12). Georgia (6-2) – The Bulldogs at times look like the best team in the nation, and then they get blown out by a horrible Florida offense. I don't know what to make of this team anymore.
22 (NR).
Iowa (6-2) –
Iowa opened some eyes with their dismantling of a normally pretty solid Northwestern squad. They are the dark horse in the conference.
21 (NR). Oklahoma (6-2) – Trevor Knight and company got back on track with a huge offensive day against Iowa State. The Big 12 is insane.
20 (22). Colorado State (8-1) – This is a team that we really don't know much about, but they keep piling up wins in a really decent Mountain West Conference. They are a program on the rise.
19 (14). Mississippi (7-2) – Ole Miss gets their first home loss of the year at the hands of Auburn. It's hard to believe that they have lost two in a row after those magical first 7 games.
18 (18). Marshall (8-0) – IDLE
17 (17). Utah (6-2) – The Utes got a hard fought road loss at ASU. The Pac-12 South is up for grabs. They are all taking each other out.
16 (19). Duke (7-1) – Duke is rolling right now. They look better than they did last season and is clearly the 2nd best ACC team.
15 (8). Arizona (7-2) – For the first time, the slow offensive start for the Wildcats translated into a loss. UCLA was able to just confuse and shut them down all game.
14 (25). UCLA (7-2) – I really wish I could figure this team out. They are up and down and still the most talented team in the conference.
13 (16). Nebraska (8-1) – They won a sluggish game, but that was mostly due to Abdullah getting injured early on. They get a week off for him to get right before a key matchup in Madison.
12 (13). Ohio State (7-1) – This team is really hitting its stride and is as scary as any team in the nation with JT Barrett at the helm.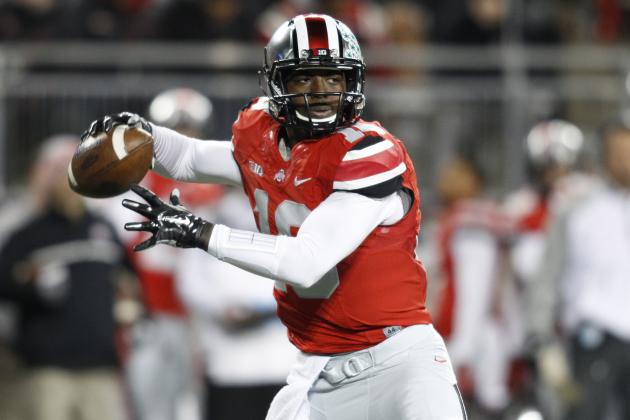 11 (10). Michigan State (7-1) – IDLE
10 (15). Arizona State (7-1) – They got one of the more impressive wins of the weekend with their gutsy victory over Utah. This team, aside from a disastrous special teams effort against UCLA, looks like one of the elite teams in the nation.
9 (11). Baylor (7-1) – The Bears continue to roll all over the weak teams and battle with the good teams. I love following that conference.
8 (6). Alabama (7-1) – IDLE
7 (5). Notre Dame (7-1) – They struggled mightily against Navy, as they usually do. Some games this team just decides to go through the motions. Remember the UNC game?
6 (9). Oregon (8-1) – The Ducks were able to open it up against Stanford for the first time in a while. This team is constantly improving.
5 (7). Auburn (7-1) – Winning in Ole Miss is nothing to take lightly. They looked like one of the nation's elite, aside from their inconsistent pass defense.
4 (4).
Kansas State (7-1) –
What makes this K-State team different than the previous ones is that this team really can score.
3 (3). TCU (7-1) – TCU got another very impressive road win in Morgantown. It is hard to fathom that it really only took two years for this program to take over the Big 12.
2 (2). Florida State (8-0) – They got another scare and another huge comeback. They can't win it all if they come out like that against a decent team.
1 (1). Mississippi State (8-0) – They still deserve to be #1, despite a lackluster effort against Arkansas. They get a glorified bye next week before heading to Tuscaloosa.
Top 5 Games for Next Weekend
5. Oregon (#6) at Utah (#17), 7:00PM ESPN – Oregon is not the best road team out there, and Utah is typically very tough to beat at home. I am really intrigued by the clash of styles as well.
PREDICTION: Oregon 34-27
4. Alabama (#8) at LSU (#26), 5:00PM CBS – This matchup has become an annual thriller. Even though LSU is down, they proved that they can still take care of a top ranked team in Death Valley. Can they slow up the Tide offense?
PREDICTION: LSU 21-19
3. Ohio State (#12) at Michigan State (#11), 5:00PM ABC – Last year, in the B1G Championship Game, this game was uncompetitive. I can't see that being the case this year. Michigan State seems incapable of losing a conference game, but this Ohio State team is frightening.
PREDICTION: Ohio State 34-30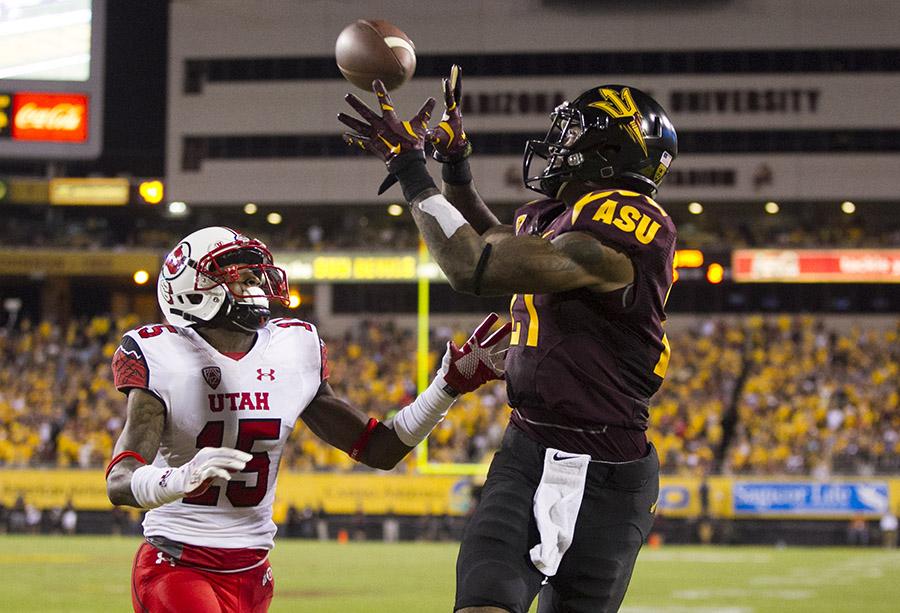 2.
Notre Dame (#7) at Arizona State (#10), 12:30PM ESPN –
This is one of the marquee matchups of the season. ASU is coming in hot, and Notre Dame just nearly lost to Navy. What does that mean?
PREDICTION: Notre Dame 24-10
1. Kansas State (#4) at TCU (#3), 4:30PM FOX – This is the game that will likely decide the conference. K-State is still unbeaten in Big 12 play, and TCU has an offense that is relentless. This should be a stunner.
PREDICTION: Kansas State 23-21
5. Melvin Gordon, RB, Wisconsin – It is hard to get in when you are on a team that has a couple losses, but he is having a ridiculous season.
4. Jameis Winston, QB, Florida State – He is actually asked to do a lot more for this Seminole squad, and he is racking up the Heisman moments once again.
3.
Ameer Abdullah, RB, Nebraska –
The injury should not take him out of contention. If he still comes back and carries his team to a conference title, then he should be a shoo-in nominee.
2. Dak Prescott, QB, Mississippi State – He had a shaky effort this week, but he is the best player on the best team. That is almost always enough to get invited.
1. Marcus Mariota, QB, Oregon – He has been unbelievably efficient, and he finally beat Stanford. He is and should be the frontrunner.
College Football Playoff Projections
Chik-fil-A Peach Bowl: Mississippi State over Colorado State
Cotton Bowl: Baylor over Ohio State
Fiesta Bowl: TCU over Auburn
Orange Bowl: Oregon over Duke
College Football Playoff Semifinal #1 (Rose Bowl): Kansas State over Florida State
CFB Playoff Semifinal #2 (Sugar Bowl): Alabama over Notre Dame
National Championship Game

: Alabama over Kansas State
What did you think of this weekend? Rankings? Heisman predictions? Let me know below!