It was a weekend of upsets and top teams underwhelming in trap games. It is going to set up a highly entertaining and intriguing final few weeks. Check out the Week 11 rundown below:
Others receiving votes: BYU, Florida State, Temple
Dropped from the rankings: Temple (18), UCLA (24)
25 (20). Memphis (8-2) – They blew a big lead to Houston, but there is no shame in that. Houston is elite on both sides of the ball.
24 (NR). Toledo (8-1) – IDLE
23 (23). Wisconsin (8-2) – IDLE
22 (11). Utah (8-2) – Arizona came in reeling, and Utah still got tripped up. The Utes have got to find consistency on the road if they want to ever take the Pac-12 Conference.
21 (13). LSU (7-2) – LSU got absolutely manhandled by Arkansas, which is sort of pathetic. Supposedly the Tigers were fraudulent. Never could have guessed that…sarcasm…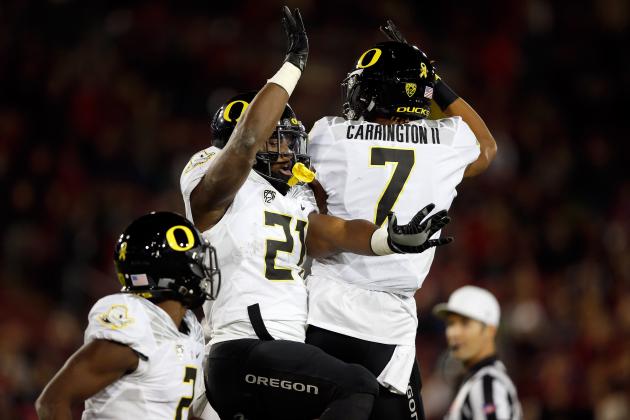 20 (NR).
Oregon (7-3) –
The Ducks with Vernon Adams look like a team that could contend for the conference title. It's hard to justify their defensive woes, but beating Stanford on in Palo Alto is a big deal.
19 (21). USC (7-3) – They struggled for three quarters against Colorado, but they still got it done. Clay Helton might be the answer at head coach.
18 (6). Stanford (8-2) – Oregon came to play, and Stanford looked a step slow against them for the first time in about 5 years. This Stanford defense has been overrated all year.
17 (25). Northwestern (8-2) – The Wildcats just keep plugging away. Their two big losses seem like head-scratching outliers at this point.
16 (19). Michigan (8-2) – They survived at Indiana in double overtime. The biggest take away from that game is that the Hoosiers exposed a flaw in the Wolverine run defense that had previously been impenetrable.
15 (14). TCU (9-1) – The Frogs lost Boykin to injury, but you still can't only beat Kansas by 6. That is inexcusable.
14 (22). Washington State (7-3) – At this point, the Cougars might be playing the best ball in the country. Everyone is slow to take them seriously because they lost to Portland State, but their offense is for real, and it travels well. They are a scary team.
13 (16). Navy (8-1) – Navy's offense is playing as well as they ever had under Keenan Reynolds, who set the all time rushing TD record on Saturday. It might be the best option attack of this millennium.
12 (15). Michigan State (9-1) – The Spartans understandably slugged around against a weaker opponent on Saturday. Their season will be defined by if they can take down Ohio State or not.
11 (12). Florida (9-1) – The Gators are one of the teams that just hangs around and piles up wins. I really cannot get a read on them.
10 (17). North Carolina (9-1) – North Carolina is the most forgotten team in the nation. Their offense is crushing souls, and the Gene Chizek defense has performed well. Take away the fluke opening loss to South Carolina, and this team has an argument for the top 4.
9 (10). Iowa (10-0) – You simply cannot continue to play like that and get respect. Not all undefeated seasons are equal.
8 (4). Baylor (9-1) – The Bears got taken out by an inspired and feisty Sooner club. No shame in Baylor losing that game, but I fear that the committee will see it differently.
7 (3). Oklahoma State (10-0) – When are teams going to stop underestimating Iowa State playing at home? The Cowboys almost had their second season-ending loss in Ames in 4 years.
6 (8). Oklahoma (9-1) – The Sooners are the best team going right now, but you can't overlook a loss to Texas. Rivalry game, yes, but still inexcusable.
5 (7). Ohio State (10-0) – The Buckeyes looked decent, and their defense looked like an NFL squad. They are going to be tough to beat, but Barrett looked a bit lost after his suspension.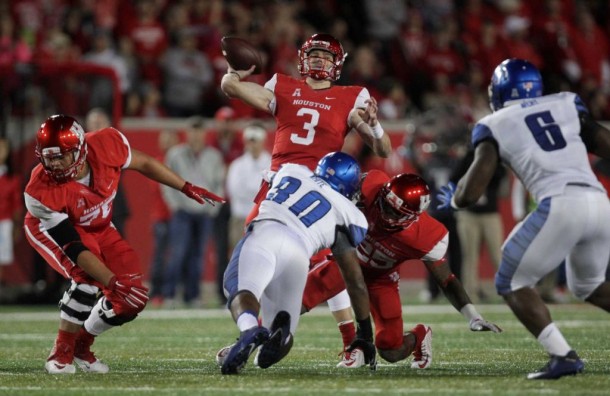 4 (9). Houston (10-0) – This is a bit too high for them, I admit. There is just no one else deserving. Houston has another couple chances to shine down the stretch. We will see if the committee responds.
3 (5). Alabama (9-1) – No surprise that they hammered Mississippi State. Happens every year.
2 (2). Notre Dame (9-1) – They struggled with a bad Wake Forest squad, but it was a predictable trap game.
1 (1). Clemson (10-0) – The defense for Clemson continues to get exposed, but they are the only team deserving of this spot.
Top 5 Games for Next Weekend
5. Northwestern (#17) at Wisconsin (#23), 12:30PM TBD – There are a bunch of ranked games this week. This will be an ugly defensive struggle, a classic Big Ten matchup.
PREDICTION: Northwestern 17-14
4. USC (#19) at Oregon (#20), 12:30PM ESPN – A month ago, this would have been a snoozer. Now, both teams are rolling. This will be an offensive show.
PREDICTION: USC 48-41
3. TCU (#15) at Oklahoma (#6), 5:00PM ABC – TCU coming off a pathetic showing lessens this game a bit, but the Frogs have been good on the road.
PREDICTION: Oklahoma 41-31
2. Baylor (#8) at Oklahoma State (#7), TBD – Oklahoma State is going to decide the Big 12 with everyone traveling to Stillwater. Can Baylor rebound?
PREDICTION: Baylor 34-28
1. Michigan State (#12) at Ohio State (#5), 12:30PM ABC – This has been the game on everyone's radar since week one. Sparty tripped up in Lincoln, which makes this game an elimination game for the Big Ten. Who takes advantage? If Connor Cook plays, I like Michigan State.
PREDICTION: Michigan State 28-24 with Cook / Ohio State 38-21 without Cook
5. Baker Mayfield, QB, Oklahoma – In the "year of the running back", quarterbacks are starting to come to the forefront. Mayfield looked like an animal against Baylor. He might have knocked Corey Coleman out of the running, and he may well be the frontrunner if they win out.
4.
Luke Falk, QB, Washington State –
Falk continues to be ice on the road. His numbers are mind-boggling, and he hits about 15 different receivers per game.
3. Ezekiel Elliott, RB, Ohio State – Elliott cannot be held under 100 yards. He is the most talented and still somehow underutilized back in the nation.
2. Derrick Henry, RB, Alabama – He has separated himself from the rest of the SEC backs. He will probably win this, but he is about the 5th most talented back in the nation. He just has an NFL line ensuring that he won't be touched until the second level.
1. DeShaun Watson, QB, Clemson – Watson is Clemson. Clemson is #1. Watson is #1.
College Football Playoff Projections
Chik-fil-A Peach Bowl: Oklahoma State over North Carolina
Rose Bowl: USC over Michigan State
Fiesta Bowl: Baylor over Clemson
Sugar Bowl: Houston over Alabama
College Football Playoff Semifinal #1 (Orange Bowl): Florida over Notre Dame
CFB Playoff Semifinal #2 (Cotton Bowl): Oklahoma over Iowa
National Championship Game

: Oklahoma over Florida
Those bowl projections are assuming a few results, most notable UNC over Clemson in the ACC Championship Game, Michigan State over Ohio State, Florida over Clemson, Stanford over Notre Dame, and Oklahoma winning out. What do you think? Who are your top 4? Your Heisman top 5? Comment.