We are down to 2 undefeated teams as Ohio State trips up at home, Oklahoma State gets exposed by Baylor, and Houston loses inexplicably in Connecticut. The Big 12 has killed each other by injuring at least one of each team's quarterbacks, the Pac-12 has continued to cannibalize itself, and Clemson just continues to roll along as the top team in the nation. It is going to be an exciting final couple weeks of the regular season! Check out Week 12 below…
Others receiving votes: Air Forice, LSU, Mississippi, Utah, Western Kentucky
Dropped from the rankings: USC (19), LSU (21), Utah (22), Memphis (25)
25 (NR). Florida State (9-2) – They beat up on a weak opponent, and they aren't worthy of this spot, but there just aren't enough worthy 3-loss teams either.
24 (24). Toledo (9-1) – The problem they are going to run into is the fact that all Northern Illinois has to do is beat Ohio for Toledo to get left out of the MAC Championship Game, which will end their hopes of a New Year's Six Bowl.
23 (23). Wisconsin (8-3) – The loss to Northwestern had some questionable calls in the end, so they don't really need to drop.
22 (NR). BYU (8-3) – The Cougars are still plugging away after their ugly couple losses midseason. They are going to be a tough out in a bowl.
21 (NR). UCLA (8-3) – Another impressive win for UCLA puts them back into the rankings. The Bruins are one of those teams that no one really wants a part of, but they underachieve enough to never really be a threat nationally.
20 (NR).
Temple (9-2) –
South Florida has proved to not be as bad of a loss as we originally thought. Taking out Memphis the way they did has Temple back in the thick of the Group of 5 contenders.
19 (15). TCU (9-2) – With a 2nd and 3rd string quarterback, TCU almost won in Norman. Their defense still hasn't put together a good game all year, though.
18 (20). Oregon (8-3) – Oregon is rolling now with Vernon Adams healthy. They might end up being the best team to play in the Heart of Dallas Bowl or some pathetic equivalent thanks to the Pac-12 beating each other up.
17 (17). Northwestern (9-2) – The Wildcats still have those two bad losses on their record, but they continue to win and do it on the road.
16 (11). Florida (10-1) – Florida, Georgia, and South Carolina didn't exactly carry the banner for the SEC with an overtime win against 2-9 Florida Atlantic, a close call against Georgia Southern, and a loss to The Citadel, but Florida only has one loss. Ugh.
15 (14). Washington State (8-3) – They might have lost Luke Falk for a while, but the Cougs have certainly gained the respect of the nation with their recent run.
14 (18). Stanford (9-2) – Stanford had a nice win in their rivalry game against Cal. They play the best football in the conference, but it is going to be an uphill climb for them to get in the playoff.
13 (4). Houston (10-1) – A loss at UConn is strange and uncalled for. They are another team who is out their starting QB, and at a smaller program like Houston, that is much more difficult to recover from.
12 (16). Michigan (9-2) – The Wolverines set up a big matchup with Ohio State next week after surviving against a pesky Penn State squad.
11 (13).
Navy (9-1) –
Navy might not lose again. This is almost certainly out Group of 5 representative in the big bowls.
10 (7). Oklahoma State (10-1) – Baylor had a 2nd and 3rd string QB, and they still were able to take out the Cowboys. They were always slightly fraudulent, but they have yet to really look unworthy.
9 (10). North Carolina (10-1) – They needed to hang on to beat VT in Beamer's final home game in Blacksburg, but they still look mighty impressive, even though their opening loss to South Carolina might be the worst single loss among all one-loss teams, including Houston.
8 (9). Iowa (11-0) – They are going to have their hands full in Lincoln. I can't see them making it past Nebraska and whoever wins the East.
7 (5). Ohio State (10-1) – The playcalling and starting quarterback did Ohio State in on Saturday. Does anyone else still want JT Barrett running that offense? If Cardale Jones starts, they win out and win the national title.
6 (12). Michigan State (10-1) – Sparty had to call upon their 2nd stringer to take out Ohio State in Columbus, maybe the most impressive win of the year.
5 (8). Baylor (9-1) – Baylor moves back up after using a couple inexperienced quarterbacks to still romp all over Oklahoma State's defense.
4 (6).
Oklahoma (10-1) –
Oklahoma has a worse loss than Baylor, but the head-to-head puts them one spot ahead. The Sooners also needed their backup QB to hold on against TCU. It is a rash of QB injuries in the Big 12 and beyond.
3 (3). Alabama (10-1) – They rolled all over one of the best FCS teams, so…yeah I don't know what to really do with them. They stay here.
2 (2). Notre Dame (10-1) – The Irish had to hang on against BC while losing their star RB in the process. This is the most complete team in the country.
1 (1). Clemson (11-0) – I don't think anyone really believes they are #1, but they beat arguably the best team and are undefeated. That's good enough.
Top 5 Games for Next Weekend
5. UCLA (#21) at USC, 12:30PM ABC – This has been a fierce rivalry recently. This is going to decide the Pac-12 South and who gets to take a shot at Stanford in the Pac-12 Championship.
PREDICTION: UCLA 35-31
4. Navy (#11) at Houston (#13), FRI 9:00AM ABC – This game is going to decide who gets to play in the AAC Championship against Temple. It should be entertaining. I like Houston at home, despite not having Greg Ward playing, but I just feel this Navy team is special.
PREDICTION: Navy 28-23
3. Oklahoma (#4) at Oklahoma State (#10), 5:00PM ABC – Bedlam looks to decide the Big 12 Championship, unless Baylor wins. Oklahoma controls their destiny, however.
PREDICTION: Oklahoma 49-38
2. Notre Dame (#2) at Stanford (#14), 4:30PM FOX – This annual rivalry has more implications than ever before. Both teams need this game and need to look good to stay in the playoff picture.
PREDICTION: Stanford 24-16
1. Ohio State (#7) at Michigan (#12), 9:00AM ABC – Sparty controls their destiny in the division, but should they lose, this game will decide the division (and let's be honest, Iowa, it decides the conference).
PREDICTION: Ohio State 23-21
5. Keenan Reynolds, QB, Navy – It might be considered a career award, but he is having a marvelous season for the Midshipmen. He deserves to be in NewYork.
4. Christian McCaffrey, RB, Stanford – He has continued to put up one of the best all around seasons in modern college football. He is what the award is all about.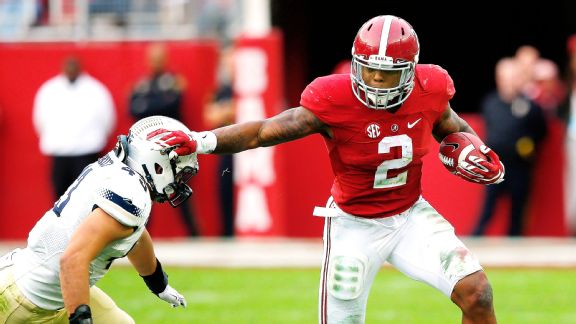 3.
Baker Mayfield, QB, Oklahoma –
Even though he got injured against TCU, he made some big plays and showed his true value to the hottest team in the nation.
2. Derrick Henry, RB, Alabama – A game against Charleston Southern isn't exactly a showcase, but he had great YPC in the game and didn't do anything to hurt his chances.
1. DeShaun Watson, QB, Clemson – He is somehow a quiet contender, despite being the best dual threat in the country on the nation's #1 team.
College Football Playoff Projections
Chik-fil-A Peach Bowl: Navy over North Carolina
Rose Bowl: Ohio State over Oregon
Fiesta Bowl: Baylor over Clemson
Sugar Bowl: Notre Dame over Mississippi
College Football Playoff Semifinal #1 (Orange Bowl): Stanford over Alabama
CFB Playoff Semifinal #2 (Cotton Bowl): Oklahoma over Michigan State
National Championship Game

: Oklahoma over Stanford
What did you think of this week? Which rivalry games are you most looking forward to? Let me know!