The Chicago Cubs had a breakout season in 2015, leaving many asking if this might be the year they finally win their first championship since 1908. Can they live up to their 2016 expectations?
Last Season
My 2015 Prediction: 3rd in NL Central
2015 Result: 97-65, 3rd in NL Central, WILD CARD, lost in NLCS
I had their position in the division right because of the depth of that division. However, I thought they were one year away from making any impact in the postseason. Well, they ended up getting all the way to the NLCS before running into the Mets' pitching. This 2015 result leaves everyone looking for them to take the next step, especially considering how young they are.
2016 Additions / Subtractions
As if their lineup wasn't loaded enough last season, the Cubs went out and bought one of the top free agent bats on the market in Jason Heyward. They also, unexpectedly, brought back Dexter Fowler after that strange ordeal with the Baltimore Orioles. To add depth to their rotation, they brought in the ageless John Lackey to slide in after Jake Arrieta and Jon Lester. They seem to be getting closer to having a fully complete team.
Most Important Hitter
Kris Bryant
Last season, Kris Bryant had the breakout season that everyone wishes for. He was possibly the most hyped rookie coming into the season, and somehow exceeded every expectation. Entering 2016, Bryant is being billed as a superstar of the sport. If the Cubs want to have the historic season they are hoping for, Kris Bryant needs to avoid a sophomore slump. Looking at the lofty expectations, it seems inevitable that he will slump at least a little bit. However, I also didn't think he could be as good as everyone said he would be last season either. So who knows...
Most Important Pitcher
Jon Lester
Jon Lester was brought in before last season to be the anchor of a staff that needed one. By the end of the season, he was a complementary piece to the ridiculous run Jake Arrieta was on. However, it wasn't just Arrieta's brilliance that pushed Lester into the background. Lester did not have a great season. It was good, but it was nowhere near the lofty heights he has been in the past. He is now entering his age 32 season. The Cubs need last season to be a blip on the radar for Lester and not a sign of things to come.
Player to Watch
Carl Edwards, Jr.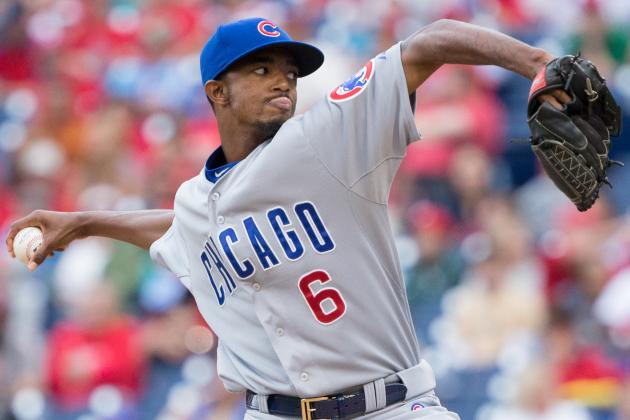 With players like Kris Bryant, Addison Russell, and Kyle Schwarber bursting on the scene in 2015, it has left the Cubs' farm system somewhat depleted of talent ready to help the big club now. One prospect that has a potential to impact the team in 2016 is Carl Edwards, Jr. He made his debut last year, coming out of the bullpen a few times. The Cubs are set with their lineup, but their pitching is nowhere near invincible. They also trend on the older side. This could leave room for a guy like Edwards to get some significant time in 2016.
2016 Prediction
1st in NL Central, lose in NLDS
The Cubs are definitely one of the elite teams in the league entering the year. I see them taking a big step forward and winning possibly the most competitive division in baseball. However, their rotation is still something that is less than elite, and I see that coming back to bite them in the playoffs. You will have teams like the Mets, Giants, Dodgers, and Pirates facing off against them in the playoffs. The Cubs rotation can't compete with these teams. Their offense can score, but with the elite pitching staffs around, the Cubs' pitching needs to be better for them to break the "Curse of the Billy Goat."
Fearless Prediction
Jake Arrieta will spend at least 1-2 months on the DL.
For the last season and a half, Jake Arrieta has been one of the biggest surprises in baseball. He turned around a mediocre career and became one of the best pitchers in baseball, winning the Cy Young in 2015 over guys like Greinke and Kershaw. Before 2014, the most innings he had thrown in a season was 119 in 2011. Then he threw 156 innings in 2014 and 229 innings in 2015. Add another 20 innings to that 2015 total thanks to their postseason run. He started the postseason on fire, but ran out of gas near the end. That means he threw almost 100 more innings last season than he had ever thrown before in a single year. Entering his age 30 season, and getting that kind of workload for the first time, he seems bound for an injury at some point this year.