The San Francisco Giants followed up their World Series win in 2014 by not making the playoffs in 2015. They have won the World Series the last three even numbered years. Can they do it again in 2016?
Last Season
My 2015 Prediction: 3rd in NL West
2015 Result: 84-78, 2nd in NL West The Giants had what could be considered a disappointing season in 2015, even though they finished over .500. This is such a bizarre pattern they have established these last five seasons. In 2010, they win the World Series. In 2011, they don't make the playoffs. In 2012, they win the World Series. In 2013, they don't make the playoffs. In 2014, they win the World Series. In 2015, they don't make the playoffs. I would love to see what would happen if they actually made the playoffs in an odd numbered year.
2016 Additions / Subtractions
The Giants went against what they normally do and had a fairly active offseason. They added Johnny Cueto and Jeff Samardzija to an already strong rotation, while adding Denard Span to the outfield. They had few notable departures, most notable in name rather than impact to the club. In bringing in Cueto and Samardzija, they let longtime giants Ryan Vogelsong and Tim Lincecum walk, while Tim Hudson retired.
Most Important Hitter
Hunter Pence
Part of what led to the Giants' struggles in 2015 was the injury to Hunter Pence that limited him to just 52 games. Pence is a contributor on the field, but also a great chemistry guy. He needs to be on the field for the Giants to have the kind of season they hope for.
Most Important Pitcher
Johnny Cueto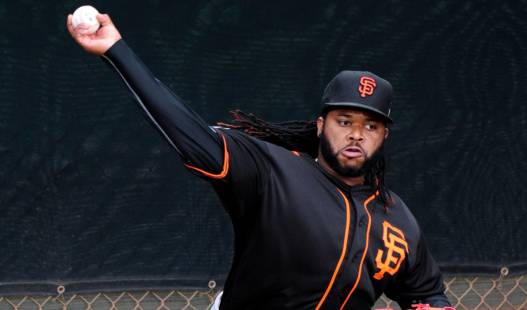 Johnny Cueto has been one of the best pitchers in baseball the last five seasons, but he had a terrible (by his standards) season in 2015. This offseason he signed a big contract paying him as if last year didn't happen. That is exactly what the Giants need him to be. Bumgarner, Cueto, and Samardzija can be one of the best top three in any rotation in the league, but Cueto and Samardzija both have to be better than last year.
Player to Watch
Josh Osich
The Giants have a fairly weak farm system. However, when you have such a veteran lineup, there is little need for many rookies to have huge impacts. With that said, here is one that will be on the Opening Day roster. Josh Osich just barely stayed under the limit for service time to still be considered a rookie in 2016. Look for him to have an impact as a left-handed specialist out of the Giants' bullpen this season.
2016 Prediction
1st in NL West, win World Series
Why not! This pattern is ridiculous. However, this prediction is less about that and more about the fact that the Giants might have their best team since this crazy run started. Pitching has always been a strength of this team, but this is the best it has been since Lincecum was winning Cy Youngs. Buster Posey is also the best catcher in baseball. Complementary pieces like Brandon Belt, Joe Panik, Brandon Crawford, and Matt Duffy fill out a very deep lineup with few weaknesses. Also, don't forget, they have what might be the greatest postseason performer of all time. If they make the playoffs, be prepared to be MadBum'ed once again. It seems inevitable.
Fearless Prediction
The San Francisco Giants come home with MVP, Cy Young, and World Series trophies.
This is a pretty tall order, but not out of the question. Buster Posey is a contender for MVP every season, and Madison Bumgarner might actually show some of his freak dominance in the regular season after having a full offseason of rest. This has only happened five times, and not since 1988. It would be a crazy feat, but not something that should surprise anyone.