Well, that just happened. Three of the top four teams in the CFP rankings got upended in the same day, leaving just Alabama and Western Michigan with a zero in the loss column. But the playoffs were already cut and dry, right? Yeah, people fall into the same trap every season. No one goes undefeated. There will never be five unbeaten conference champs. It was a crazy Saturday, and it was so crazy that the rankings are basically going to look the way they did going in. I love November.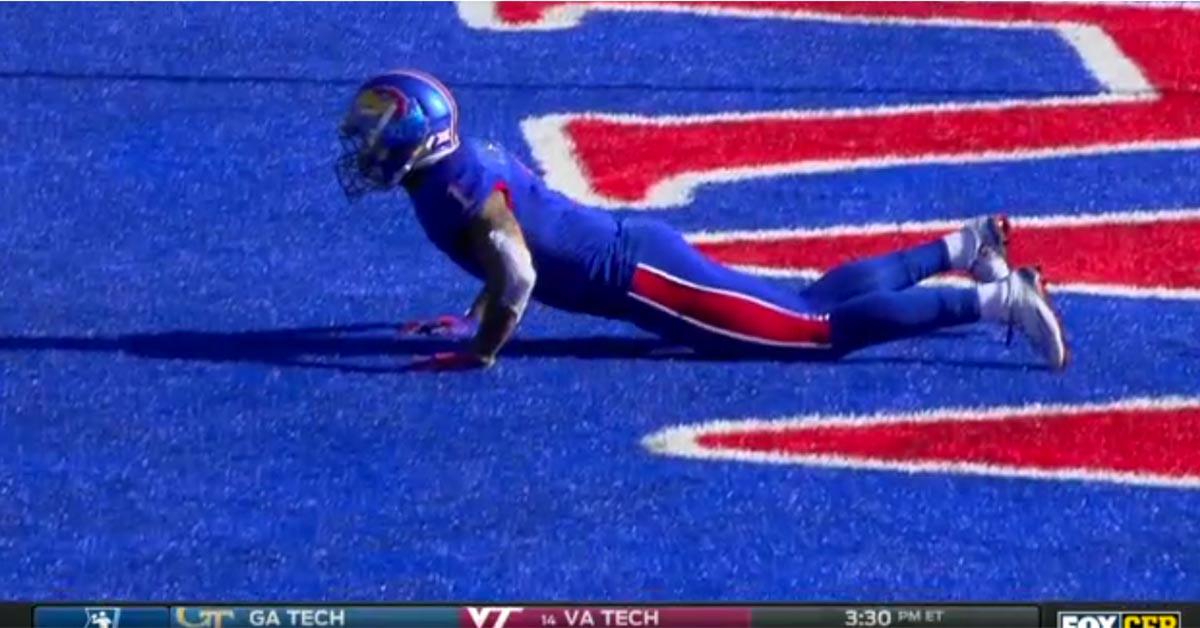 Others receiving votes: Florida, New Mexico, Toledo
Dropped from the rankings: North Carolina (19), Texas A&M (21), Wyoming (23), Virginia Tech (24)
25 (NR). Houston (8-2) – The Cougars are stumbling along, setting up one of the most anticipated games of the season, which is this Thursday night against Top 5 ranked Louisville.
24 (NR). Florida State (7-3) – They have probably had the toughest schedule in the nation outside of Wisconsin, and when they are on, they are really tough to beat.
23 (8). Auburn (7-3) – A loss to Georgia is a bit of an embarrassment. They needed that game to have the Iron Bowl mean something. Now, Alabama has clinched a spot in the SEC Championship.
22 (NR). Stanford (7-3) – Their three losses are to top 11 teams, and now that they are getting healthy, they are starting to look like themselves again.
21 (NR). Troy (8-1) – Their lone loss is at Clemson. They haven't really beaten anyone, but they are still a solid squad.
20 (20). LSU (6-3) – The Tigers definitely rebounded after getting shut out at home last week. Arkansas ran into a buzz saw.
19 (25).
Oklahoma State (8-2)* –
The Pokes are sitting there with two losses, but that "loss" to Central Michigan shouldn't be held against them. They are every bit as good as the other teams in the conference, but their loss to Baylor looks a little worse now.
18 (18). Nebraska (8-2) – They played their equal in Minnesota and it came down to the wire. No surprises there.
17 (14). Utah (8-2) – Utah looked sluggish for a little while before opening it up in the second half and blowing out ASU.
16 (17). Boise State (9-1) – Boise is remaining quiet in the MWC, and with another upset of Wyoming, they will sneak into the championship game, setting up a likely 11-1 vs 11-1 matchup against SDSU. Watch out Western Michigan. This team has a win over Washington State on their resume.
15 (15). Penn State (8-2) – They should have lost to Indiana, but they did something that too many teams this week didn't do. They found a way to get out with a win.
14 (22). USC (7-3) – Their win over Washington in Seattle is one of the most impressive wins of the year. Sam Darnold is an absolute stud.
13 (12). West Virginia (8-1) – After their loss, everyone has written them off. I am not too convinced that they aren't still one of the better, most complete teams in the country.
12 (13). Oklahoma (8-2) – The Sooners are right in position to make some noise in the CFP after losing two of their first three. Amazing how that works. This sport isn't predictable or anything.
11 (16). Colorado (8-2) – The Buffs are legit. They still control their own destiny in the South.
10 (10) San Diego State (9-1) – The Aztecs are having a magical season, especially their star RB Donnel Pumphrey. If not for that strange loss to South Alabama, they would be getting a lot more national respect.
9 (11). Washington State (8-2) – The Cougars have had just as impressive of a rebound as Oklahoma. After losing to Eastern Washington and Boise State, they have rattled off eight straight wins. They could be a playoff team.
8 (5). Clemson (9-1) – Losing at home to Pitt finally exposed what we already knew about Clemson. They are fraudulent. They are 2014 Florida State. Thank you, James Conner.
7 (9). Western Michigan (10-0) – They keep winning, but for the first time all year, they looked stale early in the game.
6 (3). Michigan (9-1) – The lost at Iowa, which is not an easy place to play, but it still looked ugly. They could hardly move the ball at all.
5 (2). Washington (9-1) – Not only did they lose to USC, but they were outmatched for most of the game. It was a humbling loss for the Huskies.
4 (7). Louisville (9-1) – They were terrible for about 35 minutes against Wake Forest. Then they rattled off 44 in a row to make it look good.
3 (6). Wisconsin (8-2) – They are absolutely worthy of the playoffs. Their schedule was absolutely ridiculous, and barring an upset from Minnesota in the battle for Paul Bunyan's Axe, they will be sitting pretty.
2 (4). Ohio State (9-1) – The Buckeyes had back-to-back 62-3 wins. Pretty sure that has never happened before.
1 (1). Alabama (10-0) – They are number one. No doubt.
Top 5 Games for Next Weekend
5. San Diego State (#10) at Wyoming, 12:30PM CBS Sports – This is one of the most interesting matchups in the MWC. It is a battle of teams that are definitely committed to running the ball, and they are both unbelievably good at it. This should be an entertaining, under-the-radar game.
PREDICTION: San Diego State 28-27
4. Florida at LSU (#20), 10:00AM SEC Network – If LSU wants to keep dreams alive to play in the New Years Six bowl, then they need to take advantage of the venue change and win this game.
PREDICTION: LSU 17-0
3. Oklahoma (#12) at West Virginia (#13), 5:00PM ABC – The Sooners are rolling, and the Mountaineers have the best defense in the conference. This is going to be a war.
2. Washington State (#9) at Colorado (#11), TBD – This is one of the biggest games of the year in the Pac-12. The Cougars are the best road team in the conference, and Colorado is the scariest team that no one wants to play.
PREDICTION: Washington State 49-41
1. Louisville (#4) at Houston (#25), THU 5:00PM ESPN – Houston has the talent to make Louisville suffer for their lackluster starts recently. If Greg Ward is healthy…
PREDICTION: Houston 38-34
5. Zach Terrell, QB, Western Michigan – If his team continues to win, he is going to be hard to deny a trip to New York with the season he is having.
4. Jake Browning, QB, Washington – It was a bump in the road for Browning. He will be better for it though. His numbers still are as impressive as anyone in the nation.
3. Donnel Pumphrey, RB, San Diego State – He is going to be the most decorated runner in college football history.
2. Jabrill Peppers, LB, Michigan – Harbaugh is still doing everything he can to ensure his placement here.
1. Lamar Jackson, QB, Louisville – He made it look good. Having a flair for the dramatic, like Johnny Manziel, is good enough to win.
College Football Playoff Projections
Chik-fil-A Peach Bowl: Louisville over Michigan
Rose Bowl: Ohio State over USC
Fiesta Bowl: Washington State over Oklahoma
Sugar Bowl: LSU over Western Michigan
College Football Playoff Semifinal #1 (Orange Bowl): Alabama over Washington
CFB Playoff Semifinal #2 (Cotton Bowl): Wisconsin over Clemson
National Championship Game

: Alabama over Wisconsin
What did you think of week 11's craziness? Comment below…