One year ago, the Baltimore Ravens were the talented second-best team in the AFC North who had a shaky quarterback and an old defense. One year ago, Colin Kaepernick was a second-string quarterback who could maybe be used on designed draws to confuse defenses. One year ago, Russell Wilson was an undersized backup on a team that many thought had lost their mind when they drafted Bruce Irvin at #15 in the 2012 NFL Draft. One year ago, onlookers would have laughed at the notion that Andrew Luck could win 11 games for the Colts, that RG III would give the Redskins their first division title in the new millennium, and that Peyton Manning would not only stay healthy, but lead the league in wins. One year ago, Sean Payton was a bad guy, Aaron Hernandez was a good guy, and Adrian Peterson would never be the same guy. One year ago, the prospect of Ben Affleck directing a Best Picture was as insane as the prospect of two brothers squaring off against each other in the Super Bowl. But neither was as laughable as the idea that there would be a 34-minute power outage during that Super Bowl.
Oh, how things have changed.
If all those crazy things could happen in one year (albeit, the same year that the Mayans declared the world would end), how is it possible to predict all the events of the upcoming season? The only way to top 2012's insanity would be if EJ Manuel leads the Bills to their first division title since the Marv Levy era, Tim Tebow is accused of murdering other players as part of a bounty scandal, and M. Night Shyamalan directs the Best Picture winner (somehow this year I don't see After Earth getting a lot of nominations). I'm not quite ready to predict any of those things, but I am ready for some football! Here are some predictions that will probably make me look stupid in December.
New England Patriots (11-5)
In lots of other years, this would finally be the season where New England is finally unable to retain its division crown. Let's look at the evidence: Offseason scandal, complete purging of the receiving corps, 37-year-old quarterback, mediocre drafts the past few years, and major injury histories on both sides. Sadly for non-Patriot fans, the AFC East is simply too weak to compete seriously. I also see some good defensive contributions coming from a healthy Aqib Talib, rookie Jamie Collins, and Devin McCourtey. I think the Bills will improve with the E.J.-C.J. combination, and if Mario Williams and Jairus Byrd can stay healthy, the defense is sneaky good. Add a soft December schedule, and Buffalo could certainly be in contention (at least more so than the 'Fins and the Jets), but New England still has too much experience to abdicate its position at the top.
Crazy Prediction: Mike Wallace will be a bust, but Bilal Powell will rush for 1,000+ yards.
Cincinnati Bengals (12-4)
Pittsburgh Steelers (7-9)
Lots of people love Cincinnati, and for good reason: Superb defense, improved, stable offense, and of yeah, they drafted this guy. Actually, this Bengals' team is so loaded that according to some reports, they are having trouble finding open roster spots for their draft picks. We should naturally wonder whether the Bengals are being overhyped, but unlike the 2010 Texans or 2011 Bills, Cincinnati has considerable playoff experience the last several years. I am all in on this team. Meanwhile, you're crazy if you think the defending champs will completely fold just because they lost half their roster. As for Shittsburgh, usually they recover pretty strongly after missing the playoffs (such as their Super Bowl appearance in 2010), but this team is old, has a horrible offensive line, and can't run the ball or stay healthy. I would love to pick the Browns as an under-the-radar flyer, but not in this division.
Crazy Prediction: Flacco will have a better year statistically than 2012, and Josh Gordon will lead the division in receiving yards.
Jacksonville Jaguars (4-12)
Houston is still loaded with talent, and even if Arian Foster or Andre Johnson are not at full capacity, Ben Tate and DeAndre Hopkins feel like more-than-adequate role players. Sure, they crumbled in December last year, but they are one of the few teams in football that can boast a top ten offense and defense. A healthier Brian Cushing and Jonathan Joseph combined with J.J. Watt (along with Ed Reed, even if he's sidelined on the bench) is not a defense anyone would look forward to facing. Not unlike the AFC East, there's really no strong competition anywhere else in the division. Indianapolis' luck last season (no pun intended) is unsustainable, and while it's hard to imagine the Jaguars being worse than their two-win campaign last season, Gus Bradley will bring stability and hope to a franchise primed for some good 2014 draft picks.
Crazy Prediction: The Jaguars will be a top-ten defense statistically, and no Colt will have more rushing yards than Arian Foster or Ben Tate.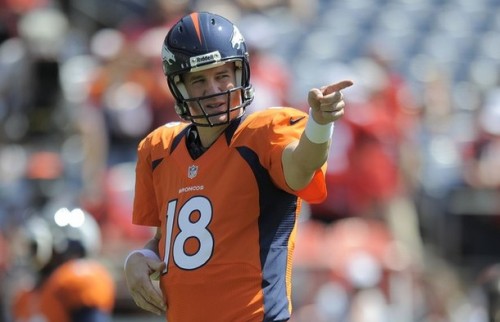 Kansas City Chiefs (10-6)*
San Diego Chargers (6-10)
The Broncos benefited from an easy schedule last year, so predicting 13 wins is a bit of a stretch. Add Von Miller's suspension, the loss of Elvis Dumervil, Champ Bailey's foot injury, the Chief's improvement, and Peyton Manning's 37-year-old body, and suddenly 11 wins may be generous. But on paper, the Broncos may be the AFC's most talented team, and a soft September and October schedule may make Miller's absence sting less. The running game will be a bit of a question, but the 2012 Broncos lacked an 800-yard or 5-TD rusher, so Montee Ball's presence should be nothing but an asset. Kansas City is bound for improvement, and should the roster stay healthy, 10 wins is completely reasonable. As for the other two teams in the division – well, at least they'll be four automatic wins for Denver and Kansas City.
Crazy Prediction: Peyton Manning will star in more commercials than combined passing touchdowns by Raiders quarterbacks.
Philadelphia Eagles (10-6)
Dallas Cowboys (7-9)
Washington Redskins (6-10)
Here's where things get interesting. Even if the Redskins enter the season healthy, they likely won't stay healthy for very long. The 2012 squad benefited from remarkably few turnovers, and a late season surge defined by close wins, RG III's legs, and collapses by the other three NFC East teams. The Cowboys are the easiest team in football to predict (undeniable talent, close wins and losses, 6-4 start ending in a 1-5 finish and no playoffs), while the Giants are the toughest team in football to predict. I say 8-8 for the G Men because JPP and Justin Tuck cannot survive a 16-game schedule anymore, and they boast a QB who, despite two Super Bowl rings, has stat lines likethis in December games that matter. That leaves . . . you guessed it, Chip Kelly's Philadelphia Ducks who have a great offensive line when healthy, were unlucky with turnovers last year, and have the most exciting, intriguing head coach in football since, well, this guy. Hey, maybe I'm nuts, but after watching Kelly these last four years, I cannot wait to see what he can bring to the NFL.
Crazy Prediction: Michael Vick will start all 16 games, the Eagles will go 5-0 in December, and Rex Grossman is good enough to be a starter somewhere.
The 2012 Bears collapsed after a 7-1 start, and by my own super-scientificanalysis, the 2012 Lions were the 6th most unlucky team in NFL history. Meanwhile, the Vikings experienced one of the most unlikely comeback seasons by a player ever, and the Packers managed 11 wins without a 500-yard rusher. Last year, it was clear who the haves and the have-nots were in the NFC North. This year, the Lions rebound from a season where they outgained their opponents in 12 games, and take their first division crown in two decades. As for the Packers, Aaron Rodgers is still Aaron Rodgers, but 7 of their 8 road games come against teams with winning records (the one game that doesn't is a Thanksgiving matchup in Detroit). The schedule is also a problem for the Vikings, whose final four road opponents are the Seahawks, Packers, Ravens, and Bengals. The aging Bears defense will somehow have to account for the nine (nine!) defensive TDs scored last season, and they'll have to do it without the defensive-minded coach that once took them to the Super Bowl.
Crazy Prediction: Adrian Peterson does not reach 1,500 rushing yards and the Packers do not break their streak of 43 consecutive regular season games with a 100 yard rusher.
New Orleans Saints (10-6)*
Tampa Bay Buccaneers (5-11)
Matt Ryan and the Falcons are like the Peyton Manning and the Colts, circa 1999-2004: Excellent regular season, sensation passing game, improving defense, little playoff success. Last year, they were finally able to win a playoff game (as well as narrowly avoid the biggest fourth quarter collapse in playoff history). They come into the season with as much confidence as anyone in the NFC, with Steven Jackson hoping to revive a struggling running game, and Osi Umenyiora and rookie Desmond Trufant leading a perennially strong defensive unit (minus Dunta Robinson and John Abraham). While they rarely look dominant, their knack for winning close games is better than any team in the league right now – that matters. As for the rest of the division, Sean Payton's return is bound to help the Saints (we'll get a good indication of who is at the top of the division after this Sunday's Falcons-Saints matchup) and Carolina has to break out one of these years (I'm guessing we're still one or two years removed from that season). Revis' presence on the Bucs has excited fans, but that hasn't changed the fact that Josh Freeman still sucks (2 TDs, 9 Ints in the final three games of '12).
Crazy Prediction: Darren Sproles will lead the division in receptions and Trufant will be a superb player for the Falcons D.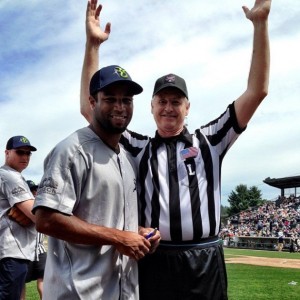 San Francisco 49ers (10-6)*
The NFC West is the league's toughest division, so even predicting .500 seasons for the Cardinals and Rams should be considered a compliment. But in reality (and in spite of the upgrades both Arizona and St. Louis have made in the offseason and draft), this division is about the two west coast foes whose two matchups (September 15 and December 8) are circled on every NFL fan's calendar. The Seahawks schedule feels a little easier (games against the Vikings and Giants instead of the Packers and Redskins, four of the final six at home) and I have a little more confidence in Russell Wilson making it through a 16 game schedule than Colin Kaepernick, who will be making only his 11th start this weekend. Similarly, I trust a running game of Marshawn Lynch, Robert Turbin and Christine Michael more than Frank Gore and the injured Kendall Hunter and LaMichael James. The defenses even out essentially. These feel like the NFC's top two teams, although one wonders how well any of the NFC West will perform in the playoffs after taking serious beatings from one another over the course of the regular season.
Crazy Prediction: Carson Palmer will throw for 4,000 yards and Steven Hauschka will lead the NFL in field goals made.
New England over Kansas City
San Francisco over Detroit
Philadelphia over New Orleans
Seattle over San Francisco
Atlanta over Philadelphia
Super Bowl XLVIII Prediction: Denver 30, Atlanta 27
Offensive Player of the Year: Payton Manning
Defensive Player of the Year: Richard Sherman
Offensive Rookie of the Year: E.J. Manuel
Defensive Rookie of the Year: Desmond Trufant
Coach of the Year: Chip Kelly
Comeback Player of the Year: Carson Palmer
Thoughts? Disagreements? Not enough Patriots bias? (I wouldn't disagree with that). Write to me below.