Since the last out was made in the World Series and the Boston Red Sox were crowned champions last October, one of the biggest discussions in baseball circles has been who, if anyone, will be elected to the Baseball Hall of Fame this year. It is one of the most stacked ballots ever with a great list of players who are eligible for the first time. Also, last year was a rare year where no one was elected due partially to the lack of "no brainers" being around and some of the main players in the "Steroid Era" stacking the ballot. Such players as Barry Bonds, Roger Clemens, Mark McGwire, and Sammy Sosa are still showing up on the ballot but not getting elected anytime soon. There are 36 players on the ballot this year with many of them showing up for the only time this year. Who will end up getting in? My answer: I have no idea. It is one of the most unpredictable processes in sports. However, if I had a vote, here is what my ballot will look like.
Before I get to my ballot, here is what the voting process looks like for those that don't know. Baseball writers selected to be voters can vote for anywhere between zero and ten players for the Hall of Fame. A player is not eligible until they have been retired for 5 years. For a player to make the Hall, they must receive 75% of the vote. For a player to stay on the ballot for the next year, they must receive at least 5% of the vote. A player can only be on the ballot for 15 years before they are automatically removed. This means that, unlike the Football Hall of Fame which has a minimum and maximum to be elected, baseball can elect no one (like last year) or a dozen. It all depends on how the vote goes.
There are a lot of questions being raised regarding this process. Some writers with a vote are said to be out of touch with today's game and the rise of the analytical statistic. People say some voters refuse to vote for anyone on the first ballot out of principle. It is reasons like this that no one has ever been unanimously voted in. However, there are a lot of voters who never thought they would max out their ballot that are voting for 10 guys this year because there are so may worthy people. Another controversy with current voting, like I already mentioned, is the "Steroid Era." Should players with inflated stats from PED use be in the Hall? One voter has already revealed that they refuse and will continue to refuse to vote for anyone to play during the Steroid Era. Another voter has said he won't vote for anyone where PED use is admitted or highly likely. Others say vote for them if they were Hall of Fame worthy before their alleged use. Still others say vote them in no matter what they did. All this shapes who will get in, but to what extent will it keep people out?
Before I show who I am voting for, let's have some fun and look at some of the players that are on the ballot this year for, barring some unforeseeable miracle, the only year because they won't reach that magical 5% of the vote. Some of these I was very surprised to know they have actually been out of the game for 5 years.
First (and only) Ballot Guys
* = shot at a 2nd ballot
+ = deserves a 2nd ballot
Kenny Rogers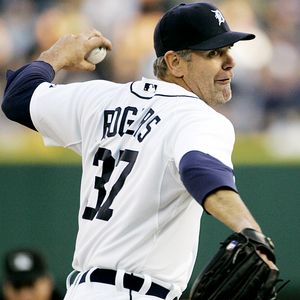 Luis Gonzalez*+
Moises Alou*
Ray Durham
Hideo Nomo+
Richie Sexson
Paul Lo Duca
Armando Benitez
Mike Timlin+
Sean Casey
Jacque Jones
Eric Gagne+
J.T. Snow
Todd Jones
That was fun.
Jack Morris (15th and final year)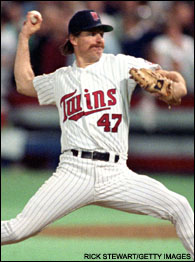 Mark McGwire (8th)
Sammy Sosa (2nd)
Mike Mussina (1st)
Jeff Kent (1st)
1. Greg Maddux (1st)
Many people have said if anyone deserves to be a unanimous selection, it is Greg Maddux. (However, we already know he won't because of the writer who won't vote for the PED era, which apparently includes a guy like Maddux.) He is one of the greatest pitchers of all time, putting up insane numbers that are even greater when you realize he did in during the 5-man rotation and the Steroid Era. Maddux was the anti-steroid, using command and finesse in an era about power and strength. He is the type of player that the Hall of Fame is for.
2. Tom Glavine (1st)
How cool is it that Maddux and Glavine, the faces of a dynasty that dominated the 90's with their finesse and control pitching, will enter the Hall of Fame the same year? It's a shame Smoltz held on for one extra year so he can't enter with them. Many people are saying Glavine might be the last 300 game winner, which I sure hope isn't true.
3. Barry Bonds (2nd)
Okay, here is my stance on the PED guys. They cheated. We know they cheated. Whether they were caught or not, we know they did it. They way I see it, are they the only baseball players that ever cheated? No way! Ty Cobb was known as the dirtiest player of all time that would slide with his spikes up and throw dirt in fielders faces as they tried to catch the ball. Gaylord Perry, among others, were known (and somewhat admired) for illegally doctoring the baseball. Did their cheating keep them out of the Hall? No way! In fact, I have heard so many conversations with the "Old School" guys talking with great fondness about guys like Perry throwing his famous spitball all the time. It's as if that's an acceptable form of cheating since it's the way the game has always been played. Sure, PED's have a greater effect on inflating statistics than a spitball, but cheating is cheating. The comment I agree with the most that I have heard about this is from the great documentarian Ken Burns. He said once that the Hall of Fame is about the history of the game. It's about stories. How can you have a Hall of Fame telling the story of the game's greats and leave out an entire era? Did Bonds cheat? Probably. Was he caught? No, and he still hasn't. However, he still hit more home runs than any other player in history and was the most feared hitter for an era. Teams changed the way they played the game because Bonds was in the lineup. He deserves to be in the Hall of Fame.
4. Roger Clemens (2nd)
He has a similar argument to Bonds as to why he deserves to be here. He won more Cy Young Awards than anybody and dominated for every team he pitched for. Clemens was a natural, playing the game the exact opposite way Maddux did. Where Maddux studied every detail of the game, Clemens for the last five seasons of his career showed up halfway through the season with little prep and became one of the best pitchers in the league. He could probably still pitch effectively today.
5. Edgar Martinez (5th)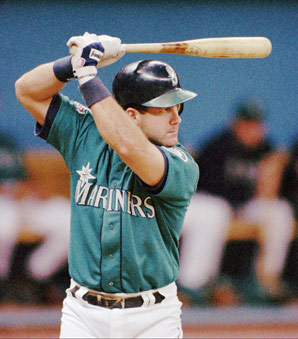 I'm a Mariner fan, however I am completely unbiased with this vote. Edgar was one of the best hitters in the league for a decade. He was the definition of a professional hitter, which is actually what is keeping him out of the Hall. No full-time designated hitter has ever been elected. There are people that still don't consider the DH a legitimate position in baseball just like they don't like to vote for closers. Edgar was the best at his position of all time. They even named the "DH of the Year" award after him. Put him in the Hall of Fame.
6. Rafael Palmeiro (4th)
This will probably be his last year on the ballot as his support last year dwindled down to 8%. His support is much less than others in the Steroid Era because he actually tested positive for steroids during his playing career. His career was actually ended by that positive test. However, Palmeiro never had the obvious steroid bulk like Bonds and McGwire did, which makes you question for how much of his career he took them. Regardless, he is one of the only players in baseball history with 3000 hits and 500 home runs. That is an impressive resume no matter what you may have lied about taking at the end. He was as natural of a hitter from the left side as Edgar was from the right side.
7. Frank Thomas (1st)
The Big Hurt was one of the best all-around hitters throughout the 90's, and his best years were cut short due to the baseball strike. If it's even possible to have three sure-fire first ballot Hall of Famers, we do this year with Maddux, Glavine, and Thomas.
8. Mike Piazza (2nd)
He was the best offensive catcher of all time according to the stats. Who cares if he was one of worst defensive catchers of all time. His power changed the game.
9. Craig Biggio (2nd)
The highest vote-getter last year definitely has a good chance of getting in this year, but it is in question with the crowded ballot. This catcher/2nd baseman/centerfielder was the face of the Houston Astros for a long time. During that time, he became the only player in baseball history with 3000 hits, 250 home runs, and 600 doubles. At a position where offense like that is rare (he was primarily the 2nd baseman), he was the gold standard throughout the 90's.
10. Curt Schilling (2nd)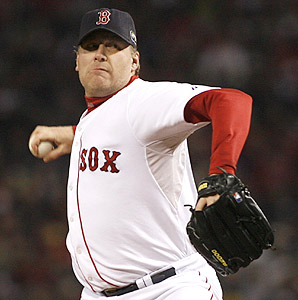 Although the stats aren't as dominant as others, Schilling passes the eye test. I know this is a similar argument people have for Jack Morris, but Schilling was my era. He was one of the most dominant pitchers for a decade for three different teams. He also showed up big when the light was brightest. Co-MVP of the 2001 World Series, the Bloody Sock in 2004. One of the things that hampered some of his stats was the work stoppage in 94-95 and the lingering injury throughout the 2005 season because he pitched through the bloody sock. Curt and the bloody sock deserved to be in the Hall for being the most clutch pitcher of the last 20 years.
So that's my ballot. Who actually gets in? My prediction is Maddux, Glavine, Thomas, and maybe Biggio. What would your ballot look like? Would you vote for alleged PED users? Let's debate!