It's that magical time of year again. I firmly believe that baseball Opening Day should be a national holiday so everyone can spend the day enjoying our National Pastime. With the long grind of 162 games ahead of them, every team is optimistic that this year could be the year. This off-season, big names were on the move while young top prospects won jobs on the big league rosters. How will the final standings look when October comes around? I know I'm a little late getting these predictions out, but they were all made before the season started.
Let's start our look at the 2014 MLB season by previewing the most unpredictable division in all of baseball: the AL East. For the last few years, this division has had the ability from year to year to legitimately be in any standings order at season's end. This is shown by how wrong
my predictions
were last year. However, one thing I had right was that every team in the division would be good, predicting that the cellar team would still be within 5-10 games of .500 (Blue Jays finished 14 games under .500). This year is no different. Every team has seemed to re-load for yet another run with one of the greatest players of our generation making his final tour around the league. Let's see what could happen.
1. New York Yankees
The pinstripes always have to be in the mix. Last year, they did finish in fourth, but were still 8 games over .500 with a seriously depleted roster due to injuries. They went out in free-angency and made some big splashes. Even though the biggest splash of the off-season was Robinson Cano leaving the pinstripes, the Yankees added one of the top lead-off hitters in baseball in Jacoby Ellsbury from the rival Red Sox, possibly the most productive offensive catcher of the last decade in Brian McCann, a player so clutch it only makes sense he's a Yankee in Carlos Beltran, and the biggest name on the pitching market in Masahiro Tanaka who is starting the season as their 4th starter. They spent more money this off-season than the Rays will spend over the next 5 years. Add that to the fact that they now have a healthy Mark Teixeira and Derek Jeter, and this team has to be the favorite in the division. Now last year I predicted the Blue Jays would win the division because of the huge blockbuster deals they made over the off-season. That didn't quite work out, but the Yankees are not the Blue Jays. They have an experienced coach in Joe Girardi, and all the pieces they added are proven veterans that know what it means to win. I expect them to rise to the top and send Derek Jeter out in style.
2. Boston Red Sox
There is a constant debate in baseball right now between the old school and new school thinkers. Can baseball be managed and predicted strictly on statistics, or are things like chemistry and attitude still valuable? No argument for the old school way of thinking would be more convincing than the 2013 Boston Red Sox. In 2012, they were in the cellar and sold off most of their top players. Last year, they got a new manager, added a couple "clubhouse" guys (a term sabermatricians cringe at), and went from worst in the division to winning it all. A sabermatrician would say this doesn't make sense. However, it happened. This year, it's a very similar roster. They lost Ellsbury and are replacing him with a rookie (Jackie Bradley, Jr.) and a veteran making attempting a comeback (Grady Sizemore). However, as long as they have guys like David Ortiz and Dustin Pedroia leading the way (without a manger that gets in their way), they will be at the top of the league. Them being in second has less to with what they lost and more to do with what the Yankees gained. The Yankees ad Red Sox back on top ... all is right in the world.
3. Baltimore Orioles
I bet the Orioles wish they could switch divisions. Baltimore has been one of the strongest teams to not go anywhere over the last couple years. Sharing a division with the Yankees, Red Sox, and Rays makes this an impossible division to break through in. They have a great young core led by Chris Davis, Matt Wieters, and Manny Machado. They made some big moves in free angency, adding Nelson Cruz and Ubaldo Jimenez. They have a great chance of making a splash. They would be poised for a deep playoff run if they didn't have to play in this division. They will instead be fighting for a wild card spot and fall just a little short.
4. Tampa Bay Rays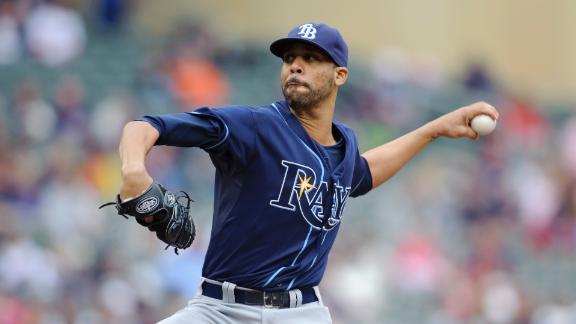 In another case of "How the heck do they do what they do," we the Fighting Joe Madden's. This team has looked very similar to teams that usually are found in the cellars of divisions. They have solid pitching, but the offense is average at best, embarrassing at worst. No team has been no hit more recently than the Rays. With the shopping spree of the Yankees and the emergence of the Orioles, this Wild Card team from last year will drop back a couple notches in the best division in baseball.
5. Toronto Blue Jays
When thinking about the biggest additions and subtractions of each team entering this season, the biggest subtraction I could think of for the Blue Jays is expectations. Last year, they went all in, buying and trading for All Stars and Cy Young candidates to build a superpower to rival their divisional foes. Well, that did not pan out as some players were injured while others simply underwhelmed. The biggest highlight of the season was discovering that they have the
biggest character
in all of baseball. Yes,
he is Japanese
. They didn't really lose any of the major players, but this year the expectations are just much lower. With the strength of everyone else in the division, this is the consensus cellar dweller of the AL East. However, would it greatly surprise anyone if they made a run at a wild card spot. Not at all.
There is the AL East. Stay tuned for more.