If you were in Las Vegas last week and put money on Bill Nye, false fire alarms, and My Cousin Vinny as playing significant roles in the increasingly elaborate storyline leading up to this year's Super Bowl, then congratulations – your prescience is so amazing that you probably don't need a Super Bowl 49 preview column like this one to figure out which team will emerge victorious. But for the rest of us mere mortals who predicted the Super Bowl 49 storylines would principally revolve around Pete Carroll's rematch with Robert Craft, Brandon Browner's rematch with the Legion of Boom, and whether the team of the 2010s is better than the team of the 2000s – you know, the normal kind of football storylines going into a championship game – then obviously you don't understand the NFL, the National Fallacy League.
It's been 21 weeks since the opening week of the 2014 season, but it feels like it has been about 21 years. Back then, in August, the biggest questions being asked by football fans were mostly "When will Johnny Football take over as starter for the Browns?" or "What team, if any, will pick up Michael Sam?" or "Can the league finally adopt a firm policy about concussions/pass interference calls/PATs?" Since then, the league has suffered tremendous public relations fiascos ranging from Ray Rice to Adrian Peterson to Ray McDonald to (yes, somewhat predictably) Johnny Manziel. None of these situations has shed positive light on the tenure of Roger Goodell, who has come across as much corrupt and incompetent as staggeringly hypocritical. Meanwhile, we're stuck with two teams in the title game, one of which got caught illegally deflating footballs which, according to some, isn't as uncommon an incidence in the NFL as actually getting caught doing it. And while the other team may not have deflated footballs, they haven't exactly been immune to bending the rules themselves.
It's a dog-eat-world out there and as Jeremy Irons says in Margin Call, there are only three ways of making a living in the professional football business: Being first, being smarter, or cheating. Let's assume that the New England Patriots and Seattle Seahawks are spectacularly guilty of the last two. That only leaves being first (as in first place, not the way Irons actually means it in the movie, as in "first to liquidate all the firm's shares en route to the systematic collapse of Wall Street.") As the defending champs, the Seahawks are still technically first. The Patriots have finished first three times, but the last time they actually hoisted the Lombardi Trophy, George W. Bush had just won reelection, no one had ever heard of Kim Kardashian, Kanye West, Mark Zuckerberg or YouTube, and the city of New Orleans was intact and had a quarterback named Aaron Brooks. Hell, the last time the Patriots won the Super Bowl, the most promising athletic hopes for the city of Seattle lay in the hands of the Rashard Lewis/Ray Allen-led Sonics.
So we get the point: If the Patriots are old money, the Seahawks are nouveau riche. If New England is East Egg, then Seattle is West Egg. If Tom Brady is Cal Hockley in Titanic, then Russell Wilson is Jack Dawson (shout out to bros from Wisconsin!) Shall we keep going? In 1964, the New York Yankees, led by 32-year-old Mickey Mantle and 35-year-old Whitey Ford, were vying for their 10th title in the Casey Stengel era, but lost to the upstart St. Louis Cardinals, a team led by 28-year-old Bob Gibson and 25-year-old Lou Brock – a team which would win two of the next four World Series. The Yankees' Golden era ended with that defeat. In 1989, the Los Angeles Lakers were playing for their 6th championship in the 1980s, but after the Bad Boy Pistons stunned them in a 4-0 series sweep, the Kareem/Magic Lakers dynasty collapsed, while Detroit won two straight titles. From 1981 to 1996, the NFC won 16 straight Super Bowls; since John Elway's shocking upset of Brett Favre's Packers in Super Bowl 32, the NFC has gone 7-10.
The problem with that analogy is that the Yankees, Lakers and the NFC did not experience a ten-year stretch without a title like the 2014 Patriots have. That would mean that they would no longer be considered dynasties. Therefore, can we all just agree right now that the Patriots are no longer a dynasty? They certainly were in the era of Rodney Harrison, Ty Law, and Mike Vrabel. But outside of Tom Brady, Big Vince, and Coach Belichick's hoodies, there are no real remnants from those Super Bowl championships (whether we should have won somewhere between two and five Super Bowls since 2004 is another debate entirely.) But at the same time, are we not being premature by declaring the Seahawks already this decade's dynasty? Sure they annihilated Peyton Manning in the playoffs last year, but so did Billy Volek and Jay Fiedler.
This is a long, roundabout way of saying one of two things: Either we're overestimating the greatness of both of these teams since neither are technically dynasties at this point, or Super Bowl 49 will go a very long way in how the legacies of the Patriots and the Seahawks are remembered. If the Patriots win, their title of the "Team of the 2000s" holds up to scrutiny (at least for now). And if the Seahawks win, that signifies that the torch has been officially passed; at this point, they've pretty much owned every other NFL franchise/great quarterback since the beginning of the Carroll/DangerRuss era (with the exceptions of Andrew Luck, Joe Flacco, and every team they actually have to go on the road to play). If Tom Brady wins, he will join Terry Bradshaw and Joe Montana as the only quarterbacks with four Super Bowl rings. If Russell Wilson wins, he will join the immortal, illustrious company of such luminaries as Eli Manning, Ben Roethlisberger, and Jim Plunkett.
(OK, OK. I told myself I would limit my cheapshots directed at the Seahawks, but I couldn't resist that one. But hey, I just wrote three paragraphs essentially outlining why the Patriots are overrated in the public consciousness, so give me a break.)
But in the midst of DeflateGate, there are other factors too. If the Patriots win, people will remember the 2014 as one that should have an asterisk next to their name. If the Pats lose, it will only reaffirm the notion that Belichick cannot win without cheating. And the repercussions of DeflateGate aren't too rosy for the Seahawks either; even if Seattle wins, their victory will be somewhat tarnished by the histrionics directed disproportionally at the Patriots in the weeks leading up to the game, inevitably adding an atypical "lack of focus" and "dysfunction" to how the Patriots will have played. Meanwhile, Seattle fans should be very nervous when they recall the times overwhelming public scrutiny has drawn the ire of Belichick/Brady; after SpyGate in 2007, they were 39 seconds away from a 19-0 season, and after losing 41-14 to Kansas City this season, it was "on to Cincinnati" and a virtual resurrection of the 2007 team's anger and relentless focus.
As a Patriots fan and a Seahawks hater, this game represents everything. If the Pats lose, there will be no worse feeling in the world – except maybe knowing that we've now lost three Super Bowls in the Brady/Belichick era, while the Royals and Ducks just recently blew their most realistic shots at a title for the foreseeable future. Yikes. If the Patriots win, that's great and wonderful and validates everything I love about this team. But that I already know. It's like how psychologists say that it takes at least six positive experiences to outweigh the emotional damage of a single negative experience. Being a sports fan, we all know it really takes more like twenty or thirty.
I watch these teams a lot and know their strengths and weaknesses. I am not a football coach, but their wins and losses have affected me in unusually impactful ways. As someone originally from Oregon, I get real tired of answering the question of why I hate the Seahawks. The answer? I don't really know. I started hating them in the Holmgren/Kitna era (you can read a more detailed history from my Super Bowl preview from last year). To me, they're like the little brother that quietly gets everything he wants because he knows how to manipulate Mom and Dad. "Oh, playing in the same division as John Elway and Rich Gannon is too tough? Then let's move you to the NFC West – at precisely the time the Rams and 49ers enter a dormant period." "Oh, you got hazed over in the Super Bowl because of bad officials? Let's give you an unbelievable stretch of luck, like this or this or getting a home playoff game with a 7-9 record and doing this. Oh, we'll also make sure you don't get any more bad calls for many years to come, so everyone just turn the other cheek when this or this happens." "Don't like playing on the road? Let's give you an endless supply of Microsoft money and make our stadium unreasonably difficult to play in. Then all you have to do is win against heavyweights like Arizona and St. Louis! And feel free to be total douchebags while you're at it." If you're a Breaking Bad fan, the Seahawks are like Jesse Pinkman's little brother in that one episode from the first season.
Anyway, where was I? Oh yes, I know these two teams' strengths and weaknesses. The Patriots' strengths are: Playing a ridiculously tough schedule (Denver, Baltimore, Indy twice, Green Bay, Detroit, San Diego, Kansas City, Buffalo twice, and Cincinnati – that's 11 games against teams above .500 for those of you counting at home); playing virtually unstoppable offensive football since the debacle in Kansas City on September 29 (12-2 since then; the two losses being a five-point defeat at Lambeau and a meaningless Week 17 loss to the Bills without Brady, Edelman, or Gronk); the best secondary in the AFC; the best tight end in the history of football; and the best third-down offense I've ever seen in person.
The Seahawks' strengths: Playing unreal defense down the stretch (39 points surrendered in their final six games); having the best rushing offense in the league (Beast Mode and Wilson combining for over 2,100 yards on the ground); playing an OK schedule (9 games versus above-.500 opponents, although a few of those games came against Ryan Lindley, Mark Sanchez, and injured Aaron Rodgers); finding ways to remain competitive in games even when their offense chooses to not show up (see the Dallas, San Diego, and Green Bay games); and being unbeatable at home – except, of course, to the one team that beat them at Qwest Field this year. That's right, the same team that missed advancing to Seattle by this much.
Both teams have similar weaknesses: When the opposing team controls the ball on the ground, converts key third downs, and when the offense is out of rhythm. The Patriots are 12-0 when scoring 23 or more points; the Seahawks are 1-4 when allowing 24 or more points. Seattle is 13-0 when allowing under 22 points; New England is 2-4 when they score less than 22. The Patriots' offensive line has occasionally been a sore point during the season (as evidenced by the pitiful ground performance against the Ravens) while injuries to Brandon Mebane and Jordan Hill have made the Seahawks interior defensive line vulnerable more than one time. Both teams needed miraculous comeback performances this season that involved trickery and downright luck (the Patriots' recovered fumbles vs. Baltimore, the Seahawks' onside kick and two-point conversion vs. Green Bay). It's more than fair to say that the Seahawks haven't seen an offense like the Patriots, while the Patriots haven't seen a defense like the Seahawks.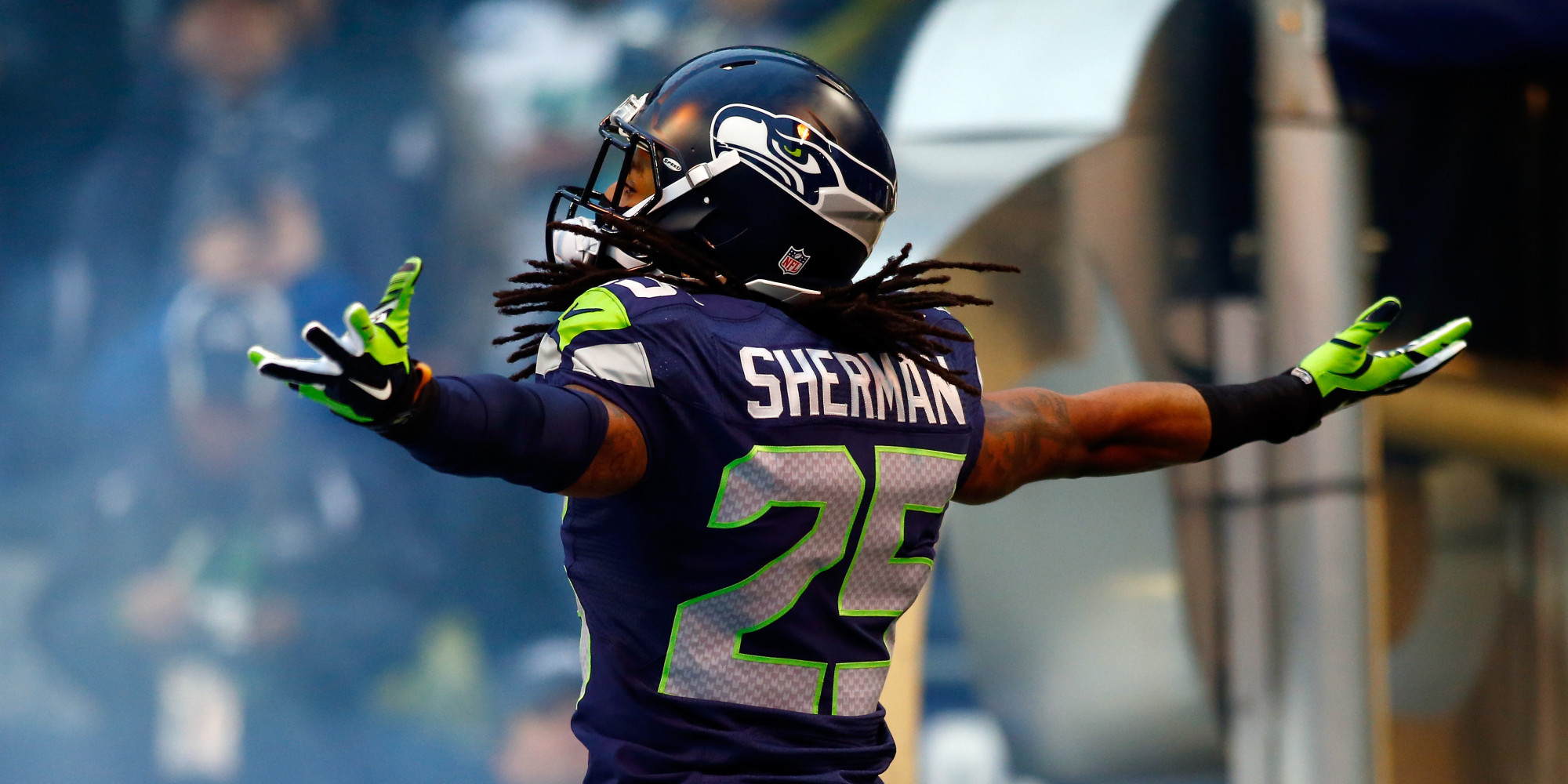 In terms of player matchups: The key one will be Gronk versus Kam Chancellor, but what interests me more is how Seattle's lengthy and physical secondary (with the questionable health of Sherman and Earl Thomas) will have to find ways to stop Brady's near-nondefensible short seam routes to Edelman, Vereen, and Amendola. This was a secondary engineered to stop Demaryius Thomas and Randall Cobb, not receivers like Edelman. No, LaGarrette Blount probably won't tear up Seattle like he did to Indianapolis, but we know that Belichick won't hesitate from abandoning the run entirely, as he did against Baltimore (and as Mike McCarthy and too many other coaches did not against Seattle). As for when the Seahawks have the ball, Lynch can certainly emulate the likes of Knowshon Moreno and Eddie Lacy and tear New England apart across the middle (in a game like this, Patriots fans undoubtedly miss Jerod Mayo). This offense certainly has no problems moving the ball after halftime and when facing double-digit deficits. But I suspect that Carroll will make no hesitations and be aggressive with Wilson, daring Revis and Browner to play safe in the secondary while he pulls the ball and scrambles downfield for big gains. The responsibility of stopping Wilson will fall on the hands of Chandler Jones, Dont'a Hightower, and particularly Jamie Collins, whose speed and agility make him a formidable defensive threat.
If there is a gameplan for the Patriots to imitate, it should be San Diego from the Chargers' Week Two win over Seattle. In that game, the Chargers didn't overly commit to the run, while Rivers picked up key third downs and Antonio Gates assaulted the secondary for three touchdown receptions. Lynch only had six carries, and San Diego controlled the ball for over 42 minutes. I think the Patriots will opt for a more aggressive game plan – especially in light of the Packers' epic meltdown as a result of being overly conservative – but ball control will be a key for New England, which worries me if the running game won't be overly emphasized.
And if there's a game for the Seahawks to watch closely, the best example would be the Ravens from three weeks ago. For the first 35 minutes of the game, Baltimore executed practically everything perfectly, with Justin Forsett having little difficulties gaining copious yards on the ground and Joe Flacco finding open receivers on long passes (and pass interference calls on his incompletions). We couldn't move the ball on the ground, and even our passing game was unstoppable in the second half, we had to resort to trick plays and gimmicks. We still could have blown that game in the final seconds. But hey, the Seahawks were dead-to-rights with five minutes left in the NFC Championship.
Well, let's just get the obligatory drama out of the way: I'm picking the Patriots. You know that. The question is why. Three central things stick out to me. First, I genuinely believe the Patriots have played far better competition than the Seahawks this season. The Seahawks played four good offenses all year –San Diego, Dallas, Denver, and Green Bay. They lost to San Diego and Dallas, had to go to overtime to beat Denver at home, and we all know what happened against the Packers two weeks ago. They looked vulnerable in all four the AFC games they played, while New England looked strong in its four NFC games (including its loss at Lambeau – the Packers' closest margin of victory at home all year). The AFC East was better than the NFC West (especially after Carson Palmer's injury) and overall, the AFC was a stronger conference than the NFC. Don't believe me? Look at the strength of schedule rankings. The eight toughest schedules in the league all belonged to AFC teams, including New England (Seattle still ranked a respectable 14th).
Secondly, I think playing on the road is a considerably tougher challenge for Seattle than it is for New England – especially considering that University of Phoenix Stadium should be much more conducive to the offenses. Sure, Seattle is the only team of the two to have won a game there this year; but once again, Ryan Lindley and Stepfan Taylor will sadly not be on the playing field this Sunday. Of the 17 receiving touchdowns Seattle gave up during the regular season, 11 of them came to tight ends. During the five games the Seahawks faced a top-10 tight end (by receiving yardage), that tight end averaged 13.6 yards per reception. Seahawk fans can make a case that Bobby Wagner's injury affected coverage in the middle of the field, but simply put, no one in the league has proven to successfully contain a healthy Rob Gronkowski. If this game was to be played in snowy New York City (like last year's Super Bowl should have been), there would be fewer concerns about offenses and moving the ball through the air. Playing indoor football favors New England; however, that does not eradicate the respect this Seattle defense obviously commands.
Finally, I think the Pats will emerge from the events of the past couple weeks with a renewed discipline, ferocity, and commitment to executing all phases of the game (if I'm sounding like Belichick, sorry). As for the Seahawks, there is a reason why so few NFL teams have proven capable of repeating as champions. Sure they've played hungry, agitated football for the last six months. Sure, they have something to prove (and believe me, DangerRuss wants that maxed contract extension). But for Tom Brady, the anger has lasted ten years, and in 2014, he was given everything he's been missing the last decade: A spectacular secondary, a healthy Gronkowski, a core of reliable receivers, and a reshuffled offensive line that makes the offense look very 2007-ish at times. When I saw that Vegas is favoring the Patriots by two points, I immediately felt sick to my stomach – I thought, "we're giving two points to the defending champions in the very same stadium where we blew our perfect season seven years ago?" But then I thought about all the adversity this Patriots team has faced all season – from those embarrassing losses to Miami and Kansas City, to losing Stevan Ridley and Jerod Mayo for the season, to that insane five-week stretch where we played the Broncos/Colts/Lions/Packers/Chargers, to being down 14 points at two different times in the Baltimore game. Then I thought of the adversity of being called cheaters and liars by the media and former players, and everyone doubting our abilities on the field. But then I remembered how Bill Belichick pulled a Mona Lisa Vito in his press conference, and basically kicked ass in front of all the haters by publicly defending his team. And then I remembered that in 2014, we always overcame that adversity and ended up playing like the best team in football, which is fully the way I expect this team to play Sunday. On to Seattle.
Prediction: Just as I predicted back in September... New England 31, Seattle 30.
Covert gambling references made by Al Michaels +4.5
Total musical scales covered by Idina Menzel +6.5
Number of people who will think that Idina Menzel is Johnny Manziel's sister +7 million
Odds that John Travolta will introduce Adele Dahzin Idina Menzel: 1000 to 1 (hey, it is Roger Goodell's league we're talking about)
Odds that Gronk's favorite movie is Frozen: 3 to 1
Odds that Belichick's favorite movie is My Cousin Vinny: 2 to 1
Odds that Roger Goodell's favorite movie is Inglourious Basterds: Even.