There are few things that are certain in sports, but one thing that has become a certainty over the last decade is that the St. Louis Cardinals are going to be really, really good. Will 2015 keep consistency in the NL Central?
Last Season
90-72, 1st in NL Central, Lost to Giants in NLCS
For the fourth straight year, the Cardinals made the playoffs. They have garnered a reputation of being fairly unstoppable in the postseason, but if there is anything more unstoppable than the Cardinals in the postseason, it's the Giants on an even numbered year in the postseason. So they lost out to the eventual champions, but looked geared up for another run in 2015.
2015 Additions / Subtractions The Cardinals front office had to deal with a very delicate situation this offseason. During the World Series, their 22 year old phenom and rightfielder of the future Oscar Taveras was killed in a car accident. They felt a need to honor the memory of their fallen teammate who had so much still in front of him, but they also needed to make accommodations for the hole his death left in their 2015 lineup. So in a year where their lineup looked set, they pulled off a blockbuster trade, bringing over Jason Heyward and Jordan Walden from the Braves, giving up starting pitcher Shelby Miller and prospects. On a personal side, this was a move the Cardinals didn't want to make. On a baseball side, they replaced one of baseball's top prospects with an established borderline All Star. By trading Miller, they took advantage of the stockpile of pitchers they have stored up in their system. So they gained Heyward without really losing anything.
Most Important Hitter
Matt Carpenter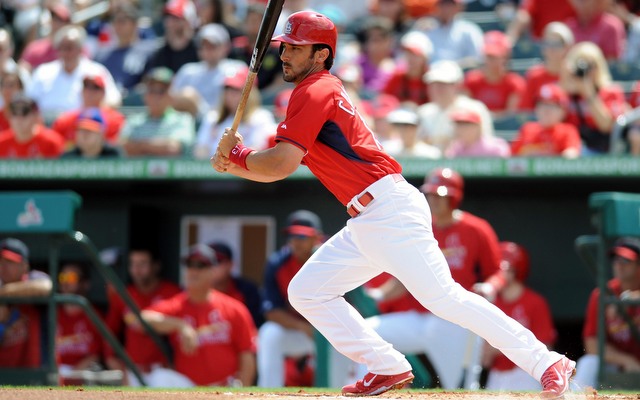 In 2013, Matt Carpenter burst on the scene as the latest Cardinal to come out of nowhere and be amazing. He hit .318 and was a 6.0 win player according to WAR. In 2014, they moved him to third base and his production dipped some. His batting average fell to .272 and his WAR total was cut in half. He went from being one of the best hitting middle infielders in the league to an average hitting third baseman with none of the traditional power we have come to expect from third basemen. The Cardinals need Carpenter to be the steady consistent hitter in that lineup that is always on base. He needs to return to his 2013 form for the Cardinals to be elite.
Most Important Pitcher
Michael Wacha
In any deep postseason run, there is always a young prospect or two that come out of nowhere to be impact players in the stretch run before their first full season in the league. Last year, it was Brandon Finnegan for the Royals and Joe Panik for the Giants. In 2013, it was Michael Wacha for the Cardinals. The way he pitched in the postseason had everybody buzzing, winning NLCS MVP. He was to become a two-headed monster with Adam Wainwright at the top of the rotation in 2014. I predicted him to win Rookie of the Year in the NL last year. His 2014 instead became an injury-shortened season that never lived up to any of the hype he had built for himself. Now that he is healthy, he is being counted on being that phenom that announced his presence with authority in 2013.
Player to Watch
Carlos Martinez
Like I said earlier, the amount of talent the Cardinals have stockpiled in their system should not be allowed. The pitcher that seems destined for a breakout year this time around is Carlos Martinez. Short in stature but mighty in power, many compare his stuff and style to recent Hall of Fame inductee Pedro Martinez. He spent most of the 2014 season in the bullpen, but he is competing for a rotation spot this year. If he makes the rotation, he could be one of the players everyone is talking about by mid-season.
Prediction
2nd in NL Central, WILD CARD, lose in NLDS
One certainty in baseball right now is the Cardinals are going to be very good. I have them just short of winning their division this year, but they do make the playoffs once again and cause trouble on their way through. The Cardinals right now remind me some of the Atlanta Braves teams of the 1990's. They were so good so often, it was easy to take them for granted. I am probably vastly underestimating them with this prediction. It will be interesting to see what happens as core pieces like Matt Holliday, Jhonny Peralta, Adam Wainwright, and Yadier Molina continue to age, what the front office decides to do. It looks like those decisions are still a couple years off. Right now, they will continue to be one of the consistently best teams in baseball.