Like the main character of my favorite film of this year, I became homesick for motion pictures in 2015. In spite of the wealth of publications and breathless critics proclaiming the usurping of film by television (a claim that has been made on a regular basis since the 1940s), I still ardently believe, or am just too rigid to concede otherwise, that even the most pedestrian movies are still better than the best TV shows. Yes, film may be a dying art (metaphorically as well as literally) and television may be in a "golden age" – whatever that means – but no television set, no matter how high-definition, can adequately replace the overwhelming totality of the theatergoing experience. And for those who vigorously assert that a 13-episode season contains infinitely more complex narrative depth than even the most intricately written two-hour film, I would counter that most often in drama as in life (as well as with talkative guests at parties), less is more.
Television remained a vast wasteland in 2015 (even in spite of a handful of watchable and engaging programs like Fargo, Better Call Saul and The Jinx), and while it is undeniable that many movies in 2015 might have been a wasteland too, at least their shorter running times enabled their experiences to be considerably less vast. Of course, the most successful movies in 2015 were fundamentally derivative – sequels, franchises, remakes, rip-offs, or in some cases, all of the above – but let the populist audiences eat their cake. At least films like Mad Max: Fury Road, Creed and Star Wars: The Force Awakens added much-needed diversity, youth, and an astute sense of political consciousness to their narratives rather than simply playing lazy old hat.
As for The Force Awakens, a film that outgrossed all six of its previous installments in the first week of its theatrical release: Say what you will about it (I personally enjoyed it more than I had ever expected to), but few can deny the powerful pull it had for young and old audiences alike, illustrating for better or for worse that commercial cinema still has that unique and inimitable ability to bring even the most disparate and dissimilar audiences together for the same cause. Even the snarky cynical Marxist in me can take comfort in knowing that, in most cases, for a film to earn that much money (much of which derives from repeat viewings), it has to have some markers of quality. Same with Jurassic World, Furious 7 and Spectre. No one went to those movies because they were bad – people didn't go to (or back to) Pan precisely because it was bad. And the millions of Chinese audiences who saw Avengers: Age of Ultron and Hunger Games: Mockingjay Part II had no other choice. It is wrong to blame movie audiences for all the bad movies released and the gradual erosion of taste and critical insight into media and storytelling. People are usually smart, and great movies are genius. Instead, let's blame television.
Total 2015 films seen:
61
"Thumbs up" percentage:
63.9 percent
Movies I haven't seen that could still potentially make this list:
The Revenant
, Son of Saul, The Lobster, Anomalisa, Mustang, Eden, 45 Years, Taxi, Jauja.
Movies I'm proud to say I didn't see:
Cinderella
, The Good Dinosaur, The Intern, Pixels, Fantastic Four, The Age of Adaline.
Overrated:
Room
, Me and Earl and the Dying Girl (two of the year's worst movies), What We Do In the Shadows, Bridge of Spies, Love and Mercy, Time Out of Mind, The Big Short, The Martian (It's probably appropriately rated, but nowhere near deserving of Best Picture).
Underrated:
The Walk
, Dope, Unfriended, Boulevard, Paper Towns (not good, but so much better than Me and Earl…), Blackhat, the first 20 minutes of Fifty Shades of Grey, and yes, Star Wars: The Force Awakens (That's for all the haters.)
Best Actor:
Jason Segel, The End of the Tour
Best Actress:
Saoirse Ronan, Brooklyn
Best Supporting Actor:
Liev Schreiber, Spotlight
Best Supporting Actress:
Alicia Vikander, Ex Machina
Honorable Mention
Carol (Todd Haynes)
Inside Out (Pete Docter)
It Follows (David Robert Mitchell)
Mad Max: Fury Road (George Miller)
Sicario (Denis Villeneuve)
The Top Ten
10. The Hateful Eight (Quentin Tarantino) If it feels obligatory putting another Tarantino film in my top ten list for the year, it is because his films represent the best aspects of motion pictures in general. He is a visionary auteur who self-consciously invokes his cinephilia both on-and-off the screen. His films are uncompromising, lengthy, full of circular and quirky inimitable characters and dialogue, and full of images that are as violent as they are inherently, romantically cinematic. The Hateful Eight is chalk full of Tarantino, from the setting (a self-reflexive western) to the actors (Samuel L. Jackson, Michael Madsen, and Tim Roth, among others) to the over-the-top levels of bloodshed in the film's second half. But even in spite of those recognizable components, the film still feels fresh and engaging, portraying characters we want to know more about, events that have greater significance than what we could possibly initially comprehend, and outrageous moments that no other director would have the audacity to remotely approach. In interviews, Tarantino has discussed how, in spite of being confided to a single interior space over a single 24-hour period, the story of The Hateful Eight is really the story of reconciliation after the Civil War between the North and the South. This reconciliation is anything but seamless and, as Tarantino's recent activism has demonstrated, neither has it been fully resolved in 2015. But the way it is depicted in The Hateful Eight – through a surprising degree of delicacy and thoughtfulness in the midst of vast bloodshed and dismembered body parts – is as idiosyncratic and improbable as its virtuosic filmmaker.
9. Tangerine (Sean Baker) One of those wonderful and woefully rare movies where, after the first ten minutes, it is safe to say you have no idea what you have gotten yourself into. As I wrote in my initial full-length review, the story is something of a cross between Paul Haggis' Crash and The Jerry Springer Show: Two transgendered hookers (Mya Taylor and Kitana Kiki Rodriguez) spend 24 hours before Christmas hanging out in a donut shop, confronting a cheating ex-boyfriend, performing music at a local bar, soliciting johns on Hollywood Boulevard, and enacting revenge on an adulteress. The movie is simultaneously funny, vulgar, sweet, gritty, trashy, and even surprisingly touching. It is also somewhat groundbreaking; director Baker shot the entire film on an iPhone 5s using nothing more than an anamorphic adapter blow up the images. The result is a crisp, detailed production that looks in no way as though it was filmed using a consumer device. The film is by no means a "message" picture, but it is difficult to believe that even the most skeptical and socially rigid audience member would not be won over by the charming and diverse cast. Ultimately, Tangerine is not about sex as much as it is about being an outsider, and how vital it is to combat the loneliness and isolation that comes with the territory of not belonging, with other people you can put your trust in. Of course, the film is much too fun and subversive to be caught up with anything approximating that preachy of a message, but deep down, Tangerine has its heart firmly in the right place.
8. Goodnight Mommy (Veronika Franz and Severin Fiala) After you see it, you will probably observe its narrative resemblance to certain other films and novels (which I dare not mention here), but for the most part, Goodnight Mommy is not concerned with plot – the film's overwhelming concern is mood and atmosphere. The story is told through the perspective of twin cherubic 10-year-old boys, Elias and Lukas (played by real-life brothers Elias and Lukas Schwarz), who inhabit an isolated house deep in the woods. One day, a woman purporting to be their mother returns with bandages wrapped around her face after having undergone substantial facial reconstructive surgery (the first of two films on my list this year to involve a woman whose facial surgery brings her identity into question). The boys quickly realize that the woman is not who she claims she is and they begin to craft ways of bringing their real mother back – the results of which become gradually more dark and twisted. The film moves at a slow pace in the first half, only to move to a much more ominous, quick, and violent resolution in the second half; this strategy reveals itself as intentional at a certain point when revelations are revealed which call into question the reliability of some of the characters. Like the best films of Michael Haneke and Lars von Trier, Goodnight Mommy contains a deep and unremittingly dark view of humanity, which in many respects is far more disturbing than any bloodshed depicted in the film. It is the type of film that could never be made in the United States (or rather, if it was made, it would be more chopped up than Elias and Lukas' mother's face), and yet somehow after seeing it, your first impulse is to watch it again.
7. The Walk (Robert Zemeckis) At this point, it is more than fair to call The Walk a box-office bomb (grossing only $10 million domestically, less money than The 33, Burnt, and The Gunman). It has also been all but completely ignored by critics and end-of-year awards, which is rather inexplicable for a major studio film released in October to favorable reviews. Maybe it was the PG rating, maybe it was Joseph Gordon-Levitt's French accent (not bad at all in fact), or maybe everyone thought they already knew all about Phillippe Pettit's incredible tightrope walk across the Twin Towers in 1974 after seeing the 2008 documentary Man on Wire. Who knows. In any event, Zemeckis' film is a spectacular rendering of Pettit's unconventional journey, first as a fearless street performer and amateur tightrope walker in Paris, then as an internationally-renown daredevil putting his life in danger for the sake of his art. The story is a neat combination of Ocean's Eleven and Hugo, and the supporting characters are interesting and serviceable, but the heart of The Walk is its incredible visual effects, which are truly heart-pounding and even stomach-inducing. I must admit without hyperbole, my palms became unspeakably sweaty for most of the film's final hour. I suppose one must ask the same question that was asked of Avatar and Gravity, which is whether the IMAX 3D experience put a spectacular disguise on an otherwise pedestrian story. But in this era where film and TV spectatorship has become disturbingly intertwined, The Walk serves a reminder that there is no other experience quite like an epic movie (on a movie theater screen) transporting you to a visual world few others have ever seen.
6. The Lesson (Kristina Grozeva and Petar Valchanov) This was an excellent under-the-radar film from Bulgaria that no one saw because it only played in a handful of festivals at U.S. cities (fortunately, it is available to stream right now on Netflix). The story: An English teacher named Nadya (Margita Gosheva) is on the verge of bankruptcy, cohabiting with an insolvent alcoholic husband and a young daughter. The film profiles a few days in her life, as creditors are able to track her down and threaten to foreclose on her house unless she can come up with a substantial sum of money. Aesthetically and narratively, the film bears an unmistakable similarity to Two Days, One Night, as Nadya scrambles desperately to solicit assistance from friends and family (as well as the occasional perfect stranger), all while steadfastly struggling to maintain her dignity in the face of surrendering to defeat and humiliation. It's not as good as the Dardenne Brothers' masterpiece, but I enjoyed the way the film goes to great lengths to establish an elaborate geographical and emotional universe (albeit on a small scale) that seems to throw hurdle after hurdle at the likeable and engaging heroine. The film moves at a very quick pace, is often quite unpredictable, and even contains a few scenes of wicked and unexpected humor (such as Nadya's confrontation with her estranged father's new trophy wife). And Gosheva's performance is one of the year's best, illustrating the stark realities of a desperate teacher trying haplessly to honor the same ethical code she so rigidly instills to her students.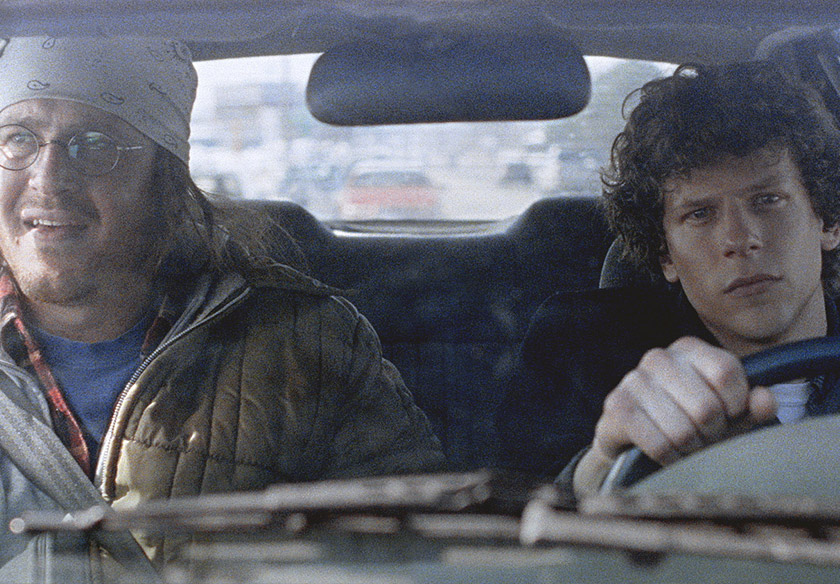 5. The End of the Tour (James Ponsoldt) From a purely subjective standpoint, there may have been no film more personally enjoyable to watch in 2015 than The End of the Tour, particularly in light of the considerable doubts I had walking into it. Would the film lionize, demystify, or lampoon David Foster Wallace and his mythical literary status over the past two decades? Would Ponsoldt dumb down Wallace's complex and uncompromising personality, and how would his intellectual contributions be translated into a coherent narrative? For all its audacity, the film finds its greatest success in how small it is, opting only to show a few days in Wallace's life soon after the publication of Infinite Jest in 1996. Not too far removed from Almost Famous, the film depicts a struggling young Rolling Stone writer named David Lipsky (Jesse Eisenberg) given unprecedented access to Wallace (Jason Segel) at the precipice of his launch into international stardom. The vast majority of The End of the Tour is the long, rambling, often unresolved conversations between the two protagonists, which recalls the rich and beautifully unkempt attitudes of 1970s cinema (particularly Wim Wenders and Eric Rohmer). Set against a backdrop of the snowy Midwest, Wallace is depicted as a relentlessly self-conscious and earnest burgeoning intellectual, and the film is daring in the way it doesn't shy away from frequent unspoken tension and hostility between him and Lipsky. Both performances are outstanding, but Segel in particular ascends to completely new levels of acting, using a beautifully understated demeanor to hint at deep levels of despair and loneliness. In spite of everything you may think you know about Wallace – and everything you think you know about Wallace's acolytes and imitators – the film shows something new with dialogue that feels substantive and meaningful, which has become rare for the majority of commercial cinema.
4. Spotlight (Tom McCarthy) The current front-runner for Best Picture is well-deserving of the praise which has been bestowed on it. It is a story that could have easily gotten swept up in the hysteria and revelations of the Catholic Church's sex abuse scandal, as exposed by the Boston Globe's Spotlight investigative reporting team in the early 2000s, but rather than being exploitative or overly political, the film wisely limits its purview solely to the perspectives of the journalists working on behalf of Spotlight. Subsequently, the film isn't really as much about the church abuse scandal as it is the contours and nuances of investigative journalism in the era just before the internet made access instantaneous and near-universal (and arguably rendering much previous investigative journalism benign and reactionary). Like All the President's Men, the film is singular in its focus on reconstructing events that occurred years earlier by characters we're vaguely familiar with through name and verbal description only. Even by the end of the film, we know considerably more about the much-ballyhooed classified church documents than we do about the personal lives of the reporters (played with uniformly strength by Michael Keaton, Mark Ruffalo, Rachel McAdams, and Brian d'Arcy James), which is precisely the point. It would be a fallacy to praise the film on that one aspect alone, but it deserves recognition because McCarthy's focus (as one of the film's characters astutely points out) is not on the relatively inconsequential individuals involved, but the larger institutional systems that enabled and promoted years of abuse and cover-up. The film also illuminates the power of ethical, painstakingly-researched journalism in a way that isn't quite Frank Capra, but also isn't cynical or jaded either. Spotlight is quietly a David-and-Goliath story where the slingshot is replaced by the much more powerful mighty pen.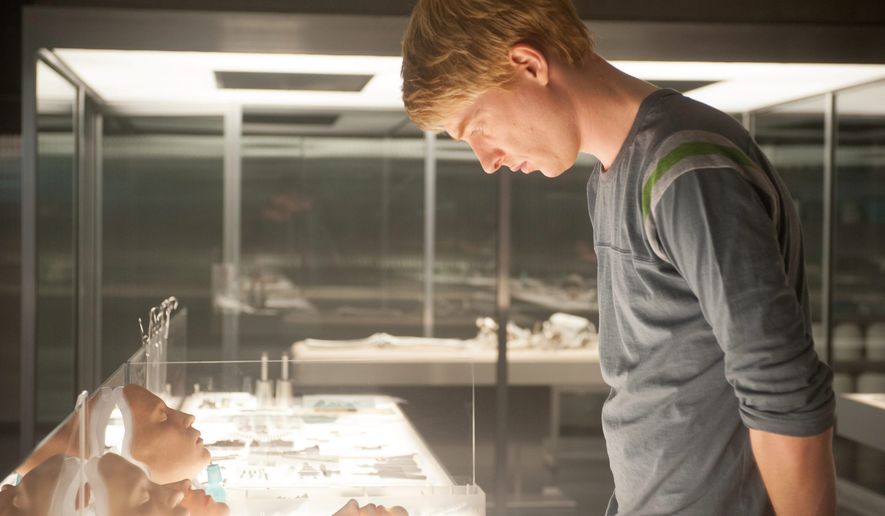 3. Ex Machina (Alex Garland) You may have heard that Ex Machina contains the best dance scene in recent cinematic memory (you would be correct). It also is the best pure sci-fi film in an era when the notion of "sci-fi" has been relegated to mean bloated budgets, high-octane action with little attention to story, and superfluous special effects replacing intellectually probing questions about the future of human ingenuity. In yet another remarkable performance in a truly prosing career, Oscar Isaac plays a somewhat-mad scientist named Nathan who invites a young protégé named Caleb (Domhnall Gleeson) to participate in a Turing test at his remote laboratory in order to prove that his artificially intelligent fembot, Ava (Alicia Vikander), could pass for human. Structurally, the film is essentially a cat-and-mouse game between Caleb and Nathan, with each one suspicious of the other's motives and as a result, eager to make the next move before the other catches on. All the while, Ava proves to be more truly more intelligent than either man suspects (the film has a nice undercurrent of feminism laced throughout), and eventually the battle of wits over who truly controls Ava transforms into a larger metaphor about what core elements remain uniquely human in a future when the vast majority of intelligence has become robotic. Sure, it doesn't boast the spectacular visual effects of Interstellar or The Martian, but it more than compensates through a story that is rich with intelligent, captivating dialogue about the ethics of engineering artificial life, as well as dramatic events that are truly surprising and unexpected in a genre whose tropes have often become instantly recognizable and predictable. The claustrophobic atmosphere (one remote house, four characters) gives the film a feeling of immediacy and unease, while Garland's camera and stark color scheme invite the viewer into a universe where human emotions are simultaneously nothing as well as the only thing.
2. Phoenix (Christian Petzold) If The End of the Tour recalled Winders, then Phoenix undoubtedly invoked Rainer Fassbinder, full of melodramatic and absurd artifice in order succinctly depict a scathing critique of society and historical memory. Taking place shortly after the end of World War II, the film depicts a Holocaust survivor named Nelly (Nina Hoss), whose face has been severely burned and deformed to the extent that she has been rendered unrecognizable – even to her husband, who survives the war and believes that she has died on the concentration camps. So there's the Victor/Victoria conceit – Nelly pretending to be someone pretending to be herself – but that is only the first and most basic level of plot; the film really is much more concerned with asking the question what it means to be a Jewish Holocaust survivor in a world where there are no more Jews or Holocaust survivors, but only those who consented to sacrifice their ethics and loyalties in exchange for an empty life under the Third Reich. Nelly becomes a disembodied observer of herself and the people she used to know before her fate was sealed in the camps, and in that sense, she represents survivors of the Holocaust who attempt to return to their lives only to realize that returning to their lives before the war is impossible. Petzold's film is imperfect and complex, so complex in fact that it is difficult to follow at times, but the result is a film that is so overwhelming and narratively rich that it left me aghast for days after initially viewing it. Who are these people and why are their motivations shaped in the disorienting and perplexing ways that they are? An American film would have undoubtedly attempted to answer these questions in broad, obvious strokes, but Phoenix remains mysterious and beguiling. The brilliant final scene shows Nelly finally saying everything she needs to say to her husband but none of it is expressed through words, instead only a fleeting and stunning accidental glance.
1. Brooklyn (John Crowley)
Even in the weeks after seeing
Brooklyn
and, at this very moment, considering the high quality of the other films on this list, it still comes as a relative shock to me just how good
Brooklyn
truly is. It lacks the complex, rich narrative of
Phoenix
, the witty, erudite dialogue of
The End of the Tour
and
The Hateful Eight
, and the impressive visual spectacle of
The Walk
. But as Roger Ebert famously decreed in his first law of film, a movie is not what it is about, but how it is about it. And no other film in 2015 understood its subject matter better, nor more successfully enraptured its audience, than Crowley's adaptation of Colm Toibin's novel of the same name. In what was by far the best performance I saw all year, Saoirse Ronan starred as Eilis, an Irish girl in 1952 who makes the brave and tumultuous journey from her small hometown in Ireland to Brooklyn. Eilis is not exactly borne of an adventurous spirit, but rather is a shy, introverted, deeply frightened teenager on the brink of womanhood whose prospects for success as an immigrant in New York City are at first extremely poor. But after making a new family of the friends and

acquaintances she meets at the boardinghouse she resides at, as well as getting a job at a department store, Eilis gradually learns to overcome the hardships of homesickness. This doesn't exactly sound like groundbreaking material, but the way in which this story is told -- through careful and delicate observations, as well as handsome period detail throughout -- quickly makes Brooklyn's story captivating, even as we anticipate the film growing stale and sentimental with the emergence of a love interest and inevitable trip back home to Ireland. In actuality, the film gets better and edgier as it goes along. Eilis' return visit shows that in spite of her growth and blossoming into independence and adulthood, like the best of us she still succumbs to the nostalgic scent of home, even with the idea of home is fraught with complacency, stunted dependence, and limitations abound. The final image of Brooklyn is that most cherished of all cinematic images -- a kiss -- except of course it signifies so much more than simply a kiss; for Eilis, it is the embrace of freedom and endless possibilities. It's only on the surface that Brooklyn is a movie about America. In reality, Brookyln is about the romance of finally growing up and becoming a citizen of the world.
Thoughts? Disagreements? Let me know below!